I hope you enjoy reading the blog post.
If you want my team to just do your online dating for you, click here.
The 5 Best Dating Apps For Serious Relationships [2023]
Looking for the best dating apps for serious relationships?
The last thing you want to do is waste your time on one filled with singles just looking to hook up.
These are the 5 best dating apps for relationships in 2023:
Keep reading for a quick overview of each one, including how much the premium features cost and what you can do for free!
Hinge
Branded as the dating app "designed to be deleted," Hinge markets itself squarely to people looking for serious relationships.
As the app puts it,
In today's digital world, singles are so busy matching that they're not actually connecting, in person, where it counts. Hinge is on a mission to change that. So we built an app that's designed to be deleted.
App founder Justin McLeod said the Hinge prompts allow people to "put themselves out there a bit more."
In his opinion, that's crucial when you're looking for someone you can genuinely relate to and connect with.
Who Uses Hinge
Hinge's target demographic is millennials. Roughly 49% of users are between the ages of 18 and 29. Most of the rest are between 30 and 49.
But Hinge is currently the fastest growing dating app in the US, so it's a great option for just about anyone to try.
Why It's One Of The Best Dating Apps For Serious Relationships
If you want to communicate with other users, you must fully complete your Hinge profile.
That includes uploading all 6 photos and completing 3 prompt answers. This requirement helps cut down on people who aren't looking to invest much time in the process. (And by extension, probably won't be using the app in a meaningful way.)
You can also include video prompts and voice prompts to showcase different aspects of your personality.
Hinge also uses machine learning to present potential matches based on your interactions with the app. So you're not just mindlessly swiping through singles in your area.
This is especially true when it comes to Hinge's "Most Compatible" feature. It analyzes your preferences over time, as well as the types of 'likes' you both send and receive.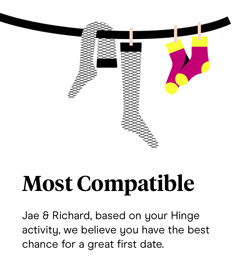 These daily match suggestions are curated based both on AI and the Gale-Shapley algorithm, commonly known as the "stable marriage algorithm." Or as McLeod explained to the Evening Standard, you're shown "someone you'll like, who's also going to like you back."
Hinge also follows up on number exchanges made within the app in a feature called "We Met."
You'll get a notification asking if you and your match met up in the real world, and if so, how the date went. The feedback isn't shared with your match. It's designed to provide more data about your specific preferences to the matching algorithm.
Hinge also offers a specially curated feed of "Standout" prompts. Each of the ten or so prompts is displayed because it's similar to content you've positively interacted with in the past. Clicking on the prompt pulls up the user's profile.
To access your Standouts feed, just tap the star icon in the menu bar.
Hinge Cost
It's free to download the Hinge app on iOS or Android and create a profile. You have the option of signing up via your mobile number or through Facebook.
But Hinge is making a concentrated effort to discourage the creation of fake profiles, so new users are required to have at least 60 Facebook friends to sign up that way.
Free Hinge users can comment on or "like" a photo or prompt answer in up to 8 profiles a day. You'll also be able to use the basic match filters, which include age range, distance, height, ethnicity and religion.
And true to its "serious relationship" mission, you can specify any number of those filters as Dealbreakers, meaning you won't be shown anyone who doesn't fall into that particular parameter.
Hinge's first premium membership option is called Hinge+ (previously named Hinge Preferred). Upgrading to Hinge+ costs $29.99 for a single month. It's $59.99 for 3 months and $89.99 for 6 months. (Price may vary depending on your area.)
Hinge Premium features include:
Additional filters you can use to screen your potential matches, including education, children, political views and drug/alcohol/cigarette use.
Unlimited "likes"
See who has already "liked" your Hinge profile
Expanded ways to sort your incoming Likes in Discover and Likes You
Wondering if Hinge+ is worth it for you? Check out this in-depth Hinge+ review!
Hinge's second premium membership option is called HingeX. It includes all the Hinge+ perks, as well as:
Skip The Line
Priority Likes
Enhanced Recommendations
HingeX costs $49.99 for a single month, or less if you purchase a 3 or 6-month membership. To read more about HingeX, check out this comprehensive review!
Match Mobile
Like Match.com, Match's dating app is free to download, but you'll need a paid subscription to exchange messages.
When you're on a dating app to find a relationship, using one you need to pay for is a smart move. It can save you a lot of wasted time, since you'll be checking out profiles of singles who are serious enough about meeting someone to make the same investment you are.
Who Uses Match
Roughly half of Match users are in the 30-49 age bracket, with the next biggest group in their 50s+. Only around 12% of the people using Match Mobile are under 29.
Why It's One Of The Best Dating Apps For Serious Relationships
Since you have to invest in a subscription to contact anyone, the singles you'll find on Match tend to be more responsive and less likely to flake out on date plans. You're also far less likely to encounter fake profiles.
According to CEO Hesam Hosseini, Match's goal is to "get you into a relationship." That's one of the reasons you won't be doing any swiping - the format is set up to encourage people to spend time actually reading profiles.
It's also the reason Hosseini launched the "AskMatch" feature - access to a real, live dating coach who will answer questions ranging from how to improve your profile to how to act on a date.
You can interact with a dating coach via a call placed through the app at no additional charge, but it does require a paid subscription.
Match Cost
Downloading the Match dating for iOS or Android is free, as is creating your profile and checking out profiles. But to do much of anything else, you'll need the premium subscription.
The cost for a Match.com subscription ranges from around $15 to $42.99 per month, depending on how many months you invest in up front and what sales are going on at the time.
Here are some of Match's premium features:
Unlimited messaging
See who has "liked" or viewed your profile
Message read receipts
Free monthly profile boost
Want to learn more about the Match.com dating app? Check out this Match Mobile review, and you'll find everything you need to meet someone special in our Match Guide!
The League
The most exclusive dating app on this list, The League isn't just for anyone - there's a rigorous profile vetting process and a wait list. As app creator Amanda Bradford explained, their mission was to create "power couples":
Sometimes I joke and say it's an app for workaholics, but at the end of the day, it's people that are really serious about their career and really want to make some kind of impact on the world.
The League has strict requirements - every potential user has to pass a two-part authentication process that evaluates your Facebook and LinkedIn profiles.
Then you're added to the waiting list, where your League profile is evaluated (you'll definitely want to put some polish on it, so check out these League profile examples!)
Who Uses The League
The League was designed for "smart, ambitious, driven people that know how to put themselves together," so the typical user is college-educated, career-minded and successful, and generally in their 30s+. Right now The League is available in over 150 cities globally, with over 80 of them in the US.
Why It's One Of The Best Dating Apps For Serious Relationships
The League is geared toward bringing people with similar priorities and relationship check lists together. As Bradford explained,
I always say The League is people that value education really highly. That's why people who went to highly selective universities tend to want to pair up with other people that went to highly selective universities.
Investing a lot of time putting together your League profile isn't just expected, it's required. And that can also be a great barometer for choosing which dating app is best for you.
In general, the less time it takes to set up a profile, the more people you'll tend to find who aren't serious about meeting someone.
So when you're seeking a serious relationship, you're better off choosing a dating app that requires some effort and attention during the set-up process.
The League Cost
You can use The League as a "Guest" for free, which means you can download the app for iOS or Android, set up a profile, and get on the waiting list for free.
Assuming you're accepted, you can also receive up to 3 daily matches, which roll in like clockwork at 5 pm.
There are 3 levels of premium membership to choose from: Member, Owner and Investor.
At the Member level, a 1-week membership costs $99. It's $299 for a 1-month membership, and $399 for a 3-month one. Premium perks include 5 potential matches each day,
Owners pay $399 for one month and get 6 daily prospective matches.
As an Investor, you'll pay $399 for one week, and unlock all the features.
Want the full scoop on this exclusive dating app, including all the premium features at each level? Check out this review of The League!
And if you decide to give it a try you'll definitely want to benefit from the expert advice in our League Dating Guide.
Bumble
Sometimes referred to as the "feminist Tinder", founder Whitney Wolfe created Bumble as a dating app that makes women equal partners, and hopefully "the perfect solution to our dating woes as a culture."
The premise that sets Bumble apart from apps like Tinder is simple - only women are able to send an icebreaker. The one exception is same-sex relationships, wherein either person can make the first move.
And Bumble isn't just about dating. With its BFF and Bizz modes, founder Whitney Wolfe also wants it to be a social and professional network as well.
Given the more serious vibe Bumble has had from the beginning, it's no surprise that it attracts people seeking long-term relationships.
Who Uses Bumble
Known for its 'by women, for women' attitude and push for female empowerment, Bumble attracts women in droves - especially women under 30. In fact, 63% of Bumble users are 18-29, with all but around 8% of the rest being under 50.
Why It's One Of The Best Dating Apps For Serious Relationships
A survey of Bumble's users revealed 85% of them are seeking a long-term relationship, and 25% of respondents said they had gone on a first date with someone from the app in the last month.
Bumble also facilitates daily engagement by imposing a 24-hour time limit after matching - if the first message isn't sent within that time frame, the match expires.
And the other half of the match likewise has only 24 hours to respond to that first match, or the same thing happens. Once both people have sent a message, there are no further time limits to worry about.
Bumble Cost
Like most popular dating apps, Bumble is free to download for iOS or Android, and you can create a profile, swipe through your card stack, and exchange messages without paying for the privilege.
There are also two premium subscriptions available.
"Bumble Boost" costs around $11.99 for one week, $24.99 for one month, $49.99 for 3 months, or $69.99 for 6 months.
Bumble Boost includes these perks:
Instantly re-match with expired matches so you don't have to waste time waiting for them to pop up again in your Bumble match feed.
Extend the "first message" countdown by an additional 24 hours.
Undo a swipe.
Use 5 SuperSwipes & 1 Spotlight each week.
Swipe right as much as you'd like.
To read more about Bumble Boost and when it's worth purchasing, check out this Bumble Boost review. And for expert tips on every aspect of your Bumble profile, bookmark our Bumble Guide!
Your other upgrade option, Bumble Premium, includes all those features plus:
The Beeline, where you can see all the singles who have swiped right on your profile.
Incognito Mode, which reveals your profile only to people you "like".
The ability to change your location with Travel Mode.
Unlocking all the match filters, so you can use more than two.
Upgrading to Bumble Premium runs between $21.99 for 1 week to $89.99 for 3 months. Read more about it in this Bumble Premium review!
Coffee Meets Bagel
Created by sisters Dawoon, Soo and Ahreum Kang as a "meaningful dating app for people sick of swiping," Coffee Meets Bagel strives to get people off the app and onto real life dates by imposing an 8-day limit on message exchanges.
And as Dawoon Kang has frequently mentioned, "It's not about getting as many Likes as possible — it's about getting one right like."
From the very beginning, CMB's goal has been to provide a platform that was appealing to men and women alike, built around a foundation of safety and quality.
Who Uses Coffee Meets Bagel
Women generally outnumber men on this popular dating app, by a ratio of about 60% to 40%. Around 36% of users are 18 to 29, with just over 55% in the 30-49 range.
Why It's One Of The Best Dating Apps For Serious Relationships
Thanks to its "slow dating" over "endless swiping" approach that's designed to get compatible people in front of each other, CMB is made for people who want to prioritize quality over quantity - especially women.
Branded as "#LadiesChoice", women are sent 6 highly-compatible, pre-screened Bagels who match their search criteria - and who have already "liked" their profile. Men also receive a limited number of suggested Bagels daily, up to 21.
Both men and women have the option to spend "Beans" (the in-app currency) to procure more matches from the Discover section.
Coffee Meets Bagel Cost
Coffee Meets Bagel is free to download for iOS or Android, and you can also create a profile, receive your daily suggested Bagels at noon, and exchange messages without paying.
There's also a paid subscription called "Premium" that unlocks additional features, and costs $35 for 1 month, $75 for 3 months or $120 for 6 months.
Here are a few of the best features included in a Premium CMB membership:
Activity Report for each Bagel
See all your "likes"
8 additional "likes" in Discover each month
Set advanced match preferences
Monthly profile boost
Skip the line by having your like prioritized
Undo your last swipe
Want a detailed description of how Coffee Meets Bagel works? Check out this Coffee Meets Bagel Guide!
When You're Looking For A Serious Relationship, You Need A Strategy To Match
Choosing the best dating app for a long-term relationship is the first step, but that's when the hard work really begins.
You're looking for The One - but so is your future perfect match.
That means you need to present your "best self" in a genuine, attractive and compelling way - so your photos and profile need to be on point. And then once you've matched, your messages need to seal the deal if you want a chance to actually meet in person.
In other words, get ready to invest some serious time in the search for your ideal partner. Or, have the modern dating experts at VIDA Select do all that hard work for you!
Literally, all of it. Your profile, handled by a professional writing team. Your photo lineup, handled by a team of image experts. And your messages - did we mention we have a full staff of professional writers?
Our Matchmakers will even screen singles in your area, and hand select the ones who fit all your criteria! You just need to show up for all the dates!
Finding your ideal partner just got a lot easier. Start by discovering exactly how the matchmaking service will work for you!
Want us to do your online dating for you?

Hey, I'm Ally, VIDA Select's Director of Matchmaking.
We take all the frustration, hard work and hassle out of modern dating!
Imagine your very own Dream Team of highly skilled dating experts searching for the very best local matches, sparking their interest, and arranging all the dates for you.
Wouldn't it be nice to finally stop swiping and start dating higher quality matches so you can meet someone special?
We've helped thousands of singles just like you since 2009, and we're ready to make you our next success story!
What are you waiting for? Take the next step now…
See If You Qualify