I hope you enjoy reading the blog post.
If you want my team to just do your online dating for you, click here.
The League Dating App Ultimate Guide [2023 Edition!]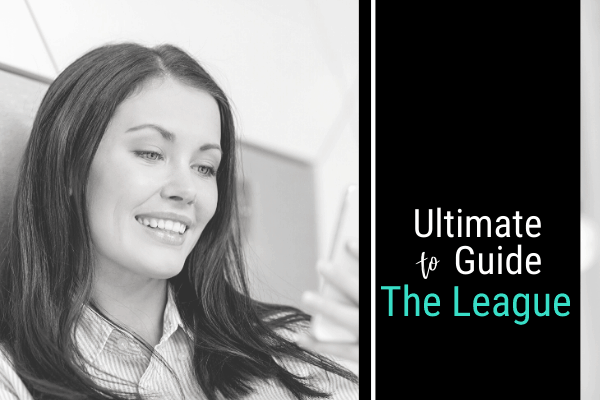 The League sets the standard for exclusive dating apps, so you need to invest real time and effort into your profile - and that's just to get off the waitlist!
This Ultimate Guide To The League has all the tips you need to get your profile approved - and match with incredible people.
If you have a specific question about The League and how it works, check out the FAQ for the expert answers you need!
The League Dating App FAQ
Check out the answers to the most commonly asked questions about this exclusive dating app!
Is The League the best exclusive dating app?
If you're a successful professional looking for a long-term relationship, it's a great app to try.
Forming "power couples" is the app's main goal. It's not cheap and the dating pool is limited, but if you're accepted by the membership committee you'll be in very elite company.
By design, The League is not meant for people looking for a hook-up app.
In fact, according to The League's "concierge", one of the reasons the wait list exists is to "Completely frustrate and deter those looking for one-night stands."
How much does The League dating cost?
Membership deals rotate, so they change frequently. You may notice offers for weekly, monthly or quarterly memberships, as well as 6 months and 1 year.
There are 3 levels of paid membership: Member, Owner and VIP.
Depending on the promotion at the time, as a Member you can expect to spend around $299 for a 3-month membership, $399 for a 6-month membership, or $199 for a single month.
Joining as an Owner costs around $399 for 1 month, and it costs $999 to join for 1 month or $399 for 1 week at the VIP "Investor" level.
The higher your membership level, the more matches you'll receive. For all the premium features, check out this dating app review!
How long does the waitlist for The League take?
The typical wait time for The League is 3 to 32 weeks, although your own experience may be longer or shorter.
The time you spend on the waitlist varies by your location, age, gender and other factors such as member demographics in your area.
According to the app, keeping a balanced gender ratio in each League city is important, so if there are a lot of men in your area and few women, you'll likely wait longer than a female user would to get accepted.
Your profile quality also directly affects your wait time - the better it is, the better your chances.
The app tells new users the typical wait time for The League is 3 to 32 weeks, although your own experience may be longer or shorter.
There are a few things you can do to try and shorten your time on The League's waiting list.
Checking in every day, purchasing a paid Membership, or using a VIP Pass from an existing member are a few examples.
You can also send a "League Endorsement" to a friend. If they sign up and complete their profile you may get a bump as a reward.
Which cities is The League in?
The League is in over 80 major cities around the US, including:
New York City, San Francisco, Los Angeles, Chicago, DC, Boston, Philadelphia, Atlanta, Dallas, Seattle, Denver, Miami, Houston, Austin, San Diego, Detroit, Phoenix, Minneapolis, Charlotte, Nashville, Raleigh, Orlando, Portland, Tampa, Pittsburgh, Sacramento, Hartford, St. Louis, Cleveland, Kansas City, Columbus, San Antonio, Salt Lake City, Indianapolis, Las Vegas, Tulsa, Cincinnati, New Orleans, Milwaukee, Richmond, Charleston, Birmingham, Syracuse, Norfolk, Oklahoma City, Louisville, Buffalo, Albany, Madison, Santa Barbara, Providence, Jacksonville, Memphis and Honolulu.
Internationally, it's operational in over 70 major cities, including:
Paris, London, Toronto, Vancouver, Montreal, Sydney, Melbourne, Mexico City, Singapore, Sao Paulo, New Delhi, Mumbai, Dubai, Budapest, Lisbon, Manchester, Hong Kong, Oxford, Tel Aviv, Edmonton, Ottawa and Kingston.
Do you need LinkedIn for The League?
If you intend to use The League as a "Guest" (free) member, LinkedIn is required.
If you purchase a full membership, you can enter all your personal information manually, without using LinkedIn or Facebook.
But if you log in to The League via LinkedIn, you won't have to worry about your coworkers seeing your profile - the algorithm automatically blocks people who currently work for the same company that you do.
Do you need Facebook for The League?
No, you can create a League account with your LinkedIn profile instead.
Or you can be manually verified with a paid membership, and skip using Facebook or LinkedIn for verification.
However, the advantage to using Facebook with The League is it will automatically block your Facebook Friends from appearing as match Prospects.
Can you boost your profile on The League?
Yes - each Profile Boosts costs 5 League Tickets or $24.99 as an in-app purchase. This will show your profile to an additional 50 users.
What social media can I connect to my League profile?
You can connect Instagram, Twitter and Snapchat to your League account.
How many matches do I get each day on The League?
A standard profile gets shown to 3-5 users each day.
You'll get your "Batch" every evening at 5 (aka "happy hour"), which contains anywhere from 1 to 9 "Prospects."
The number varies based on your membership level as well as the number of people in your area who meet your preferences and vice versa.
A match forms when two people express interest in each other by tapping the "heart".
Matches on The League expire if there's no activity between the two of your for a 14-day period, and the messaging platform is only available for 21 days.
If your match disappears before the 14 days, that likely means your match decided to "expire" it. (Read: You got unmatched).
Can I undo an "X"?
If you accidentally passed on someone you wanted to "Heart", tap the undo button.
You'll only be able to do it on that evening's "Batch," and undoing a pass costs 1 Ticket.
How much are League Tickets?
League Tickets can be used to purchase additional premium features, such as buying an additional "Batch" of potential matches, boosting your profile to have it shown to more people, and re-activating an expired match.
League Tickets cost $5 each when you buy 5, with the cost per Ticket decreasing when you buy them in greater quantities.
What is League Live?
The League Live is a free, optional feature where you can participate in 3 "video dates" within the app.
Each video call lasts 3 minutes.
It's an event that happens every Sunday at 9 pm. You opt-in via the "League Live" menu on the "Settings" screen.
If you're chosen to participate you'll be notified.
How do you get an invite to an exclusive League event?
The app's "concierge" issues invites to League events. Invitations are generally based on location and member demographics.
Who founded The League?
Amanda Bradford founded this exclusive dating app in 2014 and launched it in 2015.
Want us to do your online dating for you?

Hey, I'm Ally, VIDA Select's Director of Matchmaking.
We take all the frustration, hard work and hassle out of modern dating!
Imagine your very own Dream Team of highly skilled dating experts searching for the very best local matches, sparking their interest, and arranging all the dates for you.
Wouldn't it be nice to finally stop swiping and start dating higher quality matches so you can meet someone special?
We've helped thousands of singles just like you since 2009, and we're ready to make you our next success story!
What are you waiting for? Take the next step now…
See If You Qualify