I hope you enjoy reading the blog post.
If you want my team to just do your online dating for you, click here.
How To Get Off The League Waitlist (5 Tips For 2023)
With a pool of elite matches *almost* at your fingertips, of course you want to start swiping. You're wondering how to get off The League waitlist, and you've landed in the right place. 
VIDA's team of online dating experts have written thousands and thousands of profiles for The League, so we know exactly what it takes to woo the acceptance committee.
These 5 actionable tips will help you avoid the dreaded League app rejection, and get you off The League waitlist faster!
#1: Check Your League Waitlist Status Daily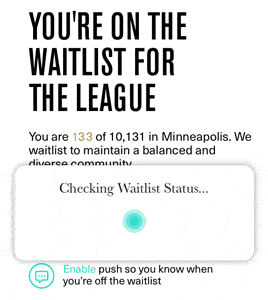 Logging in to The League every day is one of the easiest ways to "prove" you're going to be an active, engaged user. That's something the app's creator Amanda Bradford and her team values highly:
We put you on a waitlist, and we can see who's checking back in, who's referring friends, who's actually checking out the app and figuring out how it all works, and we use all of that information to predict who's going to be a good user in the system.
Singles typically spend anywhere from 3 to 32 weeks on the waitlist, which seems like a broad range of time. But many factors come into play when it comes to how The League's waitlist works.
Your gender, age, location, occupation and education all impact where you initially land on the waitlist. And so do the demographics of the other users in your area.
As Bradford explained,
We try to make sure people's education backgrounds are different, their profession industries are different. The idea is then we bring people into the community, but it's balanced and we try to keep all the ratios somewhat balanced and reflective of the community that they're in.
Logging in every day to see if you've been accepted or not probably seems like a lot of work, but getting into that habit now pays off in more matches once you're in.
According to Marina, The League concierge, singles who use the app daily have a 10% higher matching rate. Users who don't risk getting penalized. And free users who go an entire month without using the app risk removal.
#2: Tweak Your Profile And Your Photo Lineup
The overall quality of your League profile can directly affect how long you'll spend waiting for an answer.
Complete profiles - meaning ones with a bio and 6 photos, are prioritized for review over incomplete profiles.
In fact, if you don't have a minimum of 3 pictures in your profile, your profile won't even be considered for review.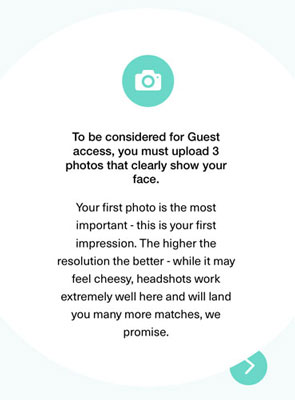 But just making sure to fill in every blank won't cut it if you want to shorten your time. You need to focus on quality as well. If you didn't put some serious effort into your League profile when you initially created your account, the good news is it's not too late.
As Bradford explained in an interview,
You can really tell, honestly, by what kind of effort people put into the application. We actually can see how long people spend on it. If they check back and change their photos, if they don't, if they just keep the ones that Facebook defaults.
Improving your bio and making your photo lineup stronger signals you're truly invested in how you present yourself on The League, which may win you some points with the evaluation committee.
The League dating app requirements are pretty straightforward - ambition and intelligence are the priorities. Your profile needs to prove you've got both, in spades.
How To Make Your League Bio Stronger
The League's "About Me" section is short, even by dating app standards. The 190-character limit means you need to choose each word carefully, for maximum impact.
Skim these League profile tips for inspiration later, but for now check out this quick real-life example of how you can improve your profile:
This About Me example is pretty standard fare for a super short dating app profile. Serviceable, sure, But likely not impressive enough to get you off The League waiting list any faster.
For starters, notice the lack of personal details. After reading it, the only thing you learn is he recently relocated.
Including specific details makes it much easier to spark a connection. But more importantly, you can choose to mention information that also subtly implies attractive, desirable things about your lifestyle.
This About Me example is much more compelling:
Here is why this League profile example works:
CTO = great career, plenty of ambition
Sailing = fun activity to imagine doing together
Surfing = adventurous hobby that requires a high level of physical fitness
Volunteering = engaged with community, giving nature
Daily running = dedication, self-discipline, fitness
Meeting friends for beers = active social life
All these things are communicated between the lines, which makes it a very powerful profile.
How To Improve Your League Photo Lineup
When it comes to your 6-photo lineup, make sure every profile pic is high quality. Blurry, poor lighting conditions and red-eye won't cut it on any elite dating app, much less one governed by an acceptance committee.
For the #1 spot, choose (or take) a photo that meets these 4 criteria:
As for the other 5, include at least one full-body shot.
Also, choose pictures that lend themselves to engagement. Make it easy for your match to start a message exchange by asking where it was taken, how long you've had that hobby, what your dog's name is, etc.
Bradford shared this sage photo advice in an interview with Forbes:
Stay away from pictures with sunglasses, group shots, and pictures where it's unclear whether you're with your sister or ex-girlfriend. To reduce the number of bad first dates, be sure to express yourself as much as possible with your photos, so the matches you're interacting with have a better idea of who you are.
For even more dating app photo advice, check out these expert profile picture tips!
#3: Share The Love
The League offers two ways to invite other people to join their elite dating pool - VIP Passes and League endorsements.
Referring a friend is a quick, easy way to expedite the review process - do it twice and you're guaranteed entry.
But there's one caveat. The app's algorithm tracks what it calls your "Referral Quality," which means the overall popularity of the people you refer to the app can in turn affect your League Score.
The League allows waitlisted users to send 2 VIP Passes. To send someone a VIP Pass, go to the "Settings" menu and scroll down to the "Endorsements" section. Then simply tap "Send VIP Pass" and select the recipient from your contacts list.
To send a League Endorsement to a friend, follow the same process but tap "Endorse a Friend" instead.
In either scenario, you only stand to benefit from this if your friends actually download the app and complete the signup process. So once they're on the waitlist, hopefully you'll move up on yours.
Already have friends actively using The League? Ask them to send you a VIP Pass or League Endorsement.
#4: Become A Member
Purchasing a membership is the absolute fastest way to get those judgemental eyes on your profile, since Members get reviewed in less than 24 hours.
But speedy doesn't come cheap. The League costs $399.99 for a 3-month subscription. This gets you priority entry into The League and League Live, the app's video dating feature that occurs several nights a week.
For a comprehensive rundown of all the membership levels and perks, check out this review of The League.
#5: Enlist An Expert
Success isn't just about getting off The League waitlist faster. When everyone in the dating pool is a high-quality catch, you've got to work even harder to stand out - and that means your message game has to be on point.
The modern dating experts at VIDA Select can handle everything for you, including an attention-getting profile crafted by a professional writer and a compelling photo lineup selected by a data-driven process.
And here's the best part - you won't even need to worry about messaging, because all that is done for you on a daily basis! Why not see what VIDA Select can do for you?
Want us to do your online dating for you?

Hey, I'm Ally, VIDA Select's Director of Matchmaking.
We take all the frustration, hard work and hassle out of modern dating!
Imagine your very own Dream Team of highly skilled dating experts searching for the very best local matches, sparking their interest, and arranging all the dates for you.
Wouldn't it be nice to finally stop swiping and start dating higher quality matches so you can meet someone special?
We've helped thousands of singles just like you since 2009, and we're ready to make you our next success story!
What are you waiting for? Take the next step now…
See If You Qualify