I hope you enjoy reading the blog post.
If you want my team to just do your online dating for you, click here.
Match.com App Review & Download (Plus: Profile Tips!)
Match is one of the best sites for finding a long-term relationship, since you need a premium subscription to exchange messages with your matches. That means the singles you'll find on the Match.com app are typically actively looking to meet someone.
But is it worth the investment for you?
This Match.com app review will help you decide! You'll find out where to download it and exactly how it works, plus get 3 expert tips to attract the high-quality singles near you.
And at the very end, you'll get a discounted membership coupon, so you can use the Match.com app for less!
Let's start with where to get it!
Match.com App Download
Match's companion app is available for both iOS and Android. Just click the link to go get it!
Pros & Cons Of Match.com
You can download the app, create your profile and check out other profiles for free, then decide if Match.com is worth paying for.
Pros Of Using Match Include:
Match.com has been around for over 20 years, making it one of the most recognizable (and trusted) names in the online dating industry.
Almost half of Match users are between 30 and 49, and 50+ is this popular dating site's most rapidly expanding demographic. If you're looking for a serious relationship or marriage, Match.com is a good place to be.
Requiring a paid subscription to communicate with other members cuts down on the number of fake profiles that tend to plague apps like Tinder, and you'll also generally find your matches are more invested in moving things off the app as well.
Access to AskMatch, which gives paid subscribers on-demand dating coaching.
There's an integrated safety feature called "Date Check-In" within the app that allows you to share all the date details with chosen contacts.
You can video chat with your matches within the app using the Match Dates feature.
Potential Cons Of Using Match Include:
Messaging requires a subscription, a basic feature many people don't want to pay for. There is one exception, though - as a paid member you can purchase an "add on" called "Reply For Free" that allows free members to respond to a message from you.
Is Match Mobile Worth Paying For?
If you're 30+ and looking to find a serious relationship, yes!
The Match.com app attracts professional, high-quality singles who are willing to invest in the process of meeting someone special. Members tend to be responsive and less likely to flake out on date arrangements.
Getting Started On Match Mobile
If you already have a Match profile, simply log in as you would to the Match.com online site and you can access your existing profile, messages, etc.
If you don't have a Match profile yet, setting it up in the app is easy - just tap "Get Started" and the screens will walk you through the process.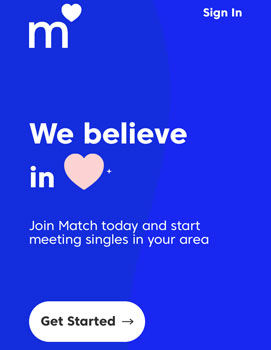 The first step is specifying your gender as well as the gender you're seeking. Match isn't as gender inclusive as apps like Tinder and OkCupid - "man" and "woman" are the only available options.
Next you'll enter the email you want associated with your profile, choose your password, and provide your birthday, zip code and first name.
When it comes to the "name" field, most people use their actual name but you can also go the nickname route. If you do use a nickname, make it an attractive one.
You're promoting yourself as relationship material, so steer clear of anything cheesy or lame:
Match will automatically find matches in your "home" location, but you can change the zip code in the search filters if you'd like to meet people in a different city.
Next, choose the type of relationship you're seeking. This information will not be displayed on your profile, but the app's algorithm will use it to suggest matches.
Then come the basics like your height, body type, relationship status, children, education level, lifestyle habits, etc.
You can also specify your political views on your Match profile, with an array of options from which to choose:
98% of Match users want a partner willing to discuss political issues with them, at least according to Match's most recent "Singles In America" study.
Match Interests
When the "Interests" screen pops up, make sure to choose a few - preferably ones you'd like to have in common with your "ideal" match. A handful of them will be displayed when you get suggested to potential matches:
You'll also get the opportunity to set your match criteria by filtering for traits that are important to you: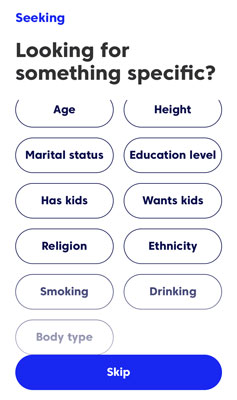 Now it's time for the really important part - your photos and bio!
Create A Match.com Profile That Gets Attention
You can choose 3 "Topic" prompts from a list of 60+, and the answers are interspersed with your photos in your Match profile.
Your Match topic answers take up a lot of screen real estate, so a bad answer can have a big impact on the overall impression you're making - and send her straight for that "X" button:
Make sure you're not accidentally communicating something negative between the lines, as in the example above.
While he likely meant to describe himself as a good person - this Topic answer implies the people who meet him tend to assume he isn't one. She's probably not too interested in finding out the reasons why.
Think of each one as an opportunity to highlight a reason why you're a great catch, in 150 characters or less.
Good Match Topic Examples
Handy to have around, fit enough to surf and ski, has the means to travel and a great cook - see how your prompt answers can subtly illustrate all your most attractive qualities?
Here's an easy way to decide which 3 Topics are the best ones to use:
Think about your ideal partner, and what traits you think someone like her would be looking for in a guy.
Jot down the traits you possess.
Choose the Topics that best let you describe how you exhibit that quality!
Writing Your Match Summary
The other free-form part of your profile is the "Summary/In Your Own Words" section. You'll find plenty of Match profile tips in this article, but for now apply the same theory you just read about - highlight all the traits that will make her file you under "solid relationship material."
There's a 4,000-character limit, but keep in mind she'll likely be looking at it on her own screen, so shorter will typically have more of an impact.
You'll also want to use punctuation properly, and incorporate line breaks so that your profile is easy to skim.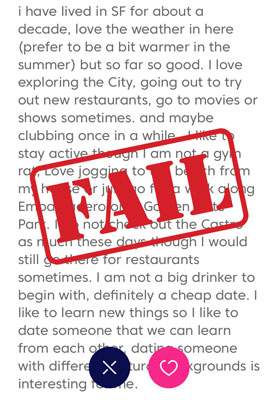 Match Profile Tip: Use This "Perfect Photo" Formula!
Uploading your primary photo is arguably the most crucial step in the process - if you don't choose wisely, you can sink your chances before you've even come out of the gate.
But here's the great news - there are ways to increase the attractiveness of your photo, no matter what you look like.
It all comes down to knowing the characteristics that science has shown the most attractive dating photos have in common, then making sure your photo has them too:
Once you've chosen a primary photo (or opted to do it later), the last step in the set up process is sending your first set of likes. The app will show you 9 different profiles, simply uncheck any of them you don't want to "like."
You'll then be prompted to join as a Premium member, which includes these features:
Message anyone
See who liked and viewed you
Read receipts for messages
Unlimited Rewinds
See which members are upgraded users
Match costs around $42.99 for 1 month, but pricing often changes based on your location and on promotions: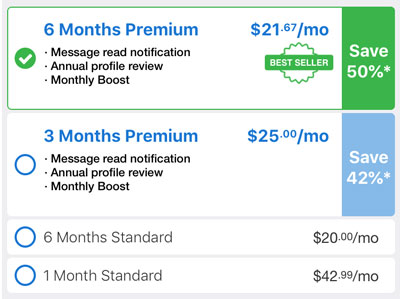 You don't have to join, though. You can keep using Match.com for free - you just won't be able to send messages. But you can check out your matches…
How The Match Mobile App Works
To filter your suggested matches, edit your search preferences by tapping the "Profile" icon on the navigation bar at the bottom of the screen, then "Preferences":
In the basic search criteria, you can specify distance, zip code and age. On the "Advanced" screen, you can go into a lot more detail when it comes to curating your potential matches:

Each one has a sub menu, and you can select which options are acceptable - and whether or not it's a dealbreaker: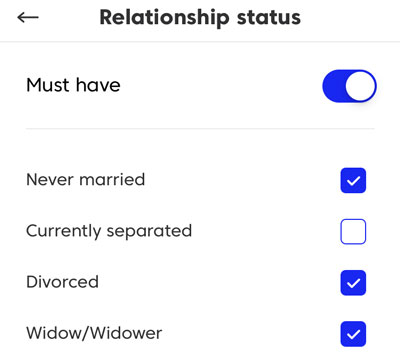 If you don't toggle the "Must Have" requirement on, you may get matches that are slightly outside of your preference for whatever trait is in question.
There are 5 ways to find potential matches on Match Mobile.
#1. Match Nearby
You can use Match mobile's "Nearby" feature to see users who have been in your general area recently - similar to the dating app Happn.
To see those profiles, tap the "Profile" icon on the navigation bar, then tap "See who's nearby":
#2. Discover
To see the matches the app's algorithm has selected for you, go to the "Discover" section by tapping that icon in the navigation bar:
From there, you can scroll through your recommended Match mobile matches one at a time, and either "like" them by tapping the heart icon, or pass by choosing the "X":
This is also where you'll see your Match Top Picks, which are profiles selected by the app's algorithm as particularly compatible.
#3: Search For Profiles
To freely search for members, tap on the magnifying glass icon in the upper navigation bar:
If you don't have any more members that fit your criteria, select "modify your filters." You can adjust anything that's underlined in the Match "quick search" blue box, and modify your advanced filters as well.
#4: Match "What If"
Match mobile also has a "What If" feature in the "Discover" section.
This will randomly show you profiles of users who are outside of your search preferences. The profiles are pulled from different categories, such as:
What if…
Age was just a number? (people outside your age preferences)
You were open to surprises? (people who match you in unexpected ways)
A degree did not define them? (people whose education level is outside your specifications)
You had more to go on? (people who uploaded lots of photos)
Distance makes the heart grow fonder? (people outside your distance preferences)
When you tap "Get started" it will bring up a group:
You can either view the profiles in that group, or tap "Go Again" to shuffle the groups and see what other category pops up.
#5: Match "Likes You"
Premium members can see which users have already "liked" them by tapping the "Likes" icon in the lower navigation bar:
You'll also see be able to see which users you've already liked as well.
Premium members can send a message to a user they've "liked" by tapping on the blue "conversation" icon:
Match Messaging Tip:
A creative and engaging icebreaker can convince a potential match you're worth getting to know further.
This is a great first message to send on Match mobile:
You can access all your existing conversations by tapping the "Inbox" icon on the bottom navigation bar:

Match Vibe Check
After both you and your match have each sent a message, you can use Match's Vibe Check feature to suggest a video chat within the app.
You must enable the feature and agree to a few terms & conditions along the lines of no nudity, harassment, hate speech, threats, drug use, etc. (You can also report your match for breaking those conditions during a video chat.)
Tapping "I accept" will activate the Vibe Check feature, and you'll see a video icon at the bottom of the messaging screen for each match.
Tap the icon to send your match a video chat request notification, which can either be accepted or declined. If your match hasn't enabled Vibe Check yet, you'll be notified of that.
Match Dates
The Match Dates feature will also ask both you and your match during a conversation if you're ready to take the conversation "to the next level" - which in this case means moving the conversation to a separate "Dates" section.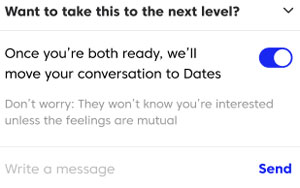 The Match Dates section unlocks additional information about your first date preferences which will become visible to your match, and ostensibly make planning the first date - whether it's in person or an in-app video chat - easier.
As for the video chat itself, there are no time limits imposed - the two of you can chat for as long as you like.
Make a good impression during your video chat with these video dating tips! According to Match's recent Singles In America Survey, 68% of singles said they use a video chat to decide if they want to meet a match in person.
Date Check-In
Once you've scheduled an in-person date with a match, you can opt-in to the Date Check-In feature by tapping the "safety" icon at the top of the conversation screen:
That will allow you to add three people as contacts, and it will send them an invitation. Once they've accepted, they can then receive all the details pertaining to your date with that match - location, time, and who you're meeting.
The app can also send you a check-in message during your date, which will allow you to send an emergency alert to those contacts if you don't feel safe.
The Best Time To Use A Match Boost
Match Boost is an ala carte paid feature that promises to get your profile in front of more eyes by making it one of the top profiles in your area for an hour.
If you buy just one at a time, boosting your profile on Match costs $5.99. But the price comes down when you buy multiple boosts at once:
You'll want to boost your profile at the right time to get the most exposure for your money.
Wandera took a look at how professional singles use dating apps, and found activity peaked on Match.com around 6 pm:
So if you want the most benefit out of each Match Boost, using it just after the work day ends would be ideal.
Using Match Mobile To Find Your Ideal Partner?
If you want to match, message and meet the person of your dreams, your photos, profiles and conversation skills need to be on point, not to mention the time required to stay on top of everything.
Online dating may be the biggest way couples meet these days, but that sure doesn't mean it's easy.
Why not let VIDA's team of dating experts lend a hand? We've got all the tools, knowledge and expertise in place to make modern dating easy for you, because we do it all for you!
Ready to say goodbye to dating apps and hello to your ideal partner? Click here!
Want us to do your online dating for you?

Hey, I'm Ally, VIDA Select's Director of Matchmaking.
We take all the frustration, hard work and hassle out of modern dating!
Imagine your very own Dream Team of highly skilled dating experts searching for the very best local matches, sparking their interest, and arranging all the dates for you.
Wouldn't it be nice to finally stop swiping and start dating higher quality matches so you can meet someone special?
We've helped thousands of singles just like you since 2009, and we're ready to make you our next success story!
What are you waiting for? Take the next step now…
See If You Qualify