I hope you enjoy reading the blog post.
If you want my team to just do your online dating for you, click here.
What Is AskMatch? [And How Does It Work?]
Struggling to catch the attention of the intriguing singles you really want to meet on Match.com? Help may be just a phone call away thanks to AskMatch.
What Is AskMatch?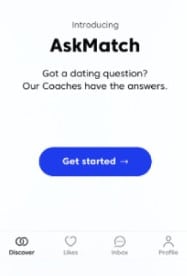 AskMatch is a feature that aims to connect users with real live dating and relationship experts. As Match CEO Hesam Hosseini explains,
Our dating coaches have years of experience as dating coaches and as dating experts, and in talking with over thousands of singles over the years they've formed a unique perspective on the ups and downs of dating.
That means you can essentially ask for help with anything. Get Match profile tips, or dating advice like how to navigate a first date, deal with ghosting, or start a text conversation with a match.
In various interviews, Hosseini has been quick to stress that when it comes to dispensing this dating advice, AI is not involved. No chat bots here. "Automation is great at a lot of things, but when it comes to love and relationships I don't think it's right," he said in an interview with Cheddar.
So How Does AskMatch Work?
Right now, AskMatch is available to users in 18 states. If all goes according to plan, it will be available nationwide soon.
Users access the AskMatch feature via the Match app.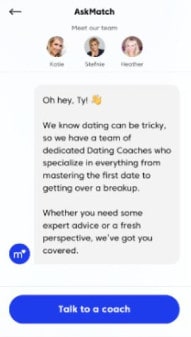 Tapping the "Talk To A Coach" button connects you with a Match dating coach via a phone call.
According to Hosseini, the development team tested several different communication methods:
Hands down the best feedback came from a short phone call, followed by text messages. Connecting on a phone, both people are intentional and focused on the conversation.
In an interview with Business Insider, Hosseini said he's found millennial men are 3x as likely to use the feature. Men in general are looking for dating advice. Women are seeking a second opinion and validation that they're on the right path.
As far as who you're actually speaking with, the dating coaches are all members of Match's in-house team.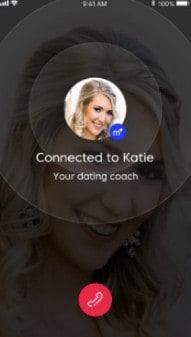 Right now, you'll get to talk to whichever coach is available at the time. So let's say you had a great conversation with a coach on Tuesday and wanted to follow up via phone with her a few days later. You'd have to cross your fingers that you'd automatically connect with her again.
How Much Does AskMatch Cost?
Right now the AskMatch feature is free. (Apart from the $17 to $24 you're already paying each month for full use of the dating site.) That may change as AskMatch rolls out nationwide, but right now using it won't involve any additional fees.
Does AskMatch Actually Work?
On paper, AskMatch seems like a great idea. Tap a button, ask a dating coach your question, go on with your day.
But maybe you've got a ton of dating questions… get ready to take a lot of notes on that call! And whether you've got one question or 21, you'll still have to implement the advice in a way that's effective for you - and that's the hard part.
If you're hoping to ask a dating coach for advice on writing a more attractive dating profile or sending messages that singles actually respond to, you already know this stuff isn't easy. And it will probably take more than one phone call to build up your skills enough to start seeing actual results.
And each time you access the AskMatch feature, you'll have to spend time describing yourself to whichever dating coach answers the phone. Then even more time explaining your specific situation.
What works for a 22-year-old guy looking for help navigating the club scene likely won't work if you're a 47-year-old CEO looking for a serious relationship. So for any dating advice you get to be effective, your coach needs to know who she's giving it to!
You Need A Personal Matchmaker
Wouldn't it be easier to work with a single dedicated matchmaker who already knows all about you and the kind of person you're hoping to attract?
And what if your matchmaker had a team of industry professionals who could literally handle everything on Match for you, from customizing your profile and selecting your most appealing photos to skillfully writing all your back and forth messages and scheduling dates with people who have your "relationship material" stamp of approval?
With VIDA, all that is possible! Your VIDA team handles all the aspects of online dating you feel frustrated with right now, and the only thing you need to do is get ready for all your amazing first dates!
Which, by the way, you'll be completely ready for thanks to VIDA's expert dating coaching and on-demand stylist. You won't have to worry about what to wear or what to say - we'll prep you for all of it.
Meeting your ideal partner on Match could be just a short phone call away - and VIDA can also manage any other dating site or app you use! Intrigued? Click here!
Want us to do your online dating for you?

Hey, I'm Ally, VIDA Select's Director of Matchmaking.
We take all the frustration, hard work and hassle out of modern dating!
Imagine your very own Dream Team of highly skilled dating experts searching for the very best local matches, sparking their interest, and arranging all the dates for you.
Wouldn't it be nice to finally stop swiping and start dating higher quality matches so you can meet someone special?
We've helped thousands of singles just like you since 2009, and we're ready to make you our next success story!
What are you waiting for? Take the next step now…
See If You Qualify