I hope you enjoy reading the blog post.
If you want my team to just do your online dating for you, click here.
Happn Review [2022] - Great App Or Total Time Waster?
Happn promises convenience - you match with singles who live or work in your neighborhood that you've *already* crossed paths with. But does it work in real life? Keep reading this Happn review to find out!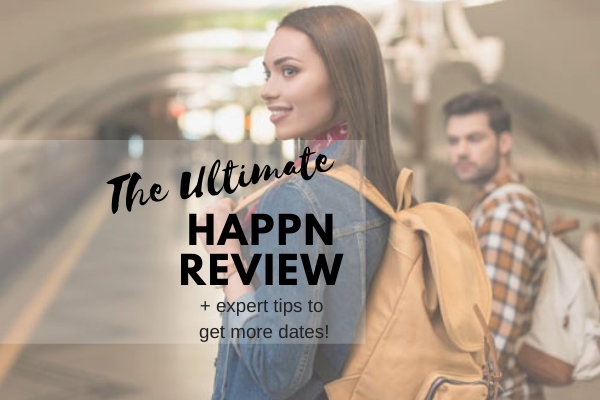 Happn Review Table of Contents
Skip to whatever you want to know first, or start at the top!
How Happn Works
Happn is a free mobile dating app available for iPhone or Android. Co-founded by Didier Rappaport, Fabien Cohen and Antony Cohen, it first launched in France back in 2014 but quickly spread all around the world.
Like most other dating apps, Happn is location based. But Happn's proximity restriction sets it apart from apps like Tinder. The entire concept of the app is built around matching with people you have actually encountered (or almost encountered) during your day.
In an interview, Didier Rappaport explained the idea behind Happn's crossings feature was more about getting a second chance at missed connections, and less about matching algorithms.
We believe that the magic of love is when two people meet thanks to little coincidences, and when an unpredictable alchemy makes them connect and really fit together.
Proximity Is The Key To Matching
Any time another Happn user who matches your preferences comes within a set distance of you, their profile shows up in your timeline. You can expand that radius up to 90 kilometers (about 55 miles). The closest users show up first.
You can see how many times you've crossed paths, and check out the time and place of your last chance encounter via the Happn map.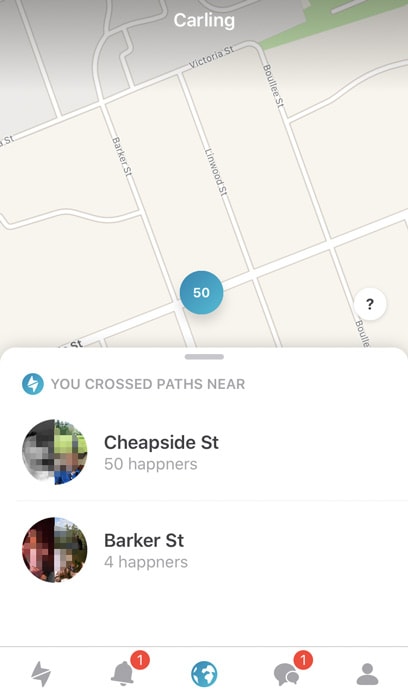 If you notice the word "NOW" next to their profile, that means you're currently within range of each other. For privacy reasons, the Happn app will not display the exact distance or time of the crossing.
You can see an index of every user you've come across recently, listed chronologically and by the amount of time you've been near each other.
As Happn CEO Karima Ben Abdelmalek explained in an interview,
Indeed, the app is just boosting something that has already happened: Singles have already met, in real-life, but maybe they haven't noticed each other... knowing that people have already crossed paths with each other in real-life means they already share something: maybe they go to the same restaurant, they work in the same area… It's an amazing icebreaker and something reassuring.
But don't worry if you haven't crossed paths with any Happn users, you can still check out profiles. The app will show you profiles of people in your area who meet some or all of your matching criteria. You'll see a note indicating you haven't crossed paths with them "yet".
If you're interested, you can "Heart" the person's profile. If that user "Hearts" you back, then you've formed a "Crush."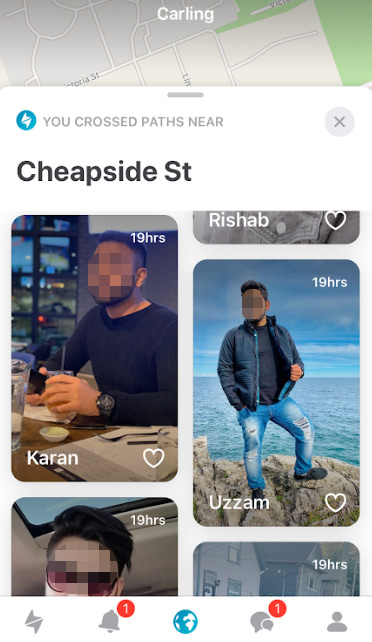 You can exchange messages with any of your crushes.
Happn's "Audio Call" feature lets you make calls within the app. It also has a video chat function, but you only get one 5-minute video call with each crush for free.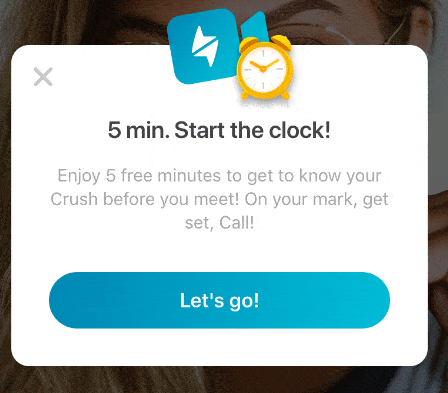 To call your match, simply tap on the camera or phone button in the upper right-hand corner of the conversation screen. To make the best first impression possible with your one free call, check out these video chatting tips first!
The Happn Map
This is essentially your timeline, recreated in map form.
The map shows you all the main locations where you've encountered other users within the last 7 days.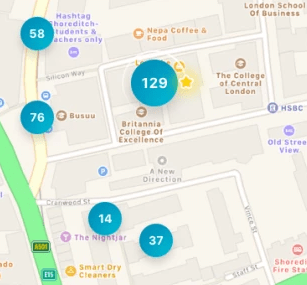 To use the Happn Map, simply tap on it to enlarge it. Each "crossing" is indicated by a number, and you can zoom in and view all the different locations on the map.
Tapping on a number will bring up a preview screen showing all the profiles you've crossed paths with at that particular location.
For instance, you could discover that an intriguing match frequents your favorite coffee shop or pizza joint - the pickup lines basically write themselves.
In the interest of safety, the Happn Map does not show anyone's exact location in real time, including yours.
If you don't want to appear on anyone's Happn Map, follow these two steps:
From "My Account," uncheck the box for "Share my crossing locations"
Your profile will still show up on other people's timelines, just not on their interactive maps.
Happn Crush Time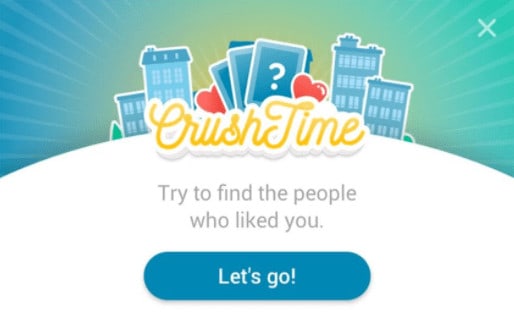 Happn also has a "CrushTime" feature, which is a little game users can play within the app and hopefully spark a connection.
CrushTime randomly notifies you that one of a selection of four Happn users you crossed paths with that day liked your profile.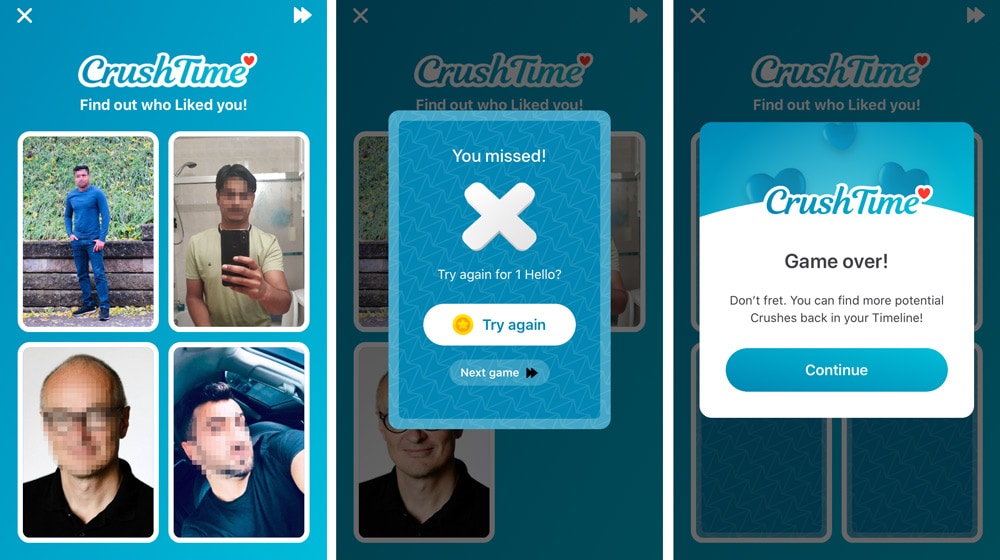 You then try to guess which user it was.
If you guess correctly, it's an instant "Crush". An incorrect guess will still "like" that user's profile, so hopefully they'll return the favor and you'll get the "Crush" that way.
Happn Review Verdict
Is Happn worth a try?
It's easy to set up and use. But as with any location based dating app, your matches are solely based on proximity so you need to live in a major metropolitan area to use it effectively.
If you do live in a populated area with a lot of users, it's likely worth downloading and trying out. The format lends itself to impromptu meetups, so if you're looking for hookup apps this one is a good bet.
That being said, you'll find plenty of singles looking for a long-term relationship too.
Here a few pros & cons you'll want to consider before downloading the Happn mobile app:
Pros:
Easy to set up - your profile can be created from Facebook, and you can synchronize your Instagram photos to the app. Happn doesn't require Facebook though, you can log in via your mobile.
You can use Spotify to share songs and playlists, allowing users to start a conversation and get to know each other better through music.
Arranging a date can be more convenient than on a mainstream site. If you cross paths frequently with a Happn member, chances are you either live or work in the same area. And thanks to the real-time proximity notifications, it's easy to use Happn as a hookup app of sorts.
You can verify your profile, which means matches know you're legit.
Cons:
It's not the most popular dating app out there. If you don't live in a major city with a big , a larger online dating site like Match.com or apps like Tinder and Hinge are a better bet.
Information on your matches is rather limited, especially if you don't upgrade. So it's impossible to curate your matches as much as maybe you'd like to before meeting them.
Is Happn Dating App Free?
Yes - downloading and setting up a basic Happn account is free.
Happn also has a Premium subscription that includes some useful paid features:
See a full list of who has already liked your profile, so if you're interested it's an instant crush.
Send up to 10 FlashNotes daily
See only profiles that meet your specified match criteria
Unlimited profile reactions & likes
Use Invisibility Mode to turn the geolocation feature off
Control what information is shared with your potential crushes
Use the "Second Chance" feature to undo a pass
5 video calls each month (which can last up to an hour each)
No ads
The enhanced privacy controls are likely worth becoming a premium member if you'd rather not consider matching with (much less dating) singles in your building or your workplace.
Happn's Invisible Mode feature lets you schedule in advance when you want to use geolocation.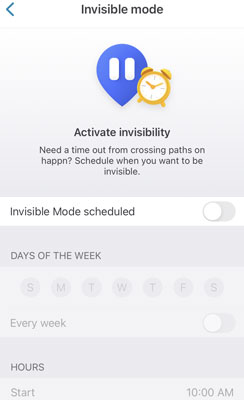 That means you can become invisible during your typical work hours, or when you're generally at home - and it happens automatically.
Premium members can also choose to hide how old they are, how far away they are, and when they were last on the app: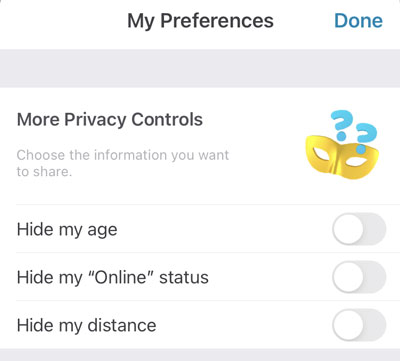 Much like a Tinder Gold or Bumble Premium subscription, upgrading to Happn Premium allows you to see who on your timeline has already "liked" you - which can save you some swiping time.
You'll also get the chance to play CrushTime twice as often as free app users, which can be a fun way to get more Happn matches.
Happn Premium Cost
The cost of a Happn Premium membership may vary by location, but you're looking at a price tag around $24.99 for one month. Subscribe for longer periods of time and the per-month cost drops:
Anyone who uses Happn can purchase a profile boost. Just like on Tinder, boosts increase the visibility of your profile. With Happn, each boost lasts a full 24 hours.
You can purchase a single boost for $4.99, or buy them in quantity for a price break:
The best time to boost your profile on Happn is on a Monday around 8 pm. According to the dating app, that's when users on the app are most active.
You can download the Happn dating app at the App Store or Google Play:

Setting Up Your Happn Profile
Once you download the app, login via your Facebook account or with your mobile number. Happn gives you some control of your data privacy, so make sure to specify what you want shared with the app: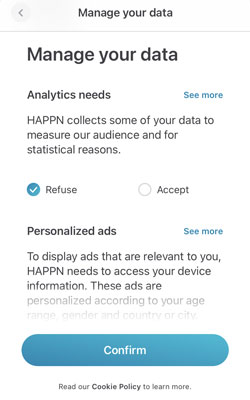 If you create a profile using your Facebook account, your basic information – first name, age, job, employer, and school – is auto-populated.
Happn Badges
Happn displays info ranging from what type of relationship you're seeking to your cooking, exercise travel, and partying habits:
You can filter your Happn match feed by gender, age, type of relationship, height, kids, smoking and how they party: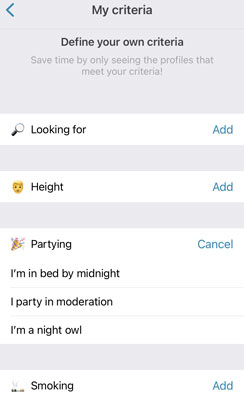 Happn's Similarities feature automatically highlights things you have in common with potential matches, which the app's team hopes will make finding compatible matches even easier. As one Happn exec explained to Global Dating Insights,
Even the smallest piece of information could be the starting point for a wonderful love story!
As the name implies, similarities you share are highlighted in the badge section of each potential match's profile.
You'll also see a notification like "You have 5 things in common" or "Your travel preferences match" displayed underneath a user's name, age and occupation on their profile card. Tapping on the notification brings you to the badge section.
Happn's "About Me" section is optional, and has Tinder's same 500-character limit.
Take the time to write a bit about yourself, because an engaging, creative profile might prompt someone to "Heart" you if they're undecided about your photos.
Need some inspiration? Check out these awesome short dating profile examples that are perfect for an app like Happn.
PRO TIP:
For short profiles, focus on three things about yourself that you think the woman you're looking for would be into. Try injecting a bit of humor or quirkiness to make your profile memorable. For instance, a line like "I brake for butterflies" will catch her attention far better than "I love nature". For more help writing a short dating profile, check out these essential dating profile tips.
Happn Audio Notes
Happn also lets you add an "Audio Note" to your profile, which can be a fun way to highlight your personality.
To add an Audio Note to your Happn profile:
Tap the profile icon on the far right of the menu bar
Bring up the editing screen by tapping your profile picture
Select "add audio"
Choose the prompt you'd like to talk about from the list
Grant the audio permissions if prompted
Hold your finger on the microphone icon to your record your voice clip
Users can also access a dedicated feed of audio clips in Happn's "Audio Feed" feature, which lets you listen to someone's voice before seeing the rest of their profile.
Happn Photos
You can use up to 9 photos in your Happn profile, although it's best to use a range of 4-6.
It's difficult to look equally attractive in 7+, but fewer than 4 isn't enough to showcase all the aspects of your personality. Check out this article for everything you need to know about choosing your best online dating photos.
You can link the app to both Instagram and Spotify.
Verifying Your Profile On Happn
Happn allows users to certify their profiles and display a blue check symbol to let other users know they're verified.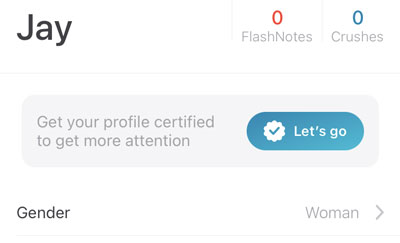 But the profile verification process is slightly different than it is on other apps.
To verify your profile on Happn, you submit a short video through the app where you mimic specific head movements.
The app's AI then compares the video clip to your photos.
This is how to certify your profile on Happn:
Tap "Get your badge"
Watch the short video clip of the head movement you need to mimic
Tap "Let's go"
Respond to the authorization request
Tap the video button and mimic the movement
Tap "Submit"
If you change your photo lineup, you may need to repeat to the profile certification. But anything you can do to reassure your matches that yours isn't a fake profile is worth the time.
Matching On Happn
Signing in to the app for the first time is not as exciting as most other dating apps, because you won't have any potential matches to swipe until you cross paths with another user.
Keep it active during the day, and you'll get a notification when fellow users come within 250 meters.
You have the option to pause the app if you don't want to be matched with anyone around a particular location.
In your timeline, you'll see profiles of singles who have passed into your dating radius.
You have the option to like ("Heart"), pass, or send a FlashNote.
A FlashNote is Happn's version of messaging before you match, but free users can only do it a handful of times.
You can earn more FlashNotes by doing things like inviting friends to try the app. To get your 10 daily FlashNotes, you'll need to upgrade.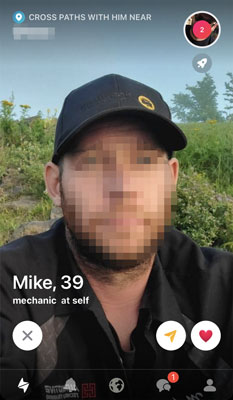 If the recipient likes your profile as well, the two of you will form a "Crush." At that point, you can exchange messages. If you decide to pass, that profile won't show up on your list of matches again, no matter how many times your paths cross.
Messaging is similar to mobile apps like Hinge and CoffeeMeetsBagel.
But unlike those apps, your Happn conversations don't have a built-in expiration date. Don't take too long to ask her out, though - you don't want her to lose interest or decide you're not serious about meeting up.
If you're not sure how to tell if it's the right time to ask her out, here are some tips straight from the experts.
Happn offers video calling within the app - and you get five free minutes with every Crush. You can also purchase more video call time within the app. Each call can last up to an hour max. Want your video chat to go great?
Check out these video dating tips!
The Best Way To Meet Amazing Local Singles On Any Dating App
Thanks to this Happn review, you now have an overview of exactly how Happn works and what to expect while using it. And if you're looking for more than just the standard advice and dating help that works to boost your results, you've come to the right place...
Here at VIDA, we can manage your dating sites & apps for you, and get you out with your favorite matches faster than a New York minute. We'll write your profile, message your matches, and even set up the dates. It's as easy as showing up and having fun!
Why spend another weekend alone? Click here to discover how you can meet the girl of your dreams this weekend!
Want us to do your online dating for you?

Hey, I'm Ally, VIDA Select's Director of Matchmaking.
We take all the frustration, hard work and hassle out of modern dating!
Imagine your very own Dream Team of highly skilled dating experts searching for the very best local matches, sparking their interest, and arranging all the dates for you.
Wouldn't it be nice to finally stop swiping and start dating higher quality matches so you can meet someone special?
We've helped thousands of singles just like you since 2009, and we're ready to make you our next success story!
What are you waiting for? Take the next step now…
See If You Qualify