I hope you enjoy reading the blog post.
If you want my team to just do your online dating for you, click here.
Match.com Top Picks: What They Are & How They Work! [2023]
Curious about Match.com Top Picks? You've landed in the right place.
Our team of dating experts uses Match daily on behalf of the thousands of clients we represent online. With over 14 years of firsthand experience, we've seen how each feature on this popular dating site has evolved over time, and we know exactly how to use each one to boost your match rate and get more dates!
From what it means to how you can become someone's Top Pick on Match, get all your questions answered in this quick feature review!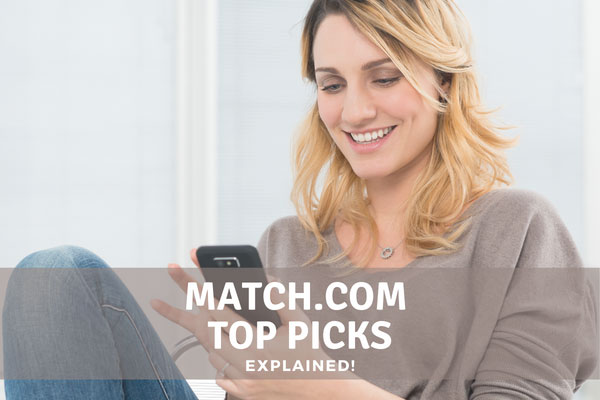 Match Top Picks Table of Contents
Jump straight to what you want to know, or start from the top!
What is a Top Pick on Match.com?
Similar to Tinder's "Top Picks" feature, your Match Top Picks are profiles the algorithm has identified as highly compatible based on most of your preferences.
Your recent activity on the site is also taken into account, such as who you message and who you "like".
When determining your daily Match.com Top Picks, the algorithm considers your criteria for these preferences:
But you may find when it comes to age, height and distance, your recommended matches could be slightly outside of your stated ranges.
How Match.com Top Picks Works
You'll find your Top Picks in Match's "Discover" section. Simply tap the Discover symbol to bring up the feed.
Both Top Picks and Recommended matches show up in the Discover section but they are slightly different.
Top Picks profiles align with most of our preferences as described above, but Recommended ones may not.
You'll know you're looking at a "Top Pick" because they have the crown icon on them: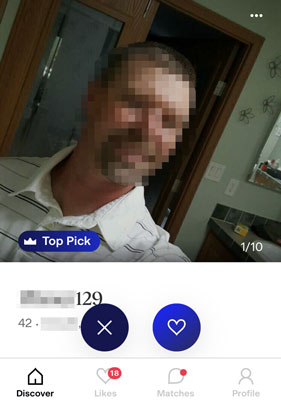 Top Picks also come before Recommended matches in your Discover feed. Users generally get around 5 Top Picks every day.
Match allows you to message your Top Picks for free, and you can include a message with your "like".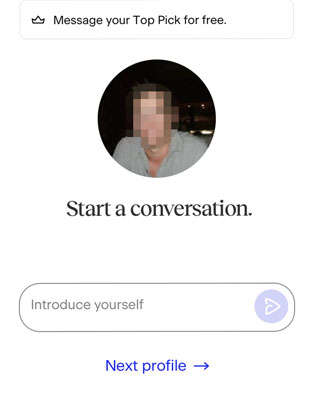 It's a good idea to scroll through and either Skip or Like your daily Top Picks. This helps the algorithm present you with more compatible profiles over the long run.
Plus, if you don't have a premium subscription, this is one of the only ways you can message people without paying for Match.
In need of a good first message to send? Check out these effective ways to start an online dating conversation!
How To Become A Top Pick On Match.com
On Match.com, the matching process is "member specific."
As explained in their FAQ, the evaluation process to find your matches is totally independent of the process to find matches for other users.
In other words, just because someone is your Top Pick on Match doesn't mean you become one of their Top Picks as well.
However, when both of your preferences align in most areas, the odds of you popping up somewhere are higher, such as in the Mutual Match feature.
Having a complete profile is one of the best ways to ensure your profile gets plenty of exposure, including as a potential Top Pick.
For instance, this popular dating site won't even try to match you with anyone until you've uploaded at least 3 photos.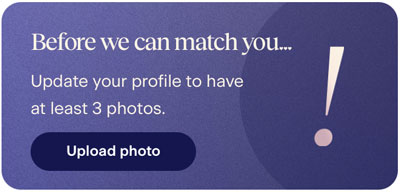 If you're not sure how to build a compelling photo lineup for your dating profile, this post on choosing your best pics is a must read.
Not answering all the profile set up questions can be a mistake as well, especially the ones the Top Picks algorithm takes into consideration.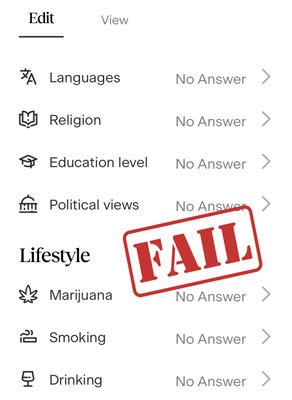 "No Answer" gives the algorithm no useful information, and it's also not likely to impress your potential matches.
Match.com generally attracts people seeking a serious relationship, so putting effort into how you present yourself is mission critical.
It goes without saying that photos can make or break how successful you are on a dating app. If your profile is presented as a Top Pick, your primary photo takes center stage.
If you want your Match profile to get a "like", make sure your primary photo is compelling.
Use these 3 photo tips to help you choose the best one possible!
#1: Make eye contact with the camera.
Not only does this help form an instant connection with potential matches, it also exudes confidence.
#2: Keep an eye on the background.
How you look in a photo is important, but your surroundings also make a big impression.
If you choose a bathroom selfie as a primary photo, people will likely wonder why you don't have pics snapped in more interesting, intriguing places.
#3: Don't use low quality images.
Putting together a photo lineup is a very intentional representation of yourself.
Blurry, dark, terrible quality photos telegraph that you don't really care what sort of impression you're making. That's not an attractive message to send on a dating app, especially one you have to pay to use.
And don't forget your bio plays a starring role thanks to the Top Picks format on Match's website.
On Match Mobile, it's all about your primary photo. But the web version also reveals the first couple of sentences of your profile, so it's best to skip the clichés that are so prevalent in dating profiles.
Lines like "I love to laugh" or "Passionate about life" are so overused they're almost meaningless.
If she's not instantly intrigued by what she's reading, why would she want to keep exploring your profile? Check out these profile tips for expert advice on crafting a compelling bio!
Ready To Meet Your Perfect Partner On Match?
Match.com Top Picks may serve up truly relationship worthy singles, but the hard part is just beginning. Going from "like" to date takes effort, not to mention messaging skills.
If you're struggling to get the results you want on dating sites like Match.com, there's a solution at hand. VIDA Select's team of experts handles every aspect of modern dating for you, from profile creation and photo selection to swiping and messaging!
All you do is enjoy all the dates with highly compatible singles. Go here and discover how easy meeting your ideal match can be!
Match.com Top Picks FAQ
Just looking for quick information? These are the answers to the questions most commonly asked about the Top Pick feature on Match!
What does Top Pick on Match mean?
Top Picks are the most highly recommended matches in your Discover feed.
What does the crown icon on Match.com mean?
The crown icon is used to identify your Top Pick matches. These are profiles the app's algorithm has chosen based both on your preferences and your recent "Likes" and messaging activity.
Does Match tell you if your profile is selected as someone else's Top Pick?
No, Match does not notify you when your profile is chosen as a potential match for someone.
How are Top Picks chosen on Match?
Match considers some (but not all) of your selected match preferences, as well as the type of profiles you choose to "like" and message when selecting your Top Picks.
Is Match.com Top Picks free?
Yes! Free users can review their Top Picks and even exchange messages with them without a premium subscription.
Want us to do your online dating for you?

Hey, I'm Ally, VIDA Select's Director of Matchmaking.
We take all the frustration, hard work and hassle out of modern dating!
Imagine your very own Dream Team of highly skilled dating experts searching for the very best local matches, sparking their interest, and arranging all the dates for you.
Wouldn't it be nice to finally stop swiping and start dating higher quality matches so you can meet someone special?
We've helped thousands of singles just like you since 2009, and we're ready to make you our next success story!
What are you waiting for? Take the next step now…
See If You Qualify