Tinder is no stranger to taking inspiration from other popular dating apps when developing new features.
Tinder Places is reminiscent of Happn's "missed connection" format, and Tinder Feed incorporated Hinge's ability to comment directly on photos and other profile content.
And now CoffeeMeetsBagel's curated approach to matching has inspired a new perk for Tinder Gold subscribers – Tinder Picks.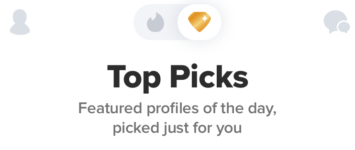 This is great news for anyone tired of the seemingly endless swiping it takes just to find a few gems. Now you can skip straight to a curated selection of matches Tinder has chosen just for you.
Keep reading to find out how Tinder Picks works, how to get it, and how to get the most out of this Tinder feature!
Tinder Picks Explained
This Tinder feature takes information like education, occupation, hobbies, and interests shared in user profiles and uses it to put them into various categories.
As Tinder's Chief Product Officer Brian Norgard explained,
"Picks delivers a personalized, premium user experience within Tinder Gold that puts a spotlight on unique characteristics that make our users stand out."
For instance, if a person's profile says they're an artist, you might see the label "Creative" emblazoned across their photo. Someone who enjoys rock climbing might be categorized as an "Adventurer."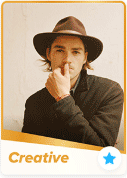 Other categories include "Military," "Scholar," "Foodie," and "Traveler."
You can tap on the golden diamond icon and see what Tinder considers to be your "top picks" based on your swiping history – a custom selection of local singles the matching algorithm feels would be of particular interest to you.
3 Things You Need To Know About Tinder Top Picks:
1. You Need Tinder Gold To Use It
Free Tinder users can view their Top Picks, and interact with one of them per day. But if you want to swipe, Super Like, or view profiles for more than just one, you'll have to upgrade to Tinder Gold.
Tinder Picks also works in conjunction with the Passport feature – your selection of Tinder Picks will reflect whatever location you're swiping in.
If you don't already subscribe to Tinder Gold, here are the additional perks that come with it:
Full access to Top Picks
See who's already "liked" you
Hide your age and distance
Undo your last swipe as often as you want
1 free Tinder Boost monthly
Make your profile visible only to people you "like"
Unlimited right swipes
Turn off ads
5 free Super Likes daily
How much Tinder Gold costs depends on your age and location, but it will be somewhere in this neighborhood:
2. It's Only Available In Limited Test Markets (For Now)
So far, Tinder Picks has launched in the US, UK, Australia, Brazil, Germany, Canada, France, Tukey, Sweden, Russia, Mexico, and the Netherlands.
Tinder Picks is available for both iOS and Android in those test markets.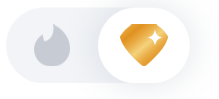 If it's in your area, all you need to do to get Tinder Picks is tap the gold diamond icon at the top of the screen to view your curated match feed.
3. You'll Want To Check The App Daily (If You Don't Already)
You'll get between 4 and 10 curated matches every day, but don't delay swiping on the singles who intrigue you – Tinder Picks refresh every 24 hours.
If you want more, premium subscribers can purchase additional Picks in bulk quantities of 10, 20, or 30. The same time restriction applies to these extra Top Picks – unlike other in-app purchases, they'll disappear from your Tinder account in 24 hours whether you've looked at them or not.
Right now, pricing varies depending on the test market you're in.
Get More Matches With Tinder Picks
Having Tinder cherry pick your best matches can save you a lot of swiping time, but your profile needs to compel them to like you back. You also want to boost your chances of being someone else's Top Pick, and for that you need a bio that knocks it out of the park.
Here are 3 Tinder tips that will help make you irresistible to all your top Tinder Picks:
1. Get Specific In Your Bio
Tinder's algorithm will evaluate your occupation, education, and hobbies/interests, so make sure you give it plenty to work with when it comes to determining your label. For example, a Tinder bio like this showcases your sense of adventure and love of travel: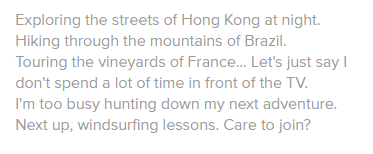 For more Tinder profile examples and advice, go here.
2. Keep An Eye On Proportions
The ideal primary Tinder pic shows the upper 2/3rds of your body.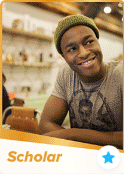 Not only has research found images cropped more like a traditional head shot were consistently rated as more attractive, it's also what looks best in the "Top Picks" grid view.
Here are some other primary photo "rules" that will help you get more right swipes on Tinder:
Choose an image taken with a high-quality camera where the focus, lighting, etc. are all on point.
Be the only person in the frame.
While you don't necessarily have to make eye contact with the camera (although that's a great way to spark an immediate connection), do make sure your eyes are visible. Sunglasses or other obstructions don't do your likeability any favors.
3. Let The Masses Help Choose Your Lineup
Whether you enable Tinder's Smart Photos feature or use a site like PhotoFeeler to gather opinions, getting feedback on your photo selection is vital.
Here is why – it's simply not possible for you to evaluate your pictures the same way a total stranger will.
You're so familiar with your own appearance that your brain naturally glosses over details someone who has never seen you before might pick up on right away.
And as you know, the devil is in the details.
You want to choose the photos that other people find most attractive, and the only way to do that is to gather opinions. It's well worth the time and effort to get the most attractive photo lineup possible.
Get More Matches, Without Doing More Work
Of course, if you're like the average single, you're already putting a lot of time and effort into Tinder – to the tune of 40+ hours per month. And if you're still not meeting the best local singles, you're probably pretty frustrated right about now.
The dating experts at VIDA can help! In fact, we can do it all. From using our proven, data-driven photo selection process to writing an irresistible bio that hits all the right notes, you don't have to worry about a thing.
We'll even handle all the messaging for you.
There is no easier way to meet high-quality singles on Tinder – all you do is show up for the dates! Intrigued? Click here!