I hope you enjoy reading the blog post.
If you want my team to just do your Tinder for you, click here to chat with me.
Tinder Passport Explained [How To Change Your Location]
Tinder Passport is a premium feature that allows you to change your geographical location on the app, so you can swipe and match with singles in any city you want.
VIDA's team of dating experts have been using Tinder daily since it launched over 10 years ago, so we know first-hand exactly how this Tinder feature works. And even better, we've used it to get countless dates for the clients we represent on this popular dating app!
In this post, we'll walk you through exactly how Tinder Passport works, some considerations you need to take into account and more!
Tinder Passport Explained Table Of Contents
Ready to explore this feature and use it to meet more matches in a different location? Let's get started!
How Tinder Passport Works
To change your location on Tinder:
Go to the 'Settings' or 'App Settings' screen and tap 'Swiping in' (Android) or 'Location' (iOS).
Tap the option to "Add a new location."

Enter the new city you want to swipe in into the search bar.

Select it from your search results.
Tap the blue banner to change your Tinder location.
Once you've done this, your profile will only be visible to Tinder users in that area.
Your 5 most recent locations will be stored, and you can toggle between them by tapping on the city to change where you're swiping.
Tinder Passport does show distance, so a potential match will be able to see how far away you are.
You can change location as often as you like, but your profile may be visible to matches you've "liked" for up to 24 hours after you're no longer visible in that location.
That also means no one at your "real" physical location will see your profile. You'll be shown in your destination city until you manually change it back, even if you log out and back into the app.
The Good News
When you use Tinder Passport to change your current location, your profile gets an instant "new user" boost. That means you'll get more views initially.
It's also the easiest and most reliable way to spoof your location on Tinder.
The Bad News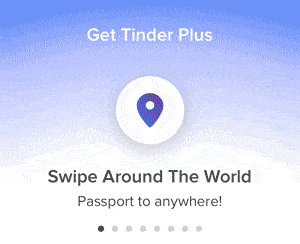 Tinder Passport usually isn't free - it's a premium feature. However, since 2020 Tinder has unlocked it in April so that anyone can use Passport gratis for the month. But outside of that promotion, you'll need to invest $9.99/month for Tinder Plus.
Tinder Plus comes with a few more premium features, like unlimited right swipes, extra Super Likes, and a free Tinder Boost every month.
Get a full run down on everything you get with Tinder Plus, or get Tinder Gold or Platinum for even more goodies.
Also, keep in mind it is possible to tell if someone is using Tinder Passport. The distance away that's shown on your profile will likely be way outside their search parameters.
Tinder Plus gives you the "don't show my distance" option. But when people notice it's not listed at all, they might assume it's because you're far away.
Is The Tinder Passport Feature Worth Paying For Tinder?
If you travel and want to meet new people while at your destination, the location changer is likely worth the expense. Going from match to message to meet up can take time, so why not have all the legwork done before you get there?
And if you split your time between two (or more) cities, you won't have to take a break from swiping in one location while you're living in the other. It's all about keeping your options open...
3 Easy Ways To Boost Your Results On Tinder
Whether you pay for Tinder or not, chances are you want to get higher quality matches in less time, right?
Here are 3 ways to optimize your results on this dating app:
1) Use Cut & Paste Icebreakers
Your first message makes or breaks your chances of getting a response from a promising match. But you may not have time to craft a compelling message, which is why you need a Tinder conversation starter like one of these at the ready:
Tinder Icebreaker For Guys:
Not only is this a fun question to think about, it's also an easy message to respond to.
Compare that to sending "Hey". Not only is that lame, she's probably seen it a hundred times already.
Even worse, you're making it her job to lead the conversation - and that's work. The easier you make it for her to respond, the better the chances of getting a reply.
Tinder Icebreaker For Women:

Smiles have long been considered a universal sign of flirtation, so why not give him a virtual one?
This message lets him know you're interested, and gives him the confidence to start a conversation with you.
2) Let Strangers Choose Your Primary Photo
It sounds counter-intuitive, but people who don't know you are better at choosing your most attractive photo than you are.
You're familiar with your appearance, so you automatically gloss over all the tiny imperfections, micro-expressions, and background details that strangers pick up on right away.
You can activate Tinder's Smart Photos feature, which automatically rotates your most right-swiped photo into the primary spot.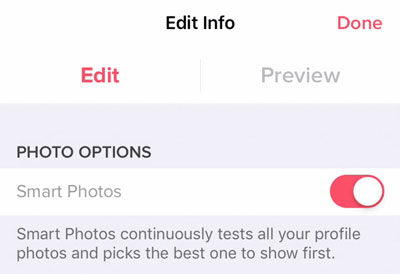 But to get the most out of this feature, you need good photos to begin with since Smart Photos doesn't offer any feedback.
Check out these dating photo tips, then use a site like PhotoFeeler to gather input on your new lineup.
Once you've got strong selections, active Smart Photos to lead with the best of the best.
3) Bring In The Tinder Experts
Being successful on Tinder requires time. Tweaking your photos and bio, swiping, sending messages that actually get responses - then turning that message exchange into a date.
And if you're getting ready for a trip, who's got time for all that?
Why not outsource Tinder, and let VIDA do all the hard work for you? Whether you're looking to meet singles at home or abroad, VIDA's Tinder experts will handle everything from start to finish.
It's the fastest, easiest way to meet high quality matches - wherever you are!
Click here to find out how.
Want us to do your online dating for you?

Hey, I'm Ally, VIDA Select's Director of Matchmaking.
We take all the frustration, hard work and hassle out of modern dating!
Imagine your very own Dream Team of highly skilled dating experts searching for the very best local matches, sparking their interest, and arranging all the dates for you.
Wouldn't it be nice to finally stop swiping and start dating higher quality matches so you can meet someone special?
We've helped thousands of singles just like you since 2009, and we're ready to make you our next success story!
What are you waiting for? Take the next step now…
See If You Qualify