I hope you enjoy reading the blog post.
If you want my team to just do your Bumble for you, click here to chat with me.
Bumble Reviews (2023) - Is It The Best Dating App For You?
You're looking for Bumble reviews, so you're probably wondering... is Bumble legit, or should you stick with Tinder or Hinge?
You've come to the right place for answers. VIDA Select's dating experts have been using Bumble on behalf of thousands and thousands of clients since it launched way back in 2014. We know all the ins & outs, pros & cons, and premium features.
This Bumble app review reflects our years of hands-on experience with the app, and it's got all the information you need to decide if Bumble is the right choice for you.
Bumble Review Table of Contents
Head straight to what you're most curious about in the Table of Contents, or start at the top!
Bumble Pros & Cons
PRO: Women aren't overwhelmed with unwanted messages. That makes it a little easier for men to move things off the app, since all their matches chose to initiate contact.
PRO: According to one of the app's founders, 60% of matches result in a conversation.
PRO: The app's gender demographics are roughly equal, with 55% of users being male.
PRO: Setting up an account is easy, because your bio can't be longer than 300 characters.
CON: Men can't send the first message - only women can initiate a conversation. So if you've got some great icebreakers in your arsenal, you won't get a chance to use them. There is one work-around for guys - the Bumble Compliments feature. That lets you send a message before matching, but you can only do it once per day for free.
CON: She only has 24 hours to initiate contact with you once you've both swiped right. So if a woman you're interested in doesn't send you a message, the match is lost. (But keep reading for a way to extend the deadline!)
BUMBLE REVIEWS VERDICT: Bumble is a legit dating app - the second most popular one in the US. So guys, if you can stomach the idea of waiting for her to make the first move, give Bumble a try... especially if you're reasonably handsome with strong pictures. Feeling like the pursued instead of the pursuer every once in a while is nice, and Bumble makes that possible!
It's also a great dating app for women, too - as long as you're okay with sending the first message. (And ladies, he doesn't like getting "Hey" any more than you do. So if you're stuck for what to say on Bumble, check out these opening lines that make guys respond!)
Everything You Need To Know About Bumble
Bumble is a free dating app built on the same model as Tinder, but with one unique twist. Women are in the driver's seat when it comes to starting a conversation.
Bumble aims to cut down on the number of sleazy messages women often get bombarded with on other mobile dating apps. That's the main reason why men can't send the first message.
If you're the guy whose standard approach to messaging consists of "Hey baby, nice ___" this probably isn't the app for you. (And if you are that guy, you should definitely read this article for some Tinder pickup lines that actually work).
Interesting Tidbit: After one of Tinder's founders, Whitney Wolfe, filed a highly controversial sexual harassment lawsuit against Tinder and its parent company (at the time) IAC, she decided to start a more "women-friendly" app.
The just over $1,000,000 settlement and embarrassing scandal apparently wasn't enough vindication for Whitney. She also decided to take a big bite out of Tinder's market, and successfully built Bumble, one of its biggest competitors.
How Bumble Works
You can swipe right or left to indicate your interest level, or let someone know you're really interested by using a SuperSwipe.
Bumble used to have a Reactions feature that let you choose a piece of content in the profile of a potential match, and react to it with an emoji chosen from a selection of 9. The emoji Reaction was revealed if the two of you matched.
Reactions has since been replaced by the Compliments feature, which allows both men and women to send a message to a user before they've matched. You can do it once for free each day. But if you want to send more messages before matching on Bumble, you'll have to purchase more Compliments.
Sending a Compliment is considered a right swipe, and for women it will also count as starting the conversation.
When you both swipe right a "connection" is made. Once that happens, the woman has only 24 hours to initiate a conversation or the match is lost.
Bumble gives users the option to go beyond the usual back and forth messaging and move to a voice or video call within the app.
That feature appeals to a lot of women, as you don't need to exchange phone numbers in order to talk to a match.
Here is how Bumble's Video Call and Voice Chat works:
Once you've matched with someone, you'll see a phone and a video icon on the messaging screen:

Simply tap one of the two icons and your match can accept the incoming voice or video chat, which launches the call within the app:
For women, initiating a call of either type counts as the first move. Men will only see those icons once a match has reached out, either with an icebreaker or by tapping the phone/video icons.
Bumble's video and voice chat feature is available across all three modes, Date, BFF, and Bizz (more on those coming up!)
Users can also use the Snapchat camera for both video calling and video messages, with AR lenses accessed directly in Bumble. In addition to effects like fox ears and hearts, you can also add one of 6 virtual backgrounds including an outdoors setting with a campfire to a Ferris wheel, a gondola ride in Venice or a "dinosaur valley".
There's also an option to simply blur your background.
While virtual backgrounds are an option, Bumble representative Charley Webb said in an interview that retouching filters are not available, as the goal is to showcase your "unfiltered and authentic" self.
You can add a "virtual dating" badge to your profile so that your matches will know you're interested in video chatting. (Not sure how to look good in a video call? Check out these expert video dating tips!)
The "virtual dating" badge can be added or removed at any time by changing your status in the Advanced Filters menu. Showing the badge does not count as your free filter.
Expert Bumble Tip #1:
The best time to message on Bumble is between 8 and 10 pm.
For guys, Bumble is all about the photos and bio - after all, she's got to feel compelled to start a conversation with you. Unfortunately, that awesome opening line you've been crushing it with on Tinder isn't going to help.
Some guys can do VERY well on Bumble. So if you're fairly easy on the eyes, you may discover Bumble is better than Tinder for you.
Expert Bumble Tip #2:
According to in-app data, users with 6 photos get the most right swipes.
Like Tinder, Bumble allows you to search for matches based on distance, age range, and gender. Profiles can include up to six photos, a short About Me section, and some background information like education and job title.
Bumble Verification
Bumble fake profiles aren't all that common, at least compared to Tinder or a free dating site like POF. That's largely due to Bumble's verification process. It prompts you to take a selfie while copying a specified gesture, like this one: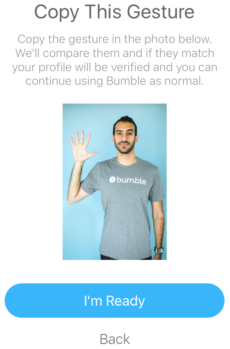 If a match notices you're not verified yet, she can also send you a verification request:
Take the time to verify your profile, because one of the Bumble Filters allows people to screen out unverified profiles.
Bumble isn't just for dating - there are two other modes you can use to meet new people. Bumble BFF is for meeting new friends, and Bumble Bizz is for networking.
To change modes, simply tap the Bumble logo at the top of the page, and toggle between all three.
Is Bumble Free?
Yes - you can use it effectively without spending a cent.
But there are some handy features that make it easier to get matches with a paid subscription. Bumble offers two levels of paid membership: Bumble Boost and Bumble Premium.
Here is what you get at each level:
Bumble Premium Features & 2023 Cost
Comparable to Tinder Gold as far as features go, Bumble Premium allows you to:
Bumble Premium costs around $21.99 per week, $44.99 for 1 month, $89.99 for 3 months, and $249.99 for "lifetime" access. Pricing may vary depending on what promotions are running and what market you're in.
Bumble Boost Features & 2023 Cost
Starting around $11.99 a week, you can upgrade to "Bumble Boost," which unlocks these features:
Rematch

- you can now reconnect with past matches for an extra 24 hours.

Extend

- allows you to extend the 24-hour match window.

1 Spotlight per week, which shows your profile to more users in your area
5 SuperSwipes per week
Backtrack

- undo your last swipe

Unlimited swiping
How much Bumble Boost costs depends on the length of your subscription. If you buy a 3 or 6-month subscription, the price is discounted.
Bumble Boost costs around $11.99 for a single week, $24.99 for 1 month, $49.99 for 3 months and $69.99 for 6 months. As with Premium, pricing tends to vary depending on the user's location and active promotions.
To see if paying for Bumble makes sense for you, check out this Bumble Boost review.
If they are still available in your area, you can also use "Bumble Coins," the in-app currency, to purchase SuperSwipes.
Similar in concept to Tinder's Super Likes, using a SuperSwipe lets her know you're serious about wanting to make a connection. If Bumble Coins have been phased out in your area, you can purchase SuperSwipes outright.
Bumble SuperSwipes cost anywhere from $8.99 for 2 to $49.99 for 30.
You can also purchase Spotlights, with each one giving your profile increased exposure for 30 minutes. Bumble Spotlights costs range from around $2.00 to $8.99 each, depending on the quantity you purchase at once.
To learn more about this premium feature, including the best time to use it, check out this Spotlight review!
Travel Mode
Users in some markets can still spend 5 coins to change their location in Bumble. You can activate Bumble's "Travel Mode" for one week, and select whatever location you'll be going to.
That means just like with Tinder Passport, you can start swiping and messaging matches in your destination city before you actually get there.
However, users in most countries will now have to upgrade to Bumble Premium to use the Travel feature.
You can download the Bumble app for both iOS and Android.
Step By Step Guide To Setting Up A Bumble Account
Once you've downloaded Bumble, your first name, age, occupation and education are pulled from your Facebook account.
You can also use Bumble without Facebook by creating a profile using your mobile number, and entering all the details manually.
Bumble Photos
You can add up to 6 photographs, which is plenty of opportunity to give potential matches an enticing peek at your personality and lifestyle.
Similar to Tinder's Smart Photos, Bumble's Best Photos feature keeps track of how many right swipes the first 3 photos in your lineup gets. It automatically shuffles your most popular photo into the 1st spot.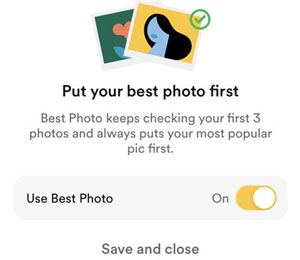 To turn on Best Photos in Bumble, go to the profile editing screen. You'll find the toggle directly below your photo lineup.
You can also connect your Instagram account, which will show the 24 most recent pics from your Instagram feed on your Bumble profile. The downside is you can't control which pictures are shown - so make sure your IG pics are worthy of a dating site.
Bumble Bio
Next up is the "About Me" section, and it's short - 300 characters or less. That's not a lot of space to grab her attention, so be creative. It's worth filling out - if she's wavering about which way to swipe based on your photos, a profile that makes her smile will make up her mind.
Bumble profiles also have space for answering 3 prompts, which used to be called "Move Makers."
Each prompt answer has a 120-character limit, and topics range from your greatest travel to what you'd want your superpower to be. You can choose from 0ver 30, the selection of which rotates periodically.
Bumble allows users to share their pronouns by displaying them as part of your bio. You can add up to 3 pronouns: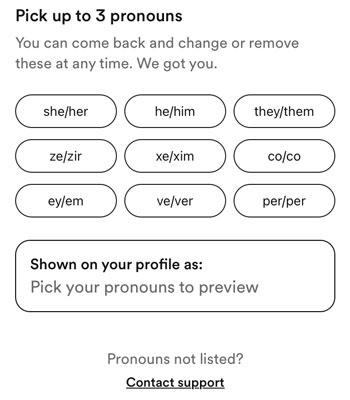 Want an irresistible Bumble profile? Check out these Bumble profile tips and tricks!
Bumble Interest Badges
To give potential matches even more insight into your personality and hobbies, you can display up to 5 "Interest Badges" on your bio.
There are over 150 choices in 10 categories:
Popular
Creativity
Sports
Going Out
Staying In
Film & TV
Reading
Music
Food & Drink
Traveling
Pets
Values & Traits
Bumble Values & Allyship
To add interests to your Bumble profile, go to the profile editing screen and scroll down to "My interests". Tap on the badges you want to include by scrolling through the categories at the top of the screen: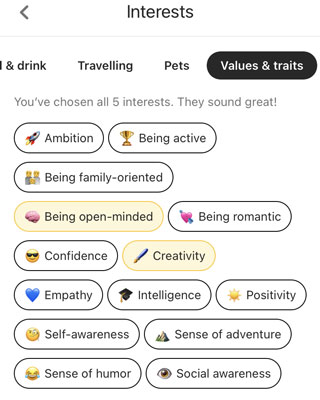 When you've made your selections, tap "Save" and the badges will display on your Bumble profile.
You can also share your music preferences with your matches by linking Spotify to your Bumble profile. On the profile editing screen, scroll to the "Connected Accounts" area and tap on "Connect Your Spotify."
Bumble Search Criteria & Filters
Before you can start swiping, you have to set your search criteria. Basic criteria include distance, age range, and gender.
Free users can choose an additional Bumble filter, which lets you screen for more attributes like education, political views, smoking/drinking habits, and more.
Upgrading to Bumble Boost gives you access to all the Bumble Filters.
Keep in mind, though, if you want to screen your matches with a particular filter, you must first answer that question in your own profile. So if you only want to date singles who are over a specific height, you must provide your own height first.
When you've both liked each other, a connection is made and the waiting begins. She has 24 hours to send you a message before the match expires.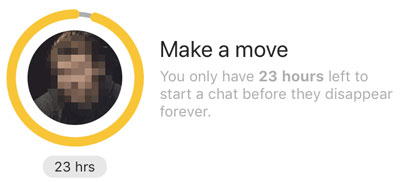 But if she doesn't make the first move, all is not lost. Guys have the ability to extend the window of conversation for an additional 24 hours for one match per day. It's kind of like the "Super Like" function on Tinder - it lets her know you really want to hear from her.
Expert Bumble Tip #3:
Skip the swiping on Fridays, as that's when users spend the least amount of time on Bumble. Remember, that countdown clock is ticking, so why start it when she's probably not checking the app?
As with any dating app, the goal is to move things off the app as soon as possible. Don't wait too long to ask her out - you don't want her to lose interest in the conversation and move on to the next guy.
Check out this expert advice on when and how to get her to say "yes" to a meet up!
How To Get The Best Results On Bumble
If you're serious about starting a relationship with someone special, putting some effort into choosing your most attractive photos and writing a compelling Bumble bio is essential. She's making the first move, so your profile needs to compel her to message you.
So you could do a bunch of research on how to write the best Bumble profile, or you can meet incredible local singles without doing any of the hard work.
Here at VIDA Select, our dating consultants handle everything for you, from writing your profile to messaging matches and setting up incredible dates.
Interested? Schedule your free consultation today!
Want us to do your online dating for you?

Hey, I'm Ally, VIDA Select's Director of Matchmaking.
We take all the frustration, hard work and hassle out of modern dating!
Imagine your very own Dream Team of highly skilled dating experts searching for the very best local matches, sparking their interest, and arranging all the dates for you.
Wouldn't it be nice to finally stop swiping and start dating higher quality matches so you can meet someone special?
We've helped thousands of singles just like you since 2009, and we're ready to make you our next success story!
What are you waiting for? Take the next step now…
See If You Qualify