I hope you enjoy reading the blog post.
If you want my team to just do your Hinge for you, click here to chat with me.
How To Permanently Delete Hinge (Step By Step Instructions)
Like most dating apps, deleting, uninstalling or removing the Hinge app won't automatically delete your profile - you could still be visible to other users.
And if you upgraded to a HingeX or Hinge+ (which used to be called Hinge Preferred), you'll definitely want to read this because deleting the app won't automatically cancel your subscription either.
This quick guide has step by step instructions on how to delete Hinge and cancel your premium subscription!
How To Permanently Delete Your Hinge Profile
Tap the "Settings" icon
Tap "Account"
Scroll all the way down to "Delete Account" and tap it
Confirm the action by tapping the purple button
Uninstall the Hinge app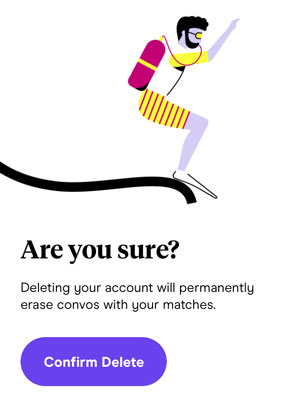 If you signed up via Facebook, you'll likely want to remove the app there as well.
To remove the Hinge app from Facebook:
Delete your Hinge profile by following the above steps
Open Facebook
Go to "Settings & Privacy"
Select "Settings"
Select "Apps & Websites" from the "Security" section
Tap "Edit" to access the "Logged in with Facebook" screen
Select Hinge
Tap "Remove"
Confirm the action
How To Cancel Your Hinge Preferred Subscription
Because payment is handled via the App Store or Google Play Store, you'll want to sign in there with the same Apple ID or Google Play account that you used to subscribe to Hinge. That's important, because if you don't cancel it properly you could still be charged when it auto renews.
To cancel your premium Hinge membership from your iOS device:
Go to your iOS settings
Select "iTunes & App Store"
Tap Apple ID, then tap View Apple ID
Log in if prompted
Tap "Subscriptions"
Tap "Manage"
Select Hinge
Toggle auto-renewal to "Off" or select "Unsubscribe"
If you don't see the option to turn off auto-renewal, it's possible you already did it when you upgraded. Check and see what end date is displayed for your Hinge subscription.
If for some reason you're having trouble cancelling your Hinge subscription from your iPhone, you can try cancelling from your computer by following these steps:
Open iTunes
Select "iTunes Store"
Select "View Account"
Enter your credentials if prompted
Navigate to the "Settings" section at the bottom of the Account Information page
Select "Manage"
Select "Hinge" from your list of subscriptions
Turn off Auto-Renewal
To cancel your premium Hinge membership from your Android device:
Open the Google Play Store app
Search for Hinge
Select Hinge from the search results
Select "Cancel" or "Unsubscribe"
Confirm the action
To cancel your Google Play Hinge subscription from a computer:
Go to payments.google.com (while logged in to your Google account)
Select "Subscriptions & Services" from the menu on the left
Click on your Hinge subscription
Select "Cancel"
What Happens When You Delete Hinge
Deleting Hinge will deauthorize all of your Hinge account content, including your matches, messages, photos and profile information.
That means your profile will no longer be suggested to other Hinge users in Discover, and you will disappear from their "Matches" and "Likes You" sections.
The information will also no longer be accessible to you, meaning you'll lose access to all your Hinge matches and messages as well.
But that doesn't mean all your personal information is actually deleted when you delete your Hinge account.
Per Hinge's privacy policy, your personal information is kept for "only as long as it's needed for legitimate business purposes," but they don't specify how long that retention period is.
To review a copy of the personal information Hinge has collected about you, you can submit a ticket via the Hinge Help Center. When filling out the requested information in the pop-up window, select either "Data Export" or "GDPR Request" from the Support Topic menu.
Note that you must make this data export request before you delete your Hinge profile.
Deleting Hinge Because It's Just Not Working For You?
Don't give up yet! Check out this Ultimate Guide To Hinge for profile, photo and message help that will boost your results and have you matching with incredible people.
Of course, overhauling your Hinge profile is going to take some time and effort, but it's worth it to start getting amazing dates, right?
Or would you rather just skip the whole "revamp my profile" thing and start going out on the amazing dates? You totally can - with VIDA's help.
VIDA's team of modern matchmakers, professional writers and dating experts will take your existing Hinge profile and make it incredible. And it's not just profile help - we'll even step in and do all your messaging too.
You provide your "ideal partner" criteria, and everything else is handled for you - on Hinge or any other dating platform you'd like to try!
There's no reason dating needs to be a frustrating experience - find out how VIDA can help you meet your perfect match!
Want us to do your online dating for you?

Hey, I'm Ally, VIDA Select's Director of Matchmaking.
We take all the frustration, hard work and hassle out of modern dating!
Imagine your very own Dream Team of highly skilled dating experts searching for the very best local matches, sparking their interest, and arranging all the dates for you.
Wouldn't it be nice to finally stop swiping and start dating higher quality matches so you can meet someone special?
We've helped thousands of singles just like you since 2009, and we're ready to make you our next success story!
What are you waiting for? Take the next step now…
See If You Qualify