I hope you enjoy reading the blog post.
If you want my team to just do your Hinge for you, click here to chat with me.
What Is Hinge & How Does It Work? [2023 Dating App Guide!]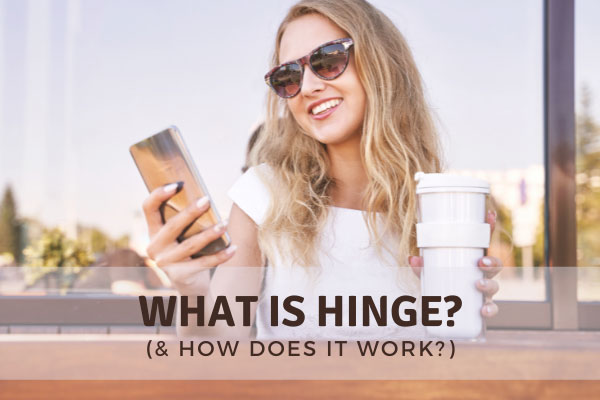 Thinking about trying a new dating app and wondering, "So, what is Hinge?"
In a nutshell, it's a location-based, popular dating app that targets singles looking for a relationship on the "serious" end of the spectrum. But it has a number of features that distinguish it from apps like Tinder and Bumble.
From how Hinge works to what using it is like, get all the answers you need to decide if this is the best dating app for you!
What Is Hinge Table of Contents
Jump straight to the topic you're searching for, or start at the top!
What Is Hinge?
When the Hinge dating app originally launched in 2012, it had a swiping format similar to Tinder and it recommended profiles of friends of your friends.
But after a complete rebranding in 2016, Hinge is different. It shifted from a "swiping game" to a "relationship app" and abandoned both Tinder's swipe right/left format and the 'friends of friends' approach to matchmaking.
Hinge CEO Justin McLeod explained one of the reasons for the change:
Most of the dating apps out there are games designed to keep you single, and swiping is the most iconic feature of these games. That's why we're not even calling the new Hinge a dating app. We think of it as a relationship app.
With a marketing campaign built around the concept of "designed to be deleted," Hinge puts dating and relationships front and center. The focus is on sparking a relationship - so most singles probably don't consider Hinge a hookup app. If you're a casual dater seeking the same, you'll likely have better luck on OkCupid or Tinder.
In 2018, Hinge was acquired by Match Group, the parent company of other popular dating platforms like Match, Tinder, POF and OkCupid.
How Does Hinge Work?
Hinge shows you profiles of users the algorithm selects based on your preferences and in-app interactions. You can choose to "like" or "pass" each profile, and comment on someone's photo or prompt to start a conversation.
There are 3 places you can see your potential matches on Hinge:
Discover feed
Standouts feed
Likes you feed
Let's take a closer look at how to use Hinge!
Hinge Discover Feed
Check out the "Discover" section by tapping the H icon at the bottom of the screen:
You'll scroll through each profile one at a time, since Hinge requires you to either "like" or "pass" before you can see your next suggested match.
Each day, you'll usually also get one Most Compatible match. What is Hinge Most Compatible? It's a feature that delivers a match the app's algorithm has deemed not only suitable for you, but who is also looking for someone like you.
As McLeod explained in an interview,
We're really trying to find the people that you're going to like who are also going to like you back and have that equal or greater chance of actually liking you back.
These Most Compatible matches show up at the top of your Discover section.
Hinge makes it easy to start a conversation by allowing you to "like" specific content within someone's profile, whether that's one of their prompt answers or photos.
Simply tap the heart displayed by that piece of content:
Then you'll get the opportunity to send a comment or a rose along with your like:
Free members can "like" up to 8 profiles each day, with the running tally resetting at 4 am local time.
If you're not interested in a suggested match, tap the X and the next one will pop up.
Hinge Standouts Feed
Hinge also populates a special Standouts feed for you to browse. Standouts are "great prompts" and photos from popular users Hinge thinks you'll find compatible.
To browse your Standouts feed, tap the star icon at the bottom of the screen:
The Standouts algorithm considers profiles you've previously liked and commented on in your Discovery feed to populate the Standouts feed.
The selection of 10 or so Standout prompts is refreshed daily.
Tapping on the prompt brings up that user's profile, and you can view the rest of it. To connect with that user, tap the "rose" icon:
You can send one free rose each week on Hinge, which you'll get every Sunday.
Roses are available as an ala carte purchase as well. To buy roses to send on Hinge, go to your Standouts feed and tap the "Roses" button in the upper right corner.
Roses on Hinge cost $3.33 each (but you have to buy 3 at a time), or you can purchase them in greater quantities for a discount: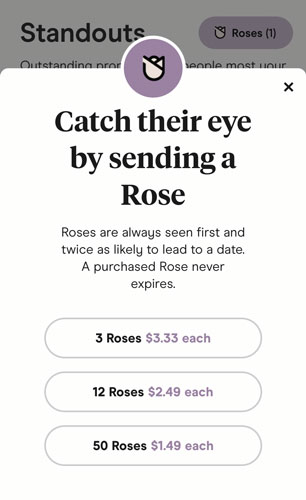 Sending a rose gives your profile priority placement in your potential match's feed. Unlike your weekly free rose, purchased roses never expire.
Hinge Likes You Feed
To see who "liked" your profile, tap the heart icon at the bottom of the screen:
Free members have to scroll through each person's profile one at a time, while premium subscribers can access a grid view and see them all at once.
Hinge also shows you which part of your profile they "liked" or commented on:
Tap the X to pass or the conversation icon to return the like. You have the opportunity to include a comment as well:
Simply tap the "Match With" bar, and a connection has been made! Now you can freely exchange messages with that match. (Need a conversation starter? Check out these proven opening lines!)
Hinge Match Feed
Access your active conversations by tapping the conversation icon at the bottom of the screen:
Hinge has a "your turn" feature that reminds you when it's your turn to respond, which can be helpful when you have a lot of conversations in the works: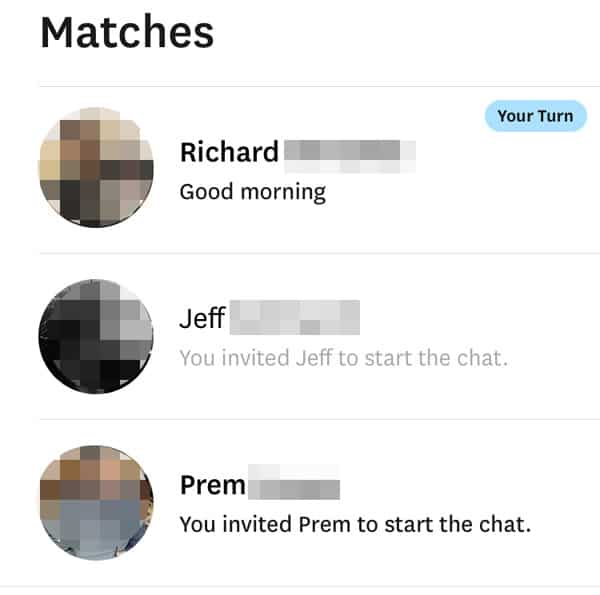 Hinge's "Date From Home" feature also makes it easy to transition to a phone or video chat with your match.
From the messaging screen with your match, tap "Date From Home" then tap "Ready":
When your match does the same, Hinge will notify you both that there's mutual interest in moving the conversation off the app.
You can change your answer at any time by tapping "Date From Home" and "Change Answer."
Video Prompts On Hinge
During a video chat within the Hinge app, both people can see Hinge's Video Prompt icon in the screen corner. Hinge created 8 different themes, each containing a set of 5 prompt cards that will appear on the screen to both participants.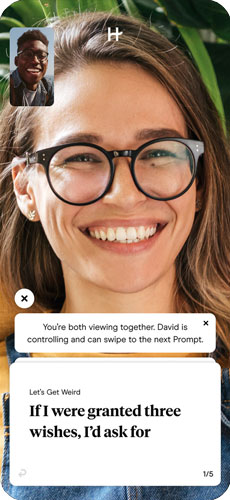 The user who taps the Video Prompt icon can choose the conversation theme and advance the prompt cards one at a time.
Before hopping on a video call with a match, make sure to check out these great video dating tips!
Check out this rundown of what you can do for free, and what benefits you get with a premium membership.
As a free Hinge user, you can:
"Like" up to 8 profiles a day
See who "Liked" your profile (one profile at a time)
Filter your matches using the basic preferences
With a Hinge+ membership, you can:
Send unlimited Likes
See everyone who has already "Liked" your profile in a convenient grid view
Use the advanced preferences filters
Organize Discover & Likes You using the premium filters
A Hinge+ membership costs $29.99 for a single month (price may vary slightly depending on your location). Committing to 3 or 6 months drops the monthly price to around $19 or $14.
If you're not sure upgrading Hinge is worth it, check out this Hinge+ review.
With a HingeX membership, you unlock:
All the advantages of Hinge+
Skip The Line
Enhanced Recommendations
Priority Likes
The Skip The Line feature gives your profile a visibility boost for as long as your HingeX subscription is active.
Priority Likes means that anytime you like a potential match, your profile stays near the top of her feed.
And Enhanced Recommendations are in your Discover feed. They are profiles the algorithm has chosen based on mutual compatibility, but taking your recent history of likes and passes into account. In other words, it learns from you as you use the app.
HingeX costs $49.99 for a single month, $33/month for 3 months, or $24/month for 6 months.
Read more about all the HingeX features in this HingeX review.
Want a quick comparison of both premium memberships? Check out our HingeX vs Hinge+ article!
Can You Use Hinge Without Facebook?
Yes, Hinge is a dating app you can use if you don't have Facebook. There are two ways to create a Hinge account - through Facebook or using your mobile phone number.
But keep in mind those are two separate methods of logging in - if you create an account by doing both, you won't be able to merge them later.
If you create an account using your mobile number to authenticate, you'll still have the option of importing information from Facebook. You can then disconnect Facebook from your Hinge profile.
And if you create your account using Facebook, but want to disconnect from that social platform, it's easy to do.
Here is how to disconnect Hinge from Facebook:
Go the "Settings" screen by tapping the person icon in the lower right corner
Tap "Account"
Scroll down to "Connected Accounts"
Toggle off "Facebook"
One caveat - you must add your mobile number to your Hinge profile in order to disconnect it from Facebook.
Verifying via your cell number is simple:
Go to the "Settings" screen
Tap "Account"
Tap "add mobile number"
Input your number
Provide the verification code that the app will text you
Make sure "notifications" are turned on, or you won't receive the code.
To turn "notifications" on in Hinge, follow these steps:
Go to the "Settings" screen
Tap "Account"
Toggle on "push notifications"
Adjust the settings from within your device as needed
How To Get Started On Hinge
Want to give Hinge a try? Just follow these steps!
#1: Download The App
You can download the Hinge app from the App Store or Google Play. Hinge is only a mobile app, there is currently no web version available.
Decide if you want to create an account via your Facebook profile or your mobile number. It's a smartphone dating app - Hinge does not have a computer login option.
One factor to consider is Hinge's requirement that new users have a minimum of 60 Facebook friends to create an account via Facebook, as part of their effort to discourage spammers and catfishers. That rule isn't retroactive - existing Hinge members who created their profile via Facebook are exempt from the "friends" requirement.
Next, it's time to provide your information. Some information will populate from Facebook, or you'll have to input it if you used your mobile number.
The information is par for the course on dating apps - your name, age, location, height, ethnicity, religious beliefs, etc.
However, on Hinge the information is divided into 3 sections:
You can choose which information you want displayed or hidden by tapping on that entry, then toggling the visibility on or off:
In the case of your name, you have the option to show both your first and your last name if you want.
#2: Create Your Hinge Profile
Next, you'll choose 3 "Prompts" to answer from a list of 80+. Each prompt has a character limit of 225. The subjects range from "Most embarrassing song on my Spotify" to "A life goal of mine."
Some Hinge questions will make you seem like a more attractive catch than others, so make sure to check out these great Hinge answer examples!
You can also record an audio answer to a prompt and include it in your profile, using Hinge's Voice Prompt feature. Or, pair a video with one of Hinge's "video-first" prompts.
There's room to add 6 photos or short videos to your Hinge profile, and you're required to fill all the slots if you want to be able to "like" profiles. Choose your content wisely - remember singles can "like" any one of them to initiate a message exchange.
Showcase your interesting hobbies, adorable pets, cool places you've visited - anything that will make someone intrigued and want to know you better. And where you look your best, of course.
Not sure how to choose your best photos? Check out these expert Hinge photo tips!
Use the Relationship Type feature to specify whether you're looking for monogamy, non-monogamy, or not sure. You can also specify "prefer to say."
This answer can be made visible on your profile, and there's also a free-form text field to share more about what you're hoping to find on the dating app.
#3: Set Your Hinge Match Criteria
Next, it's time to set your preferences - i.e. what type of people you're looking to meet.
Free members can set these preferences:
Age Range
Maximum Distance
Ethnicity
Religion
Hinge also allows you to specify whether or not that preference is a "dealbreaker," and will filter your suggested matches accordingly.
Hinge Plus members can set these additional preferences:
Height
Children
Family Plans
Education
Politics
Drinking
Smoking
Marijuana
Drugs
Once you've got your preferences set up, you're ready to start using Hinge!
How To Meet The Best Singles On Hinge - The Easy Way!
Getting high-quality matches on dating apps isn't a walk in the park - you have to put some serious effort into how you present yourself.
From your photos to your profile, you need to market yourself effectively and attractively - especially on a "serious" relationship app like Hinge.
It's a brand new skill set for most people, so a little research is in order to make sure you meeting the kind of people you actually want to date, much less be in a committed relationship with.
Or you can meet incredible singles without having to put all the effort in. VIDA's dating experts are skilled in the art of profile and message writing, and we even have image editors who specialize in natural looking dating photos.
VIDA has a team in place to handle everything on Hinge (or any other dating app or site) from start to finish - all you do is go on dates with intriguing people who fit your "ideal partner" criteria!
It really is that easy - click here to find out how.
Want us to do your online dating for you?

Hey, I'm Ally, VIDA Select's Director of Matchmaking.
We take all the frustration, hard work and hassle out of modern dating!
Imagine your very own Dream Team of highly skilled dating experts searching for the very best local matches, sparking their interest, and arranging all the dates for you.
Wouldn't it be nice to finally stop swiping and start dating higher quality matches so you can meet someone special?
We've helped thousands of singles just like you since 2009, and we're ready to make you our next success story!
What are you waiting for? Take the next step now…
See If You Qualify