I hope you enjoy reading the blog post.
If you want my team to just do your online dating for you, click here.
Hinge vs CoffeeMeetsBagel (2023) - Which Is Better For You?
Debating between Hinge and CoffeeMeetsBagel? This handy comparison will help you determine which one of these popular dating apps is best for you.
VIDA's team of dating experts have logged hundreds of thousands of hours on both apps, searching for matches, using the premium features, sending messages and setting up dates on behalf of all the clients we represent.
So who better to put together a handy guide that compares the two of them? We've been using them both daily since they launched!
Hinge Vs Coffee Meets Bagel Table Of Contents:
Jump around to what you want to compare first, or start from the top. Ready to find out which app suits your needs best? Let's dive into Hinge vs Coffee Meets Bagel!
Hinge vs CMB: Demographics
Hinge is all about helping singles find long-term relationships. As CEO Justin McLeod told Fast Company, "It's universally felt that people want deeper connections, as opposed to the endless, superficial, one person after another."
In other words - "Find love, dump us."
Hinge's core user base is millennials, with around 49% of users between 18 and 29, with most of the remaining users between 30 and 49 years old. Only around 2% of Hinge users are over 50.
Coffee Meets Bagel attracts singles of a similar mindset - most of the people you'll find on the dating app are looking for something more serious than a hookup.
When asked about CMB's mission, founder Dawoon Kang said she and her co-founders shared a vision of "building the number one dating app for millennials looking for real relationships."
While CMB targets the same core group as Hinge, the majority of Coffee Meets Bagel users are in the 30 to 49 age range, with only 36% age 29 or younger. And at around 7%, CMB has slightly more users over 50 than Hinge.
Which Is Better:
If you're a millennial looking for a serious relationship, either dating app is a good choice. Keep reading to find out how Hinge and CMB compare when it comes to other categories, like what bells & whistles you can get for upgrading!
Alternative Dating App Suggestions:
If you're looking for casual dating (read: hookups), stick with Tinder.
Looking for commitment but you're 40+? Give Match's mobile app a try! And if you're dating over 50, you'll definitely want to check out this list of the best dating apps.
Hinge vs CMB: Match Quality
Since they're both so-called "relationship" apps, Hinge and Coffee Meets Bagel let you screen your potential matches far more beyond just the basic distance/gender/age filters that apps like Tinder offer.
On Hinge, free users have access to 6 preference filters:
Location
Gender
Age
Max Distance Range
Ethnicity
Religion
Upgrading to Hinge+ (previously called Hinge Preferred) unlocks 9 more filters:
Height
Family Plans
Children
Politics
Education
Drinking
Drugs
Marijuana
Smoking
All users have the option to designate any number of these criteria as a "Dealbreaker."
Hinge defaults to showing you singles who closely match as many of your preferences as possible, which means you may end up seeing people who aren't quite a perfect match.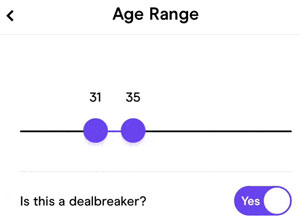 But once you designate something as a dealbreaker, Hinge won't show you profiles that land outside those particular preferences.
Coffee Meets Bagel's algorithm works a little differently. In the "Suggested Matches" section, you'll only be presented with bagels who match your 6 preferences exactly:
Gender
Age
Height
Distance
Ethnicity
Religion
If you upgrade to Coffee Meets Bagel Premium, you gain access to 5 additional filters where you can screen your matches a little more carefully.
In the Discover section, you can browse through additional profiles of users who come close to your ideal partner criteria, but may not be an exact match.
You'll also be able to filter your bagels by two additional filters, degrees and active within the last 72 hours.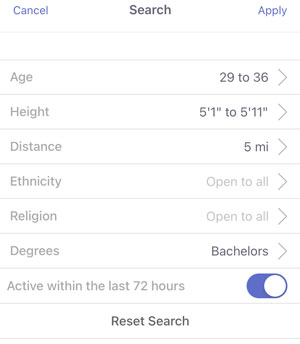 Which Is Better:
While it's definitely useful that CMB lets you weed out people who don't check the app frequently, Hinge wins this head-to-head battle.
The ability to pre-screen for more core compatibility factors like family plans, politics and "vices" can save you tons of time if those factors constitute true deal breakers in terms of who has long-term relationship potential.
Hinge also has a few more advantages over CMB. Every day or so, you'll get a special "Most Compatible" notification. That's a match recommended by Hinge as someone who is particularly well-suited for you.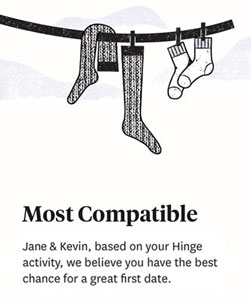 And for one more check in the "W" column, Hinge also has a feature called "We Met." A few days after you exchange phone numbers within the app, you'll get a notification asking if the two of you ended up meeting in real life, and if so, whether or not you're planning another date.
This info isn't shared with your match, but your answer can help Hinge's algorithm adjust to your tastes and preferences even more.
HingeX users receive Enhanced Recommendations in their Discover feeds, and all paid users can sort incoming "likes" by compatibility, nearby, active today and new here.
Alternative Dating App Suggestions:
If pre-screening your matches is important, Bumble offers advanced Date filters.
In addition to gender, age and distance, free users can also choose two more filters that cover everything from exercise frequency to family plans to whether or not your matches have (or want) pets.
For everything you need to know about Bumble, check out this Ultimate Guide!
Hinge vs CMB: Daily Likes Limits
On Hinge, free users can only "like" a total of 8 profiles each day. But if you upgrade to Hinge Preferred, that restriction is removed and you can "like" with wild abandon.

Coffee Meets Bagel only sends users a limited number of "Suggested" bagels each day.
Men receive up to 21 profiles, while women get a smaller number comprised of men who both meet their criteria and who have already expressed an interest in their profile.
You have the option of "liking" more bagels in the Discover section, although that will cost you "Beans" if you're not a Premium member. And even if you are a Premium member on Coffee Meets Bagel, you only get 8 freebies.
To find out exactly how Coffee Meets Bagel works, check out this dating site review.
Which Is Better:
Hinge gets the "W" in this category. Even though you have to pay for the privilege, you have the potential of checking out as many profiles as you want at a time.
Alternative Dating App Suggestions:
If you want unfettered access to profiles without paying a dime, check out OkCupid or Plenty of Fish.
Bumble also lets you "like" as many profiles as you want… but if you're a man seeking a relationship with a woman, you're not allowed to send the first message.
Hinge vs CMB: Premium Features & Cost
Since you can match and message on both of these dating apps without paying for them, you can use them effectively for free. That being said, you will have some limitations unless you upgrade.
Upgrading Hinge
On Hinge, users can choose from two premium subscriptions: Hinge+, which used to be named Hinge Preferred, and HingeX.
The cost of each membership varies depending on how many months you pay for in advance:
| Hinge+ 2023 Cost* | HingeX 2023 Cost* |
| --- | --- |
| 1 month - $29.99 | 1 month - $49.99 |
| 3 months - $59.99 ($19/month) | 3 months - $99.99 ($33/month) |
| 6 months - $89.99 ($14/month) | 6 months - $149.99 ($24/month) |
*Price may vary by location.
Hinge+ features include:
"Like" as many profiles as you want each day
Scroll through all the Hinge users who have already "liked" your profile in one screen (free users have to view them one at a time)
Use the advanced filters to screen your matches
More ways to sort your incoming likes & browse profiles
HingeX features include:
All the Hinge+ benefits
Skip The Line
Enhanced Recommendations
Priority Likes
To learn more about all the advantages that come with each premium Hinge membership, check out our guide to Hinge+ vs HingeX!
Upgrading CMB
The cost of a "Premium" subscription to Coffee Meets Bagel also varies depending on how many you purchase at a time. A single month costs $35, or you can pay $25/month for 3 months or $20/month for 6 months.
Premium features that come with your Coffee Meets Bagel subscription include:
A view consisting of all the profiles of CMB users who have "liked" you
8 additional "Takes" in Discover (basically 8 more chances to "like" someone)
An "Activity Report" on each bagel, which lets you know data like how responsive to messages they are
Unlocking all the match criteria filters
Know when your matches read your messages
Have your profile shown first to potential matches
Priority Likes via the Skip The Line feature
Get 15% more beans when you purchased them in bulk
Users can also opt for the less expensive Mini version of the Premium membership. You won't get the Likes You view, 8 additional Takes or the Skip The Line feature, but you will get everything else.
Here is how the cost compares for CMB Premium vs CMB Mini:
| CMB Premium 2023 Cost* | CMB Mini 2023 Cost* |
| --- | --- |
| 1 month - $35 | 1 month - $14.99 |
| 3 months - $25/month | 3 months - $10/month |
| 6 months - $20/month | 6 months - $9/month |
*Price may vary by location
Which Is Better:
If budget is a factor, Hinge wins since it costs less for some useful bells and whistles.
Hinge vs CMB: Messaging
Hinge and Coffee Meets Bagel have one thing in common when it comes to messaging. Unlike Tinder, it's not a double opt-in, meaning you can send a message along with your "like" - you don't have to match first.
That's an advantage on a dating app because you can increase the chances you'll match with someone by sending a great first message.
On Hinge, you "like" a specific photo or prompt, and in CMB you just "like" the profile in general. But in either case, you'll have the option of only sending the like, or including a message with it.
Both dating apps help you manage your message exchanges by reminding you who's "turn" it is in the conversation. On CMB it's called "Your Move," and on Hinge it's "Your Turn". In either case, you'll see a label by the last message in each conversation.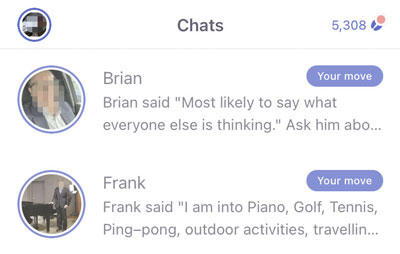 The biggest difference between the two messaging platforms is CMB puts an 8-day time limit on conversations, whereas Hinge has no limits.
Which Is Better:
Even though Hinge makes it easy to start a conversation by letting you comment on specific content, the time limit on CMB is a built-in motivation for getting dates scheduled or numbers exchanged. It's the perfect excuse to ask for her number!
Hinge vs CMB: Does It Require Facebook?
Both of these are dating apps you can use without Facebook. If you don't want to log in via Facebook, you have the option of creating an account using your mobile phone number.
Which Dating App Is Better, Hinge Or Coffee Meets Bagel?
Both are great options if you're in your 20s or 30s and looking for high-quality matches you'd consider worthy of a serious relationship. But if you've only got time to manage one, Hinge gets the overall nod.
Not only is a premium membership cheaper, but the "unlimited likes" potential means you won't have to pay extra to see more profiles, or wait until the next day at noon for your fresh batch of bagels.
But whether you opt for Hinge, CMB or another dating app entirely, if you want to make it work, get ready to put in some work.
One study estimated the typical modern dater spends 5.2 hours a week swiping through profiles, then an additional 6.7 hours sending messages and trying to keep conversations going long enough to move things offline.
And that's assuming you get matches you're interested in messaging. For that to happen, you need a compelling profile and attractive photos - and that takes work too.
Not feeling like you need a part-time job on top of the career you already have? Why not let the modern dating experts at VIDA handle all those time sucking, frustratingly hard parts for you?
You just enjoy all the dates with amazing people who meet all your "perfect match" criteria! It sounds too good to be true, but it's not. And even better, it's really easy to get started. Just click here!
Want us to do your online dating for you?

Hey, I'm Ally, VIDA Select's Director of Matchmaking.
We take all the frustration, hard work and hassle out of modern dating!
Imagine your very own Dream Team of highly skilled dating experts searching for the very best local matches, sparking their interest, and arranging all the dates for you.
Wouldn't it be nice to finally stop swiping and start dating higher quality matches so you can meet someone special?
We've helped thousands of singles just like you since 2009, and we're ready to make you our next success story!
What are you waiting for? Take the next step now…
See If You Qualify