I hope you enjoy reading the blog post.
If you want my team to just do your Tinder for you, click here to chat with me.
Tinder Reviews - Is This The Best Dating App For You? (2023)
Looking for Tinder reviews because you're wondering which dating app will get you the best results in the shortest amount of time?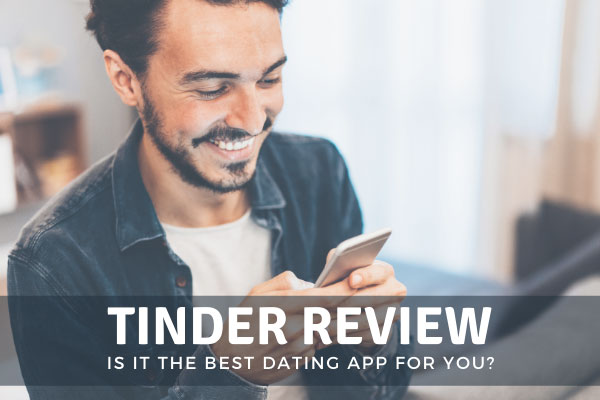 It's not surprising Tinder made your shortlist - it's consistently been one of the most popular dating apps out there since launching in 2012. It's also one of many online dating apps owned by Match Group, so the user experience is top notch.
But since you're not on it yet, you've probably got some questions. Is it just a hookup app? Am I too old for Tinder? Is upgrading to Tinder Gold or Platinum worth the cost? Is it any good if I'm looking for a long-term relationship?
This Tinder review has everything you need to decide if you should hop on Tinder, or if an app like Bumble, Hinge or Coffee Meets Bagel might be a better fit for you.
Tinder Review Table of Contents
Our dating experts have managed dating profiles for tens of thousands of clients since 2009, and we've represented singles on Tinder since it launched way back in 2012. That's thousands and thousands of hours of real-world, hands-on experience that you're about to benefit from.
In this review, we'll share all the insights we've gathered firsthand, through meticulous analysis of what works (and what doesn't) on this popular dating app.
Jump right to what you want to know first, or start with the pros & cons of using the Tinder app!
Tinder Pros & Cons
The premise is simple - swipe right on a photo if you're interested, left if you're not.
When both people swipe right, a match is made and you can start exchanging messages. It's a common "instant gratification" format for dating apps, but Tinder has its own unique pros and cons:
PROS:
Tinder is the app that started the swiping craze, so the user pool is huge.

While upgrading will unlock plenty of useful bells and whistles, it's a fully functioning dating app for free.

Upgraded users can use the Passport feature to change location, which means you can swipe on local singles in

any

city.

Unlike some other apps, there are no time limits on messaging.

Tinder's Explore section lets you browse through different profile feeds based on a common interest, like Social Causes, Gamers, Date Night, Creatives and Animal Parents. There are also curated "Discover" feeds for singles looking for love, coffee dates, friendships, hookups, etc.

Tinder has a feature called Face To Face you can use to video chat within the app.

It attracts people looking for all kinds of relationships, from to marriage and everything in between. You can specify what type of relationship you're seeking in Tinder's "Relationship Goals" section. or a

Tinder has an integrated video chat feature, although right now it's only available in limited markets. In the US, users in Colorado, Georgia, Illinois and Virginia can test it out.

Tinder has on-demand safety features via Noonlight, which offers a Timeline feature where users can share first date details on their Timelines, like who they're meeting, when and where. Users can also discreetly contact emergency services via Noonlight.
The app also incorporated a "safety toolkit" in 2020, allowing users to easily unmatch or report other users.
Tinder's Relationship Goals feature can help you screen for matches who are looking for the same thing you are, whether that's dating casually or a long-term relationship.
CONS:
If you're not in a large city, you may have a much smaller match queue. 76% of users live in urban areas, leaving 17% in the suburbs, and 7% in rural areas.

Unless you pay to upgrade, you can only swipe right on 100 profiles every 12 hours.

There are more men than women on Tinder, so you'll likely have some stiff competition for the most attractive local women.

You only get a limited amount of information on your potential matches. It's easy and free to set up a profile, so you'll likely come across people who aren't serious about taking things off the app.

While Tinder no longer uses the "Elo Score" in its matching algorithm, having a profile that garners left swipes rather than right ones can really hurt your internal rating - and your chances of being shown to attractive singles.
Like any free dating app, you're bound to encounter some fake profiles and scammers. Tinder made headlines in 2022 when a documentary about scammer Simon Leviev, AKA The Tinder Swindler, was released on Netflix.
TINDER REVIEWS VERDICT:
If you live in a larger city (or don't mind driving a bit for dates), the huge user pool alone makes Tinder worth a try.
If it's in your budget and you travel frequently, give serious thought to upgrading so you can use the Passport feature. You'll have dates lined up at your destination before you're even done packing for the trip!
But if you don't have a lot of time to spend on dating apps and you're looking for a serious relationship, you may get frustrated with all the profiles you have to swipe through before finding some good matches.
For that reason, you may want to try an app dedicated to singles looking for more serious relationships, like Hinge or Bumble.
Tinder Cost & Upgrade Options
All the essential functions - swiping, matching, and messaging, are free.
Depending on where you live, you have three upgrade options: Tinder Plus, Tinder Gold and Tinder Platinum. Tinder Plus and Gold are available everywhere, but Tinder Platinum is a recent upgrade that's only available in select markets for now.
Here is a breakdown of what premium features you get at each level, and what it will cost you.
What You Can Do On Tinder For Free:
Download the app on the App Store or Google Play
Upload up to 9 photos, videos and Loops
Write a short bio (<500 characters)
Connect your Spotify and Instagram to your profile
"Like" up to 100 profiles every 12 hours; if both users "like" each other a match is made
Send, read, and reply to messages with your matches
Use one "Super Like" each day
Check out 1 Tinder Pick each day
Video chat with matches
Benefits You Get With Tinder Plus: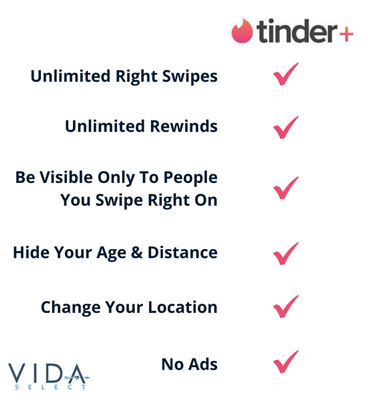 Unlocking Tinder Passport is one of the biggest benefits of a Tinder Plus subscription, as it means you can swipe in any city you want to date in.
Liking as many people as you want every day and undoing a 'nope' is handy as well. Worried about your ex, your colleagues, or your clients potentially stumbling across your bio? Revealing it only to singles you've already swiped right on could be worth the price of admission.
Tinder Plus costs around $7.99 for one month (depending on what market you're in, pricing may be different). Purchasing 6 or 12 months at a time brings the monthly cost down a bit.
For all the details included in your upgraded subscription, check out this review of Tinder Plus.
Perks Included With Tinder Gold: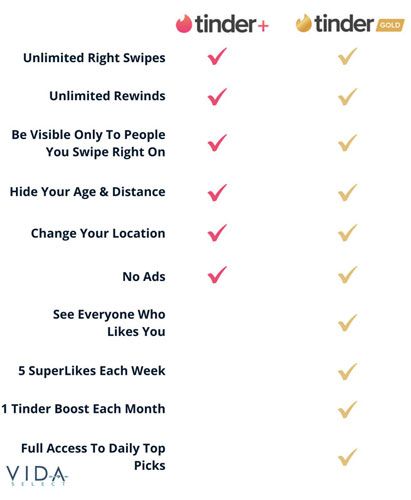 Tinder Gold's "likes you" section can be a huge time saver - any profile you "like" there is an instant match. Using this feature can give your profile's ranking score a boost too, as Tinder considers your "like to match" ratio as a factor in determining how popular you are.
Using a Tinder Boost makes yours the top profile in your area for 30 minutes, and you get a free one each month with this subscription level. (Before you use it, though, find out the best time to boost your profile.)
Most Gold subscribers get between 4 and 10 Tinder Top Picks daily, and you're able to interact with all of them.
Tinder Gold starts around $24.99 a month, with a price break for committing to 6 months or a year up front. The 12-month subscription option brings the monthly price down to around $8.
Want the full scoop? You'll find it in this in-depth Tinder Gold review.
What You Get With Tinder Platinum: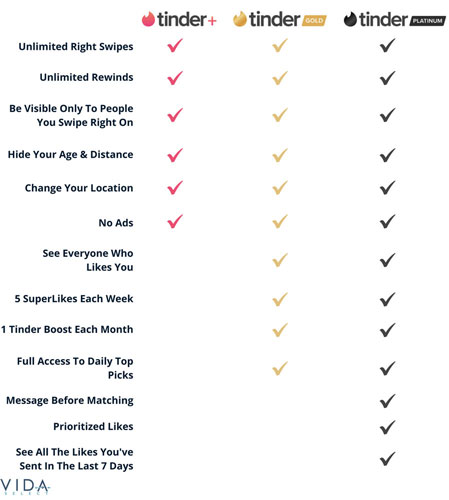 If you're in a mega city that's packed with Tinder users, having your "likes" prioritized can be a huge perk. Your profile will get priority placement in the card stack when you swipe right, so your potential match will see you faster than they might have otherwise.
And including a message when you Super Like someone means you don't have to wait until they swipe right to send your opener.
Tinder Platinum costs vary depending on your market, but you can expect to spend an additional $5 or $6 over the cost of a Gold membership.
If you upgrade then later decide to delete Tinder, make sure to cancel your premium subscription first, as simply deleting the app won't do it automatically.
You'll find instructions on how to permanently delete Tinder the right way here.
When It Makes Sense To Upgrade Tinder
It makes sense to upgrade if you live in a mega-city and keep running out of right swipes. Having unlimited likes avoids the frustration of waiting 12 hours for more, and having your profile get priority placement in someone's card stack could be an online dating game changer.
If you find yourself with a ton of matches, upgrading to Tinder Gold can save you time by only looking at profiles of people who have expressed interest in your profile already.
Tinder Platinum's message-before-matching feature can give you an edge as well, since you've got a chance to intrigue her before she's swiped on you.
Pre-pandemic, it made sense for frequent travelers to think about upgrading because you could start exchanging messages with local singles in your destination city, and have dates already on the books by the time you get there.
These days many relationships are starting out long-distance, so not being restricted by location expands your options exponentially.
Skip the upgrade if you don't live in an area with a lot of other users, especially if you don't want to commute a long distance for dates. It's probably not worth the monthly investment.
Tinder Q&A
If you're not using Tinder yet, you may be asking yourself one (or all) of these common questions:
Am I Too Old For Tinder?
Possibly. The Tinder app is popular with singles in the 18-34 age bracket, so if you're in your mid 40s or beyond, you may not have as many users in your area. If you find yourself with few (or no) profiles to swipe through, consider broadening your search criteria.
You may also want to use Tinder in conjunction with more "serious" dating apps, like Bumble or The League, where you're more apt to find people 30+.
Is Tinder Just For Hook Ups?
When it first launched, Tinder definitely had a reputation as a hookup app. That's changed somewhat, as only 15% of women polled said they were looking for a one night stand.
Now you'll find users looking for an entire spectrum of relationships, from casual encounters to marriage.
Does Tinder Post To Facebook?
If you sign up for Tinder via Facebook, it doesn't post on your wall or send notifications to your friends.
There's no way for anyone to know you're on Tinder unless they come across your profile while using Tinder themselves. (If you're worried about that happening, upgrade to Tinder Plus so can limit your profile's visibility to only people whom you've already liked.)
But if you're nervous about your Facebook and Tinder accounts being linked, you can limit how much the two interact.
After signing up for Tinder, go to the "Settings" page on Facebook, then:
1. Tap on "Apps", then tap on "Tinder"
2. Change "App Visibility" to "Only Me"
3. Go to "Settings" on Tinder
4. Turn "Show Me On Tinder Social" off
5. Limit whichever information you don't want shared by tapping on the blue check marks
You can also bypass it entirely since you don't need Facebook to create a Tinder account. Sign up using your mobile number.
Can I Use Tinder On My Computer?
You can access Tinder from any device and browser using Tinder Online, so all you need is an internet connection!
How Do I Post On Tinder Feed?
(Editor's Note: Tinder Feed has been discontinued in most markets.)
When you enable Tinder Feed, any changes you make to your Tinder profile will automatically be visible to your matches on their Tinder Feeds. And vice versa - any changes they make will be visible on yours.
Examples of what's shared include uploading a new photo or changing your Spotify anthem. To see exactly how to use it, check out this quick guide to Tinder Feed.
How Do You Get Tinder Picks?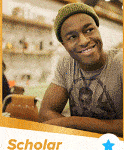 Tinder Picks are chosen for you automatically by the app's AI-driven matching algorithm.
You can see your Top Picks by clicking on the gold diamond, but free users can only check out one of the profiles. Tinder Gold users can peruse all of them, and generally get between 4 and 10 Top Picks every day.
It's a good idea to check the app daily - Top Picks refresh every 24 hours. To learn more about how Tinder Picks work, click here.
What Is Tinder U?
Tinder U is a college-student-only offshoot of Tinder. To get Tinder U, you need two things:
1. A ".edu" email address
2. Being physically located on a college campus the first time you sign in.
Otherwise, Tinder U is the same as regular Tinder. You can toggle between a feed composed solely of students on your campus as well as nearby schools, and your regular feed comprised of local singles who meet your search criteria.
What Is Tinder's Festival Mode?
Festival Mode is a feature that will display a special badge on your profile that lets other uses know you're planning to attend an upcoming music festival. It works via a partnership with Live Nation and AEG Worldwide, so you'll be able to select upcoming festivals in the US, UK, and Australia.
In theory, this will make it easier to connect (read: hook up) with other singles who plan on attending the same event - and you can get to know them prior to the big day via the app.
The badge for any particular event will become available approximately 3 weeks prior to the date it's happening on.
To display the badge, simply swipe right on the Festival Mode card for the event when it pops up in your card stack. Once you've matched with it, you'll be able to see other users who are planning to attend as well - so you can swipe right on them, as well.
What Is Tinder's Explore Feature?
Tinder Explore is a hub within the dating app where you can access the interactive social features, like Hot Takes, Vibes, Festival Mode and Swipe Night.
Not to be confused with Swipe Night, Tinder's Swipe Party is a setting that allows you to invite your friends to weigh in on matches. As Nyborg explained, "If you want your friends to help you vet people, you can invite those friends into the experience."
Users can also check out profiles of potential matches curated by more than 15 different types of interests. For instance, if you're looking for someone with a passion for business, you can look at suggested matches in the "Entrepreneurs" category of the "Discover By Interest" feed. You'll also find categories like Foodies, Gamers, Music Lovers, Social Causes and Free Tonight.
The profiles you'll see in Tinder's Explore section refresh often. Different interests will be presented to users based on the interests (or "Passions", depending on your market) they chose for their own profiles, the time of day, and location.
There is also a space where you can swipe through only photo-verified profiles.
What Are Tinder Coins?
Tinder coins are a new in-app currency that the app is testing in some markets. Coins can be purchased inside the app, then exchanged for ala carte premium perks like Super Likes and Boosts.
Tinder users can also "earn" coins by updating their profiles regularly, being active on the app, and other actions. Tinder coins should be available world-wide soon.
What Is Tinder Places, And How Do You Get It?
Tinder Places is a feature that was being tested in some markets, but has since been discontinued. 
The idea was the app would note which public places you visited, like bars, restaurants, and the like. It would then show you profiles of other singles who had also visited those places within the previous 28 days.
If you're intrigued by the idea of an app that matches you based on specific locations you have in common, try Happn.
What Is Super Likeable?
Super Likeable is a special card displaying four profiles that Tinder's AI-driven algorithm has chosen for you based on your past swiping patterns. In other words - profiles you're virtually guaranteed to like, similar to Hinge's "Most Compatible" daily match suggestions.
The more you swipe, the more Super Likeable cards you'll likely get. They pop up randomly as you swipe. They come along with a bonus Super Like, which you'll need to use right then.
Does Tinder Let Users Specify Sexual Orientation And Gender Identity?
Yes - Tinder has an array of options that allows you to specify both your gender identity and your sexual orientation.
You can also control whether or not that information is displayed on your profile.
Getting Started On Tinder
If you're brand new to Tinder, here is a step-by-step guide to getting your swipe on.
Step 1: Download The Mobile App
Tinder is available for Android & iOS. You can create a Tinder account by logging in through Facebook or providing your mobile number.
If you go the Facebook route, much of the information in your profile is auto-populated from your Facebook profile so creating a Tinder account is easy once you download the app.
If you don't want to log in via Facebook each time you feel like swiping, you can skip that step by verifying your Tinder account with your phone number.
Step 2: Choose Your Tinder Photos
You can use up to 9 photos and 2-second videos (called Loops), which you can pull from Facebook or your camera roll simply by tapping on each numbered box.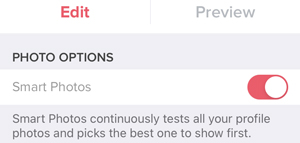 Tinder's Smart Photo feature keeps track of each photo's popularity and adjusts your lineup accordingly. If you'd rather have total control, you can easily turn that feature off by using the toggle located directly underneath your photo display.
Photos will make or break you on Tinder, so be sure to check out these expert Tinder photo tips. But for now, here are the 4 elements the most attractive Tinder photos all have in common, according to science:
There's a high degree of contrast between you and the background
You're the only person visible in the frame
It shows the upper 2/3rds of your body
You're making eye contact with the camera
You can use one (or more) of your photo spots to answer a Tinder text prompt, which will display as colorful "cards" in your photo lineup. (Editor's Note: In some markets, the Tinder Prompt feature has been discontinued.)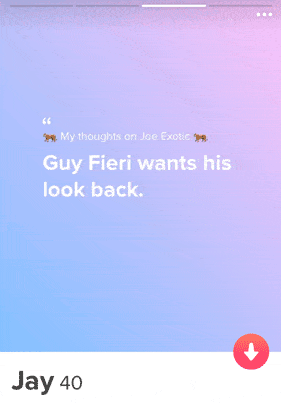 Similar to other apps like Facebook Dating, Hinge and Bumble, Tinder bio prompts offer users an opportunity to give potential matches a taste of your personality and sense of humor.
Tinder prompts include questions like, "If you don't match with me, you'll miss out on..." and "If I could have one superpower it would be..." Each one has a 144-character limit.
To add a Tinder prompt to your profile:
Go to the "Profile" screen
Tap "Add Media"
Tap the "Create a new Prompt" button
Answer the suggested prompt, or tap the little menu icon at the top left of the colored box to bring up the full menu
Tap on the prompt you'd like to include and answer it by tapping on "Type Something"
The prompt card will automatically appear at the end of your photo lineup, but you can hold, drag and drop it to change the sequence
Step 3: Fill Out The "About Me" Section
Many people don't bother to write anything in this section, but don't make that mistake. Tinder profiles with a bio filled out get more matches than profiles without one, so why not stack the odds in your favor as much as possible?
You can pack a surprising amount of creativity into a 500-character profile, and offering a few enticing tidbits about you and your life builds attraction and trust. That's essential if she's going to respond to your message, or agree to meet in person.
To achieve maximum attraction points, your Tinder bio should do these 3 things:
Catch her attention
Evoke an emotional response, like a smile or a laugh
Make a good impression by highlighting a few attractive traits
Here's an example of a Tinder "About Me" for guys that hits all the right notes: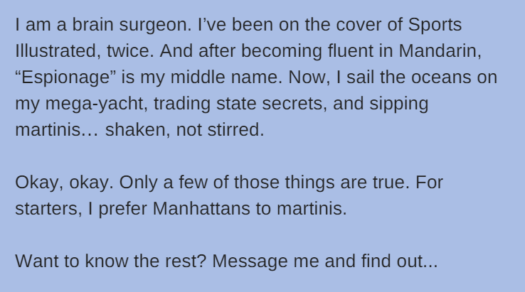 For more inspiration, check out these 4 Tinder profile examples that are proven to get results!
Tinder Interests
You can also add up to 5 "Passions" to your Tinder profile. These are hobbies & interests you select from a menu of options that will display on your primary photo:
To add Passions to your Tinder profile:
Go to the "Profile" screen and tap the edit icon

Scroll down to the "Passions" menu

Select at least 3 and no more than 5 by tapping on the words you'd like to display

Tap "Done"
It's worth your time to add a few Passions (also known as "Interests" depending on your market) to your profile, because whenever you and a potential match chose the same Passion it will be highlighted on their profile (and vice versa):
Common interests lend themselves to icebreaker subjects, so it will make it easier for a match to know what to say in a first Tinder message.
You can also write an icebreaker message around each one of your Passions, then save a ton of time by sending it to matches who share it. Read all about how to come up with effective copy & paste messages here!
Tinder Lifestyle Badges
Tinder also has Lifestyle badges, which allow you to display the type of pet you have, your personality type, your Zodiac sign, whether or not you're a smoker and more.
The Lifestyle badges are listed on the profile editing screen right below the Interest badges.
Relationship Goals
In the "Looking for" section on Tinder, you can let your matches know what type of relationship you're seeking. There is a spectrum of options ranging from long term partner to still figuring it out:
Step 4: Link Instagram And Spotify
Tinder allows you to connect your Instagram and Spotify accounts to your profile if you want to show off more photos or share your taste in music. You can also choose one song off Spotify to be your "Anthem," a sample of which can be played right from your profile.
While this can be a good way to connect with someone, you should probably do a little Instagram spring cleaning first.
Make sure all your pics show you in an attractive, positive light. She doesn't know you, so just one crazy photo could leave a bad impression and prompt her to move on.

Step 5: Set Your Search Criteria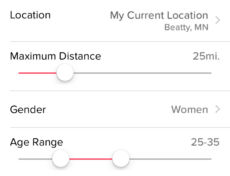 Search criteria on the Tinder app are limited to maximum distance, gender, and age range. The criteria can all be adjusted in the "discovery" settings.
You also have the option to hide your profile if you don't want to be visible to other people.
Step 6: Start Swiping!
Now that your profile is set up, you're ready for the fun part: swiping. To find your matches, tap the flame icon at the top of the screen.
Swipe right if you like them, left if you don't, and up if you want to "SuperLike" them.
Free users only get one SuperLike per day, so use it wisely. You can also tap the green heart of the red X if you don't want to actually swipe. The yellow arrow will undo your last swipe if you have Tinder Plus, Gold or Platinum, and the blue star will "SuperLike" a profile.
If you want to read a potential match's profile or see the rest of their photos, tap without swiping and you can scroll through the pics and read their bio.
Tinder has a "double opt-in" format, meaning to make a match the other person has to swipe right on your profile as well.
Once that happens, they will show up in your match queue and you can exchange Tinder messages.
Starting A Conversation
To start a conversation, tap the conversation bubble in the top-right corner. This will bring up all your matches. Just tap on the person's photo and you can type in your message.
Many guys default to just a simple "Hey" or "Hi there," which isn't the way to stand out on dating sites. You can usually bet that the higher quality your match is, the harder it will be to get her attention.
Having a few tried-and-true Tinder icebreaker messages can save you a ton of time, and get you a ton of dates. Just like your bio, a good Tinder conversation starter will both catch her attention and elicit some sort of emotional response.
You'll also want to make it easy for her to respond, so the best thing to do is ask her a question. For example:
Tinder SwipeSurge
Tinder has an opt-in feature called Swipe Surge, which automatically notifies you when singles in your area are especially active on the app. It's an easy way to increase your odds matching and messaging in real-time, which is the perfect way to quickly lock in a date.
Need more messaging tips? Check out these examples of Tinder icebreakers that actually work!
Tinder Safety Measures
Once you've started messaging with a match, you can integrate personal safety app Noonlight with Tinder.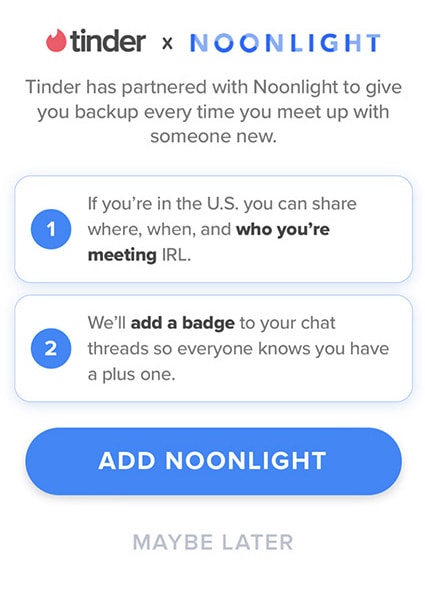 Noonlight offers on-demand safety features, like sharing the details of a Tinder date with friends via a special Timeline:
To add Noonlight to Tinder, tap the blue circle icon on the bottom of the screen while in the message view.

If you haven't already, you'll be prompted to create an account with Noonlight and install the app.
Tinder Face To Face
Tinder also has a video chat feature called Face To Face. So once you've started messaging you have the option to move things to a video chat by tapping the video icon.
But before you can video chat with a particular match, both of you have to express interest by toggling the feature on:
Once you've both said yes, you can initiate a video call within the app.
Want to boost your confidence before using Tinder's video feature? Check out these video chatting tips first!
The Easiest Way To Meet The Best Local Singles On Tinder
Swipe, match, message may sound simple in theory… but it's a different story in practice.
Tinder can quickly turn into a lot of work. Not only is having an attractive profile essential for success, you also need to do a lot of swiping and writing irresistible messages that lead to dates.
Beginning to sound like a real-time investment? The average guy on Tinder logs on 11x a day. That adds up to 90 minutes a day, 10+ hours each week, 42 hours per month. That's basically a part-time job!
But it doesn't have to be.
With VIDA's modern dating service, Tinder is a stress-free, hassle-free experience because our dating experts handle it all for you!
When you've already got a full-time job, outsourcing Tinder is a smart investment.
Click here to learn more!
Want us to do your online dating for you?

Hey, I'm Ally, VIDA Select's Director of Matchmaking.
We take all the frustration, hard work and hassle out of modern dating!
Imagine your very own Dream Team of highly skilled dating experts searching for the very best local matches, sparking their interest, and arranging all the dates for you.
Wouldn't it be nice to finally stop swiping and start dating higher quality matches so you can meet someone special?
We've helped thousands of singles just like you since 2009, and we're ready to make you our next success story!
What are you waiting for? Take the next step now…
See If You Qualify