I hope you enjoy reading the blog post.
If you want my team to just do your Tinder for you, click here to chat with me.
Tinder Hot Takes: What It Is & How It Works [2023]
Curious about Tinder Hot Takes? This quick guide explains all there is to know about the feature, including what it is, how it works, where to find it & how to participate!
Let's start with the "what"...
What Is Tinder Hot Takes?
Hot Takes is one of the interactive, "social experience" features like Vibes and Festival Mode that you can find in Tinder's Explore hub. 
Similar to speed dating, Hot Takes is a timed game where you can chat with another user before you've matched.
As Tinder explained in a press release,
This is the first time members will be able to chat before they match, letting their flirty banter be their first impression.
If it's been launched in your area, Hot Takes appears in your Explore page whenever an event is running.
Hot Takes hours are generally between 6 pm and midnight. When you hop on Tinder while it's running, you'll more than likely get a pop-up invitation to play.
Tinder Hot Takes not appearing for you? That means one of two things: the feature isn't released in your area yet or the event isn't running at the time.
How Does Hot Takes Work On Tinder?
When you join a Hot Takes event, you'll first answer a simple multi-choice question that serves as a conversation starter, like this Hot Takes example: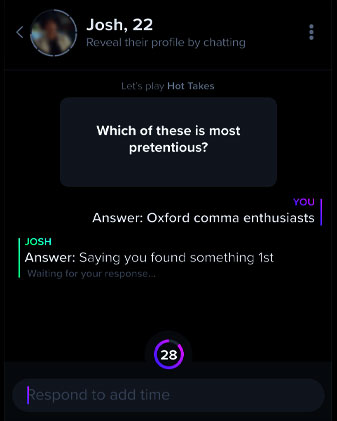 Then you'll be paired with someone else who is playing. The app's algorithm tries to match you with a user who gave the same answer, but that's dependent on how many people in your area are playing at the same time.
But exchanging messages in Hot Takes isn't like when you match with someone while swiping.
For starters, you can't see your potential match's profile.
And just like speed dating, the amount of time you have to chat is limited. When the countdown hits zero you have two options: match with that user or chat with someone new.
If you both want to match, your conversation moves to the regular messaging area of the app. At that point you can also check out their Tinder pics and bio.
The session also automatically ends if you take more than 30 seconds to reply. It's all about quick responses!
If Tinder Hot Takes is not matching you, it's because one of you took too long to reply or the other user declined the match.
Why Should I Try Hot Takes?
If you're thinking this is your golden ticket to matching with someone who's "out of your league", you're totally right. 
Hot Takes removes your bio and photos from the equation, giving you a chance to spark a connection through messaging first. 
Plus, it's free. So why not see if you enjoy it?
3 Hot Takes Messaging Tips For Guys
The whole point of Hot Takes is to spark a connection, and that's much easier to do if you can make her feel something during your exchange. Intrigue, curiosity, any positive emotion that makes her want to continue the conversation by matching with you.
Hot Takes Tip #1: Ask "emotional" questions, not "logistical" ones.
For instance, a question like "How long have you done that?" is pretty dry and boring. It's not going to stir up much emotion. A better question would be "What made you try that?"
Since Hot Takes adds the pressure of a countdown clock, it's helpful to have a few go-to questions at the ready.
"If I were to ask your friends to describe you in 3 words….which 3 would you secretly hope they would use?" works well, since it gives her a chance to share a bit about herself.
You've probably heard the old adage that everyone's favorite topic of conversation is themselves, and there's a scientific explanation for that.
Talking about yourself stimulates areas in your brain associated with reward. In other words, it makes you feel good. And the better she feels when she's chatting with you, the higher the odds she'll match with you.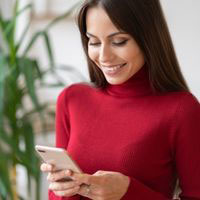 'Would you rather' style questions are a fun way to keep the conversation moving, like these 3:
Have unlimited sushi for life or unlimited tacos for life?
Lose all of your money and valuables or all of the pictures you have ever taken?
Accidentally send a dirty text to your boss or a sexy voicemail to your mom?
Check out these texting tips to improve your messaging game.
Hot Takes Tip #2: Steer clear of generic statements that don't require a response.
For instance, "that's so cool" can be a conversation killer unless you immediately follow it up with a question. She's under the same time limit you are, so whatever you can do to lead the conversation will increase the likelihood that it continues.
For more messaging strategies, check out this Tinder conversation guide.
Hot Takes Tip #3: Use "open loops" in your messaging.
This is a marketing technique designed to keep a reader hooked, like an unresolved storyline or a teaser.
The key here is to get her so engaged in a topic she'll want to match with you in order to get the rest of the story. Travel anecdotes, something funny that happened to you recently, a time you tried something new and had unexpected results… anything like that would make a good "open loop" opportunity.
Ready To Give Hot Takes A Shot?
Make sure you have a match-worthy profile!
Tinder Hot Takes gives you a chance to make a good first impression before she's seen your bio and pics. But once you've matched, it's virtually guaranteed she's going to check them out.
This Tinder Guide has everything you need to quickly make your Tinder profile the best it can possibly be.
Want us to do your online dating for you?

Hey, I'm Ally, VIDA Select's Director of Matchmaking.
We take all the frustration, hard work and hassle out of modern dating!
Imagine your very own Dream Team of highly skilled dating experts searching for the very best local matches, sparking their interest, and arranging all the dates for you.
Wouldn't it be nice to finally stop swiping and start dating higher quality matches so you can meet someone special?
We've helped thousands of singles just like you since 2009, and we're ready to make you our next success story!
What are you waiting for? Take the next step now…
See If You Qualify