I hope you enjoy reading the blog post.
If you want to chat now about your matchmaking search, click here.
Insider's Guide To Colorado Matchmakers [2023 Edition]
There's no shortage of Colorado matchmakers, so deciding which ones are even worth considering can be a challenge.
Thanks to this quick guide to the best Colorado matchmaking services, you've got 5 great options right here.
Our team of experts has created this comprehensive guide to help singles in Colorado find the best matchmaker. We've been in the industry since 2009 and we're well acquainted with the major players.
We've written over 200 matchmaking reviews, leveraging our comprehensive knowledge of the industry and understanding of what clients value most.
Make sure to read until the very end. You don't want to miss the expert advice that will help ensure you're making the right decision!
Enamour's seasoned matchmaking team uses a blend of relationship psychology, AI, and recruiting technology to find matches with true relationship potential.
Clientele
Accomplished and selective Colorado singles looking for a tailored approach to the search for their ideal partners.
Cost & Contract
Packages start around $20,000 for 6 months, with an array of options available.
What To Expect From Enamour
The process starts by filling out a short application via the website, followed by a complimentary consultation. Once you've been paired with a personal matchmaker, she'll get to know more about you, your lifestyle, and your match preferences.
This information gathering session sets the stage for Enamour's screening process, with each potential match thoroughly vetted either in-person or via video. Armed with all your 'must haves' and 'dealbreakers', your matchmaker will get straight to the heart of compatibility.
Matches who pass the screening will be presented to you for approval. After each date, your matchmaker will follow up with both of you, gathering insightful feedback and passing it along to you.
Your matches come from Enamour's exclusive, invitation-only database. But your matchmaker doesn't stop there - highly compatible candidates are also proactively sourced both online and offline via recruiting technology and an extensive network of scouts.
In addition to matchmaking, Enamour also offers complementary services such as dating and life coaching, personal styling, image consulting, and professional photography.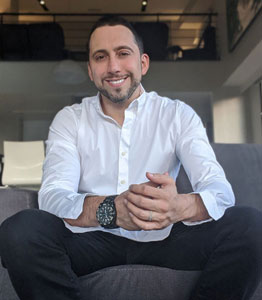 Founded in 2009, VIDA Select offers high-end matchmaking services without the high-end price tag - and allows clients to pay on a monthly basis rather than commit to 6 or 12 months at a time.
In fact, thanks to VIDA's blend of traditional and modern matchmaking, clients typically meet their "perfect match" in just 3 months of beginning service!
Clientele
Successful, discerning professionals looking to meet high-quality singles.
Cost & Contract
Clients can choose from 3 levels of service: Basic, Premium and Elite.
How much your matchmaking service costs is highly correlated with how many hours should be dedicated to your search each month. Factors including how many different cities you'd like included and the complexity of your ideal match criteria help determine your package level.
Basic matchmaking packages begin at $1195/month. Starting at just $1795/month, clients can also opt for one of VIDA's Premium matchmaking packages. Elite packages start at just $2595/month.
What To Expect From VIDA Select
After a quick screening process to make sure VIDA Select is the right matchmaking service for you, your matchmaker will get to know exactly what type of person you're hoping to meet.
Every client has unlimited matching potential, which means you'll never be asked to compromise on your dealbreakers - each match is pre-screened by you! After checking out a full profile and photographs, you can express an interest in meeting or pass on the candidate entirely.
Because there's no lengthy contract involved, you can stop your service whenever you want to focus on dating a particular match.
For that matter, you can stop service to travel, take a break from dating, or for any other reason! VIDA offers flexible matchmaking service that's customized to fit your schedule.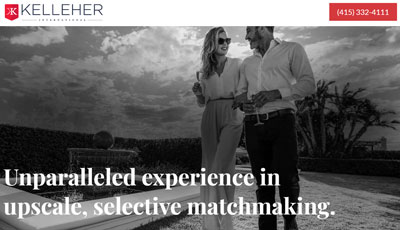 Founded in 1986, Kelleher International is headquartered on the West Coast but they have a presence in Denver.
Clientele
As CEO Amber Kelleher explains, this is not a "mass market" dating agency. Instead, these high-end matchmakers only work with a handful of intelligent, affluent and professional singles at a time.
Cost & Contract
$30,000 - $300,000+, a contract is required.
What To Expect From Kelleher International
After going through the screening process, you'll decide if you'd like to meet singles in Denver, or expand your search nationally or even internationally. That will help determine the final cost of your membership. Membership contracts last 1 to 3 years and include an additional year's worth of hold time.
Throughout the course of your membership, you'll likely meet somewhere in the vicinity of 8 to 12 matches, pulled from their internal database of 50,000. Your Denver matchmaker can also scout locally, although that will increase the cost of your matchmaking services.
As your matches are found, if there's mutual interest in the introduction you can meet in person, then let your matchmaker know how the date turned out.
Keeper Introduction Services, founded by Gabriella Aratow in 2020, is headquartered in Basalt, Colorado, but works with singles nationally and internationally.
Clientele
Aratow works with individuals of diverse backgrounds and ages. However, her niche clientele consists predominantly of people passionate about outdoor activities and those residing in ski towns.
Cost & Contract
According to Aratow, matchmaking packages typically have a 5-figure price tag. Exact pricing is not disclosed on her website as cost varies depending on each client's search requirements.
Contracts typically last 6 months with 1 to 2 introductions scheduled per month.
What To Expect From Keeper Introduction Services
Potential clients have two options: have your profile included in their singles database free of charge, or become a paying member. The database option is a passive membership, meaning you'll only be contacted if your profile interests a paying client.
Paying clients go through a consultation and screening process to determine if they're a good fit for the service. If both parties agree, a contract is executed, and the matchmaking process begins.
Potential matches may be selected from the KIS database or are sourced from Aratow's larger matchmaking network.
Once matches are identified, if there's mutual interest a date is arranged. After the date, all that's left is to inform your matchmaker about how it went.
Further Reading
Keeper Introduction Services review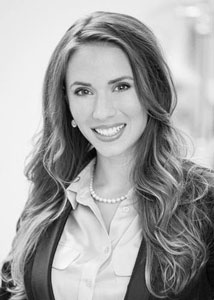 LUMA (also branded Luxe Matchmaking) is a national service founded in 2010 by April Davis. It is based in Minneapolis with an office in Denver.
Clientele
As the name implies, LUMA is a high-end matchmaking service that caters to successful singles who want a serious relationship with another "Total Package" type person.
Cost & Contract
$2,800 - $100,000, a contract is required.
What To Expect From LUMA
LUMA matchmaking cost varies, as packages are tailored to suit individual members. There's also the option to list your profile as one of the 20,000+ singles in their internal database, which you can do for free. But if you want guaranteed matches you'll need to pay for a membership.
LUMA's matchmaking process is straightforward - your matchmaker will find up to 40 Denver singles in the database who seem to resemble what you're seeking in an ideal partner.
She'll then arrange an in-person interview with the most promising of those matches, and narrow down the candidate list even further. That's the group you'll be introduced to one by one, with a guarantee of meeting at least 3 people.
If you hit it off with one (or more) and there's mutual desire for a second date, simply exchange contact info during the first one and arrange to see each other again.
If you don't end up wanting to see any of your LUMA matches again, you can arrange to purchase more introductions and your matchmaker will begin the screening all over again.
Further Reading
LUMA Luxury Matchmaking review
Hiring The Right Colorado Matchmaker Starts With Doing The Right Research
Considering a dating agency that's not listed here? No matter which Colorado matchmakers you're considering, making the right investment means asking smart questions during your consultation.
These 5 are a great place to start: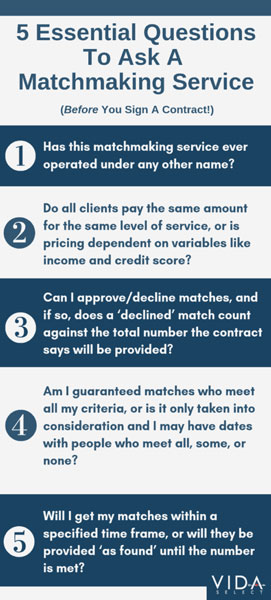 A quick check of local reviews on sites like Yelp and Google makes it pretty apparent that quality can vary widely when it comes to matchmaking. Answers to questions like the ones above help determine how a particular company approaches the process.
There's no "right" or "wrong" way, but you do want to find a matchmaker with whom you feel comfortable. So determine for yourself what answers you want to see, and proceed accordingly.
With many matchmaking services, you'll be asked to sign a contract and pay for the services up front. Depending on the dating service, that could be a sizable investment.
And even if it isn't, putting some thought into whether or not you want to pre-pay for service you haven't experienced yet is something you want to do. Once that money changes hands, there's not much you can do to get it refunded in the event of problems later on.
On the other hand, matchmakers at companies like VIDA where clients pay on a month-to-month basis have a pretty big incentive to work hard for you - if you're not happy, you won't continue!
Not having a contract also makes it easy to pause or stop your service whenever you'd like to date a match exclusively, or if life throws something unexpected at you and you need to take a dating break. With VIDA, you're in control every step of the way.
Want to learn more about how VIDA's modern matchmaking service can find your perfect match in an average of 3 months?
All product and company names are trademarks™ or registered® trademarks of their respective holders. Use of them does not imply any affiliation with or endorsement by them.
Why Choose VIDA Select?

Since 2009, thousands of clients have discovered true love thanks to VIDA Select's fresh, modern approach to matchmaking – which has finally thrown blind dates and long-term contracts out the window. This isn't your grandmother's matchmaking!
Instead of working with a single matchmaker using a small rolodex of potential partners, VIDA Select's matchmaking team taps into the world's largest database of available singles. We'll quickly identify the matches who check all of your boxes so you can finally experience true chemistry. Are you ready to become our next success story? Schedule your complimentary consultation now by clicking the button below!
Get Started Now