I hope you enjoy reading the blog post.
If you want to chat now about your matchmaking search, click here.
Top 4 Professional Matchmakers In Connecticut [2023 Guide]
Here's the good news: you don't lack for choice when it comes to matchmakers in Connecticut.
But hiring one is a big decision, so you'll want to consider all your options carefully to make sure you're investing your money, trust and time in the right place.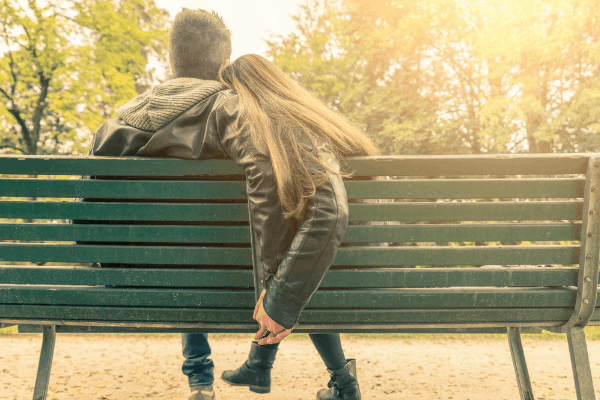 Finally finding your soulmate starts with finding the right matchmaker - and these 4 professional Connecticut matchmaking services are a great place to start.
Our team has reviewed more than 200 matchmakers and their services, delving deep into their operations, success rates, price tag, and real customer experiences. Our reviews are built on extensive research and a keen understanding of the matchmaking landscape honed over 14+ years in the industry.
And at the end of these short matchmaker reviews, you'll also get some expert advice you'll want to read before you make your final decision!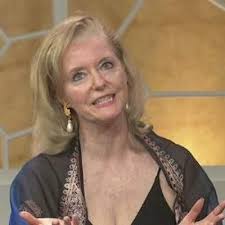 With a background in social work and psychology, plus a previous stint at a NY dating company, Lory Kelsey is no stranger to helping people.
She started her own professional matchmaking service in Greenwich after getting divorced and finding it difficult to meet quality men. She realized there were plenty of people experiencing the same frustration, and the rest is history.
Clientele
"Upscale and professional" men (and occasionally "high net worth" women). Kelsey is a boutique style matchmaker, and she only accepts a limited number of paying clients at a time.
Cost
Cost & commitment varies per client.
Women can interview to be included in the Platinum Registry for 5 years, provided they pass the screening process. The interview fee is $500 for women 30+, and $250 for those under 30. Having a profile included in the registry does not come with a guarantee of ever being matched with a paying client.
Men who don't want to pay for matchmaking services can interview to be included in the Gold Registry for 5 years, which costs $500. Men in the registry will be matched with paying female clients, although no matches are guaranteed.
What To Expect
Male clients will have a free 30-minute phone call, followed by a paid one-on-one consultation provided they pass the phone screening process.
The cost of the matchmaking service depends on the specificity of your ideal partner criteria, and how easy (or difficult) Kelsey believes it may be to match you. Clients are matched with singles in her database.
Contract Required
Yes
Additional Services
Date coaching
Further Reading
Trenia Norford wasn't always a professional matchmaker - she started her career in publishing, and then later banking.
But after successfully pairing up over a dozen of her friends, she decided to start a professional matchmaking service while living in Chicago. The Connecticut location opened in 2015, and helps singles in Ridgefield, Stamford and Westchester find love.
Clientele
This professional matchmaking service takes on both men and women as paying clients. Norford has said she works with a lot of divorcees and single parents, and generally her clients are in their 30s and 40s.
Cost
Cost & commitment varies per client.
What To Expect
Clients are matched with other clients in the Connectricity database. If necessary, Norford will also reach out via her network of matchmakers for compatible singles.
Every person in the database is screened and interviewed, and when a suitable match is found for you, a date will be arranged. You'll receive a description of your match prior to the introduction, but no photos are shared beforehand.
You'll be able to give your matchmaker feedback after the date, and also receive dating advice as necessary. You can also attend Connectricity single's events.
Contract Required
Yes
Founded In
2012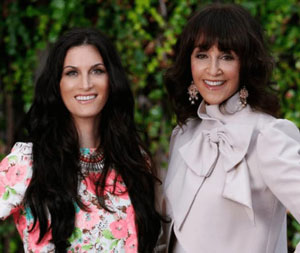 This mother/daughter team is one of the East Coast's most well known millionaire matchmakers. Serious Matchmaking is headquartered in New York, but they also have a presence in Connecticut.
Clientele
Serious Matchmaking's core clientele is wealthy, successful men who want a serious relationship (read: marriage).
They don't typically provide matchmaking services for female clients.
Instead, women can interview to be included in their national database, and then potentially be matched with paying male clients.
There is a one-time fee to participate in the screening process, which ranges from $250 up to $1,250 depending on factors such as whether the interview is in-person or not.
Cost
$25,000 - $1,000,000/1-year commitment
Matchmaking packages all include 12 months of active search time, during which you'll receive at least 12 matches as required by NY law. The biggest factor affecting cost is which matchmaker you work with.
Carly's services range $25,000 to $350,000+. Janis's services range from $50,000 to $1,000,000.
If those prices are out of your budget, there's a $6,000 "Flash Match" option. It's a one-night event such as a cocktail party where you'll get to meet 6 hand-selected women during the course of the evening.
What To Expect
For women, the process begins by filling out the online application and paying the fee for the interview. If you make it through the screening process, your profile will be included in the Serious Matchmaking database. But there's no guarantee for when (or even if) you'll be matched.
Men meet with Janis or Carly for an initial consultation. Then you'll select which package the two of you agree is the best fit. You'll then be matched with women from the database, and you can provide feedback after each introduction.
Contract Required
Yes. Serious Matchmaking contracts also include a signer's fee and a finder's fee. The rate starts at $65,000, and the same amount is due for both. The signer's fee is paid up front; the finder's fee is only due upon forming a successful relationship with a match the Spindel's found for you.
Founded In
1993
Further Reading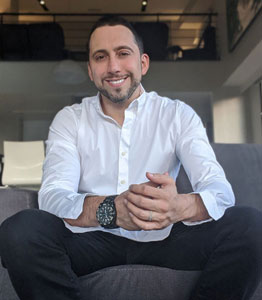 VIDA Select is a modern matchmaking service that helps singles all over the world find their ideal partner.
Using the latest technology, VIDA's elite matchmakers have access to the most extensive pool of Connecticut singles you'll find anywhere, which is why the average VIDA client finds "someone special" within the first few months of signing up.
Clientele
Professional, relationship-minded singles who are typically in their early 30s to mid 60s, although VIDA has helped clients from 18 to 80 find love!
Cost
VIDA Select offers 3 different levels of matchmaking service, with package prices that are highly correlated with the number of hours that should be dedicated to finding your perfect match each month. No matter how long and complex your list of "must haves" happens to be, VIDA has you covered - even if you also want to search in multiple locations.
Basic packages start at $1095 a month. Premium packages start at $1695 a month, and Elite options begin at $2595 a month. Matchmaking service is paid month-to-month, so there is no long-term contract! On average, VIDA clients meet someone special in 3 months.
What To Expect
VIDA's matchmaking process starts with a free, low key and confidential phone call. If you and your matchmaker agree the service is a good fit, you'll have a more in-depth interview where you'll discuss your relationship goals and your ideal partner criteria.
All VIDA clients receive unlimited matches with high-quality singles - and you'll get to review a complete profile of each one. That means you're only meeting people who meet all your criteria!
Because you pay as you go, you have the freedom to stop, pause, and restart your service as needed - and for any reason. You're not locked into a long-term contract, so you can date at your convenience.
Intrigued? Go here and see if you qualify!
Contract Required
No.
Additional Services
Image consulting and styling, date coaching, professional photography
Founded In
2009
3 Essential Things To Do When Considering Any Matchmakers In Connecticut
#1: Check Credible Review Sources
Local review websites like Google or Yelp can give you a general idea of what to expect from a matchmaking service if there's an overall trend of good reviews compared to negative ones (or vice versa).
If you can't find any, or just a few, reviews for a particular company, that's likely a good thing. Customers who had a great experience and are now in a relationship probably aren't as likely to take the time to pen a review, whereas an angry, upset customer would likely make the time.
The Better Business Bureau goes a few steps further than Yelp and facilitates communication between the customer and a complaining client.
While businesses can and often do respond to Yelp and Google complaints, the responses you'll find on the BBB site are often more in-depth. You can get an inkling of their approach to customer service, and often see specific contract language and what steps they're willing to take to enforce it.
Local news stations sometimes report on matchmaking services that have been accused of scamming customers, and a quick Google search will also turn up those. It's not a bad idea to check public records for any pending or resolved lawsuits, either.
All your research will come in handy when you start jotting down some questions you'd like to ask matchmaking services you're considering. Which leads us to tip #2:
#2: Bring A List Of Questions To Your Consultation
Whether your matchmaking consultation is via phone or in person, having a list of questions ready to ask during the conversation is a savvy move.
Here are 5 good questions to ask a potential matchmaking service: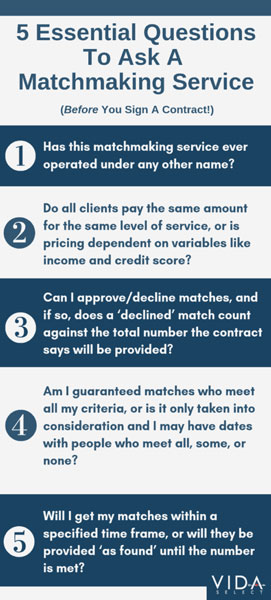 The questions above don't have "right" answers - it all boils down to what answer you're comfortable with. Consider each question carefully, decide how you feel about it, and choose a company whose answers are in line with yours.
If the person you're interviewing with seems hesitant to give you a straight answer, that could be a red flag - and you may want to do a little more research.
#3: Scrutinize The Contract - Before You Sign It
If your matchmaking service requires a long-term commitment via a contract, it's essential to fully understand what you're being asked to agree to.
Most services require you to pay (in full) up front, and they don't typically provide a refund for any reason. That leaves you with little recourse or options if you end up not being satisfied with the service.
The questions you just read will help clarify the details. And keep asking questions until you're satisfied you know what you're getting for your investment.
Some matchmakers employ high-pressure sales tactics during face-to-face sales pitches/consultations. So be mentally ready for it when you walk in - and don't let it stop you from getting answers!
Have a budget in mind - and stick to it. Take the time you need to think it over, and only sign a contract if you feel comfortable doing so. Listen to your instincts and that little voice in your head, because you're about to sign a legally binding document.
If paying upfront for a year+ commitment gives you pause, think about trying a matchmaking service like VIDA where you pay as you go. No contracts, so if you meet your ideal partner right away, you're not paying for time you don't need.
To learn more about VIDA's modern matchmaking service, go here.
All product and company names are trademarks™ or registered® trademarks of their respective holders. Use of them does not imply any affiliation with or endorsement by them.
Why Choose VIDA Select?

Since 2009, thousands of clients have discovered true love thanks to VIDA Select's fresh, modern approach to matchmaking – which has finally thrown blind dates and long-term contracts out the window. This isn't your grandmother's matchmaking!
Instead of working with a single matchmaker using a small rolodex of potential partners, VIDA Select's matchmaking team taps into the world's largest database of available singles. We'll quickly identify the matches who check all of your boxes so you can finally experience true chemistry. Are you ready to become our next success story? Schedule your complimentary consultation now by clicking the button below!
Get Started Now