I hope you enjoy reading the blog post.
If you want my team to just do your online dating for you, click here.
The 3 Best Cougar Dating Apps & Sites [2023 Edition]
Looking for the best place to meet older women interested in dating younger guys? Start with these 3 best cougar dating apps and sites!
And at the end, you'll also get some expert cougar dating tips - so you don't waste your time and money on sites that don't work.
Best Cougar Dating Apps Table Of Contents
Generally regarded as the largest and most popular of the older woman/younger man dating sites, CougarLife is a great place to start.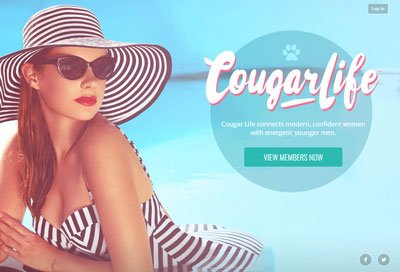 It's been around since 2006, and you'll find women in their 30s to 60s+ seeking everything from a casual fling to a committed relationship with a younger man.
While you can create a profile for free, and indicate interest in someone by sending a "flirt," men need to purchase a premium subscription to access most of this dating site's features.
On CougarLife you can send 3 free messages as a Guest (free) member.
But sending any more or using the chat feature requires a paid membership. Men must upload at least one photo in order to take advantage of those free messages, but paying for a membership allows you to send messages without having a photo posted.
CougarLife Cost
Here is what a premium membership to Cougar Life costs:
CougarLife Cost 2023
1 month - $40
3 months - $29/month
12 months - $12/month
Access to this cougar dating app costs an additional one-time fee of $5, and you can download the app for both iOS and Android.
Credits can be used to do things like attach virtual "gifts" to your message as a way to catch her attention.
Cougar Life has a "Find A Date Tonight" feature where you can check a box to let women know you're up for meeting on short notice, and you can also search for intriguing cougars nearby who are looking for a date.
As with most cougar dating sites, you'll find a fair number of escorts and scammers on Cougar Life, but they're generally easy to spot.
If she's wearing extremely provocative lingerie and has a pose to match in her main profile pic, that's a red flag. Cougar Life has 'private' photo galleries designed for racier photos.
You'll need to put some effort into your profile so she knows you're legit - check out these cougar dating tips that really work!
Although it's not marketed as an app to meet cougars, the vast majority of Match's members are 30+. According to Survey Monkey, just under 40% of Match app users are 50+, so you'll have no problem finding older women.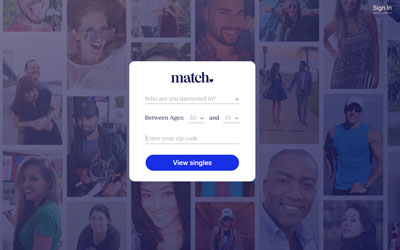 You also have the advantage of a huge user pool, something you won't find on niche dating sites like Cougar Life.
Of course, they may not be open to dating significantly younger men, so it depends on what sort of cougar/cub relationship you're into.
Stick with Cougar Life if you're looking for a true May/December situation, but Match could be a great place to look if you're envisioning a smaller age gap.
Match is also a paid dating site, meaning you'll need a paid subscription to send or read messages. But you can create a profile, check out photos and search profiles for free.
A subscription to Match.com costs anywhere from $15.99 to $22.99 per month, depending on if you opt for the Standard or Premium membership.
The Premium Plans cost just a few dollars more per month, and include a free profile boost each month as well as message read receipts.
Attracting a cougar starts with nailing your photos. Check out these tips!
Tinder is last on this list since just over half of users are 18-29. But it's still the most popular dating app in the US, so if you're in a big city it's worth a few swipes to see who you can find.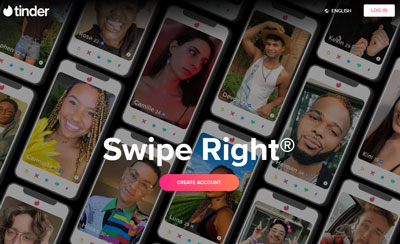 As with most dating apps, users can specify what age range they're looking for. So if you match with an older woman, she's at least open to the possibility of dating a younger guy.
The other nice thing about Tinder is you can create a profile, check out who's in your area, and send messages to your matches all for free.
The biggest limitation is the 100 daily right swipe limit, which can get used up surprisingly quickly.
If you want no limits on your swiping sessions, you'll need to upgrade.
Premium Tinder Options
Tinder offers three premium options to choose from:
Upgrading starts at $9.99 for 1 month of Tinder Plus, $29.99 for 1 month of Tinder Gold, and $39.99 for 1 month of Tinder Platinum. Purchase multiple months at once, and the monthly price drops.
Upgrading unlocks features like the ability to change your location, which could be handy if you're looking to meet cougars and hookup while traveling.
You'll also get unlimited "likes," control of what details are displayed on your profile, and a free Tinder Boost each month.
Tinder Gold & Platinum memberships include "Tinder Picks," which are profiles the app's matching algorithm has deemed especially compatible, and a special feed comprised solely of women who have already "liked" your profile.
That could save you some significant swiping time, as you can just quickly scan the profiles in the grid view and see who pops out as the older woman of your dreams.
Cougar Dating Site Red Flags
If you've already given Match and Tinder a shot, or you're 100% sold on trying out a dating site devoted to cougar/cub dating, you're going to find quality varies dramatically.
Niche dating sites simply don't attract the same numbers as sites like Match, so they typically don't have the same polished look and feel - or the dating pool.
Some cougar dating websites are outright scams, designed to lure you in, get your money… and that's it.
Others are legit, but simply lack members. Or worse, you'll find plenty of profiles but they're mostly scammers or prostitutes.
How To Spot A Bad Cougar Site
Here are 3 signs you'll probably be wasting your time on a Cougar site:
#1: Your inbox fills with messages immediately upon signing up.
While it may be a nice ego boost, how realistic is it that you've got messages from women who "can't wait to meet you" before you've even uploaded a photo?
#2: Your search results are filled with suspiciously attractive, scantily clad women.
Unfortunately, cougar dating sites - especially the free ones - tend to attract a lot of escorts and are often plagued with fake profiles.
While you can find genuine women looking to meet a guy like you if you look hard enough, it's best to stick with the cougar sites that have a better reputation.
#3: The site looks like a throwback.
If it reminds you of surfing the Internet circa 1999, you're likely going to be wasting your time.
The older sites will often let you search without registering, so you can do a "new member" search to give you a hint as to the site's popularity and see if there are any local cougars before signing up.
Cougared.com, in this instance, had no new members join anywhere in the entire United States on this particular day, which isn't a sign of good things to come: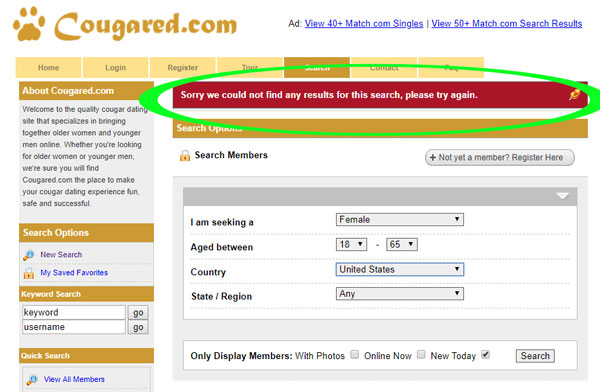 Want To Skip The Hard Part, And Just Meet Incredible Older Women?
In the world of cougar dating, how you present yourself online is everything.
You need a profile that rates a second glance, and when it comes to messaging you need to know what to say, and when to say it if you want to meet amazing older women.
You could pour in all that effort yourself… or just relax, knowing a team of matchmakers, professional writers, and image experts are all working behind the scenes to find your ideal partner!
From your profile to your messages to your photos, VIDA Select can handle everything for you - except for going on all those first dates, of course.
Find out more by clicking here!
Want us to do your online dating for you?

Hey, I'm Ally, VIDA Select's Director of Matchmaking.
We take all the frustration, hard work and hassle out of modern dating!
Imagine your very own Dream Team of highly skilled dating experts searching for the very best local matches, sparking their interest, and arranging all the dates for you.
Wouldn't it be nice to finally stop swiping and start dating higher quality matches so you can meet someone special?
We've helped thousands of singles just like you since 2009, and we're ready to make you our next success story!
What are you waiting for? Take the next step now…
See If You Qualify