Want to know how much Elite Singles costs, and what features come with a Premium membership?
This article has everything you need to decide if this is the best dating site for you, and 3 ways to make sure your profile attracts the best local singles!
Elite Singles Cost
Elite Singles is a lot like Match.com – you can look around for free, but if you want to actually meet anyone, you need a paid membership:
If you're looking for a serious relationship on a dating site, choosing one that costs money to send messages is actually a good idea. The subscription fee helps weed out bots, scammers, and people who aren't really interested in moving things off the site.
The more months you commit to, the less you pay – but note the full subscription fee is charged up front. Elite Singles payment options include PayPal, Visa, MasterCard, Amex, and Diner's Club.
Here is how much it costs to join Elite Singles:
1 year – $31.95/month, for a total of $383.40
6 months – $44.95/month, for a total of $269.70
3 months – $59.95/month, for a total of $167.85
The site frequently runs membership specials, though, which are worth waiting for: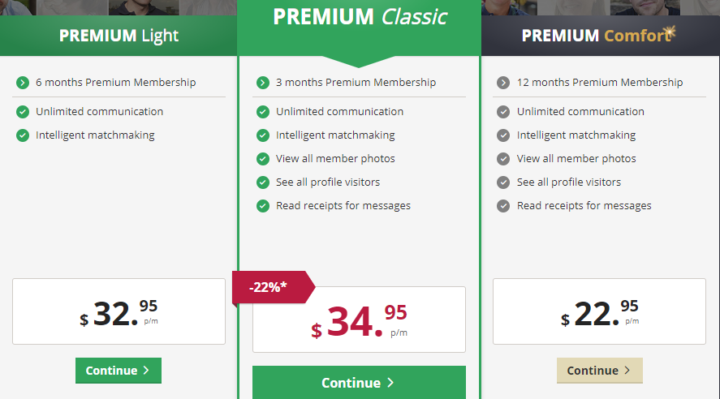 You can cancel your paid subscription within the first 3 days and receive a full refund, as outlined in the Terms & Conditions.
Your subscription will automatically renew unless you go to "Account" → "My membership" and disable the auto-renewal. You must do this at the latest 24 hours before the renewal occurs.
Elite Singles Premium Membership Features
This chart shows what you can do with an Elite Singles free membership (Basic), and what features are unlocked with a Premium subscription:
In addition, as a Premium member with a 6- or 12-month subscription, you'll also be able to:
See who's visited your profile
Leave comments on other profiles and photos
Receive up to 20 additional matches every day.
Is Elite Singles The Right Site For You?
As with any dating site, Elite Singles has its pros and cons:
Pros:
According to the site, the majority of their members have a degree from a college or university.
Most of the singles you'll find are looking for a long-term relationship or marriage.
You have the ability to verify your profile, which lets people know you're 100% legit.
Cons:
If you're looking for a fully functional free dating site like OkCupid or POF, this isn't it. You'll need a paid subscription to do basic things like send messages and see photographs.
Elite Singles is most popular with professionals in their 30s and up, so it's not the best option if you're looking for someone younger.
Profile set-up is lengthy, compared to other sites. Be prepared to answer screen after screen of questions.
You can't browse for profiles – you're restricted to viewing matches identified by the site's (unproven) algorithm. It bases compatibility on hard to quantify traits like emotional stability, agreeableness, and how easy-going you are:
Verdict:
There's no doubt Elite Singles attracts some high quality men and women. But depending on how you answered all the personality questions, you may never get the chance to message any of them.
The dating experts at VIDA firmly believe you're better off sticking with a more popular site, like Match.com or MillionaireMatch, that allows you to see all the eligible singles in your area and message whomever intrigues you.
If you want a more selective dating pool, check out this list of the best exclusive dating sites and apps!
3 Ways To Make Your Elite Singles Profile Shine
If you do decide to give Elite Singles a whirl, you'll want to put some effort into your profile. Premium members are matched with other premium members, so the bar is set pretty high.
#1: Follow this science-backed formula for the perfect primary photo.
When people browse their matches, they only see limited information about each one – and guess what stands out most?
Your primary photo.
Scientists recently tackled a question that's on the minds of singles everywhere: "What are the traits the most attractive Tinder photos share?"
Lucky for you, the traits the scientists identified are general enough to be universal to all dating sites and apps, so you can apply their findings to your Elite Singles photos as well.
Here are 3 things you can do to make your primary photo instantly more attractive:
Use a photo editor to increase the contrast. The last thing you want to do on a dating site is blend into the background, and making sure there's a high degree of contrast in the photo is one way to prevent that.
Crop it. Your brain automatically finds simple images more attractive because they're easier to process. Cropping your photo into a headshot that matches the proportions shown above is one easy way to reduce the "cognitive workload" of an image.
Choose a photo where you're making eye contact with the camera. Obscuring your eyes, whether it's with sunglasses or by looking away from the camera, is a bad idea. It makes you seem less trustworthy, and photos where the subject's eyes were hidden were rated as less attractive overall by study participants.
#2. Don't let your profile answers communicate the wrong thing.
It's in your best interest to answer as many profile questions as you can. Not only does that show you're serious about online dating, you also never know what may spark an emotional connection with someone.
Common interests are a powerful thing, as people naturally tend to seek out other people who share similar traits.
That being said – be careful what you say, as you may inadvertently raise a red flag or two. Here is an example of a bad answer to an Elite Singles profile question:
Sean makes several mistakes in the example above. First off, let's talk about word choice.
Words have power – and some are more emotionally charged than others. And when that emotional charge is negative, you run the risk of subconsciously affecting how someone feels about you:
That's a lot of negativity crammed into one short profile answer. Not too many women set out to date a jerk who harbors violent thoughts and is probably a road rager to boot.
Everything you write in your profile should build you up – even when you're answering an inherently negative question. Here is a much better way to answer that question:
No red flags here! Instead, this answer hits all the right notes – he's a physically fit, active, social guy.
#3. Choose the four points your friends would use to describe you.
Answering this question is important, because you can filter your match criteria based on these descriptors. If you don't choose any, you're automatically eliminating yourself from search results:
Remember, people gravitate toward other people similar to themselves, so when you're choosing your options, think about the traits you'd like to have in common with your ideal partner.
How To Meet The Best People – On Any Dating Site Or App
When you're not meeting the type of high-quality people you deserve to date, online dating can be a frustrating experience – especially when you're looking for your ideal partner.
Profile, photos, messages… there's a lot of opportunity for things to go wrong, and it's not like they taught this stuff in school! But with VIDA's team of dating experts on your side, you don't have to worry about any of it.
We'll handle everything for you, from developing an online dating strategy to sending irresistible messages on your behalf. You just show up for the dates with the best singles in town!
Your ideal partner is out there, so what are you waiting for? Click here to get started.