Since you're looking for Elite Singles reviews, chances are you're having trouble finding high-quality matches on mainstream sites and apps like PlentyOfFish and Tinder.
Elite Singles, which markets itself as a website for serious relationship seekers only, promises to make finding a needle in a haystack easier by removing all the chaff – and relies on an extensive personality test to find users high-quality matches quickly.
But does this dating site actually work, making it worth the money? Or are you better off sticking with a more popular dating site like Match.com?
Elite Singles vs Match
One of Elite Singles' main claims to faim is that over 80% of their users have a college degree of some type. That means it has a slight edge over match in the education department, as Match claims 74% of its users have either some college or a college degree.
Both Match and EliteSingles attract singles who are actively seeking a long-term relationship, so the women you'll find are typically serious about finding someone. And these two dating sites have another demographic in common – the majority users are 30+, so if you're looking for a younger woman you probably won't find her here.
Both dating sites also require a paid membership to send personalized messages, but EliteSingles is a bit more restrictive in terms of what a free user can do.
Members must upgrade to see photos and be matched with premium members. And even premium members can't freely browse the database like they can on Match.com.
One of the most common complaints about Elite Singles is matches that don't fit your specified criteria. For example they are far outside the set distance range, often by 100+ miles.
EliteSingle's unproven matching algorithm relies heavily on answers to their 5-Factor Personality Questionnaire, which scores users on a bell curve for traits like easygoingness and emotional stability. These types of traits are difficult to quantify on a dating site, which is one reason researchers claim matching algorithms don't work.
VERDICT: While EliteSingles does attract beautiful, intelligent women, you'll get more high quality matches in a shorter amount of time on a more popular site like Match.com or MillionaireMatch, where you can freely search for profiles that catch your eye.
Elite Singles Reviews
Mark Greene, the blogger behind 30sDater.com, didn't have a particularly good experience with his 6-month stint on Elite Singles. Despite living in a big city, he said he only met 3 women in 6 months. In comparison, he met that many women per week on Match.
He wasn't a fan of not being able to freely search for singles he was interested in, and said quite a few of his matches seemed to be fake or inactive profiles:
"It's a half-baked, clunky website depending on TV commercials and marketing. I do not recommend it, at all."
However, other review sites spoke highly of its comprehensive personality test. (Clocking in at 200+ questions, it undeniably fits that description). Some thought having matches delivered to you was a good thing, as it saved time by not having to go find them yourself.
Here at VIDA, we believe that you should have full run of any site you use. Why put your trust in an unproven matching algorithm and use a site that doesn't allow you to browse the full catalog of potential matches?
But if you do decide to give Elite Singles a whirl, here's what you can expect…
Elite Singles Cost & Features

Signing up, posting a photo, and creating a profile are free. But you won't get much out of the site unless you become a paid member.
Free users receive 3-7 matches a day, but you can't see photographs or send personalized messages without a subscription.
There are three paid membership levels, Light, Classic and Comfort.
How much it costs to join Elite Singles depends on the level you choose, the premium features you want included, and whether or not there are any membership specials running at the moment in your area. But here is a ballpark idea:
Setting Up Your Elite Singles Profile
The first step is specifying gender for you and your matches, then providing an email address and password. You're then prompted to answer a series of 200+ questions that identifies 29 "unique personality traits" that will help EliteSingles find your ideal matches.
The personality test is based on the "Five-Factor Model of Personality", which was developed in the 90s and identifies five personality dimensions: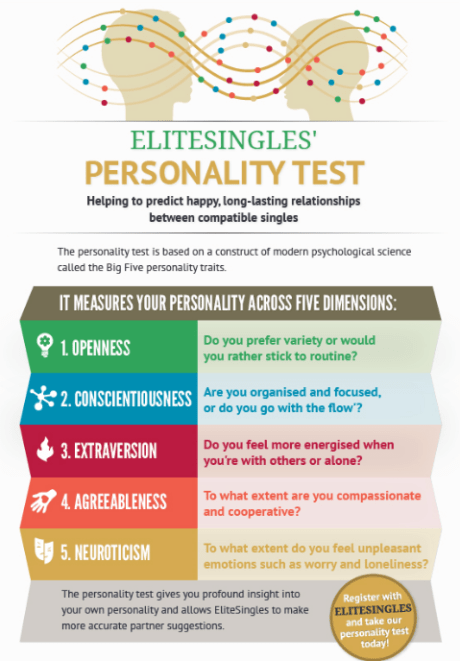 Questions include your age, how important your match's age is, your education level, etc. According to the site, this initial questionnaire should only take 20 minutes to get through.
Prepare to dedicate some time to the questions, as your answers will directly affect which matches are deemed suitable for you. Grab a cup of coffee (or a cocktail) and get ready for some self reflection:
A lot of self reflection:
After filling out 10+ screen's worth of dots, you get a slight break by answering a fill in the blank question regarding the 3 things you're most thankful for in life. Then back to the dots. So many dots, interspersed with more fill in the blank questions.
When you complete the free form questions, put some thought into the answers. Highlight your most attractive qualities, and keep your answers short and packed with specific details that will catch her eye and make her curious to know more about you.
PRO TIP:
Think about what your answers say between the lines. For instance, take this answer to the question asking what 2 or 3 activities you enjoy doing in your leisure time:
In four short sentences, you've let her know that you're physically and financially fit enough to go scuba diving, you travel, you enjoy cooking, and you have a social life. All attractive qualities, and because you went the "show, don't tell" route it's interesting to read.
When you're done filling in all the dots, you'll have an opportunity to upload photos. You have the ability to use up to 24 photos, but it's almost impossible to look equally attractive in more than 7.
Aim for a range of 3-7, since you can't really showcase your full personality in just 1 or 2. This dating photo advice will help you double your attractiveness!
Next up, you'll be presented with 7 profile questions where you describe things like "Which of your qualities do you think stand out in particular," and "In which places or situations do you feel most comfortable."
Remember, she's looking for husband material. Women are attracted to traits like bravery, courage, and a willingness to take risks, so tell stories that show how you embody those traits. Throw in an example or two of your DIY skills, love for travel, and ability to fit in at a social event, and you're golden.
Just when you think you're done… you're not. You have two more profile sections to complete: "About Me" and "Likes & Dislikes."
The About Me portion is a series of fields to fill out, like "How I describe myself" and "What my partner should know about me."
The Likes & Dislikes section presents you with a list of statements regarding your partner, from which you pick the 10 that are most important to you and the 10 you dislike most in a relationship.
You can view the results of your personality test in the "Personality Profile" section:
While the results are interesting, researchers have cast doubts on how effective online dating algorithms truly are at predicting real-world, long-term compatibility.
As noted psychologist and researcher Dr. Eli Finkel put it:
"It is virtually impossible to succeed at the task many matching sites have set for themselves… Despite grand claims to the contrary, it is unlikely that any matching algorithm based upon data collected before people have encountered each other can be effective at identifying partners who are compatible for a long-term relationship."
Meet Incredible Singles (Without All The Work)
Most researchers can agree that you can't truly know how you feel about someone until you're face to face on a date. No matter what dating sites you want to use, VIDA will get you dates with the high-quality, intelligent women you want to meet.
From start to finish, we'll handle everything for you. All you have to do is show up and let the chemistry kick in! Click here to find out more.