I hope you enjoy reading the blog post.
If you want to chat now about your matchmaking search, click here.
2023 Guide To America's Top High-End Matchmakers
Hiring a high-end matchmaker can be a serious investment, so selecting the best service for you is essential.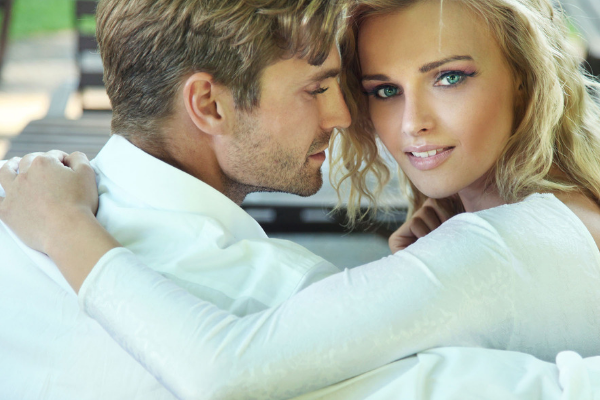 But don't worry - our team of matchmaking experts has reviewed over 200 services, delving into their operations and processes, success rates, and client experiences. These reviews are built on our extensive research and a keen understanding of the matchmaking industry that dates back to 2009.
Start narrowing down your options with this quick guide to America's 11 best luxury matchmaking services!
VIDA Select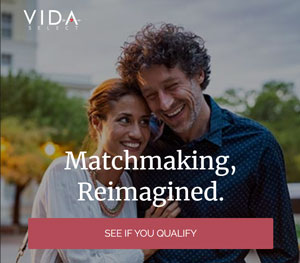 Background
Prior to launching his high-end matchmaking service in 2009, Scott Valdez was an exec logging 70+ hour weeks in sales and marketing.
When he found himself with very little time to meet high-quality, "datable" singles outside the office, he realized how many other successful professionals were facing the same frustrations - and the idea that became VIDA Select was born.
Clientele
Busy, successful, career and relationship-minded men and women, generally in their 30s to 60s.
Cost
Premium matchmaking packages start at $1695 per month, and Elite packages begin at $2595 per month.
Package pricing is highly correlated with the number of monthly hours that should be dedicated to your search, as well as which matchmaker you work with. Factors like the complexity of your compatibility criteria and whether you want a local, national, or international search are taken into consideration when choosing the best package for you.
Contract Required
No long-term contract! All matchmaking services are purchased on a month-to-month basis.
Additional Services
VIDA Select offers a full spectrum of services ranging from Image/style consulting to dating coaching and pro photography.
What To Expect
Potential clients start by answering a few online questions to see if they're a good fit for VIDA Select's elite matchmaking services. If so, you can schedule a complimentary phone consultation at your convenience with one of VIDA's top matchmakers.
VIDA clients choose from a range of monthly membership packages, all of which include unlimited introductions. VIDA is an international matchmaking service, so it's the perfect solution if you split your time between two+ locations or travel often.
Matchmakers use a proprietary, data-driven process to find intelligent, successful "Total Package" singles who meet all your perfect match criteria. You pre-screen all your matches based on a full profile, including photos. That means you only spend time meeting singles you know you'd be interested in pursuing a relationship with.
Because VIDA's matchmaking service is pay-as-you-go, there's no risk of investing in a lengthy contract with a year or more of 'active search' time you won't need if you meet The One right away. No need to worry about 'hold' time limits either. You can stop, freeze, and resume your service as often as you'd like.
Enamour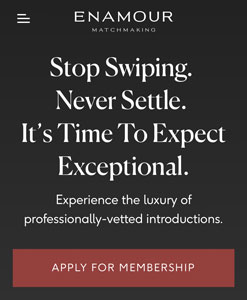 Background
Enamour's team of matchmakers has been helping successful and discerning individuals find their ideal partner for over a decade.
Clientele
Enamour offers executive matchmaking for relationship-minded singles.
Cost
Packages begin at $20,000 and are tailored to fit each client's search requirements.
Contract Required
Contract length varies, but typically start around 6 months of matchmaking service.
Additional Services
Enamour offers several concierge services, including personal styling and image consulting.
What To Expect
Enamour pairs each of its clients with a dedicated matchmaker who delves deep into their personality and preferred traits in a potential partner. Relationship psychology is at the forefront of Enamour's matchmaking process, which helps them to accurately assess compatibility when selecting matches.
The matchmaking team at Enamour uses both an invite-only database and a blend of AI and recruiting technology to identify singles who are highly compatible.
Following each date, clients can offer feedback, which allows their matchmaker to make any necessary adjustments and refine the search for the perfect match.
Linx Dating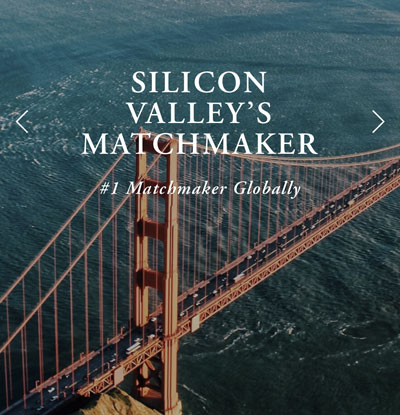 Background
Formally a financial advisor with Merrill Lynch, Amy Andersen started this executive matchmaking service in 2003 and quickly became known as the "Silicon Valley Cupid."
Clientele
Andersen carved out a niche in the matchmaking industry helping tech execs from companies like Google, Amazon, Apple, Facebook, and venture capital firms find true love.
Cost
$45,000 - $500,000
Guys 30 and younger whom Andersen deems "highly matchable" can be included in the Linx database for free. However, inclusion at this level comes with no guarantee of ever meeting a paying client.
Contract Required
Yes, a 2-year commitment (with 4 months of 'hold' time).
Additional Services
Linx Dating also offers dating coaching, style/image consulting, and concierge services such as restaurant and travel reservations.
What To Expect
The matchmaking process starts with a 90-minute, paid consultation.
It can only be scheduled after completing a questionnaire on the website. This elite matchmaking service won't take on just anyone as a client. That's one of the reasons you won't find a phone number listed. If Andersen thinks she can help you based on your questionnaire answers, she'll reach out.
Once you've signed the contract, you'll be introduced to at least 8 singles.
The number of matches depends on which package you purchase. Your matches come from the Linx database of 25,000 or so candidates, and Andersen's team also actively scout for you. She once told CNBC she's been known to go to places like Stanford and "literally chase after women" while looking for singles who meet a client's requirements.
To learn more, check out these Linx Dating reviews!
Exclusive Matchmaking
Background
Prior to launching her matchmaking service in 2011, Susan Trombetti ran an investigations company that liquidated bank and fraudulent credit card portfolios. She says she brings those same investigative skills to the background checks she performs at a client's request.
Clientele
Headquartered in Maryland, Exclusive Matchmaking also helps clients living in the greater DC area as well as over 20 major cities in the US. She also has a presence in Paris and London.
A boutique-style matchmaker, Trombetti says she doesn't help every client that comes her way - she picks and chooses. Her typical paying clients are affluent, successful single men looking for a long-term relationship. She also works with celebrities who value discretion as well.
Cost
$7,500 - $250,000+
Women can have their profile included in the Exclusive Matchmaking database without purchasing matchmaking services. However, Trombetti does charge a one-time interview fee. You'll be considered if you happen to fit a paying client's criteria. However, there are no guarantees a match will ever happen.
Men choose between several membership options. They range from an introductory package for men between 21 and 32 years old to the "CEO Club" for especially discerning clients.
Trombetti also offers a $4,000 "Bachelor Party" or clients in select areas, which is a one-time event where you'll be introduced to singles selected by Trombetti's matchmaking team. They'll be on hand to make sure the introductions go smoothly.
Contract Required
Yes, duration varies by client.
Additional Services
Trombetti also provides background checks, dating and relationship coaching.
What To Expect
First you'll have an initial consultation, either in person or via video chat. The in-person interview costs $550, and is available when/if the matchmaker can arrange to be in your area. The video chat option costs $350.
Once you've selected a membership package, you'll meet with singles plucked from Trombetti's database. After each date, you'll have the opportunity to discuss how it went with your matchmaker. You'll also receive dating coaching as needed.
For more information about Exclusive Matchmaking, check out these Exclusive Matchmaking reviews!
Serious Matchmaking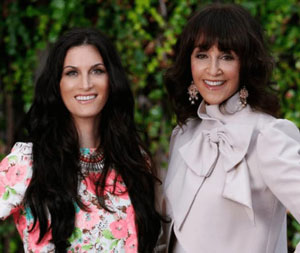 Background
Janis Spindel has been a fixture in the matchmaking industry for 3 decades.
Prior to that she worked in the fashion world as a sportswear manufacturer rep. She traveled extensively, and even back then was known for setting up her male acquaintances with their perfect match. Janis's daughter Carly Spindel came on board in 2009 and is now the company's VP.
Clientele
This millionaire matchmaking service operates out of New York City. But they also work with a network of affiliated matchmakers across the US and Canada.
Cost
$25,000 - $1,000,000+
The Spindels only take on a few hundred paying clients at any given time, typically men at the top of their game professionally. While women are sometimes accepted as paying clients, typically they join the database after paying a $250-$1,000+ screening fee. Also required: passing the interview. Being part of the database doesn't carry a match guarantee, only that your profile will be considered.
Serious Matchmaking membership costs vary widely. Whether you work with Janis, Carly, or both factors heavily in the price. New clients pay a signing fee that starts at $65,000, and that amount will also be due as a finder's fee should you get into a successful relationship through the service.
They do offer a much less expensive option. A one-time, $6,000 "Flash Match" event, during which you'll meet 6 women at a mixer in NYC.
Contract Required
Yes, a 1-year commitment.
What To Expect
After meeting with your matchmaker and deciding on which membership package you want to purchase, you'll receive 12 matches over 12 months.
All matchmaking services based in New York are required to provide that by law. You'll be introduced to people from the Serious Matchmaking database, or who have been scouted on your behalf. To read more about these elite matchmakers, check out these Serious Matchmaking reviews!
Ambiance Matchmaking
Background
Leslie Wardman has over 20 years of experience in the matchmaking industry, getting her professional start at a large international dating agency. She founded Ambiance Matchmaking in 2002 because she wanted to offer clients a more personalized, boutique experience.
Clientele
"Highly accomplished" singles, generally in their early 30s to 60s.
Cost
$25,000 - $100,000+
Contract Required
Yes, all "Active" memberships have a 12-month contract, which also includes up to 12 months of "pause" time. You generally expect to meet 1 to 2 matches each month.
What To Expect
A truly exclusive matchmaking service, Ambiance only accepts around 20 clients at one time. If you make it past the screening process, you'll work closely with Wardman to find your perfect match.
Her team scouts potential matches locally, nationally or internationally, depending on your membership level.
Wardman identifies potential candidates from the Ambiance database, which contains profiles of over 10,000 high-quality singles. Each match is then further screened and interviewed to ensure mutual compatibility, and then first date arrangements are made.
To discover more about the service, check out our Ambiance Matchmaking reviews.
Kelleher International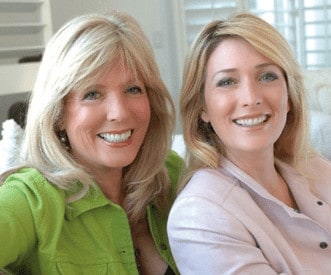 Background
Before starting her elite matchmaking service in 1986, Jill Kelleher was a Ford model and actress with a passion for photography. She got the idea for her matchmaking service while working for Great Expectations, photographing clients for their "Date Book."
She thought that dating service was missing a crucial component - a matchmaker's intuition - and went into business for herself. Her daughter, Amber Kelleher-Andrews, joined her in 1999. Kelleher International is based in San Francisco, but helps clients all over the world.
Clientele
One of the most high-end matchmaking services out there, Kelleher International only takes on a select few clients at a time. These include celebrities and top execs willing to pay top dollar for discretion and luxury matchmaking.
Cost
$30,000 -$300,000+
The scope of your search determines the cost of your matchmaking package. A one-city "local" search starts at $30k, while an international one could run well over $150K.
Contract Required
Yes, contracts run between 1 and 3 years and include 12 months of 'hold' time.
What To Expect
Kelleher offers traditional matchmaking services in that clients get paired with singles identified as compatible from within their database. If needed, the Kelleher team also "scouts" for suitable matches in your city.
You'll receive a phone description of your match and vice versa. When both parties approve the introduction, contact information gets exchanged and you can arrange the date. Afterward, any feedback you may have will be considered for your next match.
Millionaire's Club
Background
A third-generation matchmaker, Patti Stanger was formerly the Director of Marketing for Great Expectations. She also once worked directly with millionaire matchmaker Janis Spindel.
Stanger also holds celebrity matchmaker status, thanks to her stint as a reality TV personality. Bravo's "Millionaire Matchmaker" documented select clients' experiences with her matchmaking service over the course of 8 seasons. She started Millionaire's Club in 1986.
Clientele
Successful, affluent men and women seeking a serious relationship.
Cost
$45,000 - $285,000+
Matchmaking costs vary depending on how many cities you'd like to meet people in, whether or not you want dating coaching and relationship counseling included, and if you want to work directly with Patti Stanger or with someone on her professional matchmaking team.
Stanger also offers stand-alone "Millionaire Matchmaker Mixer Experiences" starting at $35,000. Exactly what they sound like, mixers are an event hosted for you, in your city, where you'll meet 25 singles.
Clients have the option to purchase a Mixer in addition to matchmaking services. For an additional $20,000 you'll meet up to 10 singles throughout the course of a 3-hour dinner event, with the introductions facilitated by your matchmaker.
If you'd like those introductions made by Patti Stanger herself, that party starts at $30,000 and you'll meet up to 20 singles.
Contract Required
Yes, all contracts include 12 months of unlimited matches and 2 months of 'hold' time.
Additional Services
In addition to luxury matchmaking, Stanger also offers dating, relationship and business coaching, and image/style consulting.
What To Expect
Millionaire's Club clients meet curated matches pulled from Stanger's database of 30,000+ singles from all over the US. To learn more about this millionaire dating service, check out these Millionaire Club reviews!
Selective Search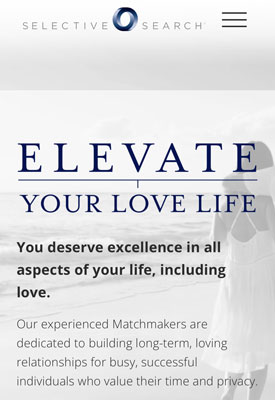 Background
Prior to providing high-end matchmaking to busy corporate types, Barbie Adler was an executive headhunter with a prestigious Chicago firm. She's always had a natural gift for matchmaking, though, and started playing Cupid back in her high school days.
She transitioned into matchmaking full-time after the events of 9/11 made her re-evaluate what she wanted to do with her life. Founded in 2000, Selective Search is based in Chicago but she works with a network of matchmakers across the country.
Clientele
Selective Search primarily takes on successful men as clients, and works with 500 or so at any given point.
Cost
$25,000 - $1,000,000+
Selective Search offers a $25,000 "entry level" program, but being able to choose that package depends on your search particulars. Most matchmaking packages include up to 10 introductions, and the price varies according to how many cities you'd like to date in. The details will be defined in your membership contract.
Women can include a profile in Selective Search's database for free, but also must successfully pass the same 2-hour interview process paying clients undergo.
Contract Required
Yes, all contracts have a 12-month commitment with the exception of the "young executives" option - that can come with a 6-month contract instead.
You'll also have the ability to "freeze" your active search time for 30 days at a time. However, note the total amount of hold time must be discussed and agreed upon before you sign the contract.
Additional Services
Adler also offers dating coaching and professional photography.
What To Expect
Potential clients begin with a 2-hour (or so) interview where you'll discuss the details of the matchmaking service. Once you've signed the contract, you'll be matched with some of the 275,000+ singles in Selective Search's national database.
Potential matches are introduced as "presentations" where you'll review a profile and photos. Your potential match also reviews limited information about you. If there's mutual interest in meeting, you'll receive contact information.
Clients are expected to contact a match to arrange a date within 48 hours. That part is on you - once you receive the contact info, it counts as a match whether or not the date ever transpires. To learn more, check out these Selective Search reviews!
Lisa Clampitt Matchmaking
Background
Lisa Clampitt got plenty of high-end matchmaking experience working with Patti Stanger prior to launching her own elite dating agency in 2000.
But before she was a matchmaker, Clampitt had a career as a social worker. She feels that job gave her valuable relationship insights she can now pass on to her clients.
Clampitt was also instrumental in founding The Matchmaking Institute, an agency that provides oversight, training, and certification for matchmakers in an industry that's largely unregulated.
Her clients also benefit from this extensive network of matchmakers, as she often uses them to expand the search beyond her own internal database of 2,000+ singles.
Clientele
A 'boutique' matchmaker, Clampitt limits herself to working with 30 or so paying clients at a time. Clients are typically men in their 40s and 50s.
Cost
$50,000 - $70,000+
With 3 membership levels to choose from, the price depends on factors like whether your 'perfect match' search is local or national and if you prefer to see a photograph of your match prior to the date.
Clients generally meet between 2 and 4 matches a month during the course of their membership, but that number may vary.
Contract Required
Yes. Contracts include a total of 6 months worth of 'active search' time, and an additional 12 months of 'hold' time.
Additional Services
This high-end matchmaker also provides dating and relationship coaching.
What To Expect
Client matches come from within Clampitt's database, or she finds them via her matchmaking network. For an additional cost, compatible matches can also be scouted at local events and on social media. To learn more, check out these Lisa Clampitt Matchmaking reviews!
The Bevy
Background
A bi-coastal matchmaking service founded in 2014, Greta Tufvesson runs the LA office and Nikki Lewis helms the NYC operations. Tufvesson has an extensive background in luxury brand marketing, and Lewis gained her matchmaking experience at one of New York City's most elite dating agencies.
Clientele
The Bevy offers ultra-exclusive service, with new clients mainly coming in via referral. The duo only works with 30 male clients nationwide at any one time.
Cost
$25,000+
Matchmaking prices vary per client, as the final cost depends on how many locations you'd like your matchmaker to search, how open-ended your 'ideal partner' criteria is, etc.
Women can have a profile included in The Bevy's database at no charge, although that doesn't guarantee a match with paying clients.
Contract Required
Yes, details vary by client.
Additional Services
The Bevy offers dating & life coaching as well as image, style, and fitness consulting.
What To Expect
Potential clients submit an application. If they believe you're a good fit for the service, you'll be contacted for an interview. After the interview, you'll fill out an in-depth questionnaire that helps Tufvesson and Lewis curate your matches.
Prior to each introduction, you'll get a description of your match and her background. But you won't see a photo.
The Bevy handles every aspect of setting up your first date - typically drinks - and sends you an email with the details of when/where. After each date, you provide and receive feedback on how the encounter went.
For more information on this high-end matchmaking service, check out these The Bevy reviews!
All product and company names are trademarks™ or registered® trademarks of their respective holders. Use of them does not imply any affiliation with or endorsement by them.


Why Choose VIDA Select?

Since 2009, thousands of clients have discovered true love thanks to VIDA Select's fresh, modern approach to matchmaking – which has finally thrown blind dates and long-term contracts out the window. This isn't your grandmother's matchmaking!
Instead of working with a single matchmaker using a small rolodex of potential partners, VIDA Select's matchmaking team taps into the world's largest database of available singles. We'll quickly identify the matches who check all of your boxes so you can finally experience true chemistry. Are you ready to become our next success story? Schedule your complimentary consultation now by clicking the button below!
Get Started Now