I hope you enjoy reading the blog post.
If you want to chat now about your matchmaking search, click here.
LUMA Luxury Matchmaking Reviews [Formerly Cupid's Cronies]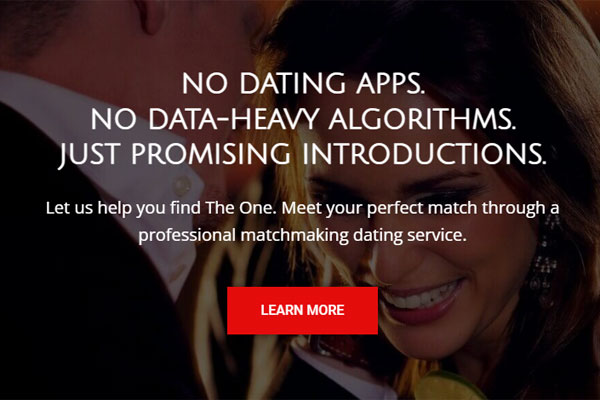 Wondering if April Davis has what it takes to find your best matches? This LUMA Luxury Matchmaking review is packed with details like cost, her matchmaking philosophy, and reviews from real clients about their experience.
Our team has reviewed over 200 matchmakers and their services, diving deep into their processes, success rates, and client experiences. Our reviews are built on extensive research and a keen understanding of the matchmaking landscape developed over 14 years of first-hand industry experience.
LUMA Matchmaking Review Table Of Contents
Let's start with the face behind the service!
Meet The Matchmaker: April Davis
Like many matchmakers, Davis always found herself playing Cupid within her circle of friends. As she told Boston Voyager, whenever she met someone who was single she'd immediately start thinking about who she knew that would be a good match.
But before starting her own matchmaking service, Cupid's Cronies, in 2010, Davis worked in finance and process improvement consulting for a Fortune 500 company.
She used her earnings there to fund her real passion, eventually leaving the corporate world to focus 100% on Cupid's Cronies.
She later rebranded her matchmaking firm as LUMA Luxury Matchmaking and for a short time also as Luxe Matchmaking. But in one form or another, her dating service has been around for over 10 years.
How She Works Her Magic
Her matchmaking philosophy centers around figuring out what a client wants in a long-term relationship, rather than adhering strictly to their list of "ideal partner" attributes. Or, as she calls them, "pizza toppings."
In an interview with North Dakota Today, she explained that she tells clients to keep things in perspective:
It's not a pizza, this is a person. It's not a Build-A-Bear, it's a relationship.
When considering who would make someone a good match, she said she zeros in on intangible things like what both people are looking for from a relationship, and their values, personalities, and backgrounds. That's how she finds people who complement each other in the long run.
Like many matchmaking companies, Davis also provides coaching, dating tips and relationship advice. For instance, she told North Dakota Today her best tip for a successful first date: make it an activity, rather than coffee or dinner.
Coffee or dinner dates can quickly start to feel like an interview. But an activity takes the pressure off because you're more externally focused which helps you be more relaxed.
LUMA Luxury Matchmaking Locations
Headquartered near Minneapolis - 5775 Wayzata Blvd in St. Louis Park to be exact - this high-end dating agency also has offices in over 30 states.
LUMA locations include Chicago, Denver, Houston, Las Vegas, Los Angeles, Miami, Naples, New York City, Phoenix, Sacramento, San Diego, San Jose, San Francisco, Seattle, Tampa, and Washington DC.
How Much Does Luma Matchmaking Cost?
Including your profile in LUMA's database is free. However, "Passive Members" aren't guaranteed matches.
Instead, you'll be matched with paying clients if a matchmaker thinks you're compatible.
If you want a matchmaker to actively search the singles database for your perfect partner candidates, you'll have to purchase a "Premium Search" membership.
Prices start at $2,800 and range all the way up to $100,000.
Cost varies depending on a few factors. For instance, how easy (or hard) it may be to find someone who fits your list of criteria, how many introductions you'd like over what time period, and if you want additional coaching services.
Everything will be articulated clearly in the membership contract you sign. Including the fact that LUMA Luxury Matchmaking does not allow cancellations or refunds.
LUMA's Take On Refunds
They have a no refund policy because of the hard work that goes into each client's search. This excerpt of a BBB complaint response explains their stance:
That's why it's important to read - and understand - everything, even the fine print, before committing yourself with a signature.
Each of LUMA's matchmakers is a certified life coach. Matchmaking clients also get 5 hours of date coaching included in their membership. Clients are matched with some of the 20,000+ singles in the LUMA database.
Your matchmaker typically works with 15-20 clients at a time. When she finds someone you may be interested in meeting, you review a profile and photo.
If you're intrigued, a date will be arranged. Afterward, you can share how you think it went with your matchmaker. She'll also provide feedback and coaching if necessary.
So that's the matchmaking process in a nutshell. Let's see what actual clients had to say about working with this elite matchmaking service.
Real LUMA Matchmaking Reviews
LUMA Matchmaking Yelp Reviews
LUMA Minneapolis currently has 24 recommended reviews, and a 2.5 star Yelp rating.
One of the positive reviews was from a client who thought she met high-quality matches. She also appreciated both the customer service and the coaching and advice she received:
In addition to reviewing the Minneapolis location, Christy also wrote similar reviews for the Boulder, Houston, Miami, and Tampa branches of LUMA Luxury matchmaking.
This negative LUMA Matchmaking review was written by a client who thought her matchmakers were talented. But she wasn't satisfied with the quality of matches she received via the dating service:
The other not-so-great review was from someone who was approached by a matchmaker to go on a date with a LUMA client. He wasn't impressed with that client's behavior:
LUMA Matchmaking Google Reviews
When it comes to Google reviews for this luxury matchmaking service, the news is mostly good. They have a 4.2-star rating based on reviews from clients who were happy with the matchmaking service. Here is a sampling:
As with Christy on Yelp, Nathan also wrote similar reviews for both LUMA and LUXE Matchmaking locations in Houston, Washington DC, and Minneapolis.
LUMA Matchmaking BBB Reviews
LUMA Luxury Matchmaking has an A+ rating with the Better Business Bureau, as well as accredited status. There are 53 LUMA reviews, resulting in a 4.45 out of 5 star rating.
Some of the positive reviewers mentioned meeting high-quality matches, and thought their matchmakers provided good customer service:
LUMA Luxury Matchmaking complaints included one from this reviewer. She felt like the number of men fitting her criteria in the database was misrepresented, and wasn't happy with the quality of the matches:
Another client also felt his matches didn't meet his criteria, and that the number of singles in his area was misrepresented:
The other BBB complaint dated back to when LUMA was still doing business under the name Cupid's Cronies:
Of course, these reviews can't predict what your personal experience would be like if you signed a contract with LUMA Matchmaking at one of their many locations.
But the LUMA Luxury Matchmaking reviews you just read are helpful. You can use them to generate a list of questions and concerns to bring up during your initial consultation - no matter which matchmaking service you end up using.
Here are a few crucial questions to ask any matchmaker you're thinking of hiring:
Has your service ever done business under any other name, and if so what was the reason for the change?
Can I cancel or pause my service or receive a refund, and under what circumstances?
What happens if you can't find any matches that meet my specific criteria in your database?
For even more crucial questions to ask before signing a contract with a matchmaking service, check out this article.
And in the meantime, why not consider a matchmaking service that has access to an immense pool of local singles, and doesn't require you to sign a contract to meet your perfect match?
VIDA Select Could Just Be The Best Matchmaking Service For You
Unlike many matchmaking services, VIDA Select allows clients to pay by the month. That gives you the freedom to pause, stop, and restart your service as needed, without the risk of committing to a contract for an as-yet-untested personal service.
You're also in control of which matches you meet, as you get to pre-screen every single person. And thanks to unlimited matches, you won't ever have to "settle" for a match you're not really interested in meeting. So there's no need to compromise your high standards!
Why not set up a consultation with one of our matchmakers today, and see if the service feels right to you? On average, clients with VIDA meet someone "special" within the first couple months of service - even during the very first month!
Simply click here to schedule your no-obligation, completely free 20-minute consultation. VIDA might just change your life - so why not talk to us today?
All product and company names are trademarks™ or registered® trademarks of their respective holders. Use of them does not imply any affiliation with or endorsement by them.
Why Choose VIDA Select?

Since 2009, thousands of clients have discovered true love thanks to VIDA Select's fresh, modern approach to matchmaking – which has finally thrown blind dates and long-term contracts out the window. This isn't your grandmother's matchmaking!
Instead of working with a single matchmaker using a small rolodex of potential partners, VIDA Select's matchmaking team taps into the world's largest database of available singles. We'll quickly identify the matches who check all of your boxes so you can finally experience true chemistry. Are you ready to become our next success story? Schedule your complimentary consultation now by clicking the button below!
Get Started Now