I hope you enjoy reading the blog post.
If you want my team to just do your online dating for you, click here.
Raya Dating App Review [+ How To Get On It In 2022!]
When it comes to finding your ideal partner, your standards are high - and since you're looking for Raya dating app reviews, you've probably hit your limit for how many times you can swipe left on Tinder.
Intelligence, creativity, ambition, successful career - is that too much to ask?
Enter Raya - the elite dating app for creatives where those qualities aren't just in abundance, they're required.
This Raya review has all the details you want to know about this ultra exclusive dating app, so you can decide if it's worth the hype!
Let's start with one of the most common questions people have about this exclusive dating app: How do I actually get on Raya?
Raya Dating App Requirements
Raya was designed specifically as place where people in creative industries can meet each other - either for dating or networking.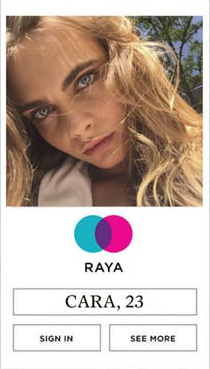 But it's not just for any creative type people - you need to be at the top of your game to make it past the metaphorical velvet ropes.
Acceptance means you're joining the ranks of celebrities on Raya like Ben Affleck, Demi Lovato, Channing Tatum, Patrick Schwarzenegger, Lizzo and Rivers Cuomo.
In addition to celebrities, you'll find plenty of top level executives, athletes, and other high-profile singles as well.
Admittance depends on the anonymous acceptance committee determining that you've got that elusive "something extra," which typically includes a thriving Instagram following. Bare minimum is 5,000 followers, ideally you'll have 250,000+.
Part of the sign-up process is granting access to your IG so the committee can check it out, and the app's acceptance algorithm will determine your overall IG influence and how many other Raya members follow you.
In most cases, you'll need a referral from an existing member to get in - and that member's Instagram influence will also be a factor in your application.
According to a feature in The New Yorker, a full 87% of applicants who pass the acceptance process are either referred by existing members or have Raya members listed in their phone's contacts.
If you don't have a referral, you can still submit an application for the committee to evaluate.
Here's Raya's process for admission, straight from the horse's mouth:

Raya's waiting list is constantly changing as people are accepted or rejected, so the length of time you'll be on it varies from a day to a couple of months.
If you don't make the cut, you'll receive a Raya rejection letter. (If that happens to you, give Tinder Select or The League a shot.)
How Much Does The Raya Dating App Cost?
Given the high caliber of people you'll find on the app, it's surprisingly cheap - Raya only costs $9.99 per month.
Right now, Raya is only available for iOS. You can download it here.
Getting Started: Raya Application Questions
Signing up for the app is easy - qualifying to be on Raya is the hard part. This elite celebrity dating app comes by its "Tinder Illuminati" nickname honestly.
Answer the Raya application questions, starting with the basics:

Only your first name, age, occupation and location is shown on your profile.

Provide your Instagram credentials:

This step is required - evaluating your Instagram is a huge part of the approval process.

Describe your occupation and career field:

You can select up to 2 industries from the menu.

Verify your account:

On Raya, this is done via your mobile number.

Provide a referral:

This is done by selecting a Raya member from your contact list. If you don't know anyone on the app, you can skip this step - but it will make it more difficult to get in.

Wait:

You'll remain on the Raya wait list while your profile is evaluated. The process can take months.
How Raya Works
Once you're in, you'll have to agree to follow the app's guidelines for members: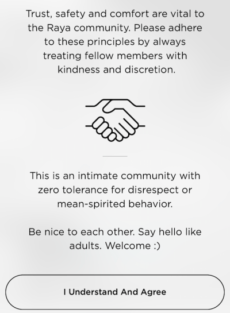 Due to the exclusivity of its members, Raya has strict privacy guidelines. If you screenshot a profile, you'll be sent a warning notice that you'll be removed from the app if the image pops up anywhere online.
In fact, if you break Raya's code of silence in just about any way, you risk getting booted off the app. In addition to the 'no screenshots' rule, users are also warned against mentioning Raya's users on other social medial platforms.
Raya profiles consist of a slideshow of photos pulled from your Instagram account, set to a song you select.
When you're interested in someone, you tap the checkmark icon. If you're not, tap the "X". When both people express interest, you can start exchanging messages.
Raya shows you members both near and far - as in all over the world. But if you want to see people currently in your immediate vicinity, you can turn on "social mode".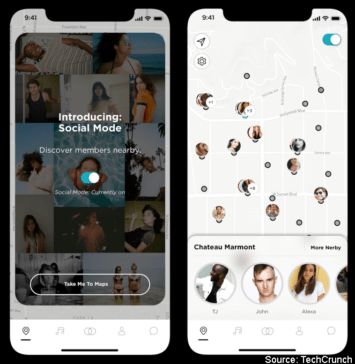 That will bring up a map of members who are hanging out in clubs, bars, or hot spots nearby - and you can hopefully go from match/message to meet-up in time to grab a drink together.
Raya also has a "Directory" feature, which is a searchable roster of members. Users can search for other users by city, company, or industry.
Is Raya Better Than Apps Similar To Tinder?
PROS:
All members are scrutinized prior to acceptance, so the singles you'll find are likely highly intriguing people.

At only $9.99 per month, Raya is a screaming deal compared to much pricier exclusive dating apps like

The League

.

It's not just for dating. Many users use Raya and the Directory feature for networking or hiring a "Raya-approved interior designer, for example.

And 10% of Raya users indicate they are "there for friends" in their profiles.
CONS:
Like any app that requires committee approval to make it through the door, the user pool won't be nearly the same numbers you'll find on apps like Tinder and Bumble.
Raya's acceptance is largely determined by your level of Instagram influence - and some critics question how a social media following could possibly make a difference in how "dateable" you are.
If you're not in a city like New York or Los Angeles that's known for its creative industries, you might not find many users in your area.
RAYA REVIEW VERDICT:
Raya's members are top notch, so if you consider yourself an Instagram influencer, it's likely worth a shot.
Meet The Best Singles - On Any Dating Site Or App
If you're checking out Raya dating app reviews, you're savvy enough to not want to waste time, effort, and money on apps that don't work.
But if you want to meet your ideal partner sooner, rather than later - you need an overall dating strategy. No matter which app or site you use, your photos, profile, and messages need to be on point.
Whether you're on Raya or Tinder, if those 3 pieces aren't coming together to portray you as the Total Package, you probably won't meet the highest quality singles in your area.
Why not let VIDA's dating experts help you get a leg up on your competition? Not only will we determine the best possible combination of dating sites and apps for you, we'll handle everything else too.
Profile writing, photo selection, message exchanges - every single aspect will be in our expert hands. Your job is to simply show up for the dates with the best singles in your area!
Want to know more? Just click here...
Want us to do your online dating for you?

Hey, I'm Ally, VIDA Select's Director of Matchmaking.
We take all the frustration, hard work and hassle out of modern dating!
Imagine your very own Dream Team of highly skilled dating experts searching for the very best local matches, sparking their interest, and arranging all the dates for you.
Wouldn't it be nice to finally stop swiping and start dating higher quality matches so you can meet someone special?
We've helped thousands of singles just like you since 2009, and we're ready to make you our next success story!
What are you waiting for? Take the next step now…
See If You Qualify