I hope you enjoy reading the blog post.
If you want my team to just do your Tinder for you, click here to chat with me.
8 Funny Tinder Questions That Make Women Respond [2023]
Looking for funny Tinder questions to ask a match?
If you're like most guys, you're probably staring at that empty "Type a Message" box wondering what to say.
It's frustrating when you don't know what to write, and you're not alone in your angst. That's probably why so many guys default to a boring opener like "hey".
In fact, a whopping 91% of dating app users reported receiving "hey" as an icebreaker. Which is bad news, considering it only gets a response 1 out of every 10 times someone sends it. That's a lot of wasted opportunities.
Getting a conversation off the ground in Tinder is often tougher than keeping one going. So having some comedic gold in your icebreaker arsenal saves you a lot of time and frustration.
Can you come up with gems like this on the fly?:
Probably not.
Being witty on demand is hard. And if you veer off into eye roll territory, you can likely kiss your chance of getting her number goodbye.
Don't worry... If humor isn't your thing, we've got 8 more flirty, funny questions to ask a girl on Tinder that work like a charm. And if you want to come up with your own winning material, you'll find plenty of tips for that too.
Read to the end, and you'll get:
5 funny icebreakers you can send just about any match on Tinder
Tips on how to keep a Tinder conversation going, with funny question examples
The 3 things every message you send needs to accomplish
The best times to send a Tinder message
Get ready to message your Tinder matches!
Funny Tinder Icebreakers (With Questions That Get Responses)
The Pre-Qual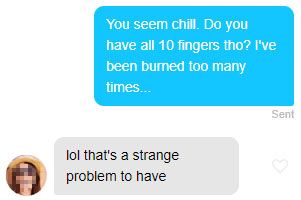 This is a humorous twist on a tried-and-true philosophy - let her know she's got to impress you, not the other way around.
The Secret To Any Girl's Heart...
Give her a reason why you're one in a million, and watch the numbers roll in.
Get Her Creative Juices Flowing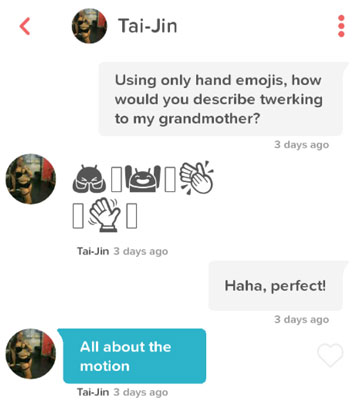 GIFS = Funny X 10
GIFs are a great way to break the ice on Tinder because they can add humor to just about any message. Plus, they boost your response rate by 30% and Tinder found those conversations last twice as long!
Use the GIF search function to find an image that corresponds with the question you're asking. For instance, ask her this:
Then, just a few seconds later send a cute animal or funny celebrity gif.
Or try sending her a question like this one, with a GIF that serves as the punchline:
It's scientifically proven that women love funny. So if you can get her to crack a smile when she's reading your message, you're that much closer to moving things off the app.
PRO TIP:
To maximize your chances of getting a response, send more of your messages during "prime time" between 7pm and 11pm. According to data from Nielson, that's when more people are on Tinder so it's the best time to send an icebreaker.
Funny Tinder Questions That Keep The Convo Going
Tinder questions that get her smiling make good icebreakers because they showcase your sense of humor and get your more attractive matches eager to meet you.
But that's just getting the ball rolling - you've got to keep her eager to meet you.
On average, you can expect to send around 10 messages before it starts feeling like the time is right to ask her out. In the interim, it's on you to keep the momentum going.
Every message exchange will be different - sometimes you'll find the messages flow naturally, but there will be plenty of times when you're staring at your phone, thinking "Where do I go from here?"
These funny Tinder questions are perfect for breathing some life into conversations in danger of fizzling out:
Move Things In The Right Direction
A message like this is an entertaining way to get her thinking about phone numbers. If you can plant the suggestion in a natural way, she'll be more apt to share her digits.
Master The Transitions
Remember, the whole point of a Tinder message exchange is to move things off the app. You're building attraction via a conversation, with the key word being "conversation."
You can't just fire off witty one-liners, because that won't feel natural to her. It will seem random and forced, and give her the impression that you're trying too hard.
Good conversation just flows. Remember that it's important to transition smoothly between your funny lines, just like you would if you were talking to her face to face at a party (hopefully).
With these 8 funny Tinder questions in your playbook, you'll be scoring digits and dates with attractive women in no time.
But all the swiping and message exchanges take a TON of time and effort. In fact, Tinder users swipe for an average of 90 minutes per day. That's more than 10 hours a week, just trying to get matches to message.
This is why many guys choose to outsource Tinder. Why stress over finding the perfect Tinder conversation topics, when an expert could be handling it all for you? That means you don't have to pull out your hair trying to be funny, AND you get to skip straight to the fun part. All those dates.
Click here to get started!
We've given you 8 Tinder questions that get responses, but for all those guys who want to know the "whys" and "hows", keep reading to find out just what it takes for a Tinder message to be successful.
How To Write Tinder Messages That Really Work
An effective Tinder message accomplishes three goals:
Grabs her attention
Elicits an emotional response
Makes it easy (and fun) for her to respond
Let's take a closer look at each one.
#1: Grab Her Attention
As you've probably figured out by now, "What's up?" and "Hey" fall flat. Sure, every once in a blue moon you might get a response back. But chances are the conversation won't progress much further. Why? Because she already thinks you're boring.
Attractive women on Tinder are message magnets. She's getting tons of messages a day, so she can cherry pick the most interesting ones. That's why asking a funny question works so well. You're establishing yourself as a confident, witty, creative guy from the get go - and that's intriguing.
#2: Elicit An Emotional Response
If you can make her feel something, like happy, curious, or amused, you've already formed a connection. The stronger the connection, the more likely getting a response becomes. Humor works especially well because it puts her in a more accepting and relaxed frame of mind.
#3: Make Her Want To Respond
Humorous questions work because they're fun to think about and answer.
That's exactly why sending a boring message fails so hard. Figuring out what to say in response to "Hey" is work, and since she's not emotionally connected to the message, it's easier to just move on.
Get The Timing Right
Having great material is only half the battle - knowing when to ask her out is the other half. Do it too soon, you look desperate. Wait too long, she gets bored and focuses her attention elsewhere.
This is another reason having a dedicated dating assistant who is always on top of it for you just makes sense.
But if you don't, keep this general messaging formula in mind:
Briefly acknowledge her answer to the question you posed.

Answer it yourself - she wants to learn something about you, too.

Ask her something else.
Of course, the trick is in the transition between steps 2 & 3. Make sure your next question flows with the overall message exchange, and don't just pull random questions out of your a$$.
For even more tips on crushing Tinder, check out this conversation strategy guide.
Want us to do your online dating for you?

Hey, I'm Ally, VIDA Select's Director of Matchmaking.
We take all the frustration, hard work and hassle out of modern dating!
Imagine your very own Dream Team of highly skilled dating experts searching for the very best local matches, sparking their interest, and arranging all the dates for you.
Wouldn't it be nice to finally stop swiping and start dating higher quality matches so you can meet someone special?
We've helped thousands of singles just like you since 2009, and we're ready to make you our next success story!
What are you waiting for? Take the next step now…
See If You Qualify