I hope you enjoy reading the blog post.
If you want to chat now about your matchmaking search, click here.
Aleeza Ben Shalom: Top Jewish Matchmaker? [2023 Review]
If you're thinking about hiring a Jewish matchmaker, it's no surprise Aleeza Ben Shalom is on your short list. The star of Netflix's Jewish Matchmaking, she has gained a reputation for her ability to help build meaningful connections as a Jewish dating coach, relationship expert, author, and matchmaker.
With so many Jewish matchmaking services to choose from, you're probably wondering if Aleeza Ben Shalom Matchmaking is the right choice for you. This matchmaking service review will help you decide!
From the boutiques to the big players, we've reviewed over 200 matchmaking services. Our insight comes from comprehensive research and a deep understanding of the matchmaking landscape gleaned from 14+ years of first-hand industry experience.
Let's start with...
Who Is Matchmaker Aleeza Ben Shalom?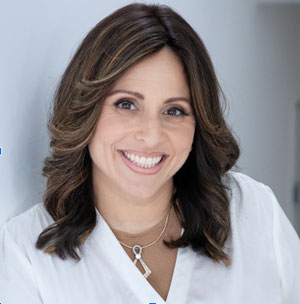 For 21 years, Aleeza Ben Shalom was an exec in the home furnishing industry, but she says she's always had an innate ability to find someone's perfect match.
Known as the "Marriage Minded Mentor", she began offering coaching, matchmaking, and matchmaker training in 2012, and published "Get Real Get Married" in 2013. In 2021, she stepped away from her VP role at a drapery and blinds company to focus on helping Jewish singles find love.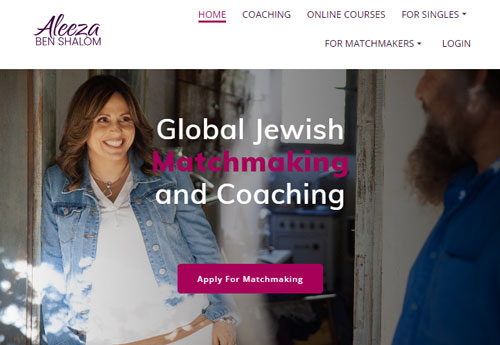 Based in Philadelphia, she works with Jewish singles all over the US and Israel. She describes her clients as successful professionals who value their privacy and their time, and are ready to find someone who shares their values, goals, and lifestyle to build a serious relationship.
Aleeza Ben Shalom personally takes on only a small number of matchmaking clients at a time. She is also in a partnership with JMatchmaking and SawYouAtSinai, which are online dating services that link 30,000+ Jewish singles with a network of 300 Jewish matchmakers.
Aleeza Ben Shalom's Take On Matchmaking
On her website, Aleeza says,
"Matchmaking is not just about sticking two people together. In Judaism, we say strong matches are just as hard as splitting the sea. Matchmaking to me always goes hand in hand with coaching, because getting married is not just about meeting the right person, it requires you to become the right person."
According to Aleeza, anyone can get married but it's harder to know how to stay together. She says understanding how to handle conflict resolution in your relationship is crucial.
In an interview with The Living in Clarity Podcast, Aleeza explained that "It's choosing your person over and over and over again."
And when it comes to finding that person? She offers some advice on her Matchmaker Matchmaker Podcast about when to start dating:
"The best time to date is when you are feeling happy, and healthy, and confident, and you're in a good position, and you have a lot of self-confidence, and you have a job. Whether you like it or you don't. You're doing it. You're employed. Things are moving in a good direction."
Marriage Minded Mentor Cost
Like many matchmaking services, Aleeza Ben Shalom Matchmaking doesn't advertise how much the packages cost online. But her website's contact form asks if you're ready to budget anywhere from $15,000 to $50,000 for matchmaking services, so you likely expect to pay somewhere in that ballpark.
When it comes to hiring a Jewish matchmaker, that's a reasonable investment. Michelle Frankel's matchmaking services start around $7,500, and working with Janis Spindel starts at $50,000 and can run over $1,000,000 for a global search for your bashert. Enamour offers bespoke matchmaking for clients around the world, with package prices starting at $15,000.
You also have the option to include your profile in her Marriage Minded Singles database, or the JMatchmaking/SawYouAtSinai database, for free. But in both cases this comes with no guarantee of ever meeting anyone, as proactive matchmaking requires purchasing services.
If you go the free route, you will only be contacted if a matchmaker determines you are a good fit for a paying client.
Aleeza Ben Shalom Reviews
Even though this professional matchmaker has received a large amount of media attention, especially regarding her Netflix show Jewish Matchmaking, you won't find many reviews on Aleeza Ben Shalom Matchmaking or Marriage Minded Mentor.
Online reviews can offer valuable insights into a company's process, customer service, etc. that will help you formulate questions to ask during your initial consultation. Since her service has yet to be reviewed on platforms such as Trustpilot and Yelp, this guide to hiring a matchmaking service runs down all the crucial questions to ask.
One such question is this: where will my matches come from? That's important, because the ability to do quality matchmaking hinges on having access to a huge pool of potential matches in the area you want to date in.
Compatibility has to flow both ways for a pairing to work, because it's not just a matter of finding someone who fits all your criteria.
You also have to fit their criteria. And if your matchmaker only has a limited number of singles in your area in her database, you either won't get many (or any) introductions, or you'll be meeting people who aren't relationship material.
For the best odds of meeting someone truly special, you should also put VIDA Select on your short list! Thanks to VIDA's modern approach, your dedicated matchmaker has access to the largest source of Jewish singles there is. And you can approve every potential match based on photos and a profile, so you'll be going on first dates with people you're truly excited to meet.
Intrigued? Go here to learn more!
All product and company names are trademarks™ or registered® trademarks of their respective holders. Use of them does not imply any affiliation with or endorsement by them.
Why Choose VIDA Select?

Since 2009, thousands of clients have discovered true love thanks to VIDA Select's fresh, modern approach to matchmaking – which has finally thrown blind dates and long-term contracts out the window. This isn't your grandmother's matchmaking!
Instead of working with a single matchmaker using a small rolodex of potential partners, VIDA Select's matchmaking team taps into the world's largest database of available singles. We'll quickly identify the matches who check all of your boxes so you can finally experience true chemistry. Are you ready to become our next success story? Schedule your complimentary consultation now by clicking the button below!
Get Started Now