I hope you enjoy reading the blog post.
If you want my team to just do your online dating for you, click here.
Dine Dating App Review - Does It Actually Work? (2023)
The premise is simple. Instead of matching with someone and exchanging messages, the Dine dating app lets you skip straight to planning your first date.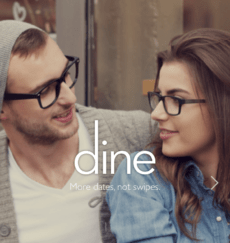 In theory, it's a great idea. Especially if you're tired of promising message exchanges that end up fizzling out before you get a phone number. But does it actually work in practice?
This Dine dating app review has everything you need to know. From how it works to cost and pros/cons, you'll learn if giving Dine a try is worth your time.
The Dine Difference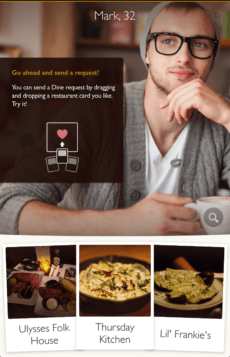 Dine users select their 3 favorite restaurants and bars from a list of options, then send and receive date requests to meet at those establishments.
You'll receive 1 to 5 matches each day, which you can then "like", "skip", or send a Dine request to. If the request is accepted, a chat box opens and you can start planning your date.
The majority of Dine's users live in these 8 major cities:
New York, Los Angeles, San Francisco, Boston, Philadelphia, Washington DC, and Vancouver, BC.
If you don't happen to live in one of them, you can still use the app. But be warned, the matches you get probably won't be within reasonable dating distance.
Is The Dine Dating App Free?
Dine is free to download and use, with one caveat - in order to send messages, one of the people in the exchange must have a Gold membership. A paid membership on Dine costs around $65 for a month.
Free users can spend roses (the app's currency) to communicate, but you can only accumulate up to 500 roses at a time.
And per multiple internet reviews, 500 roses is the going rate to start a conversation with a match so you'll burn through them quickly. To effectively communicate with any of your matches, you'll need to invest in a membership.
Upgrading comes with several perks, including:
Exchange messages with all Dine users
Hide your work and school information, and women can hide their Facebook profiles
A Dine Pass, which functions similar to Groupon - you'll receive free drinks or discounts on your dates, varying by location
Dine is a rarity in the dating app world, in that it guarantees Gold members will get at least one date a month. If you don't hit that quota by the time your membership ends, you'll get 3 months for free if you had a 6-month membership, or 6 months for free if you had a 1-year membership.
Is The Dine App Worth Your Time?
If you're into trying out new restaurants and bars, the Dine app could be a fun way to meet new people. And since it's focused on meeting up sooner rather than later, it could be a good option for anyone whose messaging game could use a little improvement.
On the downside, it just doesn't have the same huge user pool you'll find on Tinder and Bumble. And you still have to convince someone to meet you in person. If you do decide to give Dine a try, consider using it in conjunction with other dating apps for the best results.
Here are a few more pros & cons of using Dine to consider before giving it a try.
Dine App Pros:
Thanks to the app's "date request" format, you can go straight from matching to asking for a first date.

The nature of the app makes it well suited to casual dating. So if you're looking to hook up, Dine is a better bet than more "serious" apps like Bumble or CoffeeMeetsBagel.

The app's "Dine Pass" feature provides discounts at local restaurants and bars.

Guarantees you'll get at least one date a month.

You can use the in-app currency to view your match's Facebook profile, which is a good way to do a little recon prior to investing time and money on a date.
Dine App Cons:
Unless you're in a major city like New York, you probably won't find a large user pool.

In order to send messages, one of the people in the message exchange must be a Gold member.

If there aren't any users in your immediate area, you'll be automatically matched with users in adjacent cities - with no regard for reasonable "dating distance."

You only get 1-5 matches per day, and the matches expire in 24 hours. That means you'll need to check the app frequently to get the best results.

One common complaint in Dine app reviews is the high number of fake profiles on the app. Some users also complained about the number of women who seemed to be just looking to score a free meal.
What To Expect When You Download Dine
Right now Dine is only available from the App Store.
Setting up your profile is relatively quick. First, you'll select your location from a drop down menu, or manually enter it if you don't see your city listed.
Next, you'll choose the 3 restaurants or bars where you'd like to meet your dates. Dine is integrated with Yelp, so you'll be able to see reviews if you need help with your selections.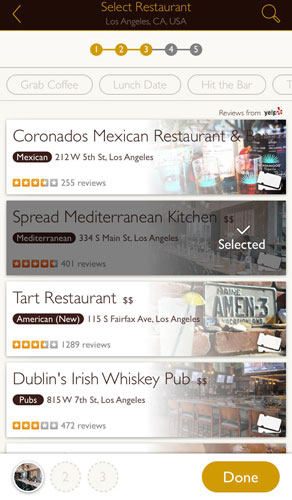 True to its name, the app offers plenty of dining choices, helpfully sorted into these categories:
Grab Coffee
Lunch Dates
Hit The Bar
Top Brunch
Dinner Dates
Once you've selected your 3 locations, you'll have the opportunity to upload photos. The app recommends you choose at least 4, and you can use up to 6.
Similar to Tinder's Smart Photo feature, Dine automatically orders your photos so that the most popular ones are shown first.
Next, you can specify whether or not you'll "treat" your date, or if you'd rather make it a group date and include friends.
You can then fill in some basic personal information, like your occupation, height, ethnicity, etc. Dine also has an "About Me" section that clocks in at 1,000 characters or less, making it double the length of a Tinder bio.
Taking the time to fill it out will probably work in your favor, as most women want to know a little something about you before agreeing to meet you in person. For some great ideas on how to shine in a short profile, check out this article.
To set your ideal partner criteria, go to "Preferences" from the main menu. You'll find two sections here, "Smart" and "General". Use the "General" settings to specify gender, age, and location.
Then head over to the "Smart" section, where you'll be asked to either like or dislike 100 profiles.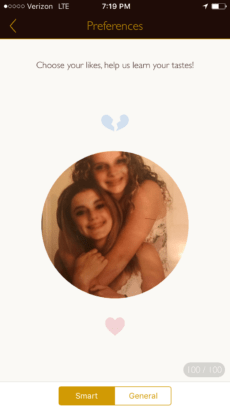 Tedious? Sure. But worth the time, since teaching the app about your specific tastes pays off in higher quality matches.
Your Catch Of The Day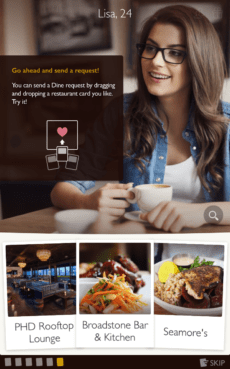 Each day Dine provides you with 1 to 5 matches based on your preferences, called "Today's Picks." You can "Like" or "Skip" each one, or jump straight to sending a Dine request by sliding a restaurant card up onto her photo.
If you both "Like" each other, or she accepts your Dine request, you can begin messaging back and forth - provided one of you is a Gold member.
Better do it fast, though - your matches expire after 24 hours. The app's matching algorithm also learns from your choices, so the more profiles you look at, the more the app will get to know your preferences.
If you don't like what you see in your daily offering, you can see 5 additional profiles by spending a coin.
Once you've liked a profile, you can send that user a Special Request. Similar to a SuperSwipe on Bumble, it lets her know you're "extra" interested because it costs 1 coin to do it.
How To Delete Your Dine Dating App Account
Dine isn't everyone's cup of tea, so if you're not having any luck on the app you may start wondering how to delete your Dine account.
The Delete Account request is buried in the FAQ. To find it, follow these simple steps:
From the Main Menu, select "About"
Tap on the "FAQ"
Scroll all the way down to "How do I delete my account" and tap on it
Tap on the hyperlink in "You can delete your account from here"
Choose the reason you're deleting your account from the list provided, or type it into the free form text field
Tap on the "Delete Account" that will appear once you've provided the reason
Confirm your request by tapping the "Delete Account" button
Delete the app from your phone
The Easiest Way To Skip Straight To The Date
Dine's focus on restaurant and bars might make it easier to choose that all-important first date location, but you still have to put in the work to build up enough attraction for her to actually meet you there.
If you're looking for the easiest way to get dates, why not hire a virtual dating assistant? At VIDA, our online dating experts will handle everything for you, from choosing your strongest photos to messaging the most intriguing local singles. We do the hard part, you show up for the dates!
And the best news of all? Not only will we develop an online dating strategy for you, we'll implement it on any apps and sites you want to use!
If you want your weekend to feature a table for two, click here.
Want us to do your online dating for you?

Hey, I'm Ally, VIDA Select's Director of Matchmaking.
We take all the frustration, hard work and hassle out of modern dating!
Imagine your very own Dream Team of highly skilled dating experts searching for the very best local matches, sparking their interest, and arranging all the dates for you.
Wouldn't it be nice to finally stop swiping and start dating higher quality matches so you can meet someone special?
We've helped thousands of singles just like you since 2009, and we're ready to make you our next success story!
What are you waiting for? Take the next step now…
See If You Qualify