I hope you enjoy reading the blog post.
If you want to chat now about your matchmaking search, click here.
Is Eight At Eight Dinner Club Worth The Cost? [2023 Reviews]
Thinking about joining this Atlanta dinner club? These Eight at Eight Dinner Club reviews have all the details you need, like how much it costs, how it works, and even real member reviews!
Our team of matchmaking experts has reviewed over 200 services, delving deep into their operations, success rates, and customer experiences. These reviews are built on extensive research and a keen understanding of the matchmaking industry that stretches back over 14 years in the industry.
Let's start with...
The Face Behind 8 at 8 Dinner Club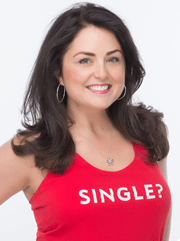 Like many successful matchmakers, Sarah Kathryn Walmsley was pairing off friends and acquaintances long before doing it professionally.
In Walmsley's case, she found her natural talent for playing Cupid in her teens. That's when she started matching people from her hometown with people at her high school, which was across the city.
Then in 1998, when she was only 22, she bought 8 at 8 Dinner Club for $2,000.
During an interview with Vocatio, she said she wasn't happy with her current job, and her dad's friend was burned out from trying to run the Atlanta dinner club in addition to his work as a trademark attorney. As she explained,
It's a lot of people and a lot of tedious emotions, and a lot of sales trying to get people to join. So he burned out of it pretty quickly. But he had a client database and a trademark, and so my dad suggested I just buy it. I did a straight asset purchase, for $2000, then I paid him 10% of whatever I earned for two years.
A newly minted entrepreneur in her early 20s, Walmsley worked hard and expanded 8 at 8 Dinner Club into Dallas, Chicago, DC, and New York.
She also launched One On One Matchmaking, which provides more traditional matchmaking services to clients in Atlanta. Clients are matched with singles in the database, and "one on one" dates are arranged.
After realizing all that was a bit too much too handle, she scaled 8 at 8 Dinner Club back to just two locations: Atlanta and New York City.
How This Atlanta Dinner Club Works
The premise is simple. Eight singles (4 men, 4 women) meet at 8 at a venue in Atlanta or NYC for dinner - and hopefully feel sparks fly with one of the other attendees.
The first step to joining is filling out the short online profile.
Then you'll select a membership package that includes a specified number of dinners. Atlanta venues include Gypsy Kitchen, Serpas, Agave, and The Lawrence.
According to 8 at 8 Dinner Club, guests are matched using these criteria:
Using the criteria above, these Atlanta matchmakers will form the "most cohesive" dinner party of men and women. They also screen for members of the opposite sex you've already attended a dinner with, so you won't be meeting the same potential matches twice.
The dinner itself is facilitated by an 8 at 8 hostess. She'll greet each guest, buy the first round of cocktails, get the conversation started, and make sure each person gets a separate check at the end of the evening.
8 at 8 Dinner Club Cost
Dinner Club package prices vary by location, but generally run $450-$700 (not including the cost of dinners /drinks) for the ability to attend 3 to 10 dinner events.
If you register for a specific event but need to cancel, you'll need to cancel at least 4 days in advance. If you withdraw 25-72 hours prior, that dinner will be deducted from the number included in your package.
Cancelling after 9 am the same day as the event results in a $50 cancellation fee as well. No showing bumps that fee up to $75.
8 at 8 Dinner Club doesn't give refunds, but if you're unhappy with the events you can sell your remaining ones to someone else.
Eight At Eight Dinner Club Reviews
The Atlanta headquarters has a 4-star rating on Yelp, based on 40+ currently recommended reviews.
In their positive reviews, members praised the concept:
This member reported meeting her husband via the service:
And this reviewer had follow up dates with several Atlanta singles she meet at dinner events:
The handful of recommended 1-star reviews were from members who didn't feel the other dinner attendees matched the type of person they were hoping to meet:
The New York City location has a 3-star rating on Yelp, based on 15+ currently recommended reviews.
The positive reviews were from members who enjoyed the dinner venues, and thought they were matched with interesting people:
Others members who weren't as thrilled with their experience at this New York dinner club posted 1- or 2-star reviews. 8 at 8 complaints included unequal gender balances at the dinners, low quality matches, and dinners being cancelled without notice:
When it comes to Google reviews, Eight at Eight Dinner Club in Atlanta has a 4.6-star rating based on 100+ reviews. However, some of the reviews were for the associated matchmaking company, One on One.
Members who enjoyed their dinner club experience thought they met interesting Atlanta singles and liked the venues:
While the majority of 8 at 8 Dinner Club reviews on Google are 5 star, a handful of members weren't nearly as happy with their matchmaking service.
This reviewer thought what he had paid didn't match the value of what he received:
Other less-than-satisfied members weren't happy with the singles they met:
Eight at Eight Dinner Club has an entry with the Better Business Bureau, but it is not rated yet, nor does it have any reviews or complaints listed.
So is meeting local singles via a curated dinner club the right approach for you?
It's definitely a different approach than traditional matchmaking or online dating. And from the reviews you just read it seems to work for some people, not so much for others.
Before committing to any non-refundable service that involves signing a contract, you'll want to consider the pros and cons. For instance, how comfortable are you in a social setting like that? After all, you'll be having dinner with 7 total strangers, 3 of whom are in direct competition with you.
If you'd rather concentrate your efforts on individual dates with high-quality singles, maybe you should also consider a matchmaking service like VIDA Select.
Quality Dates With High Quality Singles, The VIDA Select Way
Dinner clubs could be a fun way to meet new people and try out a new restaurant, but one of the drawbacks is the database of singles is often rather small. That means you may be meeting matches that are less than ideal when it comes to qualities that are important to you.
If you're serious about starting a relationship, don't you want to spend your time, energy, and money on dates with matches who fit 100% of your ideal partner criteria? With VIDA, you'll enjoy 1-on-1 dates with highly compatible matches selected from the largest pools of Atlanta or NYC singles around.
How do you know they're perfect for you? You pre-approve them. That means no more disappointing first dates!
Plus, you're not limited to a handful of dinners where you're hoping to meet someone special. VIDA members pay by the month for unlimited matches - which means unlimited dates. You also have the ability to pause, stop and re-start your service anytime you want so you can take things at your own pace.
Want to see how the expert matchmakers at VIDA can change your life?
Click here to find out!
All product and company names are trademarks™ or registered® trademarks of their respective holders. Use of them does not imply any affiliation with or endorsement by them.
Why Choose VIDA Select?

Since 2009, thousands of clients have discovered true love thanks to VIDA Select's fresh, modern approach to matchmaking – which has finally thrown blind dates and long-term contracts out the window. This isn't your grandmother's matchmaking!
Instead of working with a single matchmaker using a small rolodex of potential partners, VIDA Select's matchmaking team taps into the world's largest database of available singles. We'll quickly identify the matches who check all of your boxes so you can finally experience true chemistry. Are you ready to become our next success story? Schedule your complimentary consultation now by clicking the button below!
Get Started Now