I hope you enjoy reading the blog post.
If you want my team to just do your online dating for you, click here.
Luxy App Review (2023) - Does Ultra-Exclusive Really Work?
You're checking out Luxy reviews, so it's a good bet other dating apps aren't quite meeting your expectations when it comes to matches.
Apps like Tinder and Bumble attract millions of users, which is great if you're into quantity over quality.
But for the more discerning singles, quality reigns supreme.
Calling itself the "#1 millionaire's matchmaking and dating club," Luxy is an exclusive app that only allows the cream of the crop to sign up.
It claims to be a virtual dating treasure trove for the rich and beautiful - and only the rich and beautiful. So if your scene is more Grey Goose in VIP than Jägerbombs at the dive bar, you're probably wondering if Luxy is worth a shot.
VIDA Select's dating experts have been using Luxy since 2014. We've logged thousands of hours on this exclusive dating app, swiping, messaging, and setting up dates for the clients we represent online.
In this Luxy review, we'll break down the pros & cons, go through all the features, walk you through the set up process, and more!
Luxy Review Table of Contents
Luxy Pros & Cons
Pros
Styled as a dating app for rich professionals, Luxy specifically screens for users with six-figure salaries and conventional beauty.

Downloading and using Luxy Basic is free.
Upgrading to Luxy BLACK or PLATINUM unlocks premium features, and allows you to skip the selection process.

Luxy's FaceMe feature allows you to share your Instagram or WhatsApp within the message exchange, then jump into a video chat on that platform if your match accepts.

Luxy allows you to verify your profile by taking a selfie, and verify your income by uploading a pic of your driver's license and most recent tax return.
Cons
Because of the apps uber-exclusive nature, the dating pool on Luxy is significantly smaller than on mainstream dating apps.
Users tend to congregate in larger metropolitan areas. If you're not in a major hot spot like New York or LA, you probably won't find many matches on Luxy.
Luxy App Review Roundup
Luxy has a 4.7 out of 5 star App Store rating.

Some Luxy users appreciated the verified accounts and found their matches to be responsive, like this reviewer: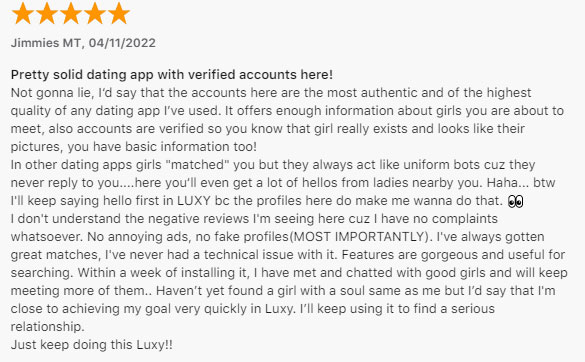 This review thought the screening process made her feel safer, and she found high-quality matches:
On the opposite end of the spectrum, other Luxy users found the app to be a little glitchy which led to a frustrating user experience: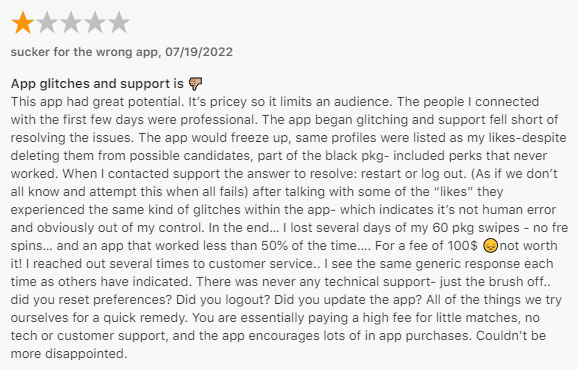 Luxy had a similarly high rating over at the Google Play Store, with a 4.3 out of 5 star rating.
Reviews followed a similar pattern as they did on the App Store, with some users pointing out glitches that caused frustration (especially given the price tag):

Other users appreciated the application process:

On SiteJabber, however, Luxy wasn't rated very highly. It received a 1.27 star rating based on 15 reviews.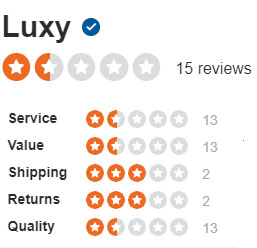 Reviews ranged from "Luxy is the best mobile millionaire dating app I used!" to "Stole my money".
Trustpilot lists a 2.4-star rating for the Luxy app, resulting in a "Poor" categorization:
88% of the reviews were 1-star, the rest 2-star. Complaints included "rude" customer service, lack of compatible matches and the payment structure.
Our Verdict:
So, does Luxy work? If you make a six-figure plus salary, live in or near a major city, and are looking for singles who share your lifestyle, Luxy may be perfect for you.
But be prepared to jump through some hoops to get in. Because of the limited user pool, you may want to use it in conjunction with another dating app like The League.
The Luxy Essentials
Let's start with the basics!
How Does Luxy Work?
A basic Luxy account is free. You know the drill - swipe right if you like her, left if you don't, and if you both like each other a match is made. Nothing new there.
But instead of mindless swiping sessions à la Tinder, Luxy only allows you to swipe through ten profiles per round. "Basic" members are limited to three rounds per day. 
You can also see profiles in the "Browse" section. You can "like" a profile, but free members can't initiate a message exchange. Without upgrading, you can only respond to messages sent from premium members.
Luxy also has a "Find The One" feature that uses an algorithm to deliver one guaranteed match every day. Your Find The One alert will pop at 8 pm, and you can check it out. You'll also see a score for each daily match that indicates how likely it is they'll start a conversation.
The app's AI uses compatible factors and common interests to choose your daily match, much like Tinder's Top Picks feature.
But here's the twist...
Just like popular exclusive dating app The League, not just anyone can use it. You have to survive the "Vouching" process, a 24-hour period where the Luxy team checks out your profile, photos and credentials.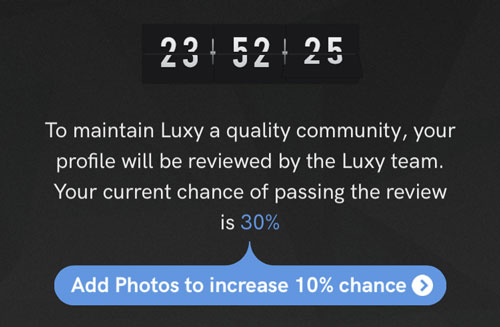 There are two routes to guaranteed acceptance. If you make more than $200,000 a year, you can gain admittance by going through the process to verify your income.
To do that, go to the profile page, scroll to the "income" section and tap "verify now." You'll be prompted to upload a pic of your driver's license or passport next to your most recent tax return.
Or you can just buy your way past those velvet ropes...
Luxy BLACK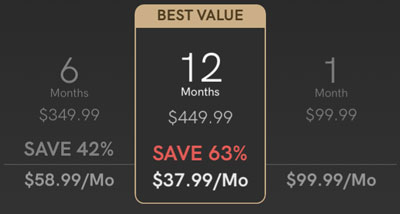 Starting at $99 for 1 month ($58.99/6 months; $37.99/1 year ), Luxy BLACK lets you skip the vouching process and get right to the good stuff.
Luxy BLACK Benefits:
Skip the review process.
See who "likes" your profile and instantly match with them.
Send messages to singles before matching with them.
Check out profiles of people who visited yours.
Control who can see your profile, and limit visibility to only people you "like."
Display the Luxy BLACK badge on your profile.
View 2x more profiles than free members.
Filter your matches by location.
Check out profiles anonymously.
Change your profile name.
Luxy PLATINUM
Luxy's PLATINUM membership is so exclusive it's only available to a handful of people in each city.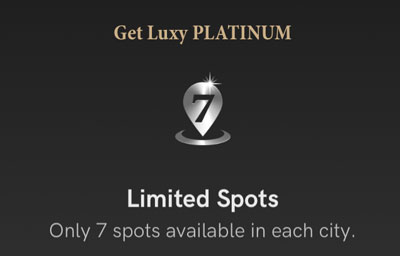 It also comes with a platinum-worthy price tag: $333.99/month for 3 months.
Luxy PLATINUM perks include:
Displaying the PLATINUM badge on your profile.
Free monthly profile boost.
All the Luxy BLACK benefits.
Setting Up A Luxy Profile
Setting up an account with Luxy is relatively simple. Once you've downloaded the app, you can use Facebook or your email to log in.
You'll start with uploading your primary photo, then verifying it by taking an AI-assisted selfie.
The rest of your Luxy profile is pretty typical. It has space for 6 photos, an "About Me" paragraph, an "About My Match" paragraph, and all the typical filters. Luxy lets you display basic info like your first name, age, gender, height, location, ethnicity and income. You can also share languages you speak, your religion, orientation, smoking/drinking habits, education, occupation and what type of relationship you're seeking.
Put some effort into your profile, though - Luxy founder Tim T warns that "half-hearted" and/or incomplete profiles won't be considered for admission. Instead, they're deleted.
If this happens, you can re-apply and use the income verification to increase your chances of getting accepted. According to the app, of the 30,000 applications received daily, less than 10% of applicants make the final cut.
Luxy Photos
According to the app, filling all 6 photo slots increases your chances of getting accepted by 10%. But this is elite dating, so photo quality matters as much as quantity. Make sure your photo array hints at your lifestyle, interesting hobbies, and personality.
Luxy has fairly strict primary photo guidelines. To be approved, make sure it's showing a clear, unobstructed view of your "full" face. Profile shots generally won't make the grade. It also needs to show only you, and be a crisp, clear image.
Follow this advice to make sure your profile photo makes the right first impression.
Luxy About Me/About My Match
Both of these text-based profile sections have a 300-character limit, which isn't much space to work with. For the About Me bio, think of all the qualities you have that would attract the sort of person you want to meet. Use that list as the starting point for what you want to include.
For the About My Match section, don't default to a list of physical attributes. Even on an appearance-based app like Luxy, writing that you want your match to be "tall, blonde and beautiful" is more likely to turn women off than on.
Luxy Tags
Luxy lets users display tags on their profile as a way to share different interests and hobbies. Categories include Music, Movies, Sports, Food and Character traits.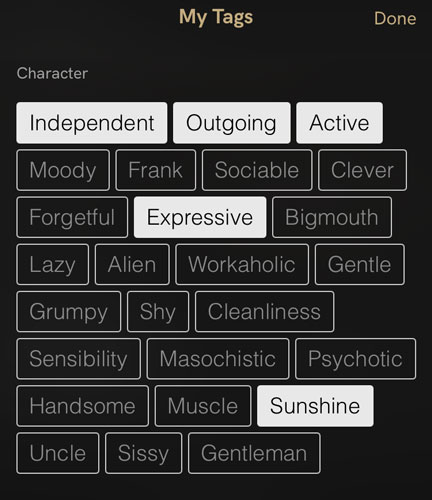 Tags are a quick way to share extra details with your matches, and also helps the match's algorithm determine compatibility.
The selection process starts the minute you create your profile, so you want to add as much information right off the bat as possible.
Matching On Luxy
Assuming you get accepted, you can find matches in Match and Browse, check out what other members in your area are doing, or connect with members worldwide by attending Events.
Once you've set up your account, you're allowed three rounds of up 10 swipes, or unlimited swiping if you have Luxy BLACK. or PLATINUM.
As a free user, you can filter your match feed by age, gender and distance. If you upgrade, you can add filters for income, location, height and verified members.
It's worth it to verify your profile, as you'll get shown to more users. Verified users also receive 10 coins (the in-app currency) and 1 free message. Income verified users can send 1 free message every day, even if you're not a BLACK or PLATINUM subscriber.
Meet The Best People On Luxy (& Any Other Dating App!)
Luxy is full of attractive, intelligent singles. However, just because they exist doesn't mean you are guaranteed to find them, match with them, and convince them to go on a date.
One surefire way to triple your chances of meeting someone amazing on Luxy? Hiring a dating expert to do it all for you. We'll make your profile shine and get intriguing singles excited to meet you. All you have to do is show up to the dates and bring the charm!
Find out how it all works here!
Want us to do your online dating for you?

Hey, I'm Ally, VIDA Select's Director of Matchmaking.
We take all the frustration, hard work and hassle out of modern dating!
Imagine your very own Dream Team of highly skilled dating experts searching for the very best local matches, sparking their interest, and arranging all the dates for you.
Wouldn't it be nice to finally stop swiping and start dating higher quality matches so you can meet someone special?
We've helped thousands of singles just like you since 2009, and we're ready to make you our next success story!
What are you waiting for? Take the next step now…
See If You Qualify