Looking for the total package – brains and beauty – and your Tinder matches aren't living up to your expectations?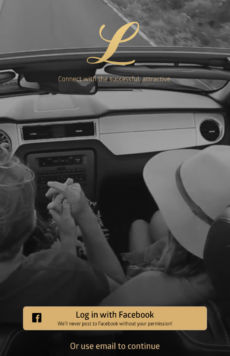 Dating apps like Tinder and Bumble attract millions of users, which is great if you're into quantity over quality. But for the more discerning gentleman, quality reigns supreme. And that's where Luxy comes in.
Calling itself the "#1 millionaire's matchmaking and dating club," Luxy is an exclusive app that only allows the cream of the crop to sign up, so it's a virtual dating treasure trove for the rich and beautiful – and only the rich and beautiful. So if your scene is more Grey Goose in VIP than Jaegar-bombers at the dive bar, Luxy may be worth a shot.
Pros & Cons Of Luxy
PROS:
Luxy specifically screens for users with six-figure salaries and conventional beauty, so you're sure to find plenty of quality women.

Downloading and using Luxy Basic is free.
Upgrading to Luxy BLACK unlocks premium features, and allows you to skip the vouching process.
CONS:
Because of the apps uber exclusive nature, the dating pool on Luxy is significantly smaller than on mainstream dating apps.
Even if you have a net worth in the millions, other users can vote you out if you don't match their preferred aesthetic, making Luxy more difficult to join than other dating apps.
Users tend to congregate in larger metropolitan areas, so if you're not in a major hot spot like New York or LA, you probably won't find many matches on Luxy.
VERDICT:
If you make a six-figure plus salary, live in or near a major city, and are looking for women who share your lifestyle, Luxy may be perfect for you. But be prepared to jump through some hoops to get in.
The Luxy Essentials
A basic Luxy account is free. You know the drill – swipe right if you like her, left if you don't, and if you both like each other a match is made. Nothing new there.
But instead of mindless swiping sessions à la Tinder, Luxy only allows you to swipe through ten profiles per round. "Basic" members are limited to three rounds per day. 
You can also see profiles in the "Browse" section. If you like someone there you have to either send a rose, or message them if you're a Luxy BLACK member.
But Here's The Twist…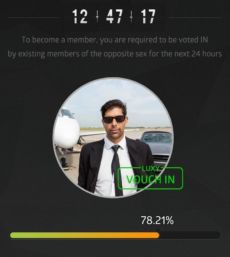 Once you create your profile, you have to survive the "Vouching" process, a 24-hour period where other members vote you in or out based on your appearance and profile.

A sliding bar shows your progress toward acceptance, and in the end you need at least a 50% approval rating to be granted access.
Not the most photogenic guy? Don't worry – there are two ways around it. If you make more than $200,000 a year, you can gain admittance by going through the process to verify your income.
Or, if you've got the Benjamins, you can just buy your way past those velvet ropes. Starting at $99 a month ($79.99/3 months; $58.99/6 months), Luxy BLACK lets you skip the vouching process and get right to the good stuff:
Message anyone you like, whether you've been matched or not. As long as either one of you is Luxy BLACK member, you can reply and start a conversation.
Filter your matches with premium search features like location, income, and whether they're a verified member.
Be viewed and contacted 20+ times more than basic members.
Play invisible. Other members cannot see you unless they're members you've already liked.
Display a deluxe VIP emblem, setting you apart from the crowd.
Setting Up A Luxy Profile
Setting up an account with Luxy is relatively simple. Once you've downloaded the app, you can use Facebook or your email to log in.
Then Luxy asks you to choose tags that describe you and your lifestyle (think "beauty", "handsome", "millionaire", "actress" etc…) You can also choose your favorite luxury brands. Finally, Luxy asks you to list your income and height.
The rest of your Luxy profile is pretty typical. It has space for your photos, an "About Me" paragraph, an "About My Match", and all the typical filters (age, body type, education, etc). There's also a spot that shows how many gifts you have received on Luxy.
Your main profile photo is not allowed to have anyone in the photo except yourself. Follow this advice to make sure your profile photo makes the right first impression.
Once you finish filling out your profile (here are some tips to help make your profile the best it can be) you enter the vouch stage, where other users vote you in or out based on your photos and information in your profile.
During this time, Luxy encourages potential members to verify their income. Male users must make at least $200,000 annually to meet the app's minimum income requirement.
You can upload a photo of your driver's license or passport to verify your identity, then send a photo of your tax return from the last financial year. Make sure your net income is visible and the name matches the ID you submitted. Luxy reports that "verified members get a higher percentage of matches."
But keep in mind the women of Luxy have high expectations, so if you're making less than $200,000 a year, verifying your income will get you kicked off the app.
If you're stressed out about the vetting process and don't want to upgrade your way out of it, here are a few tips that will help keep you from getting voted off the Island:  
Put your best face forward. Most of the time, users will vote you in or out on your main profile photo alone, so get a female friend to help you pick your most attractive photo.
Remember that she's going to imagine what life would be like with you, so showcase your luxurious lifestyle. Include photos showing you traveling or doing exciting activities.
Verify your photos. Luxy provides instructions for immediate verification, which lets members know that you are who you say you are.
Verify your income. Again, members want to know that you're legit.
Once you've made it past the vouch stage, give yourself a pat on the back.  You're in.
Now you can find matches in Match and Browse, check out what other members in your area are doing, or connect with members worldwide by attending Events.
Once you've set up your account, you're allowed three rounds of up 10 swipes, or unlimited swiping if you have Luxy BLACK.
Luxy is full of beautiful, intelligent women. However, just because they exist doesn't mean you are guaranteed to find them, match with them, and convince them to go on a date.
One surefire way to triple your chances of meeting someone on Luxy is to hire a dating expert to do it all for you. We'll make your profile shine and get gorgeous women excited to meet you. All you have to do is show up to the dates and bring the charm!