I hope you enjoy reading the blog post.
If you want to chat now about your matchmaking search, click here.
Best Los Angeles Matchmaker Services (2023's Top 8 List!)
When your career doesn't leave you with much down time, finding your ideal partner can be difficult. If you can barely find time to squeeze in a few reps at the gym, how are you supposed to meet the kind of high quality local singles you'd consider spending the rest of your life with?
That's why hiring a matchmaker is such a smart decision. But with thousands of Los Angeles matchmaker services out there, finding one that "gets" you can be tricky.
But don't worry! Our team of matchmaking experts has created this comprehensive guide to help singles in Los Angeles find the best matchmaker.
With our industry experience dating back to 2009, we're well acquainted with all the players, both major and minor. We've written over 200 reviews of matchmaking services, drawing on our extensive experience, knowledge of the industry, and keen understanding of what clients value most.
So start your search here, with this list of the 8 best matchmakers in Los Angeles!
VIDA Select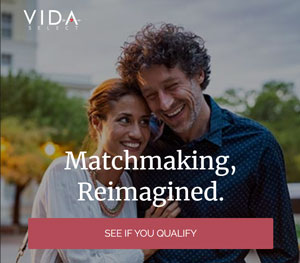 Founded in 2009 by Scott Valdez, VIDA Select uses a blend of technology and traditional matchmaking to leverage the world's largest database of high-quality Los Angeles singles.
And here is another way VIDA Select is different from other LA matchmakers: You don't have to sign a contract, or spend thousands and thousands of dollars up front.
You're in total control. You decide how many attractive, interesting people you want to meet each month, and you can put your service on hold any time.
Why hire a matchmaking service that requires a full year - paid up front - to find you a handful of dates when the average client at VIDA Select meets that special someone within the first 3 months?
Pay-as-you-go packages start at just 10995 per month. Premium packages start at only $1695 per month, and Elite options begin at only $2595 per month. Package pricing highly aligns with the number of hours that should be devoted to the search for your ideal partner every month.
See if VIDA Select is the right LA matchmaker for you with a free confidential consultation!
Enamour
For over ten years, Enamour's premier matchmakers have been helping distinguished and discerning singles find their ideal partners. With access to an exclusive "invite only" database, Enamour's team uses relationship psychology, personality profiling, and intuition to select highly compatible potential matches.
If needed, a combination of AI and proprietary recruiting technology is employed to scout beyond the database.
Each potential match undergoes a thorough vetting process to help ensure they align with your interests, goals and values. After each date, your matchmaker gathers feedback from both parties, further refining the search criteria if needed.
Matchmaking packages start at $20,000 and can be customized to meet your specific needs, with most memberships lasting around six months.
Kelleher International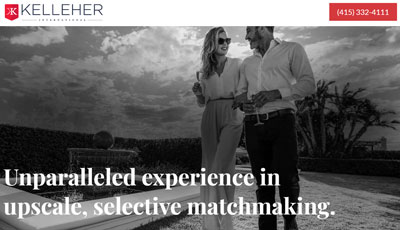 Kelleher International is based in San Francisco, with an office in Los Angeles. In the business since 1986, this mother/daughter duo has made appearances on shows like The Today Show and 20/20 to talk about their elite matchmaking services.
The membership packages vary depending on what type of search fits your needs. If you want to be matched with local singles, the price starts around $30,000 - with the option to expand the search for an additional $5,000 per city.
The package price for a nationwide search starts around $45,000, or you can opt for the international "CEO Club" package. That runs from $150,000 to over $300,000. At that level you're working with either Jill Kelleher or Amber Kelleher-Andrews directly.
Contracts typically run between 1 and 3 years, and have 12 months of "freeze" time. So you can temporarily put your membership on hold as needed until you've used all the hold time.
Prospective clients can fill out an online form, and then schedule a consultation via Skype or in-person to discuss what you're looking for in an ideal partner. If you move forward with Kelleher International, you'll sign a contract and your search search begins.
Millionaire's Club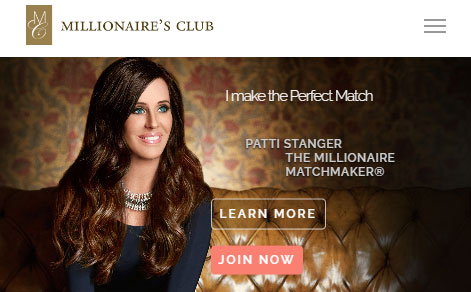 Celebrity matchmaker Patti Stanger is one of the most recognizable faces in the industry, thanks to her reality TV show The Millionaire Matchmaker™.
She founded Millionaire's Club, her elite Los Angeles matchmaking service, in 2000 and counts celebrities and professional athletes among her clientele.
In addition to finding your ideal partner, Stanger also offers an array of services like relationship counselling, date coaching, image consulting, and professional photography.
12-month membership packages start at $45,000 and go up to $150,000+. Working directly with Stanger herself costs an additional $35,000. Your membership also includes 2 months of "hold" time.
You also have the option to add a "Millionaire Matchmaker Mixer Experience" onto your membership package. An additional $20k (+food/alcohol costs) gets you the "Basic" mixer, where your matchmaker will facilitate mini-dates with up to 10 singles over the course of a 3-hour dinner.
The "Deluxe" mixer costs $30k, but includes food and beverages. You'll also have up to 20 mini-dates with hand-selected singles, and Stanger will make the introductions herself.
If you don't want to purchase a matchmaking package, you can still have the mixer experience. For $35,000 (plus the additional cost of food, alcohol, and venue rental), you'll meet 25 curated matches at a breakfast, lunch, dinner, or cocktail party where you live.
Want to learn more about the millionaire matchmaker? Check out our Millionaire's Club review!
Amy Laurent
Millionaire Los Angeles matchmaker Amy Laurent has been working her magic since 2005.
Her bi-coastal boutique matchmaking service has offices in NYC and Los Angeles. She only takes on 30 paying male clients at any given time, and claims that each and every woman listed in her database has gone through an in-person screening process.
In addition to being an elite matchmaker, Amy Laurent is also a published author and television personality.
A membership starts at $25,000 for a year's worth of matchmaking services. You can also put your membership on hold for up to 12 months. The number of matches you'll get varies depending on factors like your "ideal partner" criteria and the scope of your search.
If you're interested in becoming a client, the first step is a one hour interview with Laurent.
You'll discuss your relationship goals and what you're looking for in a perfect match. If she thinks she can help you, she'll show you a few matches she feels are compatible. If you feel the same way, you'll sign a contract and become a client.
Want to learn more about this LA matchmaker? Go here for a full Amy Laurent review.
Stellar Hitch
Stellar Hitch is owned by husband and wife duo Cristina and Andrea Morara. Based in Los Angeles, they offer both matchmaking services and image consulting. They've been in the matchmaking industry since 2009.
Membership packages range from $5,000 to $15,000, with the option to add on date coaching and image consulting services for an additional hourly fee. Coaching generally runs around $100/hour, and image consulting starts around $125/hour.
The Stellar Hitch matchmakers only work with a limited number of clients at a time. Signing up involves filling out an online form, then an in-person consultation. The number of matches you'll get depends on your personal situation and relationship goals.
For even more detailed information about this Los Angeles dating agency, check out this Stellar Hitch review.
Catch Matchmaking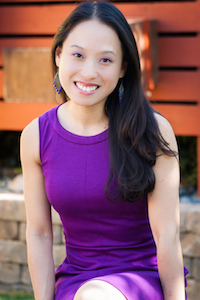 Katie Chen started this boutique matchmaking service in 2007. Catch Matchmaking is based in Los Angeles, but she has a network of affiliated matchmakers all over the world.
Catch Matchmaking works with men as paying clients, and women can join their eligible singles database for free, provided they pass the screening process.
Potential clients can choose from two membership packages: Standard and VIP.
The Standard package price ranges from $1,000 to $5,000 depending on how wide you want to cast your net, how many introductions you want, and how specific your "ideal partner" criteria is. Catch Matchmaking costs start at $10k for the VIP package.
If you're in need of image consulting or date coaching, this Los Angeles matchmaker has you covered. For $400, you'll get advice on the most attractive way to dress for your body type, and a 2-hour trip to the mall with a personal shopper.
They also offer 50-minute date coaching sessions via the phone, which start at 2 sessions for $450.
To see more about this LA matchmaker, check out these Catch Matchmaking reviews.
Selective Search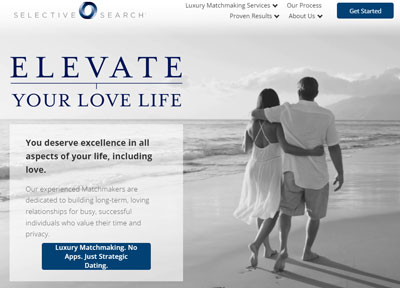 Founded by former corporate headhunter Barbie Adler in 2000, Selective Search is based in Chicago but has a presence in Los Angeles.
The majority of Selective Search's paying clients are men, and this elite matchmaking service truly is selective. They only take on 500 paying clients nationwide at any one time.
Prospective clients go through the "The Meet Your Future®" process, starting with a 2-hour interview. Selective Search uses recruiting methods, search algorithms, and good old fashioned intuition to match you with eligible singles in their database.
Women can join the database for free as an "affiliate" and be matched with male clients, but no active search would be done on their behalf. For that, you need to be a paying client. Men must purchase a membership package.
Selective Search has 3 different membership packages:
The Basic Package costs $25,000, and includes up to 10 introductions in a single city over the course of a year.
The Elite Package costs $50,000, and also includes up to 10 introductions, but they can be in 4 to 5 major cities around the US.
The Young Executives Package costs $15,000, and is strictly for people 35 or younger. Clients can choose a 6 or 12 month membership, and receive up to 6 introductions.
For more information on this high end dating service, check out these Selective Search reviews!
All product and company names are trademarks™ or registered® trademarks of their respective holders. Use of them does not imply any affiliation with or endorsement by them.
Why Choose VIDA Select?

Since 2009, thousands of clients have discovered true love thanks to VIDA Select's fresh, modern approach to matchmaking – which has finally thrown blind dates and long-term contracts out the window. This isn't your grandmother's matchmaking!
Instead of working with a single matchmaker using a small rolodex of potential partners, VIDA Select's matchmaking team taps into the world's largest database of available singles. We'll quickly identify the matches who check all of your boxes so you can finally experience true chemistry. Are you ready to become our next success story? Schedule your complimentary consultation now by clicking the button below!
Get Started Now