I hope you enjoy reading the blog post.
If you want my team to just do your online dating for you, click here.
3 Examples Of Witty Profiles For Dating Sites
If you're not getting the results you want on dating sites like Match.com, OkCupid, and POF, chances are a witty profile could turn your luck around.
It doesn't matter how awesome your online dating messages are… If your profile doesn't grab ahold of her attention and make her curious to know more, she'll be moving on in a hot second.
But being funny doesn't come naturally to a lot of guys, so check out these 3 examples of witty profiles for dating sites.
They are written for popular dating sites like Match.com, POF, and OkCupid, but with a few tweaks you can adapt them to any site you're on.
Writing a profile takes time and energy, and it's not easy to write about yourself in an attractive way. The hottest local women have high standards, and they won't settle for a guy with a boring, generic, or otherwise subpar profile like this:

A witty dating profile bio is a great way to get her attention, since women are biologically programmed to find funny guys irresistible. But humor can be difficult to pull off effectively, especially in written form.
Sprinkling in a few witty one liners and puns is a good thing, putting in so many jokes she thinks you're not serious about meeting someone is not.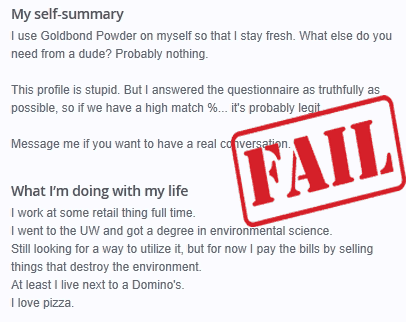 These 3 funny online dating profile examples for men have the perfect balance of humor and seriousness that works every time:
Match Profile Example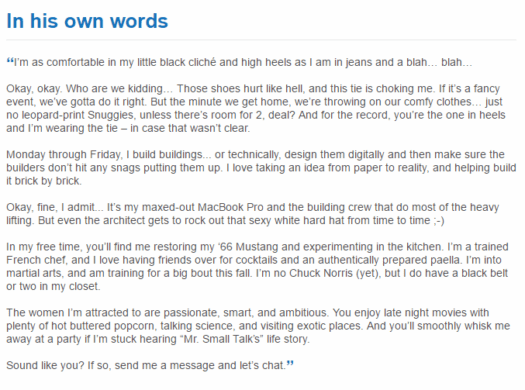 If you're on a paid dating site like Match.com, chances are you're looking for a more long-term relationship - and she probably is too. That means you've got to sound like Grade A Boyfriend Material in your profile.
This example works because it highlights all the common "must haves" for an ideal partner, and it does it by showing, not telling. You could impart the same information by writing "I'm an architect, and I like to exercise and hang out with my friends" - but how boring is that?
Research shows women find the Show, Don't Tell approach more attractive in a dating profile.
OkCupid Example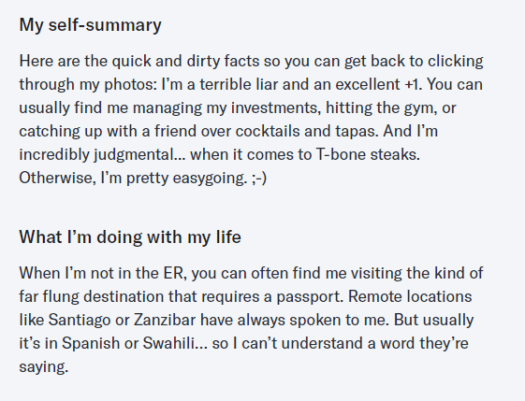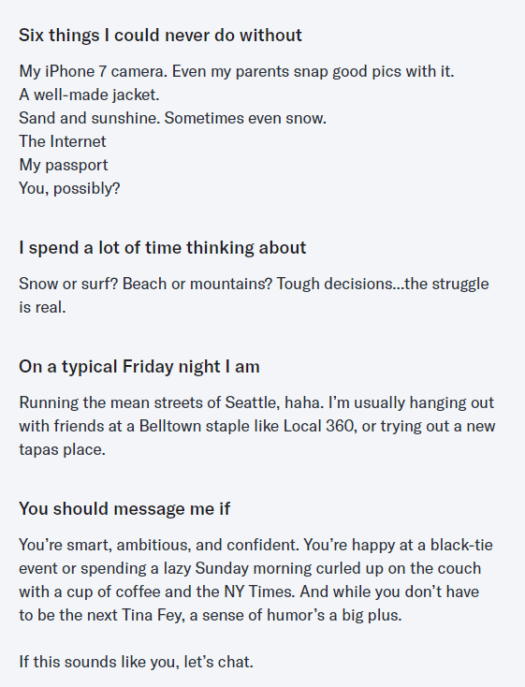 When you're trying to decide what to include in your online dating profile, treating it like a commercial can help. The whole point is to highlight your best features in a compelling way, just like a marketing campaign.
And since she's not going to read a novel, especially if she's checking out your profile on her phone, you want every single sentence to pack a punch.
For instance, in the "Six things I could never do without" section, notice how each item gives her a glimpse into what kind of guy she's reading about.
This guy can afford the finer things in life, like tailored clothes and the latest electronics. Plus, he travels to some pretty cool places. What woman wouldn't want to meet a guy like this? Nearly every single word you put in your profile needs to up the attraction level.
POF Example
When you're writing your funny dating profile, don't forget to include a few lines about the type of woman you're looking for. Studies have shown the most attractive ratio for a dating profile is 70% about you, 30% about her.
So there you have it - 3 examples of witty profiles for dating sites that make women want to meet you. And we know they really work, because our professional writers have been crafting magnetically attractive dating profiles for guys just like you since 2009.
Of course, the profiles featured in this article were adapted from some written for our clients. To get the best results, you need a profile that's 100% unique to you.
But before you start typing, here are some profile writing tips to keep in mind:
Highlight qualities that women naturally find attractive, like courage, a willingness to take risks, and loyalty.
Make sure your profile uses simple, easy-to-skim language. Chances are she's browsing your profile in between conference calls at work, or while catching up on Netflix. Research has found shown short, easy to pronounce words are more attractive than more complex language.
Stay positive. Even if you hate your job, your living situation, or your ex, don't unpack your baggage in your profile - it's an instant turn off.
Follow our proven 4-step profile writing formula: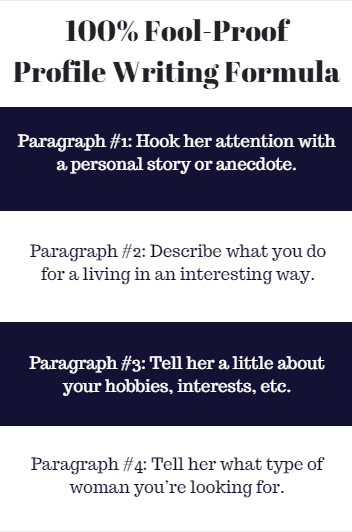 Want us to do your online dating for you?

Hey, I'm Ally, VIDA Select's Director of Matchmaking.
We take all the frustration, hard work and hassle out of modern dating!
Imagine your very own Dream Team of highly skilled dating experts searching for the very best local matches, sparking their interest, and arranging all the dates for you.
Wouldn't it be nice to finally stop swiping and start dating higher quality matches so you can meet someone special?
We've helped thousands of singles just like you since 2009, and we're ready to make you our next success story!
What are you waiting for? Take the next step now…
See If You Qualify