I hope you enjoy reading the blog post.
If you want my team to just do your online dating for you, click here.
OurTime Login Page - Plus 3 Tips For Online Dating Over 50
Trouble logging in? Click here for more help with your OurTime account!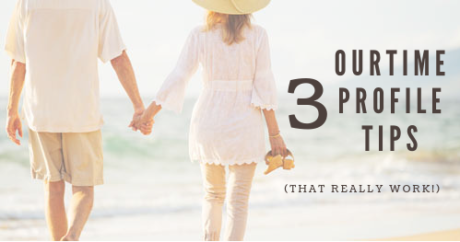 Before you log in to OurTime, check out these 3 expert profile tips for senior dating that will help you meet high-quality local singles!
Tip #1: Put Your Best Face Forward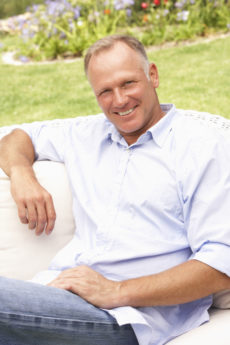 There's no getting around it - potential dates want to see what you look like.
While some men choose to skip photos altogether, thinking they'll coast on the strength of their profiles - don't fall into that trap.
Most women using online dating sites will automatically skip over profiles without photos in their search results, and can you blame them? After all, you want to know what she looks like, right?
Think of your photos as a marketing campaign - you want to highlight some interesting facets of your life, like your travels and hobbies. But choose wisely - only select photos where you look your best.
If you find yourself lacking options where it's just you in the frame, looking your best, think about getting some pro photos. Stay away from boring studio backgrounds - you don't want her to think you're trying too hard to impress her, right?
Opt instead for photos shot outdoors, preferably during the Golden Hour - the 60 minutes after sunrise and before sunset where the light is mellow, warm, and flattering.
Check out this article for even more tips on choosing the best online dating photos.
Tip #2: Be Interesting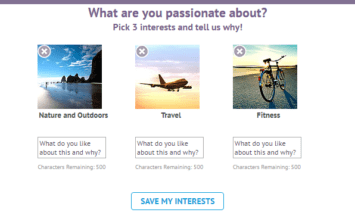 When you're setting up your profile, don't skip the "interests" section. Many singles are interested in meeting like-minded people, so having a few things in common with potential matches can help spark a connection.
You have the opportunity to pick three subjects, ranging from Travel to Arts to Sports. If you leave these blank, she's going to wonder why you're not passionate about anything or part of an active community - and then move on.
If you skipped this section when you created your profile, don't worry - it's easy to add them now.
To make OurTime profile edits, click "Settings" on the top right of the screen, then choose "My Profile" from the drop-down menu options.
Scroll down to the "My Top Interests" section and click on the grey box.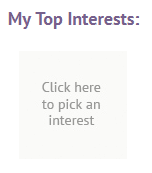 You have up to 500 characters to describe your interests, so use the space to highlight a few of your most attractive traits.
For instance, if you select "Fitness" and describe your scenic bike rides and walks along the pier, she instantly knows you're no couch potato. Or choose "Travel" and tell her about your last trip to Europe.
Remember, when she's checking out your profile she's imagining what it would be like to spend time with you, so make sure you paint an attractive picture.
Tip #3: Use Copy/Paste Messages
Sure, you could spend 20 minutes painstakingly writing the perfect message to one particular woman who catches your eye. But why not save time and send one perfect message to 20 women in that same amount of time?
OurTime has a keyword search function, which is great news for you. Let's say you're into travel, and you're looking for a woman who shares your love for exploring the world. Simple enter the word "Travel" into the Keyword Search field, and the results are a treasure trove of women who share your interest.
Now all you have to do is send a travel-related message to all of them, then sit back and watch the responses roll in. Here's a travel message you can copy and paste right now:

For a quick primer on how to write copy and paste messages that really work, click here.
Bonus Tip: Bring In A Team Of Dating Experts
Jumping back into the dating pool after being on dry land for a spell is never easy. Whether you're recently divorced, widowed, or fresh off a long-term relationship, finding your way in the online dating world can be tricky.
But why go it alone? With a virtual dating assistant by your side, you've got a built in navigator - for any online dating site or app you want to use! We can write your profile, set up your accounts on the dating sites and apps of your choice, and even handle all the back and forth messaging for you.
Literally all you have to do is show up for the dates! It couldn't be easier. Click here for your free consultation!
Want us to do your online dating for you?

Hey, I'm Ally, VIDA Select's Director of Matchmaking.
We take all the frustration, hard work and hassle out of modern dating!
Imagine your very own Dream Team of highly skilled dating experts searching for the very best local matches, sparking their interest, and arranging all the dates for you.
Wouldn't it be nice to finally stop swiping and start dating higher quality matches so you can meet someone special?
We've helped thousands of singles just like you since 2009, and we're ready to make you our next success story!
What are you waiting for? Take the next step now…
See If You Qualify