I hope you enjoy reading the blog post.
If you want to chat now about your matchmaking search, click here.
Pennsylvania Matchmakers Reviews [Should You Hire Them?]
Looking for more information on this Pennsylvania dating agency? You've clicked on the right article.
With our experience in the industry dating back to 2009, our team of matchmaking experts is well acquainted with the major players. We've written 200+ matchmaker reviews, leveraging our in-depth knowledge of the industry and firsthand understanding of what clients value most.
These Pennsylvania Matchmakers reviews contain everything from what you can expect to pay to what actual customers thought of their experience!
You'll also get some interesting background information on this matchmaking website, starting with the company that owns it...
Local Matches, National Company
Pennsylvania Matchmakers has an office in Harrisburg, 5405 Jonestown Rd to be exact, but the company who runs it is headquartered in Broken Arrow, Oklahoma.
The Better Business Bureau has done a bit of research on the owner of that company, William Broadbent. Their records show he also operates similar matchmaking websites across the country: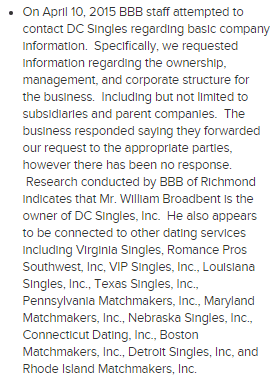 And during the course of an investigation into a customer complaint about DC Singles, one of Broadbent's other matchmaking sites, the 7 On Your Side I-Team found similar websites in at least 100 cities in the US and Canada.
Those sites included Maryland Matchmakers, Connecticut Dating and Boston Matchmakers:
Looks aren't the only thing that's the same - so is the matchmaking process.
Pennsylvania Matchmakers Privacy Policy
Potential clients can learn more about Pennsylvania Matchmakers by calling the office directly, or by sending in your name, email, phone number and other particulars via the form:
Keep in mind, by tapping the green button you're giving them permission to use your data as outlined in the Privacy Policy, and odds are good you didn't read that…
Here are two things you may have missed:
The upshot of this paragraph is you're allowing them to show you hyper-targeted banner ads on social media sites like Facebook. You're also exempting them (and the third party direct marketing services they partner with) from the "Do Not Call" list.
You can safely infer from the above paragraph that one of the ways these matchmaking websites make money is by selling your contact info as a sales lead. That means you may find your phone rings more often with telemarketing calls.
If you tap the green "Complete" button, you'll be directed to answer some basic matchmaking questions like these that will help your matchmaker learn about you and your relationship goals:
Don't want to send even more personal details through the internet?
No problem - a representative from this Pennsylvania dating agency will be in touch soon to set up the initial consultation, which happens at their Harrisburg office.
Once you're face to face, you'll discuss all the things you can't find on any of the matchmaking websites affiliated with William Broadbent, like the price tag and what each membership package includes.
How Much Does Pennsylvania Matchmakers Cost?
Some matchmaking services treat signing up a little like buying a car. They figure out what you're willing to spend, and set the price accordingly. While that opens the floor to negotiation, you'll also find you may be in for some high pressure sales tactics.
Of course your initial consultation experience with Pennsylvania Matchmakers will depend on who you talk to, but you'll likely find yourself answering questions about your credit limits and score, income, and other financial aspects of your life.
According to Better Business Bureau Pennsylvania Matchmakers reviews, the price will likely be in the $2,000 to $6,000 range.
You'll sign a contract that outlines the entire matchmaking process, so make sure you have a clear understanding of what you're getting in return for the matchmaking fees. Pennsylvania Matchmakers doesn't offer refunds in most situations, so understanding the contract before you sign it is vital.
Real Customer Experience With Pennsylvania Matchmakers
This Harrisburg dating service doesn't have any Yelp reviews yet.
There are two Google reviews, a 1-star and a 5-star, resulting in a 3-star rating overall. Neither of the reviewers provided any feedback.
Pennsylvania Matchmakers doesn't have a BBB rating or accreditation, but it does have a 1-star rating based on reviews.
Among the negative reviewers, this customer thought the service wasn't any better than online dating apps. She also felt the database of local singles was lacking:
This reviewer was also frustrated with matches who didn't fit her ideal partner criteria:
Pennsylvania Matchmakers complaints included this one from a client who felt that most of his matches were low quality:
While there don't seem to currently be many positive Pennsylvania Matchmakers reviews online, that doesn't necessarily mean your experience won't be a good one if you sign up.
It could, however, mean you may want to carefully consider all your options before locking yourself into a matchmaking membership.
For instance, there are some professional matchmaking services, like VIDA Select, that don't even require contracts. With a dating agency that allows you to pay by the month, you can try it out to see if it's a good fit for you and your relationship goals.
A Great Way To Meet The Best Singles In Harrisburg
VIDA's elite matchmakers have a huge database of Harrisburg singles right at their fingertips. And you can pre-screen all your matches before agreeing to meet them. That means you don't have to settle for someone who isn't compatible, just to finally get a date.
Even better, you can meet as many people as you want, because your number of matches is unlimited. You set the dating pace you're comfortable with!
You can also choose the monthly price you're comfortable with, from a set menu of options - no negotiating or long-term contract required.
Matchmaking package prices highly reflect the number of hours that should be used in your ideal partner search. Each package is paid month-to-month, and takes into account both your "must-have" compatibility factors and how many locations you'd like to meet matches in.
Basic matchmaking starts at $1095 a month, and Premium matchmaking options start at just $1695 a month. Elite packages begin at only $2595 per month.
Curious? The road to finally meeting your ideal partner starts with a free, confidential, 20-minute(ish) conversation with one of VIDA's professional matchmakers.
Just click here and schedule yours right now!
All product and company names are trademarks™ or registered® trademarks of their respective holders. Use of them does not imply any affiliation with or endorsement by them.
Why Choose VIDA Select?

Since 2009, thousands of clients have discovered true love thanks to VIDA Select's fresh, modern approach to matchmaking – which has finally thrown blind dates and long-term contracts out the window. This isn't your grandmother's matchmaking!
Instead of working with a single matchmaker using a small rolodex of potential partners, VIDA Select's matchmaking team taps into the world's largest database of available singles. We'll quickly identify the matches who check all of your boxes so you can finally experience true chemistry. Are you ready to become our next success story? Schedule your complimentary consultation now by clicking the button below!
Get Started Now