I hope you enjoy reading the blog post.
If you want to chat now about your matchmaking search, click here.
Who's The Best Jewish Matchmaker For You? (Top 9 List!)
Is the search for your bashert starting to feel like looking for the needle in a haystack? Dating apps like Lox Club and JSwipe, Synagogue, friends of friends… you've tried everything, but nothing clicks.
You need to expand your Jewish dating options, but time is a scarce, precious resource. Hiring a Jewish matchmaker to do all the legwork for you makes sense, but how do you find a good one?
With so many Jewish matchmakers out there, finding the right one may seem a little daunting.
Don't worry. From the small independent boutiques to the big industry players, our team has reviewed over 200 matchmaking services. Our insight comes from comprehensive research, real customer reviews, and a deep understanding of the matchmaking landscape thanks to 14+ years of experience in the industry.
These 9 popular Jewish matchmaking sites and services should get you started in the right direction!
Jewish Match NYC
Founded by matchmaker Michelle Frankel, Jewish Match NYC is an extension of NYCity Matchmaking. She also offers services for New Jersey singles via her New Jersey Matchmaking brand.
A former lawyer, Frankel uses her networking and recruiting skills to source compatible Jewish singles for her clients to meet. She's been in the industry since 2012, and typically works with professional singles who are in their 20s to 60s.
Joining Frankel's database of Jewish singles is free, however that doesn't include any proactive personal matchmaking. You'll only be contacted if your profile is selected as a potential match for a paying client.
Purchasing a membership starts with a $300 in person consultation ($150 if you do it via video call). Matchmaking packages start around $7,500 and contracts typically span 6 months.
Frankel and her team also offer dating coaching.
VIDA Select
Scott Valdez and his team aren't exclusively Jewish matchmakers, but have been helping Jewish singles find love since 2009.
Many faith-based matchmakers work from a limited Rolodex, meaning you may be meeting people who fit some, but not all, of your criteria. Since compatibility has to flow both ways, the more singles your matchmaker has access to, the higher the odds of making a quality pairing!
VIDA Select's modern approach to matchmaking unlocks the largest database of eligible singles there is, which means there is no easier way to find someone special who truly meets all of your dating criteria.
VIDA offers another major advantage as well - the ability to pay as you go with convenient monthly matchmaking packages. No long-term contracts! Basic matchmaking service starts at just $1095 per month, with Premium packages starting at only $1695 per month. Elite options being at $2595 per month.
The cost of your package is highly aligned with the amount of time that should be devoted to your search for highly compatible matches every month.
When it comes to success rates, 99.6% of VIDA's clients get dates, and 78% begin a relationship within only 3.5 months of starting service.
VIDA also offers a range of complementary services, from dating coaching to personal styling and more. Everything you need to find your bashert!
Sara's World of Jewish Singles (Sara Malamud)
Sara Malamud has been in the Jewish matchmaking business since 2001. She is based out of Jerusalem, but works strictly with North American and Canadian Jews.
Potential clients are prescreened via Skype, phone call, or in person while she's in NYC. She focuses on 15-20 active clients at any given time, and her fees typically run several thousand per year and include coaching services.
Clients are able to say "yay" or "nay" to a prospective match after viewing photos and profile information, and will speak to the match on the phone prior to going on a date.
Want to learn more about Sara Malamud? Check out our Sara's World of Jewish Singles review!
Simantov International
Simantov International™ is a "boutique" Jewish matchmaking firm based in London. They have been in the business for 40+ years, and focus on matching professional, intelligent Jewish singles.
All of Simantov's professional matchmakers have a Master's degree (or higher). They are mainly based in London, but have a small presence in a few other international cities like New York City, Miami, LA, Tel Aviv, and Paris.
Joining the service requires submitting an application and then paying for a screening interview. Once your application's been approved, you will choose from four membership levels: Courtesy, Discovery, Cosmopolitan, and Premier.
The Courtesy level is designed for people who can't afford the premium services, and provides one introduction for approximately £250.
The Discovery level allows your profile to be searchable in the database. But it does not come with an active search. The Cosmopolitan level includes a search within a specified radius of your location, while the Premier level is an international search.
Prices for the premium membership levels start around £10,000 a year, with additional fees for coaching, mentoring, etc.
Want to learn more about this elite Jewish matchmaking service? Check out our Simantov International review!
Elegant Introductions
Elegant Introductions™ is a matchmaking service for busy professional singles that's headquartered in South Florida. Their reach is international, with clients throughout North and South America.
Barbara Black Goldfarb and Dr. Nancy Gold Zimmer founded the company in 2013. Zimmer is a psychologist who had a private practice for more than 35 years, and Goldfarb is a philanthropist and community leader who sits on many national boards. They focus on quality over quantity, with thousands of singles in their database.
Joining their database of singles is free, and starts with completing an online form. Potential paying clients also start by filling out the online application.
All potential clients meet with the founders in person prior to joining the matchmaking service. Memberships start at $15,000 and vary in price depending on the particulars of each client's search. Services include feedback after each date as well as coaching.
Want to learn more about the service? Check out these Elegant Introductions reviews!
Saw You At Sinai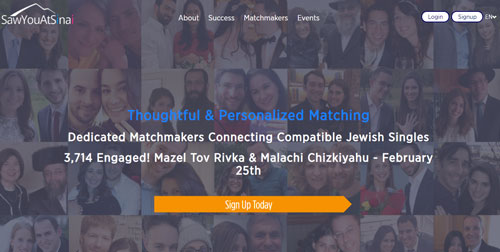 SawYouAtSinai® isn't a high-end Jewish matchmaking service like the others in this article.
Instead, it's more of a platform or, or as they call it, "online matchmaking network." SawYouAtSinai unites 350+ volunteer matchmakers from around the world with thousands of Jewish singles who register on the main Jewish matchmaker site or one of its 11 affiliated local sites.
Members will have up to 2 matchmakers chosen for them based on location, age, and religious orientation. After filling out a comprehensive profile and exchanging "get to know you" phone calls and/or emails, matchmakers will select profiles to show each member.
How It Works
The site does not allow profile browsing like you'd find on dating sites; profiles are only visible to both halves of a proposed match. Members have 10 days to accept or decline the potential match. If both parties accept, the matchmaker forwards contact information so that a conversation can be arranged.
Men are advised to call the woman within 3 days of getting her phone number. Members can update their status with each match in the website's database, i.e. "spoke on phone", "went on first date", etc.
Because it's a large online platform run by volunteer matchmakers rather than a more boutique group of highly experienced matchmaking professionals, experiences with SawYouAtSinai vary significantly. Yours will be highly dependent upon your specific online matchmaker(s).
Creating a profile on the site is free, but you must be a "Gold" member to receive matches. Here are the "Gold" membership costs (subject to change):
6 months: $65.70 ($10.95/mo)
3 months: $44.85 ($14.95/mo)
1 month: $24.95
It is customary under the Shidduch Laws of Jewish matchmaking for a successfully matched couple (i.e. a match resulting in marriage) to pay their shadchan. The going rate is approximately $2,000, with the actual amount to be discussed between the couple, their rabbi and the matchmaker.
Want an in-depth look at this Jewish matchmaking service, including what former clients have to say? Check out these SawYouAtSinai reviews!
Serious Matchmaking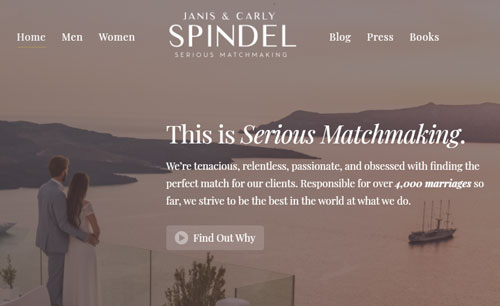 Janis Spindel's matchmaking business doesn't exclusively cater to Jewish singles. But she is one of the most successful high-end Jewish matchmakers in the NYC area. She started out in the business over 20 years ago, and now works with her daughter Carly Spindel to find attractive matches for her ultra-elite clientele.
Spindel offers multiple membership levels, with the least expensive being their "Flash Match" package for $6,000. This service schedules 6 high-quality mini dates for you, all on the same night, at an upscale NYC venue.
The private matchmaking services start at $25,000 to work with Carly, and $50,000 to work with Janis. The most expensive service is Janis's "Global VIP" package, which will set you back a cool million.
To learn more about her matchmaking service, check out these Serious Matchmaking reviews.
Jenny Apple
Founded by Jenny Apple Jacobs, a Jewish matchmaker with 10+ years of experience, Jenny Apple® is a boutique matchmaking agency based in Southern California that works with professional Jewish singles of all observance levels.
Although Jenny focuses on the Los Angeles area, searches in other parts of North America, Europe and Israel are possible according to her website.
The least expensive package starts at around $1800, but specific package pricing is discussed after a client is accepted into the program.
Aleeza Ben Shalom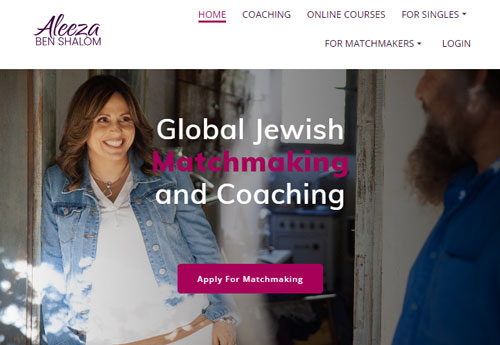 Star of the Netflix show "Jewish Matchmaking," Aleeza Ben Shalom has been helping Jewish singles find their romantic partners since 2012. Her company, Marriage Minded Mentor, offers professional matchmaking and dating coaching for Jewish singles, and matchmaker training for individuals who are interested in becoming a matchmaker.
Ben Shalom takes on a very select few matchmaking clients at a time, but she has an ongoing partnership with SawYouAtSinai and JMatchmaking as one of the matchmakers in their network. You can opt to join Ben Shalom's "marriage minded singles" database, or include your profile in the more extensive one affiliated with the partnership.
That's free, however it does not come with any active services. A matchmaker will only reach out in the event you meet a paying client's must haves. Ben Shalom's website does not list the price tag for working with her directly, however her contact form suggests her package pricing ranges between $15,000 - $50,000.
She's based in the greater Philadelphia area, but Aleeza Ben Shalom takes on clients across the US and in Israel.
To learn more about this Jewish matchmaker, check out our Aleeza Ben Shalom review!
All product and company names are trademarks™ or registered® trademarks of their respective holders. Use of them does not imply any affiliation with or endorsement by them.
Why Choose VIDA Select?

Since 2009, thousands of clients have discovered true love thanks to VIDA Select's fresh, modern approach to matchmaking – which has finally thrown blind dates and long-term contracts out the window. This isn't your grandmother's matchmaking!
Instead of working with a single matchmaker using a small rolodex of potential partners, VIDA Select's matchmaking team taps into the world's largest database of available singles. We'll quickly identify the matches who check all of your boxes so you can finally experience true chemistry. Are you ready to become our next success story? Schedule your complimentary consultation now by clicking the button below!
Get Started Now