I hope you enjoy reading the blog post.
If you want my team to just do your online dating for you, click here.
Millionaire Match Reviews (2023) - Best Dating Site For You?
At VIDA, our dating experts have tested just about every dating site and app under the sun - and our Millionaire Match reviews are in.
In terms of member quality and responsiveness, Millionaire Match is tough to beat.
In fact, this exclusive dating site has produced some of the best results for our clients we've ever seen.
This Millionaire Match review has everything you need to decide if it's the right dating site for you, too!
$$$ Can't Buy You Love (But It Can Sure Help You Find It)
As you can tell from the name, this site is for millionaire dating. In other words, your tax bracket matters.
While most women seeking relationships are looking for men with some sort of stable career, or at least a promising future, Millionaire Match goes the extra mile and highlights wealth as a key point of attraction (hence the name).
Like most millionaire dating sites, having a six-figure salary to join isn't mandatory. MillionaireMatch isn't only for millionaires - but being well established financially definitely helps.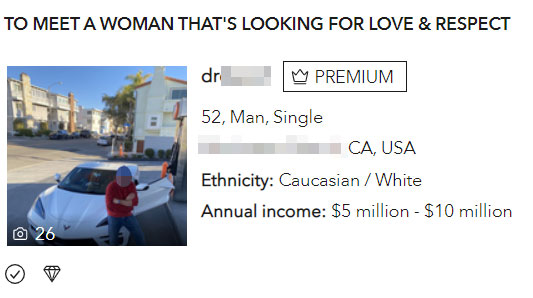 And if you are, indeed, a millionaire, taking the time to go through the certification process and submit required financial documents to get verified pays off big time. Verified millionaires have a diamond icon displayed prominently on their profile and in the search results.
The real gems on the site are discerning enough to spot "cheap talk" a mile away, and attractive enough to be extremely picky about only dating real millionaires. The "Certified Millionaire" diamond on your profile will draw them in like moths to a flame.
If you're looking for the total package - sexy AND successful - this is the place to find it.
If you aren't a millionaire, that doesn't necessarily mean you can't be successful on the site.
Just be ready to meet her expectations, as the site's most sought after women definitely harbor some preconceived notions regarding the contents of your wallet. Your Groupon ain't going to cut it if you want your night to go well.
MillionaireMatch Pros:
We've gotten some of the highest response rates of any dating site for our more discerning clients on Millionaire Match.
The site attracts beautiful women seeking everything from a long-term relationship or marriage to casual dating. And while you may find a sugar baby or two on the site hoping to meet wealthy men, it's not geared for sugar dating and in fact tries to discourage that type of arrangement.
Overall, the site has a classier vibe and a larger user base than any other site in its class.
Millionaire singles can go through the verification process so other users know they're legitimately wealthy.
MillionaireMatch Cons:
As with any site of this nature, you're sure to stumble across the occasional gold digger or prostitute.
Anyone can create a profile as a free member. Be prepared to do some curating, but you'd be doing that on any site, right?
Initiating a message exchange requires a Gold membership, and the basic/free membership also has limited search functionality.
Millionaire Match Review Verdict
One of the best exclusive dating sites out there. The high-quality singles and overall responsiveness of the users makes it worth becoming a premium member.
What Other People Are Saying
Millionaire Match has the reputation of being a legitimate dating website full of authentic people seeking a real relationship, which can be a rare commodity online.
The Huffington Post commented on its certification process, illustrating that the additional documentation required to prove your millionaire status adds legitimacy to the entire site.
Across the board, Millionaire Match usually clocks in at #1 whenever exclusive dating sites are ranked in dating sites reviews. It's also credited with being one of the first to successfully launch the "exclusive" concept (and get it right). In its early days, Forbes even gave it a shout-out.
How Much Is Millionaire Match?
Even though creating a profile is totally free, you'll have very limited access to the site's full potential. For instance, you can't send messages unless you upgrade to a Gold membership, although as a free (Standard) member you can reply to messages sent from Gold members.
A Gold membership on MillionaireMatch costs $70 for a single month, $170 for 3 months, or $270 for 6 months (subject to change), but it's totally worth it.
Here are some of the perks you'll get when you upgrade to a premium membership:
Ability to send messages and full access to live chat features.
See who has visited your profile.
Eligibility for the certification process.
"Message read" notification so you know who's opened your message (and who hasn't).
Access to advanced search filters like newly joined, certified millionaires, income, height, photo, and keywords.
Ability to create a private photo album, and control who can and can't see your profile.
Check how often a particular member replies to messages, so you can use your time wisely.
Millionaire Match has both a dating website and a dating app, which is available for iOS or Android:
"Hacking" The Keyword Search
From a time efficiency standpoint, the ability to do keyword-based searches alone is worth the cost of upgrading.
For instance, let's say you're an avid skier, and that's a quality on your "Must Like" list.
Do a search with all of your basic criteria and the keyword "skiing", and boom - the resulting list is a treasure trove of criteria-meeting women who like to ski.
Now, instead of spending 20 minutes composing the perfect icebreaker message to one specific woman, you can spend a just a few minutes sending this cut & paste message to 20 of the most attractive women who mentioned skiing in their profiles:

Invest a bit of time writing quality, attention-grabbing icebreaker messages centered on a few keywords, and get ready for the responses to flood in.
For more messaging tips and examples of conversation starters that really work, click here.
PRO TIP:
Upgrading to Gold status allows you to see who checked out your profile. If she intrigues you, send a message - she's
78% more likely
to respond if she previously visited your profile.
Setting Up An Account
Getting started on Millionaire Match is extremely easy. Just go to MillionaireMatch.com now and press the "Sign Up" button. After you enter some basic information and complete the email verification, you're ready to create your profile.
There are 4 main components of a Millionaire Match profile:
Headline - 100 characters or less, with at least 10 characters mandatory
About Me - 4,000 characters or less, with at least 50 characters mandatory
About My Match - 4,000 characters or less, with at least 50 characters mandatory
Photos - You have the ability to upload 26 photos into public, private, and "luxury" albums.
There's also a "More About Me" section where you can provide a first date idea, share some hobbies and interests, let your matches know how many past relationships you've had, etc.
A headline and at least a brief description of yourself and your ideal partner is required, and to get the best singles responding to your messages you'll want to put some effort in.
This is especially true for your dating profile headline, because it gets displayed very prominently in her search results.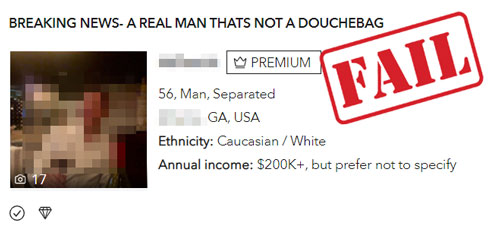 Use these tips to make sure your profile stands out from the competition!
Even though you can upload a ton of photos, that's not a good idea. It's far more effective to use a small assortment of photos in which you're equally attractive - say 3 to 6.
Your primary photo is the most important. You already know you need to lead with a photo where you look as good as possible, but on MillionaireMatch it's not *just* about you.
You also need to "sell" the lifestyle, so keep the background of the photo in mind when making your selection.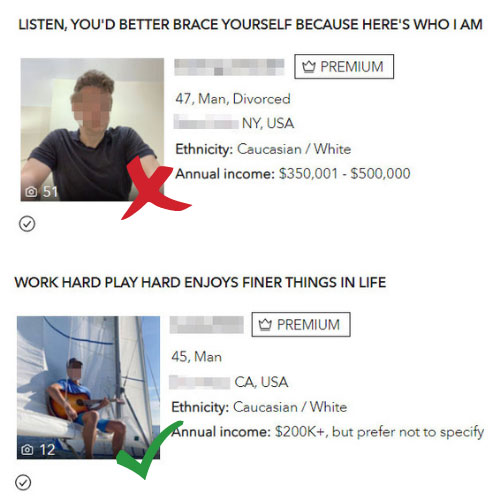 The more she'd want to join you in the photo, the higher the odds she'll check out your profile.
Not sure how to identify your strongest photos? Get plenty of dating photo advice here.
Once you have your profile set up, you can go on to verify your income. This part is a little laborious, but well worth it for the street cred it gives you on the site.
You'll need to upload one of these three documents, as well as a copy of your driver's license, state or military ID, or passport:
Your personal (not business) tax return from the last financial year that documents your earnings of over $200,000
A bank statement showing that you've earned over $200,000 during the current financial year
Proof that your net assets exceed $1 million
Only Gold members are eligible for the certification process, so you'll need to purchase a premium subscription first.
The Easiest Way To Find Your Ideal Partner On Millionaire Match
As with any exclusive dating site, you'll get the best results if your profile, photos, and messages are a cut above the rest. The site attracts successful people, so competition is fierce and standards are high. Why leave anything to chance?
Let VIDA help! Our team consists of professional writers, photo editors, and dating experts - all of whom will work together to create your perfect dating profile, select your very best photo lineup, and exchange messages on your behalf.
Your role? Showing up for the dates with incredible singles who are already excited to meet you.
Click here to learn more about VIDA's modern dating service!
Want us to do your online dating for you?

Hey, I'm Ally, VIDA Select's Director of Matchmaking.
We take all the frustration, hard work and hassle out of modern dating!
Imagine your very own Dream Team of highly skilled dating experts searching for the very best local matches, sparking their interest, and arranging all the dates for you.
Wouldn't it be nice to finally stop swiping and start dating higher quality matches so you can meet someone special?
We've helped thousands of singles just like you since 2009, and we're ready to make you our next success story!
What are you waiting for? Take the next step now…
See If You Qualify