I hope you enjoy reading the blog post.
If you want my team to just do your online dating for you, click here.
10 Great Questions To Ask A Girl You Like Online In 2023
She's hot, has cool hobbies, and looks like a blast to hang out with. Her online dating profile caught your attention. But how do you grab a hold of hers?
You already know "hey, what's up?" isn't gonna cut it. Your empty inbox is a monument to questions that women just don't want to answer. That's why you're looking for great questions to ask a girl you like online!
You're putting in the time and effort, so why aren't attractive women responding? Chances are you're asking the wrong questions.
There are two types of questions: icebreaker questions that start the conversation, and questions that keep the conversation going towards the date.
Want to skip ahead? Go straight to the questions to use for back-and-forth messaging.
Starting The Conversation: Icebreaker 101
For an icebreaker question to be effective on a dating site or app, it needs to accomplish 3 things:
#1: Catches Her Attention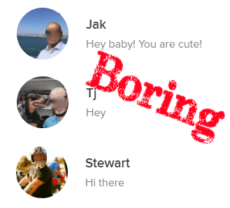 If your message doesn't stand out from the crowd, it quickly gets lost in the shuffle. That's why asking her questions like "What's up?" and "Hi, how are you?" don't usually work. Those questions are boring and generic, and that's the kiss of death in the online dating world.
Some guys think flattery will get them everywhere. So they send an icebreaker like "You're so pretty, how can a girl like you be single?" But that's a mistake. Not only is praising her appearance a beta male move, she gets tons of messages just like that already. She doesn't need another one from you.
Ask her an interesting question that's not focused on her looks, and she'll be more apt to answer it.
#2: Creates An Emotional Response
When your question makes her feel something, you form an instant bond. In her mind, she's connected your profile with an emotion. If it's a pleasurable one, she's much more likely to respond to you.
Ask her a question that conjures up a pleasant daydream, or makes her laugh. Humor is always good. Researchers have found it makes people feel more relaxed and accepting.
This is why messages like "Hi there" fall flat. There's no spark, no sense of intrigue or curiosity. Lines like that don't make her feel anything but bored.
#3: Makes Her Want To Respond
When you ask her a question that's fun to think about, she'll actually want to answer it. The best questions are entertaining to ponder, and specific enough that coming up with a response is easy.
Asking her an open-ended question is more effective than one requiring a simple yes/no because it's much easier to build a message exchange around longer answers. Leading the conversation is an alpha male move she'll appreciate.
Combine all three elements in one question and watch your response rate soar. We've got 5 examples to get you thinking in the right direction.
5 Great Icebreaker Questions To Ask A Girl: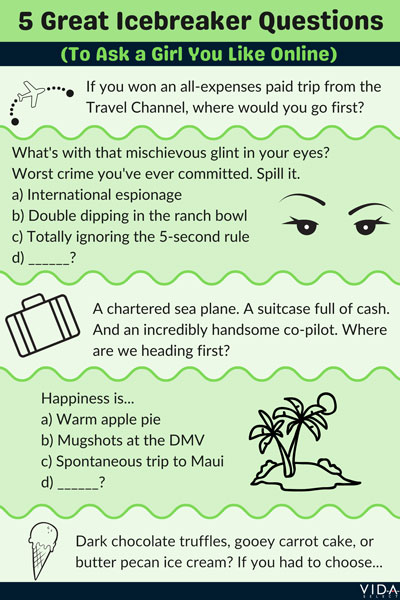 Keeping The Convo Going
The goal of back-and-forth messaging is to keep the conversation flowing towards a number exchange or a date. Ask her out too soon, and you risk turning her off. Wait too long, and she'll get tired of the seemingly endless message exchange. Then it's Ghostville, population: you.
If you don't have a virtual dating assistant to handle the message exchange for you, following this formula should keep things moving in the right direction:
Acknowledge her answer to your question
Answer the question yourself - information exchange is a two-way street
Ask her another question.
You have to naturally transition between steps 2 and 3, just as you would in a face to face conversation. Your questions always have to make sense within the context of your message exchange, and make it obvious you're trying to get to know her.
The key is to not seem like you're just randomly pulling a question out of thin air.
5 Questions To Ask A Girl That Are Fun (& Easy To Answer)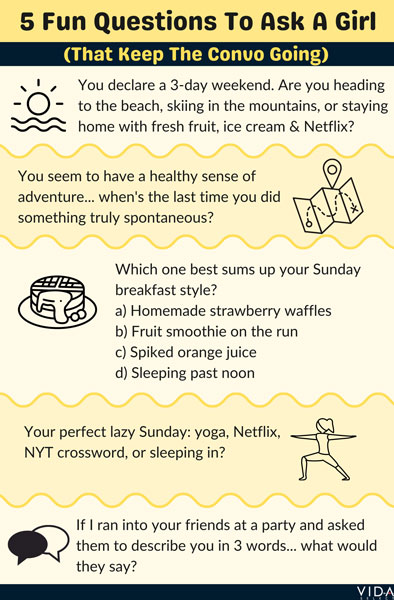 Here at VIDA, we've analyzed countless conversations that led to dates for our clients. We've found the best time to ask her out on a dating site like POF, OkCupid or Match.com is after she's sent you 2 or 3 messages.
On a dating app like Tinder where the messages are shorter and the pace is faster, you may have to exchange 10-12 before you've built up enough trust and attraction for her to agree to meet you in person.
Of course, those rules aren't written in stone. As the conversation progresses, you'll get a feel for whether or not she's into you. Here are some indications you should ask for a date or her number:
She's answering your questions, then asking her own. Wanting to learn more about you is one of the biggest signs the attraction goes both ways. (One word responses, on the other hand, mean you need to step your game up, stat.)
Her responses are enthusiastic. Think long sentences, smiley faces, exclamation marks, and lols.
She responds sooner rather than later. While this isn't always the case (depending on when you sent your message, she may be at work, sleeping, etc.) a prompt response is a good sign.
Once you're getting some positive vibes, you need to move the conversation off the dating site or app before she gets tired of waiting for you to ask her out and moves on, deletes her profile, or meets someone else.
The Secret To Asking Her Out
You want her to say yes, so start by making a statement you already know she'll agree with. Once she's said yes in her head, it's easier for her to say yes to you.
Then, give her a choice of two date activities. According to our internal data, that makes it twice as likely she'll say yes.
Here's a great example of how to ask a girl for a date online: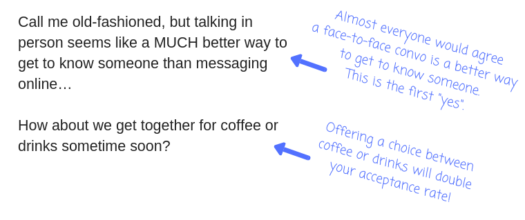 If she agrees, then suggest a place and give her two choices dates/times to meet.
That's a much more confident move than putting it on her to initiate the scheduling. You can also suggest swapping phone numbers in case something comes up at the last minute.
Wish you could just skip the tedious back-and-forth messaging and jump straight to dates with attractive women? You can! Find out how with VIDA Select's done-for-you dating service.
Want us to do your online dating for you?

Hey, I'm Ally, VIDA Select's Director of Matchmaking.
We take all the frustration, hard work and hassle out of modern dating!
Imagine your very own Dream Team of highly skilled dating experts searching for the very best local matches, sparking their interest, and arranging all the dates for you.
Wouldn't it be nice to finally stop swiping and start dating higher quality matches so you can meet someone special?
We've helped thousands of singles just like you since 2009, and we're ready to make you our next success story!
What are you waiting for? Take the next step now…
See If You Qualify