6 Bumble Profile Ideas For Women (To Attract Your Perfect Match)
Looking for Bumble profile ideas? You're already ahead of the game, having recognized that meeting truly relationship-worthy guys on dating apps requires more than just a cute profile pic.
When you're looking for the Bumble match of your dreams, you have to offer up both style and substance!
Your bio is a great way to give him a sneak peek of your personality, and a glimpse of what spending time with you might be like.
While it might be tempting to leave that 300-character space blank, doing so could mean missing out on the chance to bond over shared interests or impress him with your wit.
In this guide, you'll discover 6 Bumble bios that are sure to make him eager to meet you in person. Plus, you'll learn what to avoid in a Bumble profile, helping you sidestep common pitfalls.
How can we be so sure about what captivates men on Bumble? VIDA Select's dating experts have written tens of thousands of dating profiles. And we've been representing clients on Bumble since the app launched way back in 2014, optimizing their bios and photo lineups, and sending messages on their behalf.
All these years of direct, hands-on expertise are about to benefit you, because we know what works (and what doesn't work!) on this popular dating app.
Ready to give your Bumble profile a makeover?
Bring on the profile examples!
Tip #1: Be The Total Package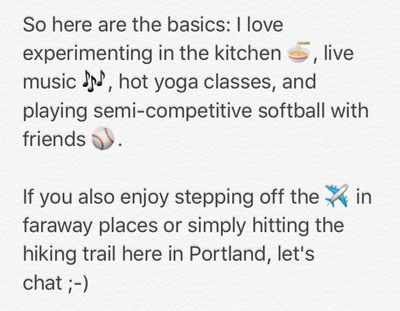 When you're looking for Boyfriend Material on any online dating app, you want to highlight all the reasons why you're Girlfriend Material.
The Bumble bio example above does this perfectly, and without resorting to a boring list of adjectives.
Mention your job and a few hobbies, and make sure at least one of them implies that you lead an active lifestyle.
Men are attracted to physical attributes, so it never hurts to mention physical activities that help keep you healthy and in shape, like yoga or the gym.
Now compare that good Bumble profile example to a profile like this, found out in the wild:
Jenna makes several profile mistakes.
Mistake #1: First off - don't admit that you're new to this whole thing.
Confidence is attractive, insecurity is not. Own your Bumble profile.
Mistake #2: She mentions her job, which is good - but then says she prefers to spend the night on the couch, parked in front of the TV. Not so good.
Mistake #3: Can you imagine a hot guy bragging to his buds that his date for Friday night is super into cats and bingo?
There's nothing wrong with liking either cats or bingo, but keep in mind that every word in your Bumble bio contributes to the impression a potential match is forming in his mind.
By the end of this profile, he's probably picturing her curled up on the couch on a Saturday night, rocking a cat sweatshirt and binge watching Golden Girls reruns with her 19 furry friends.
Tip #2: Paint A Picture With Words
In a nutshell, men find showing rather than telling more attractive - and that's just what the best Bumble bio does.
Listing traits like "I'm adventurous" or "I'm funny" is boring, and there's really no evidence to back up these claims.
Take the line about snorkeling off the coast of Maui.
In one short sentence, he's learned you travel, are fit enough to snorkel, and you have a sense of adventure.
That's way more effective than a list consisting of single words without any context:
Words are powerful, especially when you're looking at a group of less than 300 of them.
Just a few negative ones can totally torpedo your profile (and your prospects of getting a response to your Bumble conversation starter):
"An atheist who's into insects and feeding crows? I can't wait to introduce her to mom!," said no guy ever. Guess which way that swipe is going.
Your dating profile should highlight all your most attractive, positive traits. Don't hand him a reason to disqualify you right off the bat. The same advice holds true for your Bumble BFF or Bizz bio too!
Tip #3: Be Original
When you're trying to condense the "essential you" into 300-characters or less, it can be tricky.
But you definitely don't want to rely on clichés. The example above tells a unique story, and any guy who reads it will feel like he learned something genuine about you.
But when your profile sounds like literally any woman could have written it, he's not as likely to feel that instant connection with you:
Tip #4: Radiate Confidence
You want your Bumble bio to portray a happy, confident woman who's leading an active, full life. You just happen to be single.
Here is a bio idea that illustrates how to hint at all the wonderful things he's in for if he dates you: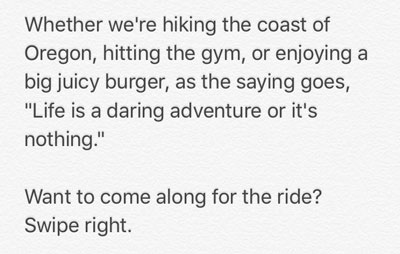 What you don't want to do is sound like you're desperate to find a man:
Tip #5: Get Creative
Colorful emojis can really liven up your profile, especially when they're done right:
Tip #6: Add Visual Interest
Emojis instantly draw his eye to your Bumble bio, which is a good thing.
They work perfectly for short dating app profiles, because they express complex idea in a tiny amount of space.
Just don't go overboard on them - it could make him perceive you as less intelligent.
These Bumble Profile Ideas Will Help You Find Your Perfect Match...
But catching the attention of your dream guy is just the beginning.
If you want to take things off the Bumble app and meet your ideal match IRL, you've got to build attraction and intrigue in every single message you send.
If you were searching for Bumble profile examples because you're not sure how to attract the right kind of attention, chances are you could use some help with your messaging too.
That's where VIDA comes in.
No matter what dating site or app you want to use, our professional writers will create an intriguing profile for you, handle all the back-and-forth messaging, and schedule dates with the kind of guys you deserve to date.
A 20-minute call with one of our matchmakers is all it takes to meet the love of your life.
If you're finally ready to meet your perfect match, book your confidential consultation with us now.
Click Here

About VIDA

VIDA is your very own team of matchmakers who are ready to introduce you to your ideal partner. Say goodbye to the hassle and frustration of modern dating - we'll tap into the world's largest database of eligible singles and match you with someone who has all the qualities you desire in a partner. Our team has already made lasting connections for thousands of clients like you, and we're ready to make you our next success story. All you need to do is schedule your free confidential consultation with us now by clicking on the button below.
Get Started Now