The 7 Best Dating Sites & Apps For Women Over 40
Online dating has never been more popular, with new dating platforms launching left and right. But you don't want to use just any dating app. You want the best dating sites for women over 40.
Your time is a precious commodity. The last thing you want to do is spend it wading through a dating pool of men you're not even remotely interested in meeting. Figuring out where to find the high-quality men you'd actually consider dating just got a lot easier!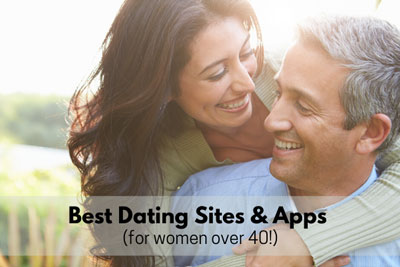 These are the 7 best dating sites and apps for women dating over 40:
Jump straight to the one you're interested in learning more about. Or scroll through them all to decide which is the best option for you!
Match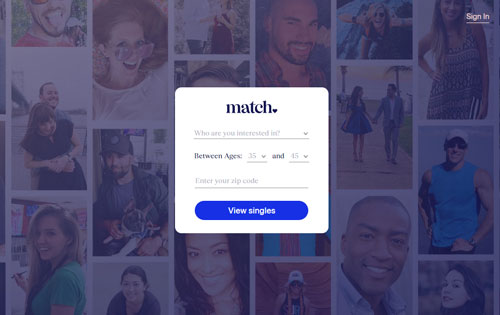 One of the most instantly recognizable online dating brands, Match has been around since the mid-90s. It's built a solid reputation as a quality dating site - and it has a companion app as well.
Per Match's internal data, over 75% of their members are over 30. Slightly over 25% of users are dating in their 50s+. It's a must for anyone dating over 40 and looking for quality matches. Match attracts professional, successful men who are looking for a serious, long-term relationship.
Match isn't free to use, which is actually a perk. You can sign up, create a profile, and take a look at all the singles in your area without paying. But sending messages requires a subscription.
The monthly fee ranges from around $16 to $36 depending on where you live. The monthly price drops the more months you purchase up front. And here's why paying for online dating pays off.
You'll spend a lot less time screening for fake profiles and romance scammers, since those types tend to favor the free dating sites where it's easier to set up profiles.
Paid dating sites also attract singles who are invested in the process. Members typically log on more often and respond to messages more consistently than they might on a dating site they aren't paying to use.
Want to know exactly how Match works? Check out this Match dating site review!
PRO TIP: Dating sites often let you sort or filter your matches by when their last login was. That's a feature you should take advantage of, so you avoid wasting any of your time messaging guys who haven't been active on the site in over a week.
Focus on men who were online recently, like in the last day or so. Not sure what to say in your first message? Try one of these great conversation starters to send to guys!
The League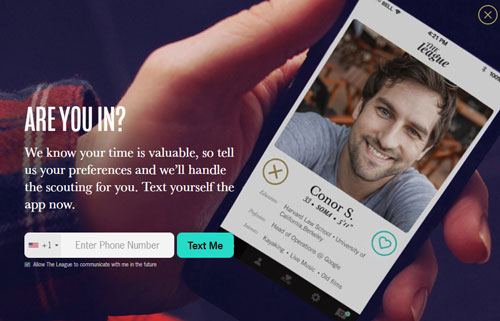 The League was created by Amanda Bradford. She envisioned a place where accomplished, professional, and otherwise elite singles could find each other without having to swipe through countless profiles of people they'd never consider dating.
It's so exclusive your profile goes through an extensive screening process. Only around 20-30% of would-be members make the grade.
Joining The League requires both a LinkedIn and a Facebook account. The acceptance committee & the app's algorithm take a peek at both while you're waiting for the green light.
You'll have to jump through a few hoops to use this elite dating app. But it's worth it because you'll likely find the quality of your daily "prospects" is high indeed. Much higher than what you'd find on apps like Tinder.
The League is free, but you'll only receive up to 3 daily matches at 5 pm. To get more, you'll want to invest in a premium membership. There are three levels to choose from, starting at $29 a month.
It's available in more than 60 major cities across the US. If it's not launched yet in yours, you can still create a profile. You'll be automatically placed on the waiting list for that city. Then, when it launches there, the decision will be made.
Want more details? This review of The League is packed with information and helpful profile tips!
EliteSingles
As the name implies, EliteSingles is specifically meant for accomplished and ambitious people. Its user base is mostly professionals in their late 30s+. If that describes you and who you're looking for, it can be a good dating site to try if you live in a big city with a lot of other users.
The disadvantage to using EliteSingles is that it's not as popular as Match. The pool of available users (while high quality) probably won't be as plentiful. You also can't freely wade through it.
Unlike other dating sites where you can use different search criteria to check out all the local singles, EliteSingles sends you daily matches. In theory, they reflect both your 'ideal partner' criteria and the answers you both provided on the extensive personality test.
That's an advantage if you simply don't have time to curate your own matches. But it also means you're reliant on the site's matching algorithms.
And those may not work all that well when it comes to predicting true long-term compatibility. Factors like how two people evolve and mature over time simply can't be taken into account.
Like Match, EliteSingles is a paid dating site. The men you'll match with are generally as serious about finding a relationship as you are. But you'll need to upgrade if you want to send messages or even see photos of them.
EliteSingles costs around $39.95/month if you invest in a 6-month subscription. It can cost all the way up to $99.95 if you only want to try it for a single month.
Want to learn more about this exclusive dating site? Check out this EliteSingles review.
Bumble
If you're in a big city, it won't hurt to download Bumble and peek at the potential matches in your area. Only about 35% of Bumble users are dating in their 30s, 40s and beyond. But it's free to use and tends to attract higher quality men than you'll find on Tinder.
And it's not just a dating app - once you've created a Bumble profile you can use it online as well.
Bumble gives female users total control. You get to send messages to the men who intrigue you, but men can't initiate a message exchange.
Bumble also promotes user interaction by attaching a timeline to the matching process. Once you've made a connection by both people swiping right, you have to send him a message within 24 hours or the match will expire. And once you've sent your conversation starter, he's got only 24 hours to respond.
Upgrading to Bumble Boost offers a way to extend the deadline. But upgraded member or not, once you've both sent a message there are no further countdowns to worry about.
Bumble Boost costs $11.99 to try it for a week. Otherwise, it's $24.99 for a month, or $44.99 when you purchase 3 months at once.
A Bumble Premium subscription offers all the features included in Boost, plus some more handy perks. Premium starts at $21.99 for 1 week, or $44.99 for a month.
In addition to allowing you to tack on another 24 hours to the messaging deadline, you can also unlock all the app's match filters. That's helpful if you want to weed out incompatible men right from the start.
If you're still on the fence about trying this popular dating app, check out this comprehensive Bumble review!
CoffeeMeetsBagel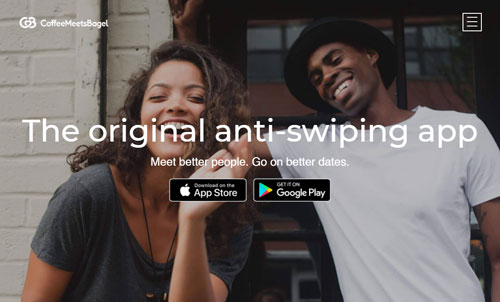 This popular dating app is all about match quality, which is why women are presented with a curated selection of matches (called Bagels) daily. The men whose profiles you'll see in your match feed have already "liked" you, so you can match at the tap of a button.
Around 64% of singles on the app are over 30, so it's worth a download if you're in a decently sized city.
CMB tends to attract people looking for a more serious relationship, and it's designed to keep people active on the app. Bagels expire every day at noon, and once you've matched the messaging platform only lasts for 7 days. That's a good thing, as it's a built-in excuse to swap numbers or schedule a video chat.
CoffeeMeetsBagel is free, with the option to purchase a Premium membership. Paying users get features such as sending more "likes" in the Discover section, seeing everyone who liked their profiles in one view, and unlocking the statistics report for each Bagel. Subscribing to CMB starts at $35 for a single month of access to premium benefits.
Want to learn more about how CoffeeMeetsBagel works? Check out this dating app review!
MillionaireMatch
You don't need to be a literal millionaire to use this exclusive dating site, but you will find plenty of them on there. Designed for highly successful, ambitious and professional singles, MillionaireMatch has plenty of intriguing men looking for both long-term and casual dating.
As with any exclusive dating site, you likely won't find as many potential matches in your area as you would on Match - especially if you're not in a huge city like Los Angeles or New York. But at least it will be a "quality vs quantity" situation.
MillionaireMatch has also been around since 2001, so it's one of the oldest and most legit of the "millionaire" dating sites. If you do happen to be an actual millionaire, you can go through the site's "certified millionaire" verification process.
In keeping with its name, this dating site isn't cheap - and you'll need a premium "Gold" membership if you want to send the first message. But even as a free member, you can respond to messages sent from men who are Gold members.
A Gold membership starts at $70 for one month, with the monthly price dropping when you invest in a 6 or 12-month subscription.
ChristianMingle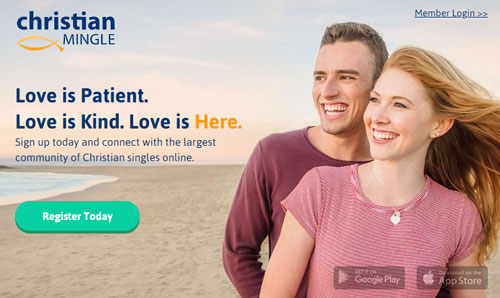 If you're Christian and having a shared faith is important in a partner, ChristianMingle is worth checking out. It's one of the most (if not the most) popular Christian dating site out there, and a go-to for marriage-minded singles across the country.
ChristianMingle is a great dating site for older singles, since only 22% of users are under 30. Slightly under half of ChristianMingles users are daters over 50.
But as with any dating site that appeals to users who share one particular thing in common, you'll likely find a limited number of potential matches - especially if you live in a less densely populated area. ChristianMingle is likely a dating site you'd want to use in addition to a more mainstream option like Match or POF.
You'll also need a premium subscription if you want the ability to send a message to any man who catches your eye, as free users have limited use of the site. An upgraded membership runs from $14.99 a month to around $50 per month, with the price decreasing the more time you commit to up front.
Matching With Guys Online Isn't Hard… But Finding The Right Man Isn't Easy
Dating sites and apps are packed with guys, but all that swiping, screening and sifting through message after message of men you'd never consider dating can get old fast.
To attract the right type of men for you, your photos, profile and messages all need to work in harmony - and that's not easy!
VIDA's Select's dating experts know exactly how to build intrigue and attraction online - and will custom tailor your profile and photo lineup for just about any dating site or app you want to use. We'll even handle all your messaging for you - with men who check all your "ideal partner" boxes!
Want to find out how VIDA Select can help find that man you've been dreaming about? Click here!
A 20-minute call with one of our matchmakers is all it takes to meet the love of your life.
If you're finally ready to meet your perfect match, book your confidential consultation with us now.
Click Here

About VIDA

VIDA is your very own team of matchmakers who are ready to introduce you to your ideal partner. Say goodbye to the hassle and frustration of modern dating - we'll tap into the world's largest database of eligible singles and match you with someone who has all the qualities you desire in a partner. Our team has already made lasting connections for thousands of clients like you, and we're ready to make you our next success story. All you need to do is schedule your free confidential consultation with us now by clicking on the button below.
Get Started Now