I hope you enjoy reading the blog post.
If you want my team to just do your OkCupid for you, click here.
4 OkCupid Profile Tips For Guys That Really Work
Since you're looking for OkCupid profile tips, you're probably not getting the results you want on this popular dating site.
Messaging on OkCupid works a little differently. If she hasn't "liked" you yet, your icebreaker message won't go straight to her inbox. Instead, you'll show up in her DoubleTake, Discovery, and Search - and your message to her is only visible on your profile.
That means your profile needs to be instantly likeable, because that's your golden ticket to her inbox. No pressure, right?
Don't worry, you've got this. These 4 expert OkCupid profile tips will make her want to see what you've got to say, and you'll get plenty of dating profile examples for men that really work!
Ready to take your inbox from empty to jam packed with responses from beautiful women?
Tip #1 - Command Attention With Your Primary Photo (In A Good Way)
When she's browsing through her matches, her screen looks something like this: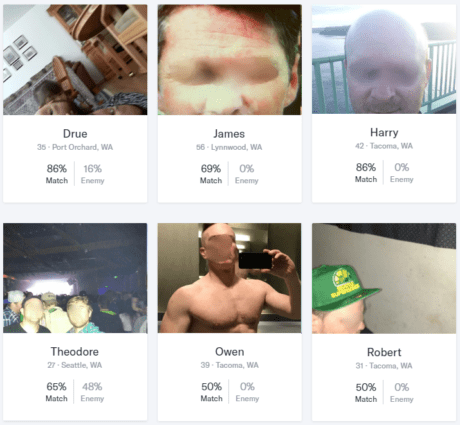 From there, she has three options:
She can "like" you, which allows your message to go straight to her inbox
She can click on it to see the rest of your photos and your OkCupid profile
She can keep scrolling
If your primary photo doesn't make a good impression right off the bat, the most common outcome will be #3 - and that's on any dating sites and apps you use.
Scientists recently identified the traits the most attractive Tinder primary photos all have in common, and what works for Tinder will work just as well on OkCupid.
Here is the formula for achieving maximum attractiveness in a dating photo:
#1: There's a high degree of contrast between you and the background.
The last thing you want to do in an OkCupid is blend into the background.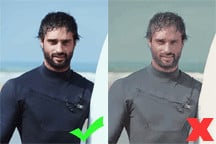 #2: The only person in the frame is you.
Save the group photo for later on in your lineup. Not knowing which guy she's going to match with is a huge pet peeve for most women on dating apps.
#3: It's cropped in on the upper 2/3rds of your body.
You'll want to include at least one full-body shot in your lineup, but don't lead with it.
#4: Your eyes are visible.
Eye contact is important, because it makes you seem more trustworthy. They're the window to your soul and all that, so don't black them with a pair of sunglasses.
Even if your face could get you hired as Brad Pitt's stunt double, if it doesn't display correctly you don't have much of a chance. Do you think this guy's forehead gets a lot of likes?
Cropping your primary profile picture in a way that attractively highlights your face is important, because it also affects how your thumbnail photo appears throughout the site:
Want more science-backed advice on choosing your best profile photos? Check out these dating photo tips!
Tip #2: Compel Her To Keep Reading With The First Line Of Your Profile
OkCupid profiles are broken down into 9 sections, with the option to add even more topics if you'd like. In each one, you can choose a question to answer from a pull-down menu of 5 or 6 prompts.
This is the first section:
If you're going to nail any section, it needs to be this one - especially the very first line. That's what she'll see when she first checks out your profile, and if it doesn't immediately intrigue her, you're doomed.
And few things will doom your chances more quickly than coming straight out of the gate with a boring list of adjectives: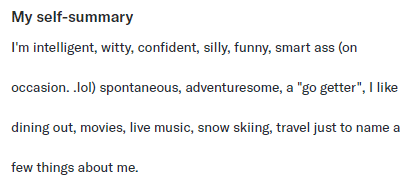 Here are 2 OkCupid intro examples that will get her hooked from the get-go: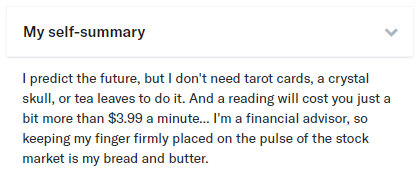 Your dating profile is basically an advertisement, right? So highlight your #1 feature right off the bat, and make her want to keep reading. In the example above, it's a successful career. But you don't have to mention your job, it can be whatever makes you desirable boyfriend material.
This example works because it ignites her imagination. She can imagine what it might be like to do those things with you, because you're showing rather than telling. How many times have you read "I love to travel?" Yawn. Why not convey the same idea by describing some of your trips?
This works for any adjective, by the way. Research has shown it's more attractive to describe how you embody a specific trait, as opposed to just say you have it.
So if you're adventurous, describe the time you tried kitesurfing or went rock climbing. If you like to learn new things, write about the cooking class you took or the yoga retreat you went on.
For even more profile help, check out these successful OkCupid profile examples for guys!
Tip #3: Keep The Attraction Building
A compelling OkCupid profile will keep her reading to the very end - and make her want to have a conversation with you. That means every section you decide to fill out needs to deliver.
Highlight a few attractive traits in each part, and you'll be golden. Keep a positive vibe going - negativity in a person's profile can be a big turn off, especially when she doesn't even know you yet.
For instance, having a job is a plus, so don't ruin the moment by letting her know you hate yours: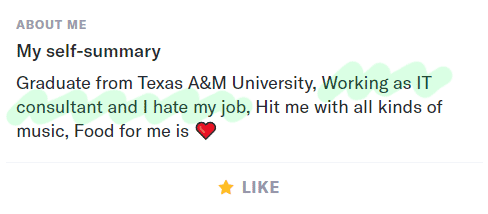 And remember, she's probably reading your profile on a tiny phone screen, so keep your sentences short and snappy. Write a novel, on the other hand, and you'll likely lose her attention.
Let's take a look at a few of the other profile prompts in closer detail:
What I'm Doing With My Life
This is the perfect opportunity to describe what you do for a living in an interesting, engaging way. Even if you're not looking for a serious relationship, she'll want to check this requirement off her potential date checklist.
But don't just say "I work at a bank" or "I'm in construction." Although she knows what you do, you missed an opportunity to make an impression.
Speaking of impressions, this is your life you're describing, so leave her with a good one. Who wants to date a guy like this who finds it far too easy to "do his worst" when it comes to the game of Life?:
Negativity tends to resonate in a dating profile, and not in a good way. It's often associated with inferiority, so it's best avoided.
If Money Were No Concern...

Whenever you have the chance to highlight an attractive trait, seize it. The trick is to do it without sounding like you're bragging. The example above not only implies he's in great physical shape, but he's also adventurous.
I'm Really Good At
Here is another prompt that's perfect for slipping in an alpha male trait. In this case, it's a subtle way to show her what a handy guy you are to have around the house:

I Want To Be Better At
Some of the OkCupid profile prompts are inherently negative, but that doesn't mean you can't put a positive spin on your answer.
This answer works on a number of levels - it shows he's physically fit enough to attempt surfing, and that he doesn't give up easily.
Whatever you do, don't write an answer that implies you're not a good catch right now:
Now she's picturing you as the awkward guy at the BBQ who doesn't have the confidence to mingle, so it's her job to make sure you're having a fun time. Pass.
Six Things I Could Never Do Without
When it comes to prompts like this, you can tackle it in one of two ways:
Make an interesting list
Write everything out in a series of creative sentences
Whichever route you take, make sure you mention things that highlight your uniqueness. Don't go the "air, water, food" route.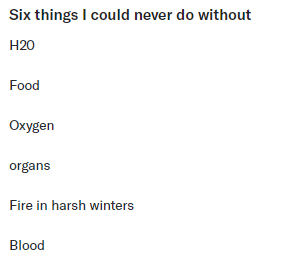 Maybe it was funny the first time she saw it, but by now it's just getting old. It's far more interesting to give her a list that's unique to you.
In this example, notice how each entry in the list does double duty:
Most women think having a strong family connection is important, so putting "family" on your list is a good idea.
Research has found that owning a dog makes you more attractive, so if you have one, mention it. Running shoes = physically fit, passport = travel. Get the idea?
If you want to get a little more creative, you write something that tantalizes her senses. The example below focuses on smells and sounds, which is a sure way to build attraction and get her wanting to be around you in person.
I Spend A Lot Of Time Thinking About
This section is a great spot to showcase your sexy sense of humor, while also giving her a glimpse into what it would be like to hang out with you:
You can also take the more down-to-earth route, and give a more serious answer that subtly illustrates what a great catch you are:
And here's a tip from the pros: Keep your content in this, and every other section, as "evergreen" as you can. There's no reason to clue her in as to exactly how long you've been on OkCupid, right?
On A Typical Friday Night I Am
One of the main goals of your OkCupid profile is to make her eager to spend some time hanging out with you, so you want to pull her into a compelling story.
The key to success is mentioning activities she can imagine herself enjoying with you. For instance, "Happy hour with my co-workers" just isn't going to cut it when it comes to reading about how you spend a Friday night.
Try something like this instead:
You Should Message Me If
For the very last section of your OkCupid profile, you want to end with a "call to action". Marketers frequent use a CTA at the end of the sales materials they create to tell the reader exactly what to do next, and this technique makes a great OkCupid profile tip.
Don't assume interested women will know what to do next or even take action if they do… be clear about exactly what they should do and encourage them to do it:
In this section, you can also challenge her a little bit by mentioning the qualities you're looking for – and set the bar high. Women like a guy who knows exactly what he wants and if you challenge her, she'll be more compelled to prove that she's good enough:
Make sure at least one of the OkCupid profile prompts you choose to answer talks about what type of woman you're seeking, otherwise she's likely to get tired of all the "me me me".
In fact, research has shown the profiles women find most attractive are 70% about you, and 30% about her.
Tip #4: Skip Straight To Meeting Beautiful Women
What if you could have one of the best male OkCupid profiles she's ever seen, without investing a ton of time writing it?
If you're like most guys, writing about yourself in a way that's attractive is tough… even with the help of expert OkCupid profile tips like these.
If you want a profile that instantly intrigues all the best local women and leads to dates, why not let VIDA help?
Our professional writers have been crafting profiles for guys like you since 2009, so they know exactly what works - and what doesn't. If you're ready to get serious about meeting someone, click here.
Want us to do your online dating for you?

Hey, I'm Ally, VIDA Select's Director of Matchmaking.
We take all the frustration, hard work and hassle out of modern dating!
Imagine your very own Dream Team of highly skilled dating experts searching for the very best local matches, sparking their interest, and arranging all the dates for you.
Wouldn't it be nice to finally stop swiping and start dating higher quality matches so you can meet someone special?
We've helped thousands of singles just like you since 2009, and we're ready to make you our next success story!
What are you waiting for? Take the next step now…
See If You Qualify