I hope you enjoy reading the blog post.
If you want my team to just do your online dating for you, click here.
Should I Lie In My Online Dating Profile?
When it comes to lying on dating profiles, the majority has spoken. According to online dating deception statistics, 81% of singles lie about their height, weight, or age in their profile.
Does that mean you should too?
Bending the truth can be a good idea in certain areas of your dating profile, but before you go off on a creative writing spree and invent The New You, remember this:
Online dating is just a means to an end.
The goal is to actually meet someone, whether it's your soulmate or the next Ms. Right Now. And sooner rather than later, you're going to have to meet her face to face.
So if your displayed height implies you can look LeBron James right in the eye, but you show up to the bar looking more like Peter Dinklage, you'd better be one of the world's finest at digging yourself out of holes - because she'll mentally add you to her "dating app liars" file at first glance.
The last thing you want is to waste hours and hours of your time crafting a new online persona that comes crashing down like a flimsy pile of cards the minute you meet her face to face.
Tell "Exaggerations"... Not Big Online Dating Lies
Don't tell big lies. Ever. Not only is it stressful to keep up the charade, but the bigger the lie, the more difficulty you'll have down the road.
There's no hard and fast rule for when to come clean… but the bigger the lie, the longer you're going to need to wait.
Let's say you subtract 9 years off your age and right after the cups of coffee arrive, you say "Hey, by the way, I'm actually 49, not 40." What do you think will happen?
The answer: Nothing. Your chances of getting a second date are slim to none.
If you want her to stick around, you're going to want to wait until you're damn sure she's really into you (or - ideally - in love with you), and that number is something she's willing to look past.
But even then, it's risky business because you've already invested so much.
Imagine telling her several months down the road, after you've put a lot of time and energy into the relationship. You're super into each other, but when you come clean about your age, it doesn't go like you hope.
Why get yourself into that predicament in the first place?
Seriously - no one likes a big liar.
That's why you never want to take it too far. Stick to "exaggerations" rather than massive lies.
So, now that we're on the same page… here are the four most common dating profile lies, and when you should tell them.
#1: Age
When it comes to online dating, lying about age can benefit you - provided you do it within reason.
Here's why: Studies have shown women are more comfortable with round numbers, so they're much more likely to search ages "30-40" than 32-42.
Sometimes it makes sense to adjust your age accordingly.
If you're 42, consider putting 40 on your dating profile.
Since women are already thinking in round numbers, that 32 year old has probably made up her mind that she's not open to dating men over 40 and set her age parameters accordingly.
So not only will you not appear in her matches, when you message her and she sees you're 42, she'll immediately think "too old" and moves on.
Women have a checklist in mind when it comes to their ideal man, and if you don't check the boxes, you can be immediately dismissed. She's getting a ton of messages every day, so she doesn't have time to think about the merits of making an exception in your case.
#2: Height
You can also "tweak" your height in your favor.
According to data analysis by OkCupid, men add an average of two inches.
Here's what Christian Rudder, OkCupid co-founder, had to say on the subject of height:
"The male heights on OkCupid very nearly follow the expected normal distribution—except the whole thing is shifted to the right of where it should be. You can see it better when we overlay the implied best fit below (pardon the technical language):

Almost universally guys like to add a couple inches. You can also see a more subtle vanity at work: starting at roughly 5' 8", the top of the dotted curve tilts even further rightward. This means that guys as they get closer to six feet round up a bit more than usual, stretching for that coveted psychological benchmark."
And if that graph accurately portrays how online daters skew their true height, then it directly affects you.
Think about it - if you list your real height, and everyone else adds two inches, then online you're actually shorter than you are in real life. By not lying, you're at a competitive disadvantage!
Here's another reason to exaggerate - a UK study showed 6' (1.83 m) is the ideal height for maximum response. But be realistic - if you're 6 inches shy of that benchmark, just add an inch.
Those researchers found that every inch increase in a man's height directly correlated with the likelihood of a woman messaging him, and taller men were much more likely to be contacted than shorter men.
It's highly unlikely that you'll ever get called out for exaggerating your height by an inch online. If she's the same height you claim to be and she's not wearing heels, it could happen. But still, it won't happen often. However, if you add 2 or more inches, proceed at your own risk.
Similarly, men might err on the side of thinness when it comes to describing their body type. But again, be realistic - and remember how it feels to go out on a date with someone who obviously misrepresented themselves.
Don't be that guy. That guy goes home alone every time.
#3: Location
Where you live is another entry on the Acceptable Fib list.
Dating sites ask for your zip code so they can find matches that are nearby.
Your answer is confidential, although your city will be displayed on your profile.
But your zip code can become a problem if you live on the outskirts of a large metro area. For instance if you live in Manhattan, you may not want to consider dating anyone who lives across the bridge in Brooklyn for logistical regions.
The bigger the city, the more this matters. When she checks out your profile after you message her, living 20 miles away from that city girl could very well blow your chances.
Women, especially attractive ones, already have messages from an abundance of interesting local options crowding their inbox. If you're a 45-minute drive away, she's much less likely to be interested in you.
So if you're up for the commute, think about using a zip code a bit closer to the city center.
Speaking of commutes, if you happen to work in the city but live in the suburbs, consider using your work zip code when you set up your dating profile.
You probably spend more of your waking hours at work anyway, so the discrepancy is much easier to explain later than it would be if you just randomly picked a more central zip code.
#4: Income
OkCupid data shows men systematically exaggerate their income by 20%.
But depending on what your salary is, bending the truth here could be setting you up for problems down the line - especially when it comes to dating expectations.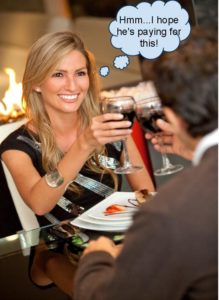 If your stated salary implies an entertainment budget closer to 4-star than fast food, she's only going to put up with sharing an entree at Applebees for so long.
Internal data here at VIDA shows it's better to dodge the income question altogether, unless you make over $150K a year.
Anything Else I Should Lie About?
Nope - stick with those 4 common online dating profiles lies. Slightly altering your height, age, income and zip code in order to show up in more search results is one thing.
But when you change other things, you risk setting yourself up for failure in the end.
And if you're worried your dating profile isn't compelling enough without lying, then you need the experts at VIDA!
Our team of professional writers knows how to make the real you shine with a magnetic profile that will leave attractive women wanting to get to know you better.
And it doesn't stop there, we'll use a proven data-driven process to choose your strongest photos, and do all the messaging for you - with incredible women you can't wait to meet!
Click here to find out more...
Want us to do your online dating for you?

Hey, I'm Ally, VIDA Select's Director of Matchmaking.
We take all the frustration, hard work and hassle out of modern dating!
Imagine your very own Dream Team of highly skilled dating experts searching for the very best local matches, sparking their interest, and arranging all the dates for you.
Wouldn't it be nice to finally stop swiping and start dating higher quality matches so you can meet someone special?
We've helped thousands of singles just like you since 2009, and we're ready to make you our next success story!
What are you waiting for? Take the next step now…
See If You Qualify