I hope you enjoy reading the blog post.
If you want my team to just do your Tinder for you, click here to chat with me.
11 Tinder Opening Lines That Work (Almost) Every Time - 2023
You're searching for Tinder opening lines that actually work, so chances are checking Tinder is a frustrating experience. The elation you felt when you matched with a hot girl quickly fades when you realize she's not going to respond to your opening line.
If your go-to Tinder icebreakers include any variation of "Hey" "What's up?" and "Hi there," you're in desperate need of some new material.
And that's why you're here, right? VIDA Select's dating experts have sent hundreds of thousands of Tinder messages on behalf of clients. All of our material is extensively tested and analyzed, so we know what works. And more importantly, we understand from all that first-hand experience why it works.
The success of any Tinder opening line depends on a variety of factors like her age, relationship intent, emotional state, etc.
There's no magical Tinder line that works every time, because the most important factor of all is simply how she feels about the person who sent the message.
That's why you need to knock it out of the park with your Tinder photos and bio.
So once your Tinder profile is looking irresistible, these 11 Tinder opening lines really work. In fact, 85% response rates are normal with messages like this one:
Example #1:
When you read this post until the very end, you'll also discover why certain words and images make women feel compelled to respond, and you'll even be able to create your own personal list of opening lines that work best for you!
GIFs + Tinder Opener = More Responses
GIFs are eye catching. Add in a dose of freaking adorable and she can't help but notice your message no matter how packed her inbox is.
Tinder's got a GIF suitable for just about any occasion, so finding one that ties in to your conversation starter isn't difficult.
Example #2:
Example #3: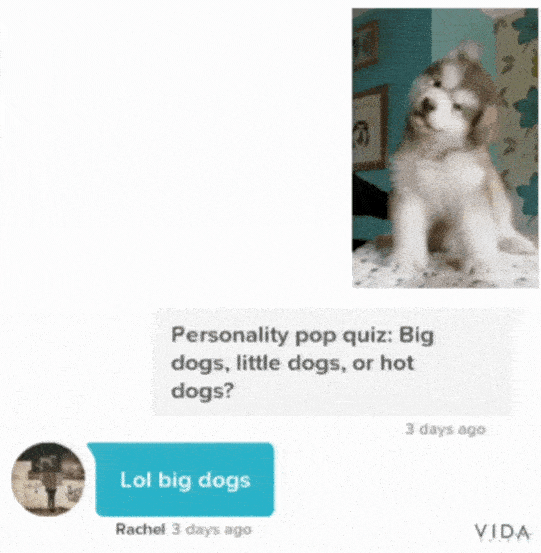 Example #4:
Here are 3 more advantages of using a GIF as a Tinder icebreaker:
It's a foolproof way to inject some humor into your first message.
Gifs are a lot like emojis - they instantly convey an emotion or an idea. When your message makes her feel something, there's an instant emotional connection and she's more likely to invest time in responding to it.
It will boost your response rate. Tinder's in-house data shows messages that include GIFs have a 30% higher success rate, and the resulting conversations last 2x as long.
Great Questions To Ask On Tinder
Of course, you can't let an animated image do ALL the work for you. You need to follow up your GIF with a strong line and include an easy, fun-to-answer question like in the 4 examples above.
Animals make great icebreakers, even without a GIF. If she's putting a photo of her pet(s) on Tinder, it's a safe bet she'll enjoy talking about them. Use that to your advantage in a message like this one:
Example #5: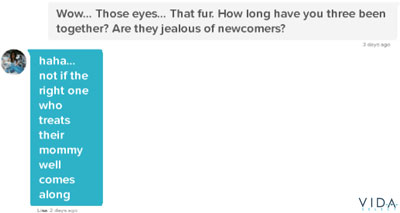 Travel is another conversational topic that appeals to most women.
Example #6: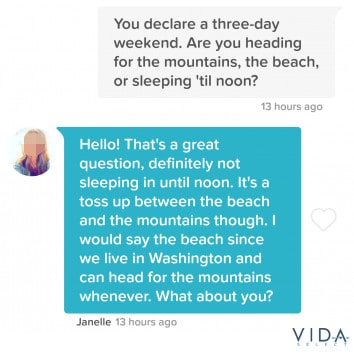 Or here's a bit of science you can use to get more Tinder responses - talking about yourself stimulates pleasure centers in the brain.
You can't go wrong with an opening line that invites her to share something about herself.
And if you're making her feel good… those digits will be coming your way with a quickness.
Example #7: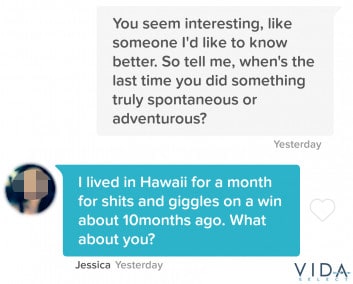 See how an interesting question stands out like a beacon in a sea of lame opening lines from boring men?
Boring gets you nowhere. If the first Tinder message you send doesn't spark her interest, she has no reason to expect things to get better from there.
That's why when you ask her something that's entertaining to think about, and she's far more likely to engage in a conversation.
Conversation Igniting Tinder Questions
Here are 4 examples of fun to answer, imaginative questions you can ask a girl you like on Tinder:
Examples #8 -11: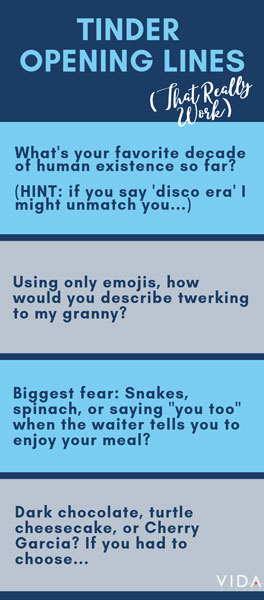 If At First You Don't Succeed...
Even with the best Tinder opening lines in the world, there's a certain percentage of women who simply aren't going to respond the first time. But should you give up? Heck no.
You don't have a clue why she didn't reply. There are a million reasons, like thinking she'd get back to it later, but then failing to do so. For all you know, Orange Is The New Black was starting right when she saw your icebreaker.
Always send a laidback follow up message on a dating app to see if she bites the second time around, because it will increase the odds that you'll get a reply.
If she doesn't respond to your Tinder opening line, here are 2 effective follow up message examples you can try:
Tinder Follow Up Message #1: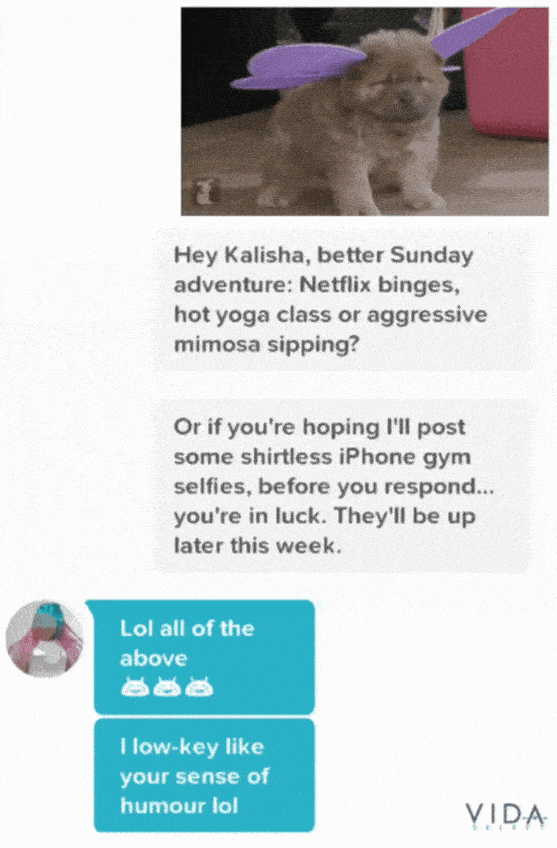 Tinder Follow Up Message #2:
GIFs like this one can make great stand-alone follow up messages, as your meaning is clear but presented in a humorous way: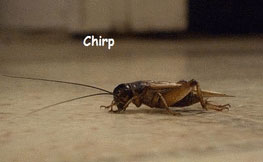 If it's still crickets, let it go. Sending 3 unreturned messages in a row crosses the line into Loserville... population: you.
The Basic Anatomy Of A Successful Tinder Opening Line
For all those DIY'ers out there, here is a quick Tinder conversation guide for men with everything you need to know to write your own pick-up lines.
For a Tinder opening line to actually work, it needs these 3 crucial elements:
It makes her instantly

feel

something

It's easy to respond to

It's creative and/or humorous
Let's take a closer look at each one.
Make Her Instantly Feel Something
This is where most guys crash and burn. When she reads a first message like "Hi there," or a compliment like "nice smile" that she gets all the time, she doesn't feel anything.
Boring opening lines like that don't spark an emotional connection, so it's easy for her to ignore them and move on.
The best Tinder conversation starters make her laugh, or think about something pleasurable. And when that happens, she's hooked.
She wants to respond, because it's a fun thing to do.
And that brings us to the next crucial element:
Make It Easy For Her To Respond
If she's even remotely attractive, she's getting a lot of action on Tinder. And the hotter she is, the more nitpicky she can afford to be.
So if your Tinder opening line isn't easy to respond to, odds are good she won't bother.
That's another reason you're not getting anywhere with "Hey."
There are two ways she'll interpret an opening message like that:
You're expecting her to say "Hey" back, thus kicking off the most boring Tinder exchange ever.
You're expecting her to take control over the conversation, which is the most beta move on the planet.
Either way, you're screwed. Boring, beta-sounding conversations tend to fizzle out fast, along with any hope of meeting her in person.
An attractive girl already has charming men making her LOL on Tinder, so she has no incentive to waste even a moment on your snoozefest.

Did you notice that every single one of the successful Tinder opening line examples you've seen poses a question?
That's not a coincidence - that's an effective Tinder strategy.
Now she doesn't need to scramble to think of something to say - she can simply answer whatever you asked.
Be Creative And/Or Humorous
Tinder is all about standing out from the crowd.
Hooking her attention immediately when she reads your opening line is crucial, because you've got about a split-second to intrigue her before she's moving on to the next person.
If you can flex your creative muscles and put a smile on her face, you're golden. Several recent studies have found humor is a siren song that lures women in, so bring the funny.
But keep it classy - yes, even on Tinder.
"A B C D E F G, R U DTF W/ Me" isn't classy, and it's only funny if you're a 7th-grade boy. There's a reason so many lines like that end up on the "worst Tinder lines ever" blogs - she's so not impressed.
Now You Know What To Say On Tinder…
Let's talk about the best time to say it:
Tinder activity

heats up between 5 pm and midnight

, with activity peaking around 9 pm. That's a golden window of opportunity for Tinder messaging (and giving your profile a Boost).
Thursdays are also prime messaging days because she's likely starting to think about weekend plans.
Sunday evenings are good as she's unwinding before the work week begins.
Convenience is key when it comes to messaging on dating apps. If you send a message when she's likely to be checking the app, the odds are better that you'll get a response. Or even better, start a conversation in real time.
During one of Tinder's Swipe Surges. Swipe Surge is a free feature you can sign up for. It will send you a notification when there is unusually high Tinder activity in your area. Per the app, your chances of getting into a conversation increase by 33% during a surge.
Sending your message at the wrong time can backfire on you.
For instance, if your ideal Tinder match is a career-minded woman, 10:00 am on a Monday is not a great time to send her a message as she's likely at work.
Even if she does see it, will she remember to open your message again, then respond when she's got the time?
You also want to be aware of what that time stamp says about you.
If you're messaging her after midnight, she's more likely to file you under 'hookup' and respond (or not) accordingly.
Tinder Opening Lines Are Just The Beginning
You've just seen 11 Tinder opening lines that actually work and learned how to write your own. Get ready to have more responses from your favorite matches lining your inbox!
But this is just the beginning, because a response doesn't mean a date - far from it, unfortunately.
There's an art to keeping the conversation flowing smoothly, and asking for her number in a way that makes giving it to you feel like the natural thing to do.
Even if you master the art of consistently converting responses into dates, expect to invest a significant amount of time into this each and every day.
In fact, the average guys checks Tinder 10x a day and spends roughly 1.5 hours a day on the app.
Swiping for new matches… checking for responses... sending intriguing follow up messages... handling all the back-and-forth messages… the time adds up fast!
But there's a much, much easier way to meet hot women on Tinder - and you don't have to lift a swiping finger! You're busy, and busy people have "a guy for that."
Here at VIDA, our Tinder experts will custom craft an irresistible Tinder profile for you, handle all of your messaging, and even set up your dates. Why spend another Friday night alone when VIDA can set you up with attractive, high-quality local women?
Click here to find out more!
Want us to do your online dating for you?

Hey, I'm Ally, VIDA Select's Director of Matchmaking.
We take all the frustration, hard work and hassle out of modern dating!
Imagine your very own Dream Team of highly skilled dating experts searching for the very best local matches, sparking their interest, and arranging all the dates for you.
Wouldn't it be nice to finally stop swiping and start dating higher quality matches so you can meet someone special?
We've helped thousands of singles just like you since 2009, and we're ready to make you our next success story!
What are you waiting for? Take the next step now…
See If You Qualify