I hope you enjoy reading the blog post.
If you want my team to just do your online dating for you, click here.
Clover Dating App Review For 2023 [Should You Try It?]
The Clover dating app reviews are in! It's not the most popular dating app out there. But if you've ever wished you could skip the swipe/match/message part and just conjure up a date for Friday night with the ease of ordering an Uber, Clover is worth trying if you're under 35 or so.
Just make sure to use it along with a more popular dating to ensure a steady stream of matches.
From cost to pros & cons and a breakdown of what you can (and can't) do for free, this in-depth Clover dating app review has everything you want to know - including how it stacks up to Tinder.
Clover Review Table of Contents
Jump straight to what you want to know first, or start with the pros & cons!
Clover's Pros & Cons
Launched in 2014 by Clover Inc. founder Isaac Raichyk, the Clover app combines many of the features you'll find on more popular dating apps and sites.
It's got a more casual/hook up app vibe than Match or Bumble, but still puts a strong focus on compatibility-based matching.
Pros:
Clover offers many features for free that you pay for on other dating apps, like seeing who likes you and changing your location.
As a Premium member, you can sort matches by various categories, like income, age, etc.
The app also has a "community" component, where you can join groups based on mutual interests.
The "On Demand" feature makes setting up a date a snap.
Cons:
The app attracts younger daters, with many users in the 18-29 age bracket.
Using it can feel more like a social media experience than a dating app (which could be a pro, depending on how you feel about that.)
Clover Dating App Cost
Like most dating apps, users can do all the essentials for free. But Clover Premium unlocks some nice advantages.
A Clover Premium membership costs around $9 for 1 week, $49.99 for 3 months or $99 for 1 year.
Here are the features included in Clover Premium:
Unlimited chatting
"Fave" as many people as you want every day
Live video chat & voice calling
Send audio/video/photos and gifts
Unlimited date requests
Sort your prospects (matches) by age, income, location, online, etc.
Reveal your profile visitors
You can also pay per use for features like Boost. A Clover profile Boost lasts for 60 minutes, and makes yours one of the top profiles in your area. Each Clover Boost costs $9.99.
How The Clover Dating App Works
Clover has 3 main sections:
Match Queue
On Demand Dating
Mixers
Here's a quick overview of each one.
Match Queue
This is where you'll see your potential matches, called "Prospects".
Free users have two options: tapping the red X or the yellow star. The red X is the equivalent of swiping left, and the yellow star will add that person to your "faves" - and send a notification that you like them.
If both people express interest, a match is formed and you can start messaging.
Clover Premium users don't have to wait for a mutual match. They can tap the blue thought bubble and initiate a message exchange right away.
On Demand Dating
One of Clover's most popular features, this is where you can see all the people who are looking for dates.
Note you must upload at least one photo to unlock Clover's On-Demand feature.
Scroll through all the options, tapping "I'm Interested" or "No Thanks" as you go. If you're interested, you can suggest a place and time, or let the other person do it.
Choosing a venue is easy thanks to a pull down list of options, or you can add a custom location.
Tap "send" and your date suggestion will be sent to the other person, and you'll be notified if they confirm it.
If you opted for the other person to take the lead on planning, you'll have the option to confirm their choice.
You can keep track of your unconfirmed dates in the "Pending" section, and scheduled dates in the "Confirmed" section.
Clover Mixers
In this section, you can browse through existing groups, join, or create your own mixers. You can search for mixers by keyword, or filter which ones you see using these criteria:
When you see one that interests you, you can join it, see who the other attendees are, invite other people, and exchange messages with other mixer members.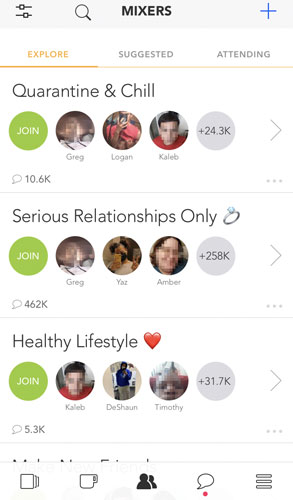 You can leave a mixer at any time by tapping the "..." icon, and selecting "leave mixer."
To create a mixer of your own, tap the blue + icon at the top right of the screen, fill out the details, and post it.
You can keep track of your mixers in the "Suggested" and "Attending" sections.
Getting Started On Clover
You can download the app on Google Play or the App Store.
Like most dating apps, Clover makes signing up easy by connecting to your Facebook account.
You can also sign up using email or via Snapchat.
If it's not auto-populated, fill in your basic details like name, age, orientation and gender. You'll also upload your primary photo.
After creating your password, you'll specify what you're looking for on the app. Choose carefully, because you'll need a premium subscription to change your match filters.
Then the age range of your perfect partner, whether they're introverted or extroverted and their occupation. (Options are limited to business, public service, arts, & IT/science). Style is up next, followed by housing situation.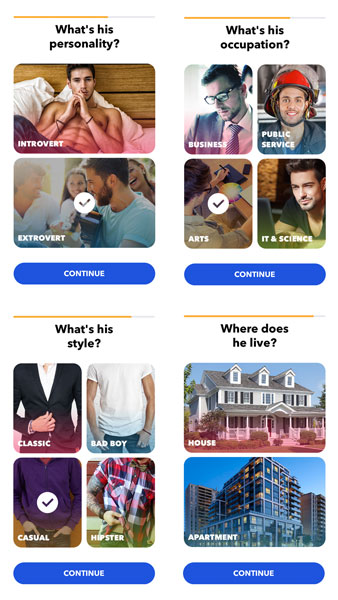 You can then choose to start a 7-day free trial of Clover Premium, or just start using the app for free.
Creating Your Profile
To finish setting up your profile, simply tap "view or edit profile." You can fill out the 200-character-or-less "About Me" section, and add personal details like your relationship status, hair and eye color, body type, income, religion, etc.
You can "Add Interests" like food, outdoors, animals, cuddling, etc… by selecting options from a menu, and link your social media accounts to your profile.
Since potential matches can filter by common interests, it's a good idea to choose some now.
There's also a "20 Questions" section that will help the app find your most compatible matches.
It's a simple game where you're presented with two options, like "I prefer intelligence/I prefer good looks." Answering all 20 questions earns you the "open book" badge.
Badges are displayed on your profile, and are earned during the course of using the app.
Other badges include "irresistible," "celebrity," and "desirable". Badges can be earned by doing things like using the app between 10 pm and 6 am, getting liked by 100 people, or making 5 people laugh in a chat.
While the badges may seem slightly cheesy to some, having them displayed on your profile is a good indicator you're actively using the app.
Setting Your Filters
Clover allows you to get hyper-specific about what you're looking for, although you need a paid subscription to filter beyond the basics of gender/orientation, age, location and distance.
Here are all the "premium" filters:
If you're looking for "The One", and you don't mind limiting your match pool by screening for dealbreakers like kids, smoking, drugs, etc., paying for Clover Premium could be a wise investment as you'll only see profiles of people whom you'd actually consider dating.
Clover allows you to see matches within a 600-mile radius, but it's generally best to stick with whatever you feel is a reasonable "dating distance."
You can also swipe through matches in any city you want, similar to Tinder's Passport feature. Unlike on Tinder, you don't need a paid subscription to change your location on Clover. It does, however, display how many miles you are away from your matches.
Messaging On Clover
You can review all your matches in the "Prospects" section. You can also see who you liked, who you passed on, and who likes you. If you see someone there that interests you, tap the "heart" icon and you'll be able to begin a message exchange.
Premium members can also send matches a "Gift" by tapping the "..." icon, then selecting "send gift." This will bring up a selection of symbols ranging from a cupcake or ice cream cone to a pair of panties or handcuffs:
Tinder VS Clover
Tinder has a clear edge over Clover when it comes to sheer numbers of users, as it's one of the most popular dating apps in the US.
You'll find people looking for a range of relationships on both Tinder and Clover. But you can sort your matches by "Intention" on Clover.
Clover's On Demand Dating feature could also make hooking up a little easier. You can skip the "getting to know you" messages and go straight to suggesting a date.
Here are some other key differences:
Whether you stick with Tinder or give Clover a try, you still have to spend hours scrolling through profiles, sending messages, and (hopefully) scheduling dates.
Why not save yourself some time and frustration, and let VIDA's team of dating experts handle everything for you? Profile creation, messaging, even setting up dates - we do it all, on any site or app you want to use.
Finding your ideal partner is a lot easier with VIDA on your team, and on average our clients meet that special someone within the first 3 months of service!
Click here to get started.
Want us to do your online dating for you?

Hey, I'm Ally, VIDA Select's Director of Matchmaking.
We take all the frustration, hard work and hassle out of modern dating!
Imagine your very own Dream Team of highly skilled dating experts searching for the very best local matches, sparking their interest, and arranging all the dates for you.
Wouldn't it be nice to finally stop swiping and start dating higher quality matches so you can meet someone special?
We've helped thousands of singles just like you since 2009, and we're ready to make you our next success story!
What are you waiting for? Take the next step now…
See If You Qualify