I hope you enjoy reading the blog post.
If you want my team to just do your online dating for you, click here.
7 Cougar Dating Tips For Men That Actually Work
If you want to meet the most attractive women on cougar dating sites and apps, you need to show her why you're a better catch than your competition.
How you present yourself online is crucial - but don't worry, you've got this.
These 7 cougar dating tips actually work!
#1: Be Eye Candy - No Matter What You Look Like
She's looking for a fun, energetic younger guy - make sure your photos deliver.
Your primary photo has the biggest immediate impact, and it needs to make her think, "Now there's someone I'd like to spend time with."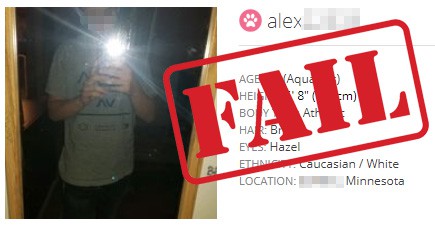 A bright, vibrant pic taken outdoors at an interesting location is a huge step in the right direction. Leading with anything that's reflected in a mirror - especially if it's your bathroom mirror, is the equivalent of waving a sign that says "I don't get out much."
Whether she's looking for a hookup or a significant relationship, she still has standards. And if you want a chance to meet a smoking hot cougar, those standards are likely high.
Here are a few things you can do to catch her attention online:
Eye contact is crucial for sparking a connection, so skip the sunglasses.
Choose a shot where you're not fading into the background - more contrast is better than less.
Simplicity work best in the primary spot because the brain has a strong preference for images that are easy to process. So: no filters, good lighting, crystal clear quality, and just you in the frame. Preferably from mid-chest up for the most visual impact.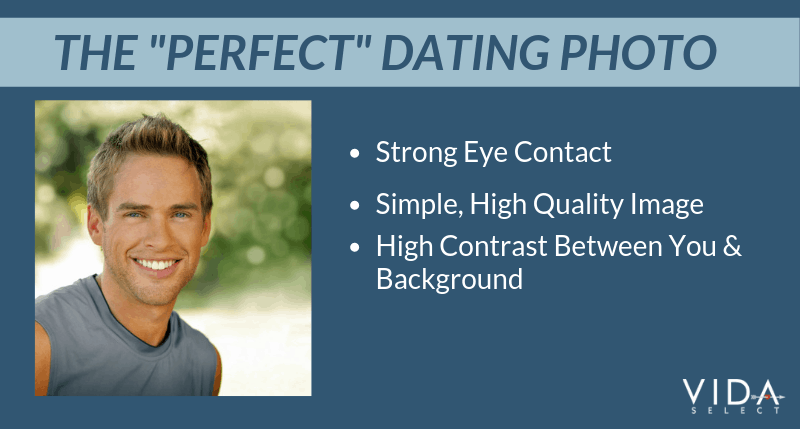 Need more advice? These expert online dating photo tips for guys will help you attract the hottest cougars in your area!
#2: Username = First Impression
CougarLife, one of the best cougar dating sites out there, requires a username. Chances are your real first name is already taken, and you want to get more creative than "Brad11223."
But if you don't know what makes a username attractive, getting creative can backfire in a big way.
These 5 username tips for cougar dating sites will help you avoid making the same mistakes these guys did:
Don't use any variation of the word "Mom."
Virtually guaranteed mood killer.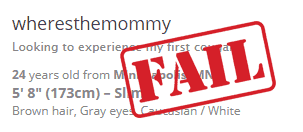 Instead: Give her the impression you're a confident, ambitious man.
Good Username Example:

Don't make an age reference.
She doesn't need to be reminded why she's on a cougar site.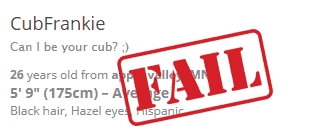 Instead: Highlight an attractive personality trait in a subtle way, like strength or physical fitness.
Good Username Example:

Don't suggest that you require libido-enhancing drugs.
In fact, don't mention drugs of any kind.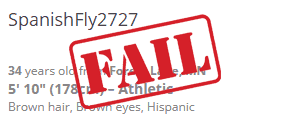 Instead: Give her a taste of what it would be like to spend time with you.
Good Username Example:

Don't hint at deception, dishonesty or anything negative.
Why make her think twice about checking out your profile?
Instead: A positive approach works much better on dating sites - you only get one first impression, so don't torpedo it.
Good Username Example:

Don't reference what you want from her.
Instant turn off - she needs to be impressed by you first.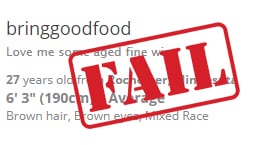 Instead: Focus on what you bring to the table.
Good Username Example:

#3: Write A "Clickable" Headline
Some cougar sites and apps include a teaser or headline that's prominently displayed next to your photo and username in her search results - and what you put there can have a huge impact on your results.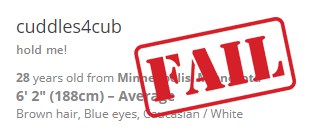 If you make her cringe, she's not reading any further. Follow the same rules that you would for a username - keep it positive, intriguing and appealing.
A good dating headline entices her, and makes her curious to read more about you. Here are some good headline examples for a cougar dating site:

Now that you've got a good start on your profile, here are some more general tips on cougar dating life!
#4: Adjust your perspective.
You may need to alter your approach a bit, compared to how you might pursue someone closer to your own age.
When it comes to dating older women, confidence is key. They tend to have a "been there/done that" attitude, and typically have far less patience for mind games and drama.
No one is on CougarLife hoping to snag a new penpal, so when you start seeing signs she's interested, ask her out.
#5: Don't assume all she wants is sex.
Cougar dating sites and apps attract women looking for the entire spectrum of relationships, from hooking up to a long-term romance.
If all you want is sex, then be upfront about the type of relationship you want to have (in a classy way). Don't give your matches any reason to think you're seeking a long-term relationship.
And on your first date, it's likely a good idea to reiterate that you're just looking to date around and have fun. That clarity can help make sure she doesn't feel disrespected during the date, or later on down the road.
#6: Be genuine.
You want to present your "best self" online and in your message exchanges, but the key is authenticity. If you're a guy in your 20s, don't try to act like you're in your 40s just because she's 40+.
She's interested in younger men for a reason - so be true to yourself. Misleading her about where you are in your career, or exaggerating your financial status because you want to impress her isn't sustainable - and it's a bad idea.
Most women on dating sites are already concerned about catfishers and the like, so don't give her a reason to ghost you.
But don't go overboard on the honesty - there's no reason to highlight your flaws in your dating profile. Focus on a few of your personality traits and qualities that make you a great date, and leave it at that.
#7: Keep age out of it.
You're younger, she's older. No one needs a reminder. Don't make the age gap a big deal, bring it up in conversations, or make jokes about it. But do keep in mind some differences those age gaps may cause.
For instance, she's probably not as into texting as your peers are, so keep that in mind when you're moving things off the dating app. And if she's late 40s+, chivalry is likely much appreciated. Pull out chairs and open doors.
But every woman is different, so figure out what she likes, wants and prefers, then act accordingly.
The Easiest Way To Look Great Online - And Meet Incredible Singles!
When it comes to online dating, the hotter the prospect, the harder it can be to get her attention. Everything matters - your profile, your photos, what you say in your messages and when you say it.
But attracting the cougar of your dreams doesn't have to be a frustrating experience with VIDA on the hunt for you!
Just imagine, a dedicated team of dating experts writing an attractive profile, selecting your strongest lineup of photos, and sending compelling messages that get responses - from incredible women! Intrigued? Click here!
Want us to do your online dating for you?

Hey, I'm Ally, VIDA Select's Director of Matchmaking.
We take all the frustration, hard work and hassle out of modern dating!
Imagine your very own Dream Team of highly skilled dating experts searching for the very best local matches, sparking their interest, and arranging all the dates for you.
Wouldn't it be nice to finally stop swiping and start dating higher quality matches so you can meet someone special?
We've helped thousands of singles just like you since 2009, and we're ready to make you our next success story!
What are you waiting for? Take the next step now…
See If You Qualify