I hope you enjoy reading the blog post.
If you want to chat now about your matchmaking search, click here.
Incredible Love Matchmaking Reviews [What To Expect & More!]
Wondering if Michelle Galarza and the Incredible Love team have what it takes to find your ideal partner? This Incredible Love review has all the details you need to decide if she's the right Florida matchmaker for you!
Incredible Love Review Table Of Contents:
Our team of experts has reviewed over 200 matchmakers and their services, ranging from small independents to international organizations.
With 14+ years of first hand industry experience and a keen understanding of the landscape, we're intimately familiar with what clients value most in a matchmaker.
In this review, you'll learn how Michelle G got into matchmaking, the steps to becoming a client, what actual customers are saying, and more!
From Military To Matchmaking: Meet Michelle Galarza
Michelle Galarza, also known as Michelle G, brings a unique blend of professional and personal experiences that have shaped her journey to becoming a professional matchmaker.
Driven by her mother's advice to always 'dream big,' Galarza says she continually strives for success. Her professional life began right after high school when she chose to join the United States Marine Corps.
At that time, her ambition was to become the first female president. And while that dream never came to fruition, she spent 13 years as an Intelligence Analyst, collaborating with key governmental departments including the FBI, DOD, and the Department of Security.
During her time in the military, Galarza met someone special, fell in love, and married. As she explained in an interview with Voyage MIA, her military career, involving special assignments and international affairs, began to take a toll on her marriage and she started thinking about a new direction.
In her own words,
"It was through this experience that my life's path changed because it revealed to me my life's purpose. I decided I wanted to use my 13 years of military intelligence and international diplomacy experience to help people be successful in their love lives."
The end of her marriage marked a transformative time in her life and in 2013 she took a leap of faith and started her own company.
Initially known as Michelle G Matchmaking & Coaching, her company focused on helping couples restore and maintain healthy relationships through couples coaching. Over time, the company evolved and rebranded itself as 'Incredible Love', expanding its services to incorporate matchmaking.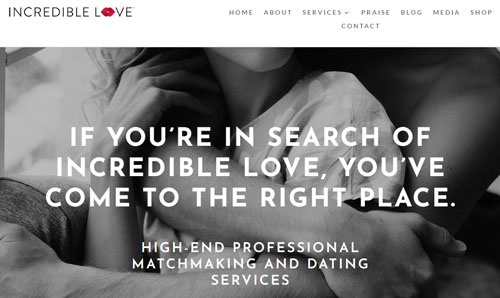 In an interview, Galarza recalled that her childhood love for reading, especially self-help and spiritual books, played a part in her desire to help other people navigate their love lives.
She shared that they always taught her something new and offered hope that things can always be different. Or as she puts it, "These books were my introduction into the world of life and relationship advice."
Today, Incredible Love serves clients nationwide with offices in Miami and La Jolla, CA. Their clientele primarily consists of busy professionals whose demanding schedules leave little time for conventional dating.
Becoming An Incredible Love Client
The process for potential clients begins with filling out an online request to express interest in working with Incredible Love.
Next, you'll be contacted to schedule a matchmaking consultation. Typically, this call lasts around 60 minutes and takes place through a video platform. The initial consultation isn't free, it costs around $250.
Incredible Love believes in the importance of a personalized approach for each client, and the website notes that not every person who applies will be accepted.
In an interview with Woman On Top, Galarza explained it this way, 
"Every person is unique and has her own story to tell, which is why before working with us, we offer a consultation to learn more about the needs of our clients and provide them with our recommendation on what service would help them reach their goal."
For matchmaking clients, potential matches are sourced from their singles database. Once the team identifies matches they think are a good fit, they'll contact you to see if you're interested in a date.
Incredible Love costs are not provided on the website, apart from the $250 required to book the initial consultation. Pricing is disclosed during the call, and varies depending on the particulars of your search.
It's free to join the database as an Incredible Connections Member, but this isn't an active service. That means you'll only be considered as a potential match for paying clients. You may never meet any Florida singles this way.
Want a ballpark idea of what you can expect to spend? Check out the price comparisons in this quick guide to Florida matchmakers!
Michelle G's Matchmaking Philosophy
Galarza is known for her candid and realistic perspective on love and does not believe in sugarcoating matters of the heart. As she's stated in interviews,
"If ooey, gooey, cupid love is what you are looking for, I'm not your girl. I view love, like I do life, with areas in which we always can improve."
Leveraging Galarza's degree in Social Psychology and her professional background, Incredible Love has developed a unique approach to finding compatible matches.
Their 'Love Psychology' method aims to produce lasting results. Or as she puts it,
"Our proprietary methodology helps singles thrive and find love. We're not interested in short-term results. Instead, we're fully invested in our client's long-term happiness."
Describing their team as the "real estate agents for your love life," Galarza acknowledges that matchmaking isn't a universal solution. Therefore, they offer coaching programs to help clients develop vital dating skills such as flirting, understanding body language, effective communication, and confidence-building.
In a conversation with Shoutout Miami, she said,
"We recognize matchmaking isn't for everyone, and sometimes clients just need help with their emotional blindspots, so we offer Date Coaching."
Her unique approach and commitment have garnered significant media attention. Galarza has appeared on TLC's hit reality show "Darcey & Stacey" as a celebrity matchmaker, hosts a dating advice show, Fix My Love Life with Michelle G, and authored a book, Relationship SOS: Seven Lifelines to Rescue Your Emotional Intimacy Now.
With numerous appearances on various TV and radio programs, Galarza frequently shares dating advice in interviews.
Here are some of Michelle G's best tips for successful first dates:
Curious what clients have to say about their experience with dating coach and matchmaker Michelle Galarza? Let's take a look!
Incredible Love Reviews
Incredible Love has a 4.5-star rating on Yelp, based on 8 reviews.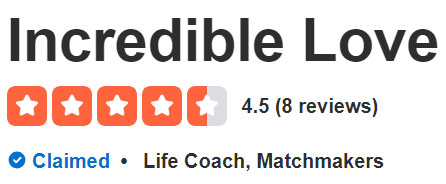 Most of the reviews were positive. For instance, this client shared that she enjoyed working with Michelle G and found her to be attentive:

This reviewer mentioned that Galarza's candidate screening process is akin to an FBI interview:
And this coaching client reported a positive experience: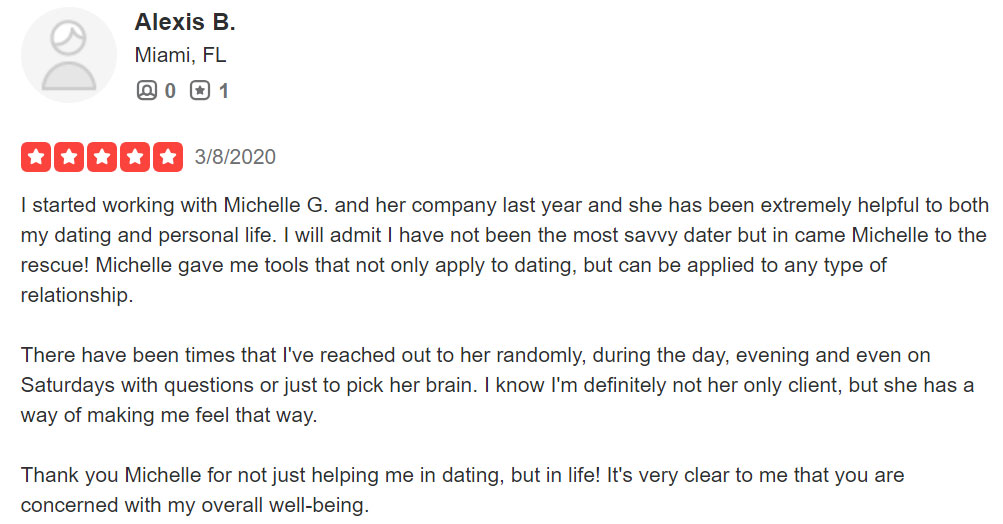 The single 1-star reviewer shared in a lengthy review that she had a bad experience with the virtual coaching program.
On their Google Business profile, Incredible Love has a 2.7 star rating based on 14 reviews.
Similar to Yelp, most of the positive reviews said that Michelle G was easy to work with and professional:


There were a handful of 1-star reviews as well. In most of them, the reviewer mentioned what they perceived to be rude behavior from Galarza.
The "Incredible Love Team" responded to almost every negative review, saying there was no record of that person being a client, as in this instance:
Michelle Galarza and Incredible Love have not yet been reviewed on other local platforms like Trustpilot or Better Business Bureau.
Is Incredible Love The Right Matchmaking Service For You?
Insights from reviews can be valuable when trying to decide which matchmaking service to hire. They can help you form questions to ask during your initial consultation, and even give you a peek into how a particular company approaches customer service.
But star ratings are just one piece of the puzzle. As you look at the pros and cons of which matchmaker is right for you, ultimately your decision will hinge on your feelings towards certain aspects of the service. Considerations like your budget and where your matches come from play crucial roles.
Many traditional matchmaking services pair clients with other clients, or with free members of their database. Scouting for potential matches outside of that Rolodex often requires purchasing a premium package.
And that extra cost is definitely something to consider. Because while it's possible your ideal partner may have selected the same company you did, the ability to look beyond a limited database will increase the chances of finding your ideal partner immeasurably.
The reason is simple: Compatibility needs to be mutual.
Making quality matches consistently in any one city requires a vast number of singles, because it's not just about what you want. You have to fit within someone else's criteria as well. That's why one of the most common industry complaints is first dates with incompatible people - you're being paired with who they have available, not necessarily who is a good fit.
If you're ready to meet truly compatible singles, VIDA Select is a matchmaking service worth considering. VIDA's modern approach leverages the single largest source of eligible singles there is, which means you can look forward to dates with singles who fit all your criteria - and who are excited to meet you, too.
VIDA also offers pay-as-you-go monthly service packages, rather than requiring a long-term contract. Simply pay for each month you want service! If you feel sparks fly and want to explore where a relationship leads, simply don't continue with the next month. It's dating on your schedule.
Why not take a minute and see if VIDA Select is right for you? Go here to learn more!
All product and company names are trademarks™ or registered® trademarks of their respective holders. Use of them does not imply any affiliation with or endorsement by them.
Why Choose VIDA Select?

Since 2009, thousands of clients have discovered true love thanks to VIDA Select's fresh, modern approach to matchmaking – which has finally thrown blind dates and long-term contracts out the window. This isn't your grandmother's matchmaking!
Instead of working with a single matchmaker using a small rolodex of potential partners, VIDA Select's matchmaking team taps into the world's largest database of available singles. We'll quickly identify the matches who check all of your boxes so you can finally experience true chemistry. Are you ready to become our next success story? Schedule your complimentary consultation now by clicking the button below!
Get Started Now