I hope you enjoy reading the blog post.
If you want to chat now about your matchmaking search, click here.
Meet Matchmaker Julie Wadley [Is Eli Simone Right For You?]
Julie Wadley offers matchmaking, dating coaching, and couples coaching to Charlotte singles, but is she the right matchmaker for you? This Eli Simone review will help you decide!
Julie Wadley Matchmaking Service Table of Contents:
Our team of matchmaking experts is intimately familiar with what customers value most in a service.
Not only do we have 14+ years of firsthand industry experience, we've also reviewed over 200 matchmakers! Our reviews are built on comprehensive research and a deep understanding of the matchmaking landscape.
Let's dive in by learning more about the founder…
Meet Eli Simone Matchmaker Julie Wadley
After graduating with a Bachelor of Science in Commerce from the University of Virginia, Julie Wadley's career didn't initially steer toward matchmaking.
At first, she focused on marketing and headed in the direction of a corporate career. As she explained in an interview with Madame Noir shortly after launching her service,
"I graduated thinking I was going to be a hot shot business person and then in 2001, the economy crashed… it became really hard to do something I both enjoyed and could get paid well for. I was becoming burnt out and bored to tears. I started to think that maybe there was something else out there meant for me to do."
Ten years into her corporate journey, Wadley experienced a lightbulb moment. She acknowledged that the most gratifying aspect of her job was making a direct, meaningful impact on people's lives.
She made the decision to weave together her passion for helping others and her professional expertise, launching Eli Simone in 2013. The matchmaking service is headquartered in Charlotte, NC.
In an interview, Wadley shared that her business venture was extremely satisfying, as it allowed her to help singles both find and receive "lasting love." She also mentioned that she strives to demonstrate that "love is not just a dream – it can be a reality."
Catering primarily only to women of color, Eli Simone offers a uniquely personalized service to a specific demographic. In her own words,
"Women of color all over the world are looking for matchmakers who focus on them… Just like dating is a niche, so goes my business and who I'm attracting to my business."
Wadley continuously seeks potential partners for her clientele, inviting single and accomplished men looking for long-term relationships to submit their profiles through her website.
In addition to being matched with her paying clients, men who sign up for her services frequently gain access to exclusive member-only events.
Julie Wadley's Matchmaking Philosophy
Wadley's matchmaking philosophy revolves around empowering people to establish strong relationships.
As she explained in an interview,
It's more than just helping people find a match. Most people don't have a problem finding someone they are attracted to, but finding a good partner and a person that is ready and willing to maintain a successful relationship is more challenging.
She emphasizes that finding a compatible partner requires both openness and vulnerability. Wadley believes individuals must let their guard down to become the best versions of themselves, and says she takes pride in facilitating people's pursuit of ideal partners and overcoming obstacles.
As she explained,
"That to me is amazing and something I can be proud of. No amount of money in the world can give me that feeling."
In an interview with Dating Advice, she contests the notion that assertive women intimidate men. Instead, she believes no woman should "dull her shine" to attract a partner and encourages them to prioritize self-esteem.
As a matchmaker and dating coach, Wadley told the Charlotte Observer that she understands her role to be "bringing two people together based on similar value sets, lifestyle, and life vision."
She often introduces clients to individuals they might have otherwise overlooked in day-to-day encounters, and believes that each person is "perfect for a very specific set of people."
Wasdley mentioned that singles often come to her because they know there's an area of their life that needs attention and introspection. She sees herself not just as a matchmaker, but as "a mirror to show you exactly what's going on so you can get down to the business of changing."
Wadley's expertise as a matchmaker and dating coach has garnered attention from various media outlets, including CBS, The CW, Elevate Lifestyle Magazine, and Madame Noire.
Beyond being featured in the media, Wadley also shares her knowledge of love and relationships through online publications and her podcast, While We Wait.
Wadley challenges the conventional belief that women should passively wait for their perfect partner to come along and uses the podcast as a means to empower them.
As she explained in an interview,
"The podcast was born out of the many conversations that I've had with clients and my matchmaking colleagues. It is based on the misconception that women have been told to wait until their 'Prince Charming' comes along. Unfortunately, that's not good enough anymore. Women shouldn't put their lives on hold, waiting for someone to come along."
Now that you know a little more about Julie Wadley's background and matchmaking philosophy, let's take a closer look at how Eli Simone works.
Becoming An Eli Simone Client
The first step for potential clients is completing a membership questionnaire online. The questionnaire asks for basic information about you and your match preferences, and you'll have the opportunity to upload a headshot and a full-body photo.
Next, you'll have a matchmaker consultation where you share in-depth information about your relationship goals and the specifics of what you're looking for in a partner.
If both you and Wadley agree that Eli Simone is a good fit, you'll sign an agreement and pay for services.
Wadley will pair you with men from her database. All matches are screened for compatibility and the dates arranged for you. After each one, the team will follow up with both parties to see if there's a mutual interest in a second date.
Beyond matchmaking, Eli Simone offers 3 coaching programs. Two of them are for singles, and one is for couples who want to understand themselves and their relationships on a deeper level.
Eli Simone Cost
Matchmaking packages start around $9,000 and coaching packages start around $3,000. Price varies depending on the particulars of your service, contract length, etc.
Curious how those costs compare to other Charlotte matchmaking services? Let's look at 2 more options that should be on your list of potential matchmakers: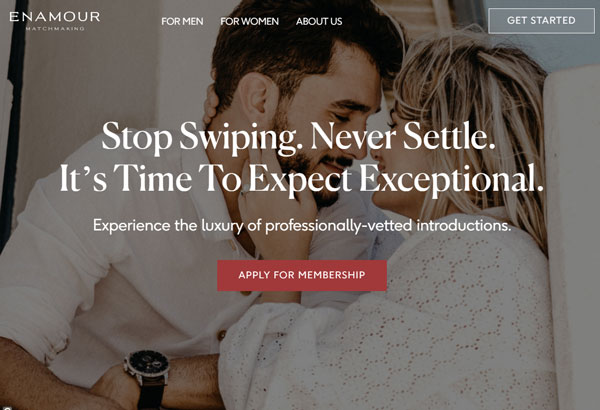 Enamour provides matchmaking for accomplished, selective Charlotte singles who want a tailored, "white glove" approach to finding their ideal partner.
The Enamour team starts the search from within the ultra-exclusive, invite-only database. But the search doesn't end there.
Enamour also searches far beyond that database by incorporating recruiting technology and an extensive network of scouts into the search process. This ensures all your matches are both high-quality and highly compatible.
Enamour's packages start around $20,000 for 6 months of service. To learn more about Enamour, go here.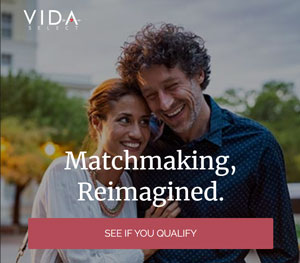 Another option worth considering, VIDA Select's modern approach to matchmaking leverages the largest source of Charlotte singles there is. And with VIDA, service is offered on a pay-as-you-go basis, meaning there is no multi-month, long-term contract.
Instead, packages are monthly, with the cost highly aligning with the number of hours your personal matchmaker will devote to the search for your ideal partner. Basic matchmaking packages start at just $1095 per month, Premium packages start at $1695 per month, and Elite options begin at only $2595 per month.
On average, VIDA clients start a relationship with a match within just 3 months of signing up. Intrigued? Discover if VIDA is right for you by going here.
All product and company names are trademarks™ or registered® trademarks of their respective holders. Use of them does not imply any affiliation with or endorsement by them.
Why Choose VIDA Select?

Since 2009, thousands of clients have discovered true love thanks to VIDA Select's fresh, modern approach to matchmaking – which has finally thrown blind dates and long-term contracts out the window. This isn't your grandmother's matchmaking!
Instead of working with a single matchmaker using a small rolodex of potential partners, VIDA Select's matchmaking team taps into the world's largest database of available singles. We'll quickly identify the matches who check all of your boxes so you can finally experience true chemistry. Are you ready to become our next success story? Schedule your complimentary consultation now by clicking the button below!
Get Started Now