I hope you enjoy reading the blog post.
If you want to chat now about your matchmaking search, click here.
Millionaire's Club Review: Best Matchmaker For Millionaires?
Trying to decide if Patti Stanger's Millionaire's Club has what it takes to find your perfect match?
This Millionaire's Club review has all the details you need to determine if this elite matchmaking service is your best bet!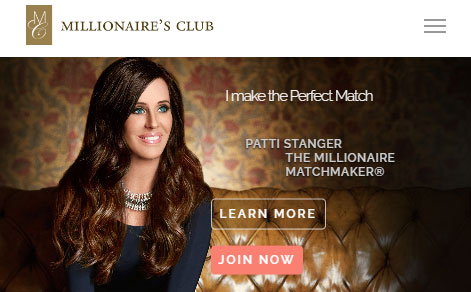 From the small independents to the big industry players, our team of experts has reviewed over 200 matchmaking services. Our insight comes from our 14+ years of industry experience, comprehensive research, real customer reviews, and a deep understanding of the matchmaking landscape.
In this review, you'll discover how Millionaire's Club Patti Stanger got started matchmaking, how much the service costs, and much more!
Millionaire's Club Review Table of Contents
Let's meet the millionaire matchmaker!
Meet Millionaire's Club Founder Patti Stanger
Patti Stanger, a third-generation matchmaker, has created a name for herself in the elite world of millionaire matchmaking.
Hailing from New Jersey, Stanger was immersed in the art of making meaningful connections from an early age, observing her grandmother and mother bring people together. Embracing her family's tradition, she became a professional matchmaker herself, but with a twist that would transform her career.
Stanger says she was the first woman in her family to charge for her matchmaking services. In the year 2000, she launched Millionaire's Club in Los Angeles. Prior to this endeavor, she worked for a decade in the fashion industry, followed by a role as the Director of Marketing for Great Expectations.
Stanger became one of the most instantly recognizable faces in matchmaking when she became the executive producer of the hit reality TV show "The Millionaire Matchmaker" on Bravo in 2008. The show ran for 8 seasons and gave viewers an inside look into the dating lives of the wealthy and influential.
Headquartered in Marina del Ray at 4712 Admiralty Way, the Millionaire's Club has expanded its reach across the globe, catering to clients in major metropolitan areas including Atlanta, San Francisco, Chicago, New York, Miami, Las Vegas, and DC.
Stanger's philosophy on finding love is grounded in the principles of proactivity and dedication. She encourages individuals to prioritize their love lives and invest time and effort in pursuing happiness.
As she puts it,
Make love a priority and it will come. You've got to spend time getting out there. What would you do in sales if you were a salesperson? If you just sit on the sidelines and wait for the deals to come, you'd go broke and hungry.
Since launching Millionaire's Club, Stanger's media presence has grown. She's been featured on Oprah, Ellen, The Wall Street Journal, and US Weekly, to name a few.
Additionally, she's created audio coaching programs, been a columnist on People.com, a website for advice, and a podcast, Patti Stanger's Love & Sex Report. She's also authored several books on matchmaking.
With over two decades of matchmaking experience, Stanger has lots of advice to share on love and relationships.
Stanger's #1 Tip For Singles
Give up the negative mindset.
In an interview for ABC7 Chicago, she said "I can't" is the biggest roadblock to love. "You can't say "I can't" and expect things to materialize."
And as she told Parade,
I do not want to hear a story of why it can't happen because there is a love for everybody. Stop living in negativity. It is your job to get your stuff together; nobody else's.
The Millionaire's Club Matchmaking Process Revealed
The first step to becoming a client is signing up through the website.
Next, you'll be contacted by the Millionaire's Club team to schedule an intake session. During this session you meet with a member of their team one-on-one to see if you're a good fit for their services. If so they'll review packages, cost, and matchmaking agreements.
Once a contract is signed and paid in full, you'll move on to the consultation phase where the team discusses your needs, preferences, and desired qualities in a partner.
They'll help you move away from being too rigid with your qualifications when it comes to preferred matches. As she shared in an interview, Stanger believes people create their own obstacles to finding love by focusing on a certain type.
Sometimes you have a type, and that can get in your way. But if you are open to considering someone already in your life, you could end up liking someone completely opposite of what your type is.
As a member of the Millionaire's Club, you'll work with a team of matchmakers, date coaches, and stylists. The matchmaking process is tailored to the individual and depending on your needs they may suggest you work with one of their partnering psychologists, hypnotherapists, or relationship counselors.
The team will look for potential matches within their database of singles and you'll be shown profiles of who they have available.
Stanger believes that compatibility and taking action are both necessary to finding love.
As she puts it,
I think the secret is compatibility and then taking action. It starts within the mind. I believe you have to visualize it.
Once suitable matches have been identified, you're ready for the dates. The Millionaire's Club is directly involved in the entire process and conducts post-date feedback to help you or their team make any necessary adjustments.
How Much Does The Millionaire Matchmaker Charge?
Both men and women can join the Millionaire Matchmaker database at no cost. You can submit an application through their website, but keep in mind you won't have any active matching done on your behalf.
You'll only be contacted if you happen to align with the preferences of a paying client.
Stanger offers a variety of matchmaking packages that range in price from $45,000 to $250,000+. Each package lasts for a year, providing unlimited introductions throughout the US and Canada. If you're seeking a global experience, the Platinum package includes unlimited introductions worldwide.
There is only one package where you'll be working directly with millionaire matchmaker Patti Stanger. The "Patti Stanger Exclusive" membership starts at $285,000 (plus all expenses).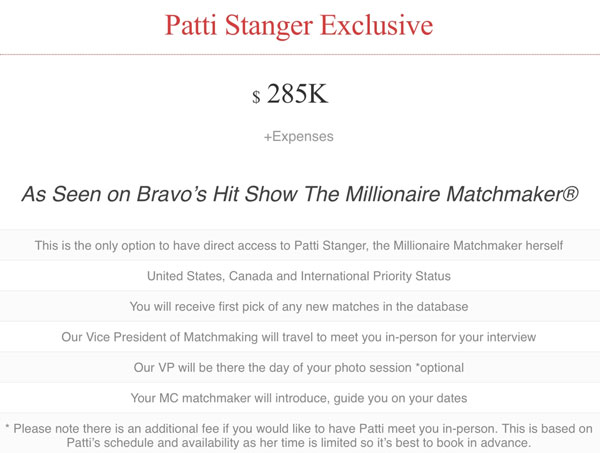 But if you just want a chat to answer a few burning dating questions, you can schedule a phone call with her. That costs $1,000 to $1,800, depending on the amount of time.
If you're hoping for in-person time with Patti Stanger, an exclusive lunch with her is around $10,000. Additionally, she offers an AskPatti program, where she personally answers your questions via email for $250 per question.
The Millionaire's Club also offers dating coaching, with a package of 5 sessions costing around $5,000. Virtual sessions and face-to-face interactions through Zoom or Facetime are available at prices ranging from $3,000 to $12,000.
Millionaire's Club Reviews
This millionaire dating agency has garnered attention in the media throughout the years. Founder Patti Stanger has been featured in platforms such as USA Today, Forbes and has made appearances on Entertainment Tonight.
But when it comes to clients reviewing their Millionaire Club experience, those are pretty sparse.
The Millionaire's Club google business listing has a 5-star rating based on 4 reviews.

However, one reviewer appeared to get Stanger's service confused with a restaurant, as he cited the deliciousness of their pastrami burger.
Another 5-star reviewer simply said "Patti's the best!", and the other 5-star Millionaire's Club reviews had no additional information.

Millionaire's Club has yet to be reviewed on local platforms like Yelp, Trustpilot and the BBB.
A lack of online reviews isn't all that surprising, given Stanger's service tends to attract millionaires who likely value discretion.
The Millionaire's Club has been making matches since 2000, so it's likely Stanger and her team have their process dialed in.
Is Millionaire's Club Right For You?
Online reviews can be valuable sources of insights, especially into how a company handles customer service issues, contract disputes, and the like. Without those to help inform your decision, you'll have to consider important factors like where the people you'll be meeting are selected from, cost, etc.
Stanger's services range from $45,000 to over $250,000, which is inline with other millionaire dating agencies. There are also a few high-end matchmaking services that charge less, which you may also want to consider.
Enamour, for instance, starts at $15,000. Enamour's team selects candidates from an exclusive, invite-only database, and they also scout extensively using recruiting technology and AI.
The scouting ability is important, because it's nearly impossible for any matchmaker to consistently make high-quality matches from a limited database in any one city. Because you can't just make the match on one set of criteria - both people's criteria have to mesh well for the match to be successful.
That's hard to do well, and it's one of the reasons meeting seemingly incompatible singles is one of the major complaints in the industry.
The more eligible singles your matchmaker has access to, the higher the odds of meeting someone truly relationship-worthy who checks all your boxes.
If that's your goal, why not also consider VIDA Select?
VIDA Select is a modern matchmaking service that leverages the largest source of eligible singles there is, which means you'll be meeting consistently high-quality matches!
You'll discover another potential advantage as well - instead of requiring you to invest in a year-long contract that's fully paid before service even begins, VIDA Select offers month-to-month packages.
That means you pay as you go, giving you the convenience and flexibility to date on your schedule. If you meet someone amazing right away and want to see where things lead, you can simply pause your search! And if the modern approach isn't quite the right fit, simply don't continue for another month.
On average VIDA clients begin a relationship within just 3 months of starting service. Discover how VIDA can find the love of your life too by going here!
All product and company names are trademarks™ or registered® trademarks of their respective holders. Use of them does not imply any affiliation with or endorsement by them.
Why Choose VIDA Select?

Since 2009, thousands of clients have discovered true love thanks to VIDA Select's fresh, modern approach to matchmaking – which has finally thrown blind dates and long-term contracts out the window. This isn't your grandmother's matchmaking!
Instead of working with a single matchmaker using a small rolodex of potential partners, VIDA Select's matchmaking team taps into the world's largest database of available singles. We'll quickly identify the matches who check all of your boxes so you can finally experience true chemistry. Are you ready to become our next success story? Schedule your complimentary consultation now by clicking the button below!
Get Started Now