I hope you enjoy reading the blog post.
If you want to chat now about your matchmaking search, click here.
New Jersey's Matchmaker Reviews [Best NJ Dating Service?]
Trying to decide if Julianne Cantarella has what it takes to find you someone special?
This New Jersey's Matchmaker review has all the details you're looking for, from how the service works to how much it costs and what real clients had to say about their experience.
From the small boutique operations to the big industry players, our team of matchmaking experts has reviewed over 200 services.
Our insight comes not only from comprehensive research but also from 14+ years of first-hand industry knowledge. Our reviews are built on a keen understanding of the matchmaking landscape!
New Jersey's Matchmaker Review Table Of Contents:
Let's dive in with a look at…
How Matchmaker Julianne Cantarella Got Her Start
Julianne Cantarella began her professional journey as a social worker and licensed therapist, providing support and counseling for over a decade. Over time, she expanded her expertise by becoming a certified life coach.
Cantarella's professional endeavors reflect her innate desire to help others. As she shared in an interview,
"People have always been a passion for me. I was born a helper. So, it's wonderful to me now that I get to bring people together for a living."
After welcoming her second child, Cantarella decided to explore new avenues that would allow her to apply her knowledge and skills in a different environment. It was her husband, Vincent, who played a crucial role in inspiring her transition into matchmaking.
As she explained to Dating News.com,
"My husband found an ad for a startup matchmaking company in Manhattan. I went on an interview, got the job, and my passion was born. I fell in love with helping people create healthy relationships, especially single women."
Then in 2009, Cantarella's husband once again served as a catalyst for change by encouraging her to take a significant leap forward - establishing her own business. That year, she launched New Jersey's Matchmaker, and she attributes her husband as her constant source of motivation and support.
As she puts it,
"My marriage is the motivation behind the work I do, and I know it's possible for women to have a loving healthy relationship."
Cantarella's matchmaking journey has earned her recognition as a relationship expert on various radio shows, including iHeartRadio. Her expertise has also been sought after by media outlets such as CBS, Urban Agenda, New Jersey Family, Dr. Joy, and more.
Leveraging her extensive background as a dating coach and matchmaker, Cantarella has been known to share dating and relationship advice.
Here are 3 of her best dating tips from around the web: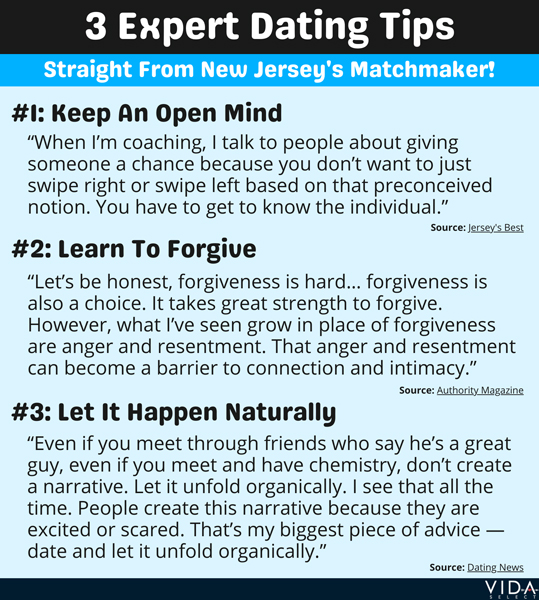 What To Expect From New Jersey's Matchmaker
New Jersey's Matchmaker works with singles in NJ as well as Rockland County, New York. Cantarella only accepts males as matchmaking clients.
If you're interested in working with her, the journey begins with an initial consultation, where she delves into your past relationships to understand what has been successful and what hasn't.
This thorough exploration helps her identify any potential areas that may need to be addressed.
Upon signing a matchmaking contract, you can expect to work with Cantarella personally and get individualized coaching throughout the process. This enables her to provide you with continuous support, ensuring you remain motivated and persistent.
In her own words, "I keep [clients] moving forward. I'm a sounding board if they are feeling confused or frustrated."
Cantarella's approach involves empowering clients with real-time guidance. Rather than taking on all the work herself, she focuses on equipping you with the necessary skills for successful relationships.
As she explained,
"I work with them on growing good communication, setting boundaries, creating a positive mindset, and having realistic expectations. All are key to long-term relationship success."
Cantarella primarily searches for potential matches within her existing network of single women. However, if suitable matches are not found within her "rolodex", she extends her search to scout locally and sometimes discretely advertises to find matches.
Each potential match undergoes an interview process to assess compatibility. And following each date, Cantarella communicates with both parties to gather feedback and provide guidance if needed.
If you want to learn more about her matchmaking process, check out this interview she did with Dr. Joy:
How Much Does It Cost To Hire Julianne Cantarella?
Women have the option to join Cantarella's rolodex at no charge by completing an online application. You'll describe yourself, the type of person you're looking to meet, and upload 3 recent photos.
But for women, it's a passive membership - a matchmaker only reaches out when you fit what a paying client is looking for. If you'd like an active search done on your behalf, check out these New Jersey matchmaking services!
For men, the price varies from client to client, as each package is customized to suit an individual's search & relationship goals.
But to get you in the ballpark, let's take a look at what some other matchmakers who offer service to New Jersey singles charge.
Enamour provides matchmaking for highly selective singles looking for a tailored experience. Packages start around $20,000, and include matches from within their invite-only database.
The matchmaking team also employs recruiting technology and an array of scouts to find incredible singles who check all your boxes.
Select Date Society, a Richmond-based service that helps singles in over 30 cities around the US, offers Basic matchmaking packages that start at $35,000.
However if you want to work with founders Sandra Myers or Amber Lee directly, you'll need to invest in one of the more expensive "Platinum" packages.
Michelle Frankel, founder of NYCity Matchmaking, extends her service to Jersey singles as well. Her matchmaking packages start at $7,500 and can range over $25,000, depending on what type of service you want. Contracts typically span at least 6 months.
It's safe to say that Cantarella's services probably fit somewhere within that range as well.
In addition to matchmaking, she also offers date coaching. There's the option to purchase individual coaching sessions where you'll meet with her one-on-one. She also offers "Breakup Recovery" packages, or a 6-month course which includes a relationship assessment, a pro photo shoot, help with your online dating profile, and plenty of phone coaching sessions.
So what do real clients have to say about their experience working with Cantarella and New Jersey's Matchmaker?
New Jersey's Matchmaker Reviews From Real Clients
When it comes to local review sites, you won't find many New Jersey's Matchmaker reviews. Julianne Cantarella hasn't been reviewed on Yelp, and she doesn't have a listing with the Better Business Bureau.
She does have a handful of Google Reviews, and all but one are glowing - she's got a 4.8-star rating.
Many of the reviewers praised her date coaching, and two clients said Julianne's guidance helped them find a relationship that led to marriage:
Her matchmaking ability garnered rave reviews as well. This client was impressed with her first match and the date that Julianne arranged:
This client thought she worked hard to find him matches, and that the advice he received during the process made him a better person:
Reviewers like this one also appreciated the personalized customer service: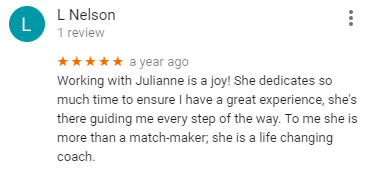 The one negative review was from a woman who wasn't happy with the quality of the paying clients she was matched with:
Julianne Cantarella has been matchmaking and date coaching since 2009. So the fact that there aren't many negative reviews floating around out there is a positive sign. But is she the right one for you?
One thing to consider is how you feel about contracts. Many matchmaking services, like hers, require you to sign a lengthy contract. Most will include either a set amount of hold time or whatever length of time you negotiate into the contract upfront.
Your signature means you're committed for the long haul, even if you meet someone right away or you're not happy with the service.
What If You Could Find Your Soulmate, Without Signing A Contract?
VIDA takes a slightly different approach. Elite matchmaking, date coaching, and online dating help, all without a contract.
Instead, you simply pay-as-you-go, for each month you'd like services. That gives you the flexibility to stop your service any time you'd like to see where things go with one of your high-quality matches, or for any other reason you may need to put your dating life on hold for a bit.
VIDA's elite matchmakers are plugged into New Jersey's biggest pool of singles, which means most of our clients only need a few months of service to find someone special.
You're introducing yourself to every date with the confidence that comes from knowing she not only meets all your "ideal partner" criteria, but she's also already excited to meet you too!
VIDA can change your life, and it all starts with a quick, completely free 20-minute phone consultation with one of our best matchmakers. Just tap the button below to get started!
All product and company names are trademarks™ or registered® trademarks of their respective holders. Use of them does not imply any affiliation with or endorsement by them.
Why Choose VIDA Select?

Since 2009, thousands of clients have discovered true love thanks to VIDA Select's fresh, modern approach to matchmaking – which has finally thrown blind dates and long-term contracts out the window. This isn't your grandmother's matchmaking!
Instead of working with a single matchmaker using a small rolodex of potential partners, VIDA Select's matchmaking team taps into the world's largest database of available singles. We'll quickly identify the matches who check all of your boxes so you can finally experience true chemistry. Are you ready to become our next success story? Schedule your complimentary consultation now by clicking the button below!
Get Started Now