I hope you enjoy reading the blog post.
If you want my team to just do your online dating for you, click here.
5 Online Dating Mistakes Guys Make (And How To Avoid 'Em!)
Can't catch - or keep - the attention of the high-quality women you really want to meet on dating sites and apps? Or maybe you're having trouble matching with any local singles? Just frustrated with online dating in general?
From your photos to your profile to your messages, the odds are good that at least one of these common online dating mistakes is sabotaging your best efforts to finally meet someone special:
You didn't optimize your photo lineup.
Your profile doesn't command (or keep) her attention.
You're not using copy & paste conversation starters.
You don't know when to move things offline.
You're not keeping up with it.
Whatever your case may be, you're here because you want more matches, more numbers, and more dates with attractive, intelligent women.
So let's get started on the solutions…
Mistake #1: Not Optimizing Your Photo Lineup
Most guys know that photos are the most important component of a dating profile, especially on apps like Tinder or Bumble where she may be swiping right (or left) before checking out your bio.
And yet that doesn't stop them from using primary photos like these:
Getting her to swipe right is only half the battle - you want photos that will also compel her to respond to your messages and say yes to a date, or at least share her number.
And when you're vying for the attention of the attractive women *all* the guys want to meet, you need a photo lineup that can go the distance.
Since dating apps are all about first impressions, let's start with how to nail your primary photo.
It literally only takes 1/10th of a second to form an impression while looking at a picture - and that microsecond will typically determine which way her swipe will go.
So you need to lead with…
The Perfect Dating Photo (According To Science)
A team of neuroscientists in The Netherlands decided to do singles everywhere a solid - they came up with a research-backed recipe for the perfect Tinder photo.
Their methods involved eye tracking and high tech machinery, but it's the results you're going to care about.
They were able to identity 5 traits the Tinder photos consistently rated the most attractive all had in common:
That study involved Tinder, but the results are applicable across the board - an attractive photo is an attractive photo no matter what app you're on, right?
If you don't have any good primary photo options, consider hiring a pro photographer that specializes in natural candids taken outdoors. (Boring studio backdrops won't do that first impression any favors).
You can also enlist the help of a friend with a decent camera, but a pro will know all the tricks to finding the best angles and lighting to make you look your best.
But Wait, There's More
Now let's talk about the rest of your lineup.
Typically, you'll want a range of 3 to 6 photos, with the goal being to give her intriguing hints of your personality and a general idea of what hanging out with you might be like.
Why stop at 6? Because all it takes is one bad photo to extinguish a spark of attraction. You want photos in which you're equally attractive - a tough thing to pull off in a longer lineup.
And you'll want to use at least 3 because showing multiple facets of your personality is hard to do with just 1 or 2. Plus, researchers found Tinder profiles with 3 pics had more matches than profiles with just one.
When you're selecting the rest of your dating photos, make sure they pair well with what you wrote in your profile. If they don't, you'll have a congruency issue on your hands - and that's not good.
Why Congruency Matters So Much
Congruency, simply put, is when two things agree with each other. Profiles that don't have this important piece of the puzzle will create tons of red flags in a woman's mind, because what she's reading in your bio doesn't match the message your photos are sending.
For instance, here's is an example of a great Tinder bio:
But if you pair it with a photo lineup like this:
She's likely going to sense the disconnect between your text and your pics. Instead of the colorful, adventurous photos she's expecting to see, she's looking at a collection of poorly lit, boring studio portraits.
When choosing your lineup, considering the setting of the photo is important.
Does the furniture and artwork in your living room reflect the successful guy described in your profile? Do you talk about your travels overseas, but you don't have a single shot of you in a foreign setting? Or worse, despite your stated passion for international travel, all of your shots were taken professionally in a studio, like Joe in the example above?
That nagging feeling something isn't quite legit makes her far less likely to trust you, return your message, or meet you in person, so choose your lineup with care.
PRO TIP:
If you present one version of yourself in one part of your profile, you need to make sure that everything else (i.e. – your pictures, messages, profile text, and you in real life) agrees with that message.
Essentially, you want the signal you're sending out to be as clear as possible. If you mix your messages, you'll severely cut your chances of success.
Mistake #2: Your Profile Doesn't Catch (Or Keep) Her Attention
Writing your profile can be a tricky business.
Say too little and she will think you aren't serious about finding someone. Say too much and she'll get bored and move on. This isn't the place to write your memoirs.
You're up against thousands of guys just like you trying to sell themselves to beautiful, educated women, so focus on showing them what sets you apart.
"Showing" is the keyword - as opposed to "telling." Anyone can write something like this:
But that does nothing to prove you're a funny guy. Let your writing make her laugh instead. Use exciting stories and witty tidbits to illustrate your personality, rather than just listing a bunch of traits.
Here is an example of a good funny dating profile: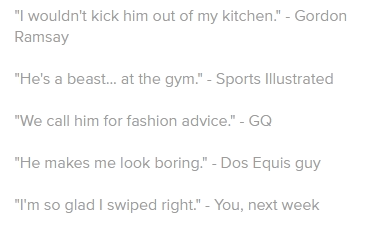 See how it highlights a few attractive traits in a humorous way?
Decent cook, physically fit, well dressed… but the traits are presented in a way that illustrates how you embody those particular characteristics, rather than just stating you have them.
Here is another example of showing vs telling. If you travel frequently, don't fall back on the old "I love to travel" cliche. Instead, describe your travels, like in this good profile example:
See what a difference a little descriptive writing makes? This profile makes it obvious you love to travel, without having to spell it out the same way all those other guys do.
Bring Her Into Your Profile
Even though the point of your profile is for her to learn about you, you still want to include a few lines about the type of woman you want to meet as well. "70% you:30% her" is the golden ratio, according to researchers.
When you're writing a longer profile for a site like Match.com or POF, it helps to think about your profile in four sections - with the last one describing what type of partner you consider ideal.
Here is a handy dating profile template you can use to write each part:
When it comes to Section 2, notice how it uses the words "intriguing" and "interesting" in the parts you fill in.
Even if you don't like what you do for a living, or it's a job other people may think is a bit boring, you can still describe it in a positive way.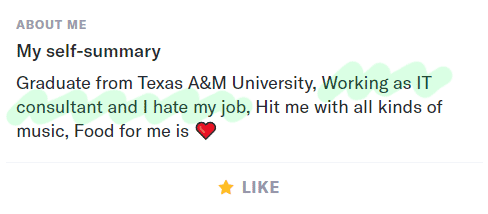 Dating profiles and negativity really don't go hand in hand, so you'll want to avoid it in your profile.
Don't call attention to your flaws (either real or imagined), make your profile a list of things that turn you off, or describe what you don't want in your next relationship.
Mistake #3: You're Not Using Copy & Paste Icebreakers
She's attracted to your photos. She's interested in your profile. And then...
She reads your message:
Do you know how many of those messages she receives in one day?
A lot - her inbox is overflowing with them. Spoiler alert: she's likely not responding to those guys either.
You have a lot of competition, especially for the more attractive women, so your message needs to hook her attention.
Standing Out Is *Essential*
Consider this: On OkCupid, 4 million messages are being exchanged every day. That's roughly 166,666 messages an hour, one of which was yours.
That's why boring, all-too-common messages like "Hey", "Hi", "What's up?" don't generally work. Be more creative than that, and she's far more likely to respond.
A good Tinder message like this one is a breath of fresh air compared to the boring conversation starters she's used to getting:
Even better, you can send it to just about any woman!
Here is another great Tinder icebreaker that will save you from ever sending "Hey there" again:
Want even more Tinder messages that work? You'll find plenty here.
But copy and paste messages aren't just for dating apps - they work great on dating sites like Match.com and OkCupid too. Why spend 20 minutes crafting a message that's specific to one woman's profile, when you could message 20 women in that same time frame?
Most women either enjoy travel, or at least love to think about an exciting trip somewhere fun. So a message like will have just about any woman you send it to responding:
Cut & paste messages work, and they'll save you a ton of time and send your response rate soaring.
Copy, Paste, Then Customize
You can even write "custom" messages for different keywords, like hiking or skiing.
Here's an example:
Simply use the advanced search feature of any dating website and enter the keyword "skiing."
The results are a goldmine of women who share an interest in your favorite hobby - all you have to do is send your cut & paste skiing message to all of ones that interest you.
Whatever you do, never send a winky face instead of a message. She's just going to think you're lazy, and even worse, it puts the pressure on her to send the first message.
You want to be in control of the conversation, and sending one of the icebreakers above is just as easy as sending a wink - and it will get you way more dates in the long run.
Mistake #4: Taking Too Long To Move Things Offline
Thanks to the icebreaker examples you just got, starting an online dating conversation just got a lot easier. Now the trick is knowing when to move the conversation off the dating site or app by asking her out - or at least asking for her number.
Women aren't looking for a new pen pal, and if you take your sweet time to suggest a real-life encounter, she may lose interest in your conversation and move on.
And it's fairly common for people to delete their profiles with no warning, so that's an added incentive to at least get her number or WhatsApp before that happens.
Generally, you'll need to exchange 2 to 3 messages on a dating site and 6 to 10 on a dating app before there's enough trust and attraction built up for her to agree to meet you in person, or share her contact info.
Don't Make Her Wait Too Long
As is the case with most things in life, timing is everything. When you start to see signs that she's ready for the next step, take it.
Here are some indications to watch for:
When it's time to ask her out, increase your odds of a positive response by suggesting two options.
According to VIDA's internal data, giving her a choice - say between coffee or drinks - doubles the acceptance rate.
Here is an example of how to ask a match out online:
Notice the highlighted portion? Making a statement she's likely to agree with puts her in the "yes" mindset - and that increases the odds of getting her to say "yes" again.
Most (if not all) women agree with the highlighted statement, so she's already in a "yes" frame of mind when it comes to the question she reads next.
Want more tips on how to ask her out online? Check out this article.
Mistake #5: You're Not Keeping Up With It
You've just gotten some great online dating tips and tricks that will save you a ton of time. But that being said - if you want to meet your ideal partner, it's going to take some work.
It starts with creating a polished profile and a compelling, intriguing photo lineup, but that's just the beginning. You'll also be spending plenty of time swiping and screening profiles.
Then the really time consuming part begins - messaging! If you don't stay on top of each dating conversation, working diligently to move them forward, you won't be happy with your results.
All that adds up to around 12 hours a week, and that's on average. Do you have 48 hours a month to spend on Tinder and Match?
And here's another wrench in the works: studies have shown using Tinder lowers your self-esteem - and the effect is even more pronounced in guys.
You already know you're making some online dating mistakes - you wouldn't be reading this article if you were happy with the caliber of women you're meeting on apps like Tinder and sites like Match.
Wouldn't it be great if you could stop worrying about mistakes, keep your self-esteem intact, and just skip straight to dates with incredible local women that meet your "ideal partner" criteria?
Meet High-Quality Women - Without The Frustration!
With VIDA, you can do exactly that.
From writing your online dating profile to choosing your best photos to messaging attractive women you approve, our dating experts can do it all for you - including scheduling all the dates.
It's easy to get started, and with a range of full service packages that fit most budgets, there's no reason to wait. Click here to find out more!
Want us to do your online dating for you?

Hey, I'm Ally, VIDA Select's Director of Matchmaking.
We take all the frustration, hard work and hassle out of modern dating!
Imagine your very own Dream Team of highly skilled dating experts searching for the very best local matches, sparking their interest, and arranging all the dates for you.
Wouldn't it be nice to finally stop swiping and start dating higher quality matches so you can meet someone special?
We've helped thousands of singles just like you since 2009, and we're ready to make you our next success story!
What are you waiting for? Take the next step now…
See If You Qualify