I hope you enjoy reading the blog post.
If you want my team to just do your Tinder for you, click here to chat with me.
How To Reset Tinder & Restore Your Elo Score In 2023
In this quick guide, you'll learn when you should reset Tinder, exactly how to do it, and 3 expert tips on how to improve your Elo score this time around! (Don't know what an Elo score is? Keep reading!)
Editor's Note: While Tinder no longer "relies" on the ELO score to determine who sees your profile, who "likes" your profile still helps determine who you have the opportunity to match with. Per Tinder's blog post on the subject:
Today, we don't rely on Elo — though it is still important for us to consider both parties who Like profiles to form a match.
Bottom line: You don't want to miss the tips for improving your profile at the end of this article!
The Risks & Rewards Of Resetting Tinder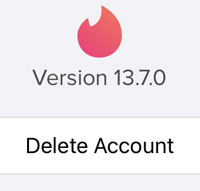 Let's start with the good news first:
Deleting your Tinder account and starting over gives you another chance to match with all the attractive singles who swiped left on you the first time around.
You'll get an automatic profile boost as your Elo score is calculated, so you'll initially get more exposure.
If you've been shadowbanned for bad behavior, such as swiping right on every single profile (don't do that!) or having other users report you for various reasons, this is a chance at salvation.
Per Tinder's privacy policy, your data is only retained for 3 months after you delete your account. So theoretically after that waiting period you could link to the same Spotify and Instagram accounts.
Now the bad news:
Resetting your Tinder account can get you shadowbanned, especially if you delete it then try to recreate it a few minutes later. (Classic bot behavior.) When you're shadowbanned, the app seems normal to you, but no one else can see you. So you won't be getting any matches.
Word on the street is Tinder has taken active measures as of the 9.0.0 update to prevent people from doing it, so they're clearly cracking down on the practice.
You'll have to wait at least 3 months if you want to create your new Tinder account with the same phone number. You could try using Google Voice or a burner number, but those options don't seem to consistently work for everyone.
You can't transfer your paid subscription if you want to start completely over. That means your Tinder Gold, Plus or Platinum membership will be forfeit, because using the "restore" function will restore your old account rating as well.
Consider yourself warned.
When It Makes Sense To Reset Your Tinder Account
Think of starting over on Tinder (or any other dating app) as a worst case scenario - as in, you've got nothing to lose so you may as well give it a shot.
Consider starting over on Tinder if:

You've run out of people in your area. If you're seeing that message, you've either been shadowbanned or you truly have swiped through all the profiles within your dating range. Either way, you won't be any Tinder matches.
You improved your Tinder photos and your bio, but your match rate didn't increase. Way too many guys roll with a bathroom mirror selfie, skip the bio, and intend to "fix it later." If your Elo score is circling the bottom of the drain, improving it could take a long time.
How To Start Over On Tinder
You want to reset Tinder the right way, so choose the scenario that applies to you and check out the process.
If you use a Facebook login, follow these steps to start over on Tinder:
From Tinder's "Settings" screen, scroll the very bottom of the menu options and tap "Delete Account"
Tap "Delete My Account" and confirm the action
Uninstall the Tinder app
Open the Facebook profile linked to the Tinder account
From the "Settings" Screen, select "Apps & Websites"
Select "Logged In With Facebook"
Select Tinder
Scroll to the bottom of the menu and tap "Remove App"
Confirm the action
Create a new Facebook account with a different email address
If you were a subscriber to Tinder Plus, Gold, or Platinum you'll need to use a different Google Play account or Apple ID.
Reinstall Tinder
Log into your new Facebook account, then open Tinder and create a new account
You'll need a new phone number to sign up, unless you wait 3 months in between deleting your Tinder and creating a new one. If you don't wait, it will need to be one you've never used for Tinder before, and that you'll be able to use to get the SMS codes.
If you login via mobile number, follow these steps:
From Tinder's "Settings" screen, scroll the very bottom of the menu options and tap "Delete Account"
Tap "Delete My Account" and confirm the action
Uninstall the Tinder app
If you were a subscriber to Tinder Plus, Gold, or Platinum, you'll need to use a different Google Play account or Apple ID.
Reinstall it
Open Tinder and create your new account. You'll need a new phone number to sign up, unless you wait 3 months in between deleting your Tinder and creating a new one. If you don't wait, it will need to be a number you've never used for Tinder before and that you can access to get the SMS verification codes.
To check and see if the Tinder reset worked, you can request your data from Tinder and make sure there's nothing showing from your previous account.
Here is how to request your data from Tinder: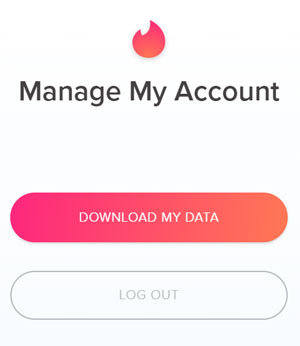 Go here first.
Log in to your Tinder account
Enter the email address you want the information to be sent to (preferably the same one that's associated with the account)
You'll receive an email with the link to download your data "in a few days." The link is only good for 24 hours, so keep an eye out for it.
How To Restore Your Tinder Elo Score
The inner workings of this popular dating app's algorithm is a closely guarded secret, and the source of much speculation.
But here's the working theory - the matching algorithm assigns every user an Elo score.
That score is based on a variety of factors like how many people swipe right on you and how you interact with the app and other Tinder users.
Elo Score Tip #1: Be Mindful With Your Swipes
If you're not interested, swipe left.
If you have the "swipe right on everyone, then message the matches I'm actually interested in" mindset, your Elo score has likely suffered as a consequence.
Tinder wants you to be selective, so do that moving forward.
Your rating matters, because this number helps determine which profiles you see - and who sees your profile. It also determines where your profile ends up in their card stack.
The higher your Elo score, the higher your visibility - and you're being seen by more "popular" (read: desirable) singles.
If your Elo score is low, you're likely pretty frustrated by Tinder right now.
So now that you've reset Tinder, starting with strong photos and a great Tinder bio is crucial.
Your Elo score hasn't been determined yet, so your profile is getting an automatic boost in visibility. That's why new users typically see a surge of matches initially that starts tapering off as your rating is determined.
Elo Score Tip #2: Choose Your Photos Carefully
This should be obvious, since your pictures are the single biggest factor in which way someone will swipe on your profile.
And yet way to many guys lead with photos like this: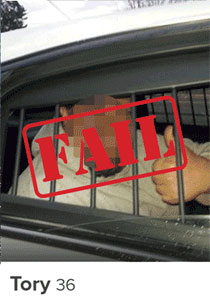 If you make the same photo mistakes you did in your original profile, you'll just feel compelled to delete the app again in a few days.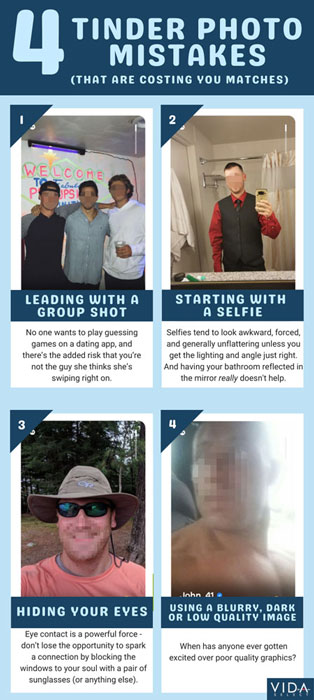 When it comes to your primary photo, you need to pick a winner.
Which, according to science, looks something like this: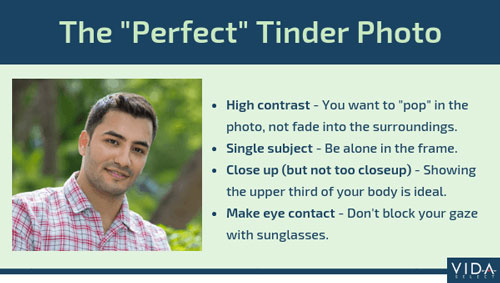 Elo Score Tip #3: Upgrade Your Tinder Bio
If you didn't have a Tinder bio on your previous profile, don't make that mistake again.
Not only does it likely help your Elo score, you'll also get 4x more matches and starting a conversation will be easier.
Of course, that only works if your bio makes you seem like a great catch.
You want your bio to get her thinking you're a great catch, but in a way that sounds natural and appealing.
Check out these 3 Tinder bio examples to see how to do it right.
Successful Tinder Bio #1: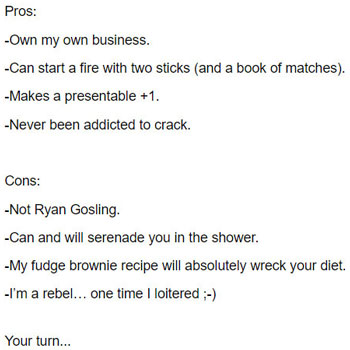 This Tinder bio is effective because almost each line highlights something attractive about you.
So as she's reading, she's thinking along these lines: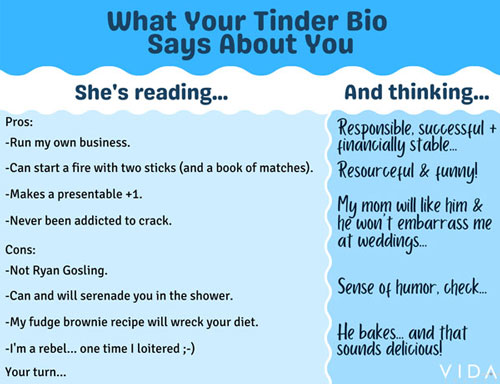 Successful Tinder Bio #2: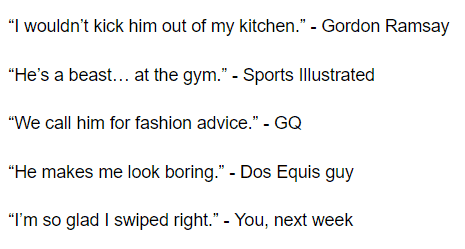 Successful Tinder Bio #3:

You can pack a lot of attractive elements into a short dating profile, so it's worth the time to put some real thought into your Tinder bio.
Here are a few more Tinder profile tips to keep in mind:
Stay positive. Everything you put in your Tinder bio should help your cause, not hurt it. You may very well be lonely, mad at your ex, or tired of the weather, but don't mention it here.
Be classy. Even if you're on Tinder strictly for hookups, don't come out and say it in your bio. That's an immediate left swipe for many women.
Proofread. Terrible grammar is another big turn off for the majority of singles.
The Easiest Way To Restore Your Elo Score
Restoring anything means work, and your Elo score is no different.
Crafting an attractive Tinder profile takes time and effort to do it right - and you probably already know how effort messaging takes!
And here's the real kicker - you're spending all that time and energy on something that can damage your self-esteem and make you feel dissatisfied with the matches you do get.
Don't worry - there's a way to avoid that depressing stuff and all the time and effort! Let the Tinder experts at VIDA do it all for you!
An incredible bio, your strongest possible photo lineup, witty messages that have singles responding left and right - all handled!
Your job is simply showing up and enjoying dates with singles you can't wait to meet.
Want to restore your Elo score and meet amazing people? Click here!
Want us to do your online dating for you?

Hey, I'm Ally, VIDA Select's Director of Matchmaking.
We take all the frustration, hard work and hassle out of modern dating!
Imagine your very own Dream Team of highly skilled dating experts searching for the very best local matches, sparking their interest, and arranging all the dates for you.
Wouldn't it be nice to finally stop swiping and start dating higher quality matches so you can meet someone special?
We've helped thousands of singles just like you since 2009, and we're ready to make you our next success story!
What are you waiting for? Take the next step now…
See If You Qualify