I hope you enjoy reading the blog post.
If you want to chat now about your matchmaking search, click here.
Amador Matchmaking Reviews [Best Santa Barbara Matchmaker?]
Thinking about hiring Lisa Amador as your matchmaker? Everything you need to know about Amador Matchmaking (formerly Santa Barbara Matchmaking) is coming right up!
Our team of experts has you covered when it comes to matchmaking service reviews. With over 14 years of firsthand industry experience, we're well versed in what customers value most. And we've reviewed more than 200 matchmakers, from the biggest industry players to the smallest boutique operations.
From Amador Matchmaking's sign up process to their package costs and client reviews, here's all the information you need to decide if they are the right SB matchmaking service for you!
Amador Matchmaking Reviews Table Of Contents:
Let's get started!
Meet Lisa Amador: Founder of Amador Matchmaking
Before founding Amador Matchmaking in 2011, Lisa (Darsonval) Amador was an accountant for over 20 years. She's also an experienced business owner, also running Uncorked Wine Tasting & Kitchen and The Nook Santa Barbara.
In an interview, she revealed she got into matchmaking after encouragement from a friend who pointed out how good she would be at it.
She's also a dating coach, at one point writing dating and relationship content for Noozhawk. Amador was also one of the 30+ contributors to Sexy Secrets to a Juicy Love Life, a relationship self-help book for women.
As she explained,
"I teach people to communicate and to listen. If more people did that, they'd be meeting people."
Headquartered in Santa Barbara, Amador Matchmaking specializes in helping local singles find love but Amador's network extends throughout California. When she originally established her company, it was called "Santa Barbara Matchmaking" but she rebranded in 2018.
What To Expect As A Client
Amador describes her service as a "discreet upscale matchmaking company" for successful singles living in Santa Barbara, as well Central and Southern California. According to their website, clients are in their 20s to 60s.
Here's how it works: The process of becoming a paying client kicks off by filling out an application on their website. If they think you might be a good fit, you'll be scheduled for an in-person interview. This interview can take around 90 minutes.
Assuming you come on board as a client, you'll select the matchmaking package you want and sign the contract. Services typically span 1 year.
As a paying client, Amador and her team will match you with other paying clients, or compatible singles who joined her "Rolodex of thousands of singles" for free. Amador matchmaking can also scout for additional potential matches if necessary, or source them via their network.
Clients and free database members can also attend singles events and mixers.
Once a potential match has been identified, you'll receive a phone call with the details. If you're intrigued, the date is arranged for you. Afterward, you'll have the chance to share your thoughts on how it went, and you'll also receive any constructive feedback from your date.
This part of the process is one of the benefits to working with a personal matchmaker - you'll not only help the team refine the search, but it's also an opportunity to find out how you present yourself on a first date.
When it comes to Amador's approach to finding those dates for you, she says on her website that her team doesn't rely on personality tests. Instead, they use intuition and experience.
As she shared in an interview with Santa Barbara Independent,
"If you're willing to be honest and open, I'm very successful at matching. But some people aren't realistic about what they're bringing to the table."
Coaching can be a big part of the process, as Amador pointed out. "I teach people how to love themselves."
How Much Does Amador Matchmaking Cost?
Joining the database of Santa Barbara singles is free, however this route is not an active search on your behalf. That means you'll only hear from a matchmaker if you happen to fit what a paying client is looking for.
Database members also have the option to purchase a date coaching package or attend one of their workshops for around $300. Doing this will grant you "VIP" status within the database, which gives you priority as a potential match for paying clients.
For paying clients, packages can cost anywhere from $3,500 to $25,000+. The final price depends on your length of contract, the geographic scope of your search, match criteria, and other factors. Contracts are typically 1 year but can be tailored.
Stand alone dating coaching (a one-on-one service with Lisa Amador) costs about $5,000.
Lisa Amador Matchmaking Reviews
Comparing matchmaking service reviews can give you a peek into the client experience. But as you know, those star ratings can be extremely subjective.
It's best to use reviews for any matchmaking service as a basis for formulating insightful questions to ask during your initial consultation. (For more valuable tips on getting ready for that call, check out this guide to hiring a matchmaker!)
Let's take a look at what former clients have to say in their Amador Matchmaking reviews, starting with Yelp.

Amador Matchmaking holds a 5-star rating on Yelp, based on 6 reviews from former clients or singles who attended an event.
This client was happy with the service, and described his experience working with the team:
This Amador Matchmaking review also reported a positive experience:
Two of the 6 reviews were from singles who attended one of Amador Matchmaking mixers: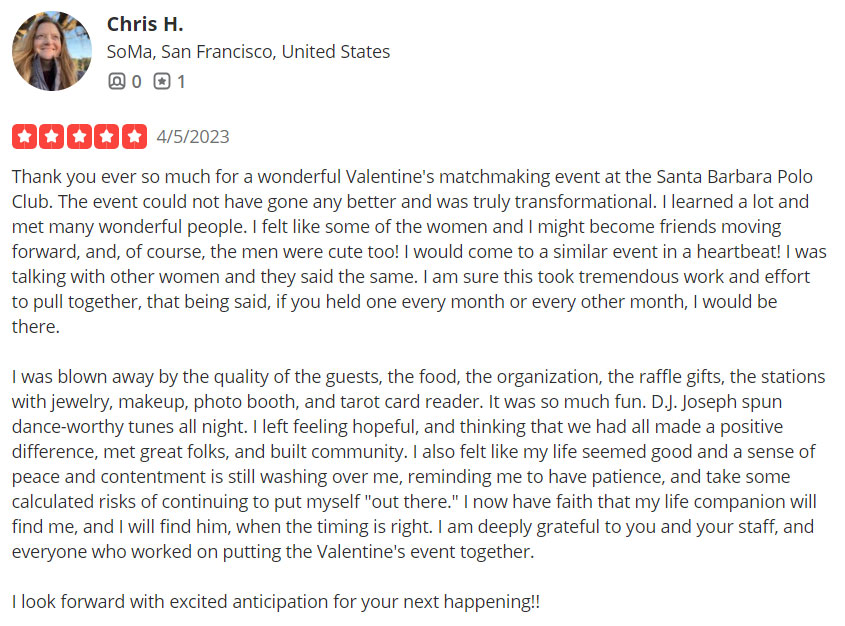 Yelp also listed 6 'not currently recommended' reviews, also all positive.
Amador Matchmaking has a 4.6-star rating on its Google Business profile, based on 10 reviews.
Google reviews for Amador Matchmaker were also from a mix of former clients and singles who attended events. A few of the Yelp reviewers also left similar reviews on Google.
Regarding the events, these attendees enjoyed themselves:
And this Lisa Amador reviewer described her experience with the matchmaking service as "excellent":
And this client also had a good experience working with matchmaker Lisa Amador:
Amador Matchmaking has yet to be reviewed on other popular platforms like Trustpilot and the Better Business Bureau.
Is Lisa Amador The Best Santa Barbara Matchmaker For You?
When it comes to Santa Barbara matchmakers, you definitely have options - so it's important to select the one that's the right fit for you.
Key considerations include the vibe you get during your initial consultation, and more practical matters like how you feel about year-long contracts and the price.
Most Santa Barbara matchmakers require full payment up front, whether it's several thousand or $25,000+. And with contracts commonly spanning 6 months to a year or even longer, you want to be sure you're investing in the service with the best chance of finding your soulmate.
That's why VIDA Select is an option that should be on your short list! VIDA's matchmaking team leverages the single largest source of eligible Santa Barbara singles there is.
And that's important, because compatibility has to flow in both directions for the introduction to work. That's why it's so difficult for any matchmaker to provide consistently high-quality matches from a limited roster in any one city.
But thanks to VIDA's modern approach, you'll only be meeting singles who check all of your boxes - and vice versa! 
VIDA also offers packages on a monthly basis, using a pay-as-you-go structure rather than requiring long-term contracts. That means if you meet a promising match right away and want to see where things go, you don't have to worry about paying for search time you don't end up needing.
Or, if you find VIDA isn't the right fit, simply don't continue with service the next month. It's that easy!
Intrigued? See how VIDA Select can find your ideal partner. Get started here!
All product and company names are trademarks™ or registered® trademarks of their respective holders. Use of them does not imply any affiliation with or endorsement by them.
Why Choose VIDA Select?

Since 2009, thousands of clients have discovered true love thanks to VIDA Select's fresh, modern approach to matchmaking – which has finally thrown blind dates and long-term contracts out the window. This isn't your grandmother's matchmaking!
Instead of working with a single matchmaker using a small rolodex of potential partners, VIDA Select's matchmaking team taps into the world's largest database of available singles. We'll quickly identify the matches who check all of your boxes so you can finally experience true chemistry. Are you ready to become our next success story? Schedule your complimentary consultation now by clicking the button below!
Get Started Now