I hope you enjoy reading the blog post.
If you want to chat now about your matchmaking search, click here.
Matchmaking Services: How To Find & Hire The Best One
Matchmaking is the art of pairing two people chosen based on a high degree of compatibility, everything from physical characteristics to personality traits, in the hopes of sparking a long term relationship. Matchmaking services come in all varieties - from high-end dating agencies to franchised operations to traditional matchmakers running a boutique service.
You'll find a wide spectrum of prices, and the matchmaking process can vary as well.
Some matchmakers consult a small Rolodex of potential matches, while others are more modern and resourceful when it comes to finding eligible local singles that are perfect for you.
Hiring a professional matchmaker is one of the best ways to find your ideal partner. But you're reading this, so you're savvy enough to know a little research is in order first. And you've come to the right place!
Our team of matchmaking experts created this comprehensive and informative guide to help singles choose the best matchmaker.
We have reviewed well over 200 matchmaking services, diving deep into their operations and processes, success rates, costs, and client experiences. Our reviews are built on extensive research, firsthand experience of what clients value the most, and a keen understanding of the matchmaking landscape.
In other words, this handy guide to finding the best matchmaking service is packed with essential information!
Everything you need to know about hiring a personal matchmaker is right here at your fingertips, so you can decide if it's the right move.
Matchmaking services work, but only if you hire the best one for you!
Who Uses Professional Matchmaking Services
Generally, people who hire a matchmaker want to be in a serious, committed relationship but are having trouble meeting compatible, like-minded singles.
Dating app fatigue, limited opportunities to meet new "relationship worthy" singles, and the efficiency of having a professional curate and arrange your dates are all reasons people turn to matchmaking.
As with outsourcing any aspect of your personal or professional life, there are both benefits and drawbacks to bringing a matchmaker into your dating journey.
Here are some pros and cons to consider when you're thinking about using a matchmaker to find your ideal partner.
Advantages Of Hiring A Professional Matchmaker
#1: It's a highly efficient solution.
This is one of the biggest benefits of hiring a matchmaking company!
On average, online daters spend 12 hours a week scrolling through profiles and sending out messages on dating sites. But dating apps and sites have never been more popular, so you're up against a lot of competition for the truly high-quality singles in your area.
Your profile and photos really need to stand out if you want to get incredible matches responding to your messages, and let's face it. Marketing yourself in a genuinely attractive way is a learned skill, not something most people are naturally good at.
Online dating requires serious time and effort - swiping, matching, messaging… and that's not even counting the time and effort required to get your profile right-swipe-ready!
For many people, online dating simply doesn't work. They don't have enough time to devote to the process, or they aren't presenting themselves in an effective, attractive way.
And here's another wrinkle - you might be swiping left on a perfect potential partner! Some studies have estimated that over half of online daters overlook ideal candidates 90% of the time.
The right matchmaking service will do a better job at finding highly compatible dates than you would on your own.
How matchmaking companies work in a nutshell:
First, you'll discuss your relationship goals and what type of person you consider your "ideal match."
Then your matchmaker will curate matches for you based on that criteria. In other words - all the time-consuming searching and screening will be done for you.
Your first date will be arranged for you. Rr your matchmaker will help you contact your match so you can set it up.
And that means...
#2: You'll get higher quality matches.
When it comes to outsourcing the search for your ideal partner, you have a lot of options. Elite matchmaking services like Janis Spindel's "Serious Matchmaking" and Amy Andersen's "Linx Dating" promise to only set you up with the cream of the crop while other franchised services cast a much wider net.
Other dating agencies are hyper-specific when it comes to clientele. For instance, if having a shared faith is a priority, you may consider hiring a Christian or Jewish matchmaker.
A professional matchmaking service pre-screens every potential candidate against the match criteria you provide, and then generates interest in you. So you'll have dates with eligible singles who are eager to meet you.
#3: It's a valuable learning experience.
Typically, a personal matchmaking service goes beyond simply introducing you to eligible singles. They may provide dating coaching, relationship counseling, constructive feedback, and tips on improving the way in which you present yourself online and/or in person.
Many elite matchmaking services also offer image consulting, professional photography and editing, personal shopping, and other "concierge" amenities.
Some matchmakers charge extra for these services, while others bundle them into your package price.
What you'll learn along the way will boost your confidence, and it's valuable information you get to take with you.
#4: You're not in it alone.
Having an online dating consultant or relationship expert on speed dial is often huge. The peace of mind that comes from knowing you're not alone on your quest for love can be extremely valuable in and of itself.
Having a dedicated professional matchmaker also means you're not reliant on matching algorithms. Research has found they aren't nearly as effective as dating sites would have you believe.
The problem is those algorithms rely too heavily on traits and qualities that are very difficult to quantify. Especially when it comes to predicting success over the course of a long-term relationship.
A matchmaker brings good old human intuition back into the mix.
Potential Disadvantages Of Hiring A Matchmaker
#1: Most matchmaking services have a limited database.
Size definitely matters - when you're talking about the number of singles in your matchmaker's database.
Some boutique and executive matchmaking services may only have a tiny selection of available candidates at any one time. That means your search for The One could take a while. And that's assuming the right person for you is even in their match portfolio.
Requiring a long contract or refusing to let you see a photo first usually indicates a lack of options.
#2: It could still be a blind date.
Some services give you a verbal description of your proposed match, but won't show you a picture. They'll say they want you to focus on personality and compatible traits, rather than zero in right away on physical appearance.
Typically, the matchmakers who do that have a guaranteed number of introductions to fulfill.
And if they're working with a small database, they might not have enough attractive singles who meet your criteria. So they set you up with a less attractive one in order to meet their quota.
#3: One matchmaker + countless clients is not always a recipe for success.
Larger matchmaking services typically pair a client with one matchmaker - and that's it. Your matchmaker could have dozens of clients simultaneously, and there are only so many hours in her work day.
Opting for a smaller boutique service doesn't automatically mean you'll get the undivided attention of your matchmaker, unless that service only takes on one or two paying clients at a time.
In fact, many of the small, elite matchmaking agencies are literally a one woman show. So she's juggling the needs of various clients at once.
Though they're rare, matchmaking services that take a "team" approach are often the most effective. Multiple people will be dedicated to your success at every step of the way.
#4: You'll likely have to sign a long contract.
In the matchmaking industry, 1-year contracts are pretty standard. That means whether it takes 1 month or 12, you're paying the same price.
And if you're unhappy with the quality of your matches or the level of service you're getting, you've got little recourse because you signed on that dotted line.
Some dating agencies charge a monthly fee, but require a significant (non-refundable) registration fee up front.
And still others have pricey "success fees" written into the fine print. That means you're shelling out additional money when you find the match of your dreams.
Other matchmaking services, like VIDA Select, don't use long-term contracts at all - allowing clients to pay by the month and pause or stop service as needed.
Every matchmaking company operates a little differently. Make sure to read the fine print and understand exactly what you're committing to.
Costs Of Hiring A Professional Matchmaker
The cost of hiring a matchmaking service varies widely depending on what type of experience you want. You can reasonably expect to spend anywhere from $3,000 to over $15,000.
High-end matchmaking services typically start around $15,000 and go up from there.
For instance, luxury matchmaker Janis Spindel offers a "Global VIP" package which includes an international search for elite singles - for a million dollars.
Susan Trombetti, founder of Exclusive Matchmaking, and Barbie Adler of Selective Search both charge $250,000+ for their top-tier service. And at Linx Dating, an executive matchmaking service, Amy Andersen's most expensive elite matchmaking package can range up to $500,000.
Kelleher International, a San Francisco matchmaking service that offers services to clients around the world, ranges from $30,000 to over $300,000 depending on the type of search you want.
Enamour, another international service, offers bespoke matchmaking that integrates relationship psychology, AI, and recruiting technology into the process. Enamour also has a carefully curated, strictly invite-only database. Matchmaking packages start around $20,000.
Select Date Society is a Virginia-based service with a national reach. Founded by matchmakers Sandra Myers and Amber Lee, their packages start at $35,000 and can run over $300,000 for the "Executive VIP" membership.
Other dating agencies like LUMA Luxury Matchmaking have locations across the US and charge between $2,800 and $100,000 for matches provided over a set time period.
Want even more hard numbers? Check out what 6 of the best matchmakers in the US cost!
Factors affecting how much your matchmaker will charge include things like:
The scope of your search. Are you looking for compatible matches nearby, or are you willing to travel to different cities, states or countries in your quest for love?
How many people you want to meet. Some matchmaking companies offer unlimited potential matches, others guarantee a certain quota during your membership period.
How you want to meet them. You may have a choice between face to face dates, or receiving someone's phone number and initiating the contact yourself.
Success bonuses. Some matchmakers have a "success" clause built into the contract. If you end up marrying or in a serious relationship with your match, there will be an additional fee owed.
Concierge & personal services. Access to dating experts, style consultations, makeovers, professional photography & image editing are commonly offered by quality matchmaking services for an additional cost.
When evaluating which matchmaker is best for you, you'll also want to consider *when* you'll be paying for the service.
The most common method is paying the entire matchmaking fee up front after signing a binding membership contract (that usually doesn't allow for refunds).
Others require a down payment, and set up a monthly payment arrangement until the balance is paid in full.
That means committing to the wrong dating service could be an expensive mistake. It's a good reason to consider opting for a service where you can pay as you go instead. If you're not happy with the service, simply don't proceed with the next month.
How To Make Sure You're Hiring A Quality Matchmaking Service
For a matchmaker to be worth the money, you need to hire the right one.
Here are 3 ways to ensure you're hiring an effective, reputable matchmaker:
#1: Check For Online Matchmaking Reviews
Reading reviews is a good place to start. Not only do you want to ensure you're working with a reputable company, you also want to make sure you find the best fit for you.
Keep internet matchmaking reviews in perspective. You're probably already aware that people are far more likely to post something negative than take time out of their busy day to do a positive write-up.
If a dating agency has been in business for years but has few or no reviews on a platform like Yelp, that's typically a good sign.
And while they should definitely be considered with a grain of salt, negative matchmaking reviews can offer you valuable insight into the customer experience.
They help you craft a list of scenario-based questions to ask, especially if it's a concern or problem that multiple previous customers mentioned.
#2: Evaluate The "Pressure" Level
High-pressure sales tactics are a tool some less-than-reputable matchmaking services use to close sales. If you feel like the promises being made are too good to be true, your instincts are probably right.
For instance, "I've got the perfect match in mind for you!" is a fairly common pitch. And sadly it's rarely the case.
You may sign on the dotted line and pay the up-front fees only to be told later on that your "perfect match" is now in a relationship and thus unavailable.
Another red flag is a consultation that's more focused on your credit score and limits than on what sort of person you consider ideal. And be wary of deals and discounts that are only good if you commit on the spot.
Some companies hire people more for their stellar sales ability than anything else, so resisting these tactics can be tough.
Finding love is an emotional trigger for most people, but don't let that cloud your judgment.
If you're uncomfortable with a hard sell, especially when it's during a face-to-face sales pitch, hold off on signing anything until you've done some more research.
#3: Ask About Pricing
The majority of matchmaking services don't advertise their pricing online.
But reputable companies are generally up front about what the actual numbers are. If you can't get a straight answer during your consultation about how much you can expect to pay, that's typically a red flag.
You'll find some are open to negotiation, and often have pricing that's partially determined by your credit score, credit limit, or bank account balance. It also means each client may pay a different amount for the exact same service.
Not into used-car-levels of price negotiation?
You may want to stick with a company that explains up front what you can expect to pay for each level of service, and goes over exactly what's included in your package.
How To Prepare For Your Consultation
Often, the initial consultation with a prospective matchmaking service is over the phone or via video chat. It's a great way for the matchmaker to get a sense of you, your goals, and your dating history. You'll also get a taste of what to expect if you hire them.
Doing a bit of introspection beforehand saves time during the interview process. It also allows you to choose an expert matchmaker whose services are in line with your specific relationship objectives.
Be prepared to answer matchmaker questions like these:
When you're going through the initial consultation process with a prospective matchmaker, treat it like a two-way information exchange. She's interviewing you - but you're also auditioning her.
What she's saying is important, but so is how she's saying it.
Do you feel like she "gets" you, and that you've established a good rapport by the end of the call?
Is she addressing your questions directly, or being evasive about some topics?
What does that little voice in your head say, and how did the conversation make you feel overall?
Remember, she's going to be with you through a deeply personal experience.
How you feel along the way is incredibly important.
It's a good idea to jot down a list of questions to ask during your consultation. The answers will help you determine if the service aligns with what you're looking for: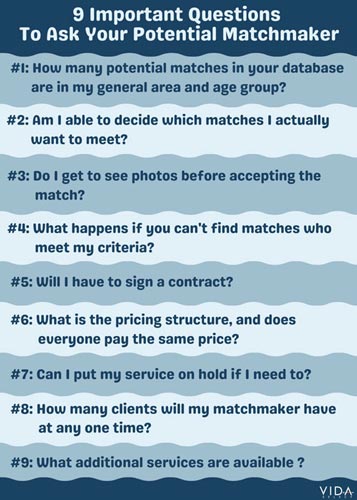 Asking questions like these is important. The answers will give you a glimpse into what kind of service you can expect from a particular company.
For instance, if there's a low number of eligible singles in your area, finding someone might take longer. If you aren't allowed to pass on potential matches, you may be frustrated at all the dates that fizzle before the drinks and appetizers even arrive.
To get the best results, you'll want to work with someone who has access to a large database of eligible singles and allows you to say "yay" or "nay" before an introduction is made.
Physical attraction is an essential part of chemistry and the dating process. Why wouldn't you want to know exactly what your match looks like before agreeing to a date?
Start Your Search Today
Thanks to our modern twist on matchmaking, VIDA Select has the largest database of eligible singles in the world.
We also take a team approach to matchmaking. You'll have the convenience of one dedicated point of contact while a full team of specialists work behind the scenes to find your ideal partner.
With VIDA Select, you call the shots. Every match is pre-screened by you, so you can choose to only meet people you're attracted to and interested in. There's no long-term contract to sign. You simply pay by the month and are free to stop or pause at any time.
To see if our approach to setting you up on high-quality dates fits your personality, simply schedule a short, low-key consultation at your convenience.
Ask questions, describe what you're looking for, and decide if VIDA Select is the ideal solution for you.
If so, our matchmakers can start finding you dates with amazing singles!
It all starts with a consultation, so schedule yours today by clicking here.
All product and company names are trademarks™ or registered® trademarks of their respective holders. Use of them does not imply any affiliation with or endorsement by them.
Why Choose VIDA Select?

Since 2009, thousands of clients have discovered true love thanks to VIDA Select's fresh, modern approach to matchmaking – which has finally thrown blind dates and long-term contracts out the window. This isn't your grandmother's matchmaking!
Instead of working with a single matchmaker using a small rolodex of potential partners, VIDA Select's matchmaking team taps into the world's largest database of available singles. We'll quickly identify the matches who check all of your boxes so you can finally experience true chemistry. Are you ready to become our next success story? Schedule your complimentary consultation now by clicking the button below!
Get Started Now